While DoorDash's original focus was on logistics, the company has since expanded into the on-demand food delivery sector, where it has become a household name.
In addition to being recognized as a leader in the food delivery industry, the organization has also acquired four other businesses. This has piqued the attention of business owners and capitalists, who are now evaluating the DoorDash business model in contrast to the on-demand app development services market.
DoorDash: Overview 
DoorDash, Inc. operates a platform for online meal ordering and delivery. Founded in 1999 and headquartered in San Francisco, it has grown to become the largest food delivery service in the United States.
Additionally, it holds a 60% share of the fast food delivery business. DoorDash is a digital company that connects customers in a given area with nearby restaurants that offer delivery services via freelancers.
DoorDash Business: The Timeline Explained
The marketing approach that DoorDash has taken has been superb, and it has paid off with impressive returns over time. We have provided you with information about DoorDash's expansion that would really improve your comprehension of the company's operations and methods.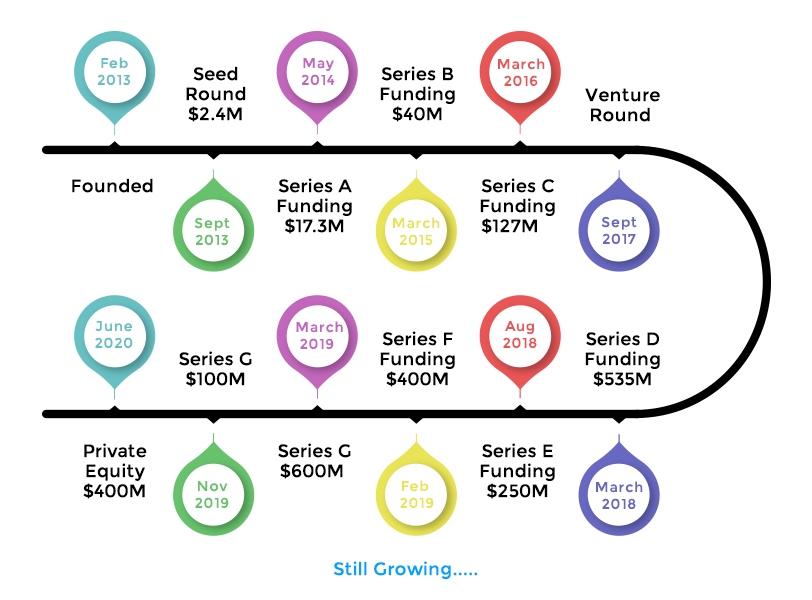 The initial $120,000 investment in DoorDash came from Y Combinator. Ever since then, the company has come a long way.

A major turning point in the company's history occurred in 2014 when it launched DoorDash in Los Angeles in June and Boston in September. As part of its delivery team, it employed bikers.

A year later, in November 2015, the company started in Toronto.

A major turning point in the app's history was when it began delivering alcoholic beverages in Southern California in conjunction with Ausher-Busch.

By the end of 2016, DoorDash had established a solid foothold in about 250 cities across the country in only three short years. DoorDash developed the DoorDash Drive service to assist businesses with deliveries outside of its territory.

With the help of Starship Technologies, DoorDash introduced Delivery Bots to the food delivery market in 2017. This was a game-changing shift in the business.

In April of that same year, DoorDash teamed with electric bike firm GenZe to provide bikes to its delivery staff in Washington, DC, San Francisco, and Vancouver.

In the latter half of 2017, DoorDash bought Rickshaw, another Y-Combination startup with a focus on last-mile delivery. DoorDash also provided group food delivery options for iOS customers in the same year.

Continuing its partnership with Walmart, the f

ood delivery application development

shifted to a grocery delivery service in April 2018. In August of that year, DoorDash made public its acquisition of Caviar. As the month progressed, it shared the news that it had acquired Scotty Labs and formed a strategic partnership with Mercato.

In an announcement made in February 2019, DoorDash stated that they would be launching their first "ghost kitchen" in October 2019.

With the addition of supply chain deliveries in 2021, such as self-checkout kiosks and aisle reading robots for its retail establishments, DoorDash hopes to increase customer retention and loyalty.

DoorDash's expansion plan gets better and more effective as time goes by. They have worked tirelessly to introduce a product to market that not only generates revenue for them but also offers consumers an unprecedented level of satisfaction.
How DoorDash Works?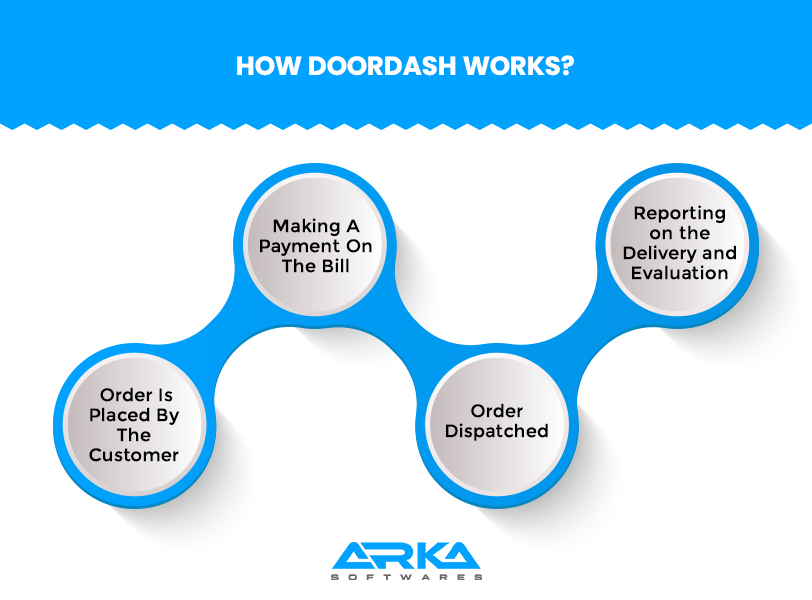 1. Order is Placed by the Customer
Customers who have signed up for the DoorDash food delivery app can then order their preferred meal from any of the restaurants that are featured on the app. There's a wide variety of eateries and cuisines available at the touch of a button, making this app virtual heaven for foodies.
Additionally, with the addition of intelligent AI, user recommendations have improved in accuracy while being less invasive to customers. This allows consumers to quickly browse all of the available goods, make their selections, and place their orders.
2. Making a Payment on the Bill
After an order has been placed, the following step is for the user to make a payment. Delivery fees are determined by factors such as the order total, the restaurant's location, the customer's location, and any applicable taxes.
When the user completes the payment process, the order is confirmed, and the restaurant begins the preparation and packing processes.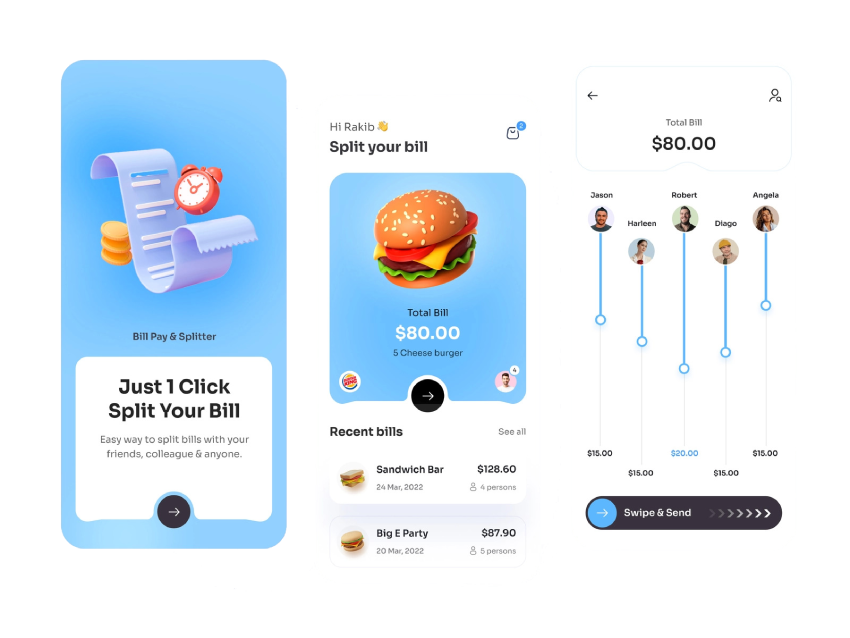 DoorDash accepts a broad variety of online payment methods, including major credit cards like Visa, Discover, and American Express, as well as app wallets and Amazon Payments.
3. Order Dispatched
After the order is placed and the meal is ready, the restaurant will send it out for delivery. Dashers, the people who do the delivery, will pick up the box and use their dasher app to follow the delivery route and any special delivery instructions. Any available dasher who is geographically closest to the eatery is selected for this assignment.
With the client app, consumers are able to monitor the whereabouts of their packages at any given moment. On a map, they may track their order's progress and view an estimated delivery time.
4. Reporting on the Delivery and Evaluation
The dasher will use the app's built-in map functionality to find the customer's location and make the delivery. As soon as the customer signs for the package, they can begin eating. Finally, customers can comment on the quality of the food and the speed of delivery.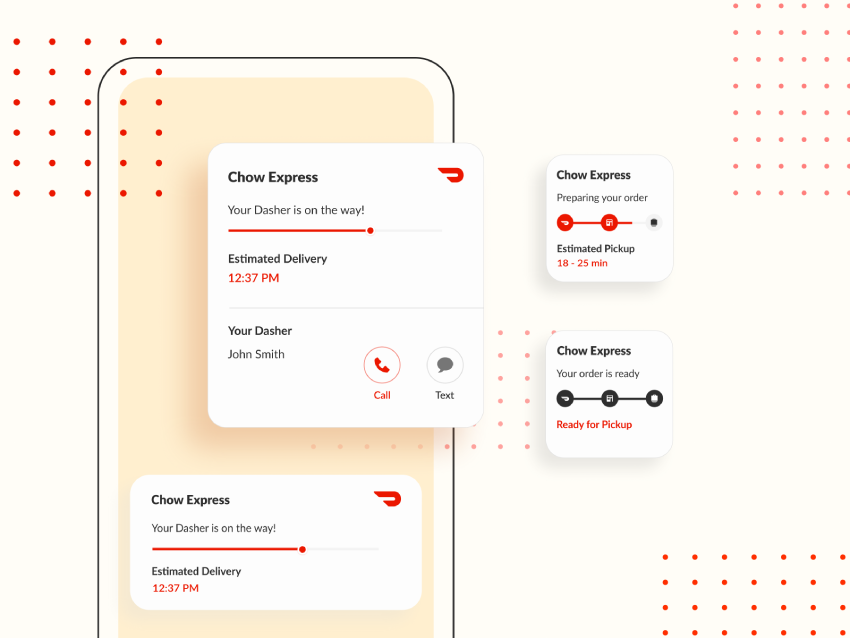 By rating and commenting on their experience, users can provide feedback on the quality of service provided by a restaurant or dasher. Although the DoorDash website is an option, the mobile app is likely to be more practical.
DoorDash Business Model
Why do people start and operate businesses? The straightforward reason is financial gain. More money in the bank is the dream of any business owner, and that can only be achieved with a tried-and-true business strategy like DoorDash.
Let's take a look at how DoorDash Business Strategy is organized from a business perspective.
The Businesses
When using DoorDash, restaurants play a crucial role. These restaurants are participating in the app for a wide variety of reasons. Let's have a look at that.
DoorDash is particularly popular among restaurants that don't offer their own delivery options. Any restaurant that partners with DoorDash benefit from its reliable delivery system.

Businesses that are seeking other ways to contact an audience also find it valuable. By partnering with DoorDash, these eateries may expand their customer base and gain exposure to new patrons without sacrificing service to current customers.

Even without a formal sitting plan in place, businesses can still make use of Doordash's home delivery services.
Users
DoorDash is great for people who enjoy eating out but don't have the time or energy to get dressed up and go out.

DoorDash allows the demanding business world to place orders, no matter how big or small, without interrupting their day.

The DoorDash service is great for people who find cooking difficult and would rather eat out instead.

The fact that every restaurant, no matter how big or how little, stands to gain in some way or other thanks to DoorDash is the primary factor that has contributed to the success of the service.
Top Features of Doordash Business Model
Here are a handful of DoorDash's service offerings that have contributed to its success.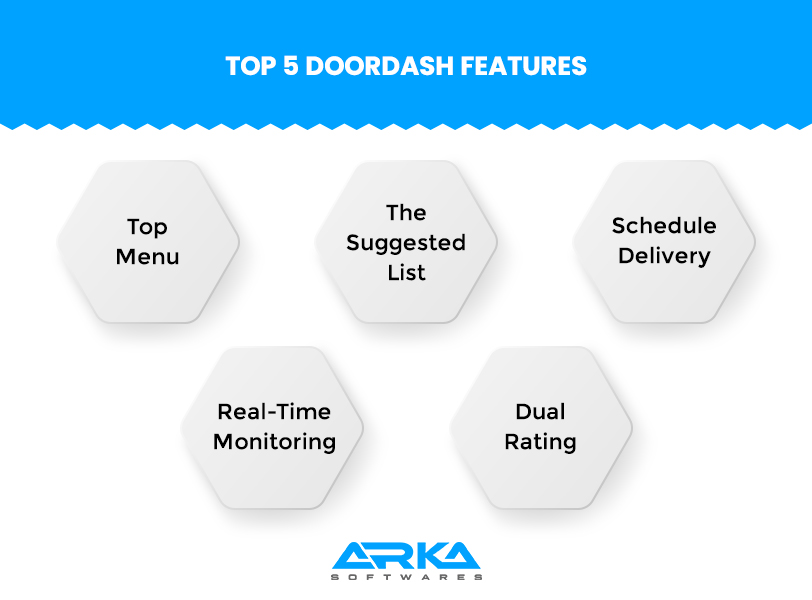 1. Top Menu

–
People can check out the most-ordered items at various eateries to see what other people recommend
2. The Suggested List

–
The app uses AI to make recommendations based on the user's previous selections.
3. Schedule Delivery

–
When people have busy schedules, it's helpful to be able to plan ahead and schedule their orders. DoorDash lets you schedule your deliveries in advance, so you can prevent any last-minute hassles.
4. Real-Time Monitoring

–
Live tracking allows consumers to follow their orders from the minute they leave the restaurant until they arrive at their destination.
5. Dual Rating

–
A dual review system, in which users can give feedback on both the food and the delivery allows for a more nuanced description of the user's overall experience.
As an added bonus, consumers have access to helpful representatives around the clock. Having access to DoorDash's knowledgeable customer service has been beneficial not only to the company's customers but to DoorDash as a whole.
Dashers

Dashing is ideal for people who are looking for jobs that provide them some leeway in terms of hours and schedule. These individuals must have delivery transportation. People who want a good job with generous gratuities are also good candidates for the role of the dasher.
Dashers typically make over $600 per week in flat payments for their delivery. Dashers are encouraged to work with DoorDash in large part due to the tips they receive from consumers. The hours of a Dasher are flexible, and if they work quickly they will earn more money. Being a dasher is simple, and the perks are worthwhile.

Revenue Model of DoorDash App

Entrepreneurs build their businesses to generate revenue and earn money. DoorDash is also an emerging business, which works on a robust business model, which helps it in generating revenue for business owners and other stakeholders. 
DoorDash is one of the most popular food-delivery apps in the world. If you are planning to swing into the food-delivery business, then you need to understand the nitty-gritty of DoorDash's revenue generation method, so that you can replicate the same for your business too. 
Let's check out how does DoorDash generates revenue
How Does DoorDash Make Money?
A service like DoorDash can incur various costs to your business such as sales costs, maintenance costs, marketing costs, staff salary, and even retention of resources to name a few. DoorDash uses multiple methods to generate revenue. Let's explore those methods through which DoorDash makes money.
Delivery Charges
To cover the costs of providing its delivery staff and technological support to the entire business, among other things, DoorDash charges its clients a delivery and service fee. Delivery costs are between $5 and $8, while service fees are calculated as a percentage of the order amount.
The purpose of implementing service fees is to recoup the expenses used in providing the service, such as advertising, processing payments, developing new technology, etc.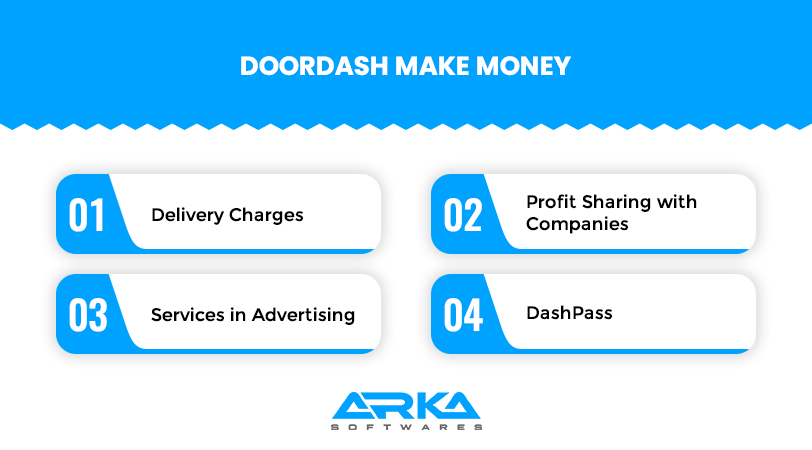 Profit Sharing with Companies
DoorDash receives a fee from the restaurants it serves as compensation for coordinating them with customers and facilitating deliveries. On average, this fee amounts to around 20% of all sales.
The restaurants stand to earn significantly from this modest outlay since they will be able to participate in the growing on-demand economy with little to no additional risk. They have access to an online clientele and a dedicated distribution network.
Services in Advertising
DoorDash gets money both from the fee it charges restaurants for orders and from the advertising space it sells to other companies. DoorDash takes care of all the restaurant's advertising needs, which is a huge time saver for busy business owners. DoorDash also benefits financially from this arrangement.
DashPass
DashPass is a subscription service that DoorDash provides. Customers who sign up for a Dash Pass can expect significant cost savings on delivery and service charges. Regular DoorDash customers will find the pass useful, and it will provide an additional source of income for the company.
Users pay $9.99 per month for the service, and DoorDash claims that they can save $4.50 to $5.00 on each delivery. Customers with a Dash pass enjoy free delivery for orders above $12, in addition to significantly reduced service fees. However, not all restaurants are included in this program.
Cost to Develop Food Delivery App Like DoorDash
There are several variables that must be considered when estimating how much it would cost to create an app like DoorDash. Without understanding the company's needs for features and the app's operation, establishing a baseline budget is challenging.
Even while we have provided broad, comprehensive prices and preliminary costs for a number of considerations, they are only estimates.
The cost of designing an app comparable to DoorDash ranges between $15,000 and $65,000. The ultimate cost and fees will be determined by a variety of elements, including the features and quality of the app, the app's viability in the market, and the specific demands of the business.
The expertise of the food delivery app development company. DoorDash-style app development costs can be broken down into three categories:
Customer App
The customer app has many features, such as logging in, managing catalogs, viewing menus, and placing orders. The development of a personalized application for a single platform begins with a price tag of $9,000 as a minimum investment. cross-platform app development can begin at a minimum of $11,000.
Restaurant App
The app that a restaurant's owner uses includes a few extra bells and whistles that the user app doesn't have. Functions like restaurant management, taking orders, managing payments, tracking shipments, etc. are likely to be included.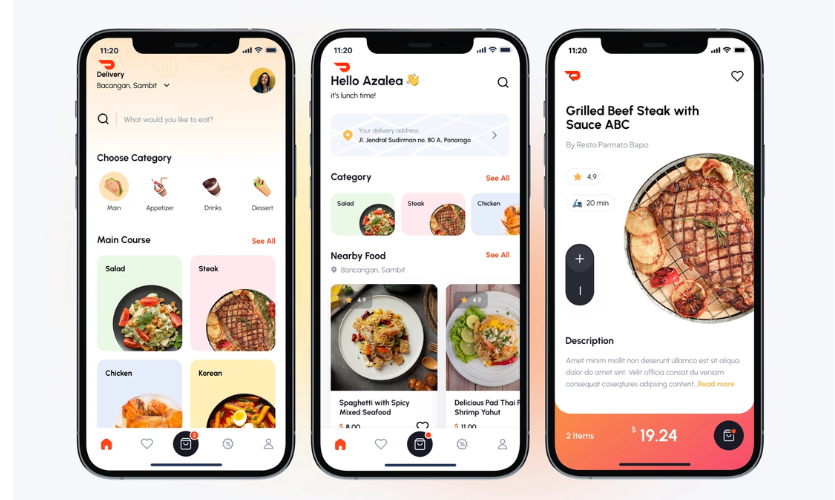 The cost of establishing an application for restaurants and distributors exceeds $12,000 per platform, with food delivery mobile app development beginning at $15,000.
System Admin App
The administrator of the system admin app will be in charge of its day-to-day operations, so it must be user-friendly. Payment processing, multiple user profiles, and a host of other options are all part of the package.
For administrative purposes, the cost of creating an application like DoorDash ranges from $13,000 for a single platform up to $16,000 for cross-platform app development.

Future of DoorDash App

Since it was founded, DoorDash's leadership has taken a number of risky steps along the company's path to success. The business, however, has been able to successfully overcome these challenges in recent years. Success in the long term appears to be the company's primary goal.
DoorDash has established its continued growth with initiatives such as the launch of its online convenience store and expansion into the on-demand grocery delivery market.
Moreover, the company's efforts to promote local companies and communities are evidence of its dedication to the many people and places it serves.
DoorDash has demonstrated time and time again over the course of its existence that it is not afraid to retreat when the circumstances warrant such a move. For instance, following feedback about how payments were handled for drivers, the company has started paying out cash tips to the drivers themselves.
The future of DoorDash and similar businesses is unclear at the moment, but DoorDash business model has consistently shown its worth and has excellent food ordering app development potential.
Conclusion 
The concept of an online food-ordering business is nothing new. It wasn't that long ago that people regularly placed phone orders for the delivery of delicious fast food meals to their homes or places of business.
But now more than ever, thanks to easy internet access on smartphones, applications like DoorDash have made it simple to get meals delivered right to your door.
FAQs on
Doordash App