The landscape of the food and beverage industry is undergoing a serious transformation right in front of our sight. No longer are restaurants packed with joyful people enjoying wonderful meals to their fullest.
The COVID-19 epidemic has brought in the era of online meal ordering using top food delivery apps in Singapore, making the old picture appear like a relic of the past.
When the pandemic first started in 2019, 1.81 million Singaporeans used meal delivery apps. It jumped to about 2.9 million in 2022 and is projected to hit 3.5 million by 2024.
Number of online food delivery users in Singapore
Due to the success of the best food delivery services in Singapore like Foodpanda and GrabFood, the market is expected to be worth US$520 million by 2023, prompting more businesses to take a chance on the industry.

Top Food Delivery Apps in Singapore
1. Deliveroo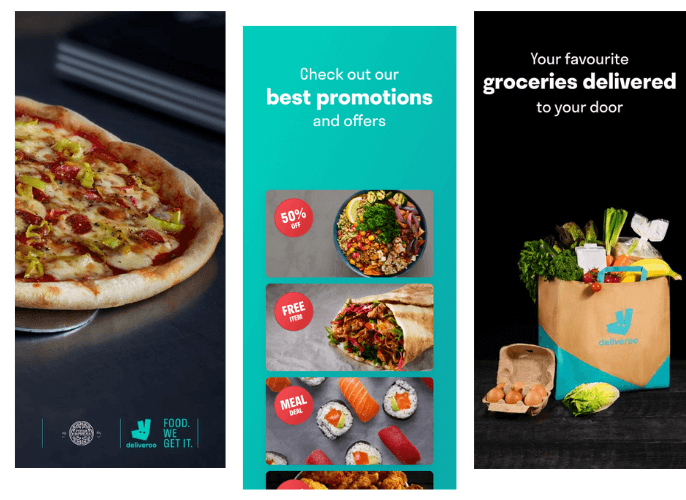 Deliveroo, a multinational giant, has been operational for five years and is now present in eleven countries. They have perfected every facet of their operation, and their reliability in service has earned them a stellar reputation.
If you have a restaurant that serves late-night customers, Deliveroo is the best meal delivery platform available. They also have a wide variety of eateries on their app that serve delicious food from around the world.
Highlights
Breakfast, lunch, supper, and desserts.

Business event catering includes delivering food for meetings and receptions.
Deliveroo is available on both Android and iOS for free.
2. Foodpanda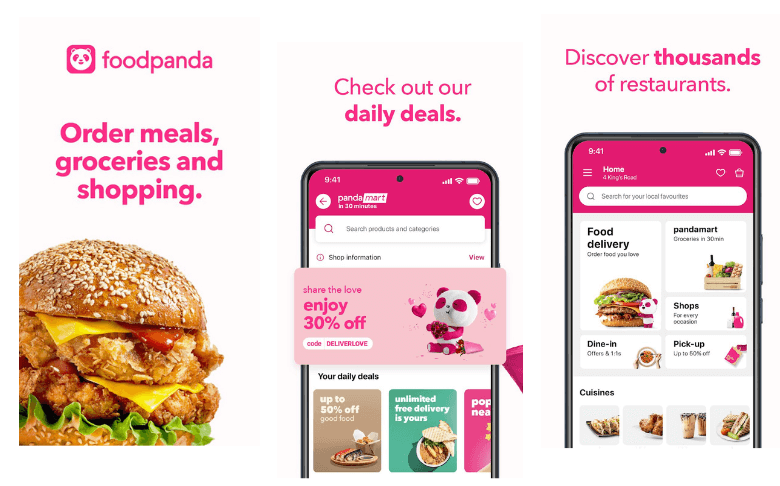 Most restaurant proprietors would benefit from learning more about Foodpanda, another food delivery business. When business owners post their menus online, they gain instant access to a team of people who can take care of everything from taking orders to delivering food.
Customers can now find their favorite restaurants, locate those closest to them, and purchase delicious, high-quality meals directly from their smartphones.
One recent addition to Foodpanda is the ability to place an online grocery order. Many of their patrons have proclaimed them to be the best food delivery services in Singapore due to the convenience of their all-in-one delivery options.
Highlights
Late-night office delivery.

Grocery delivery services.
Foodpanda is available on both Android and iOS for free.
3. GrabFood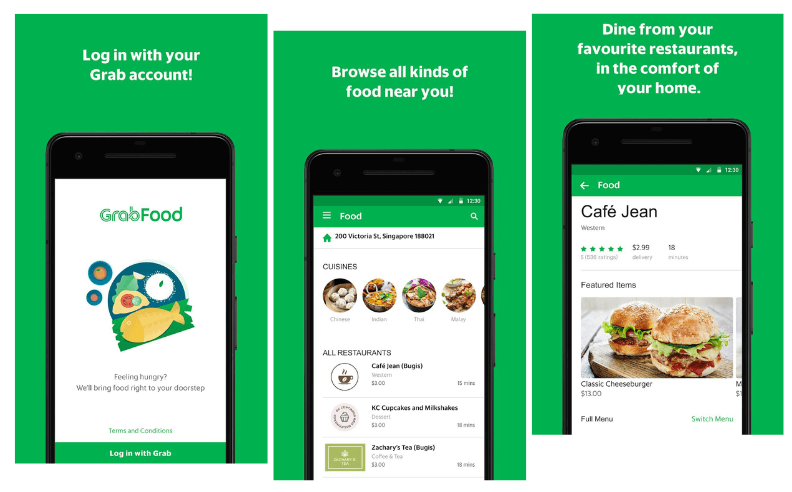 Since its launch in 2018, when it first integrated with the Grab-sharing transportation app, GrabFood has become one of the most popular delivery service platforms in the country.
GrabFood is the place to be if you run a restaurant, whether it's a new joint or one that's been around for a while. They also provide a wide variety of both regional and international dishes, so food lovers of all stripes can feel at home.
GrabFood is the delivery service of choice for many Singaporean restaurants because of its wide coverage in all major and local towns and cities in Singapore like Hougang, Yishun, Tampines, Pasir Ris, Queenstown, and convenient payment option, GrabPay.
Highlights
GrabPay expedites the payment procedure

Delivery all across the country.
GrabFood is available on both Android and iOS for free.
4. WhyQ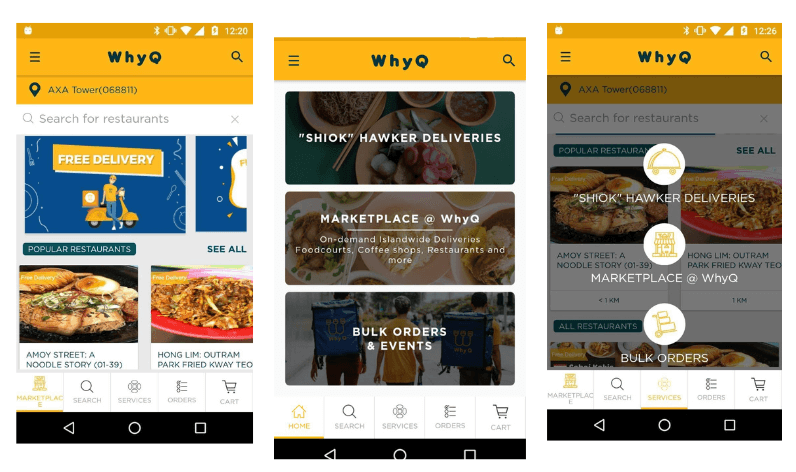 WhyQ is a meal delivery company founded in 2017 by Rishabh Singhvi, and it specializes in bringing freshly prepared hawker food to people's homes and places of business. They effectively cater to the desires of the busy consumers in the CBD.
Why not utilize WhyQ and have your lunch delivered to your office, where you have a better chance of getting a seat and eating in peace? When compared to industry leaders like GrabFood and Deliveroo, WhyQ's fixed rate of $1.50 SGD for each order is extremely reasonable.
Highlights
Absolutely no minimum purchase is required.

Discreetly low shipping costs.

Discounts or even free shipments!
WhyQ is available on both Android and iOS for free.

5. Grain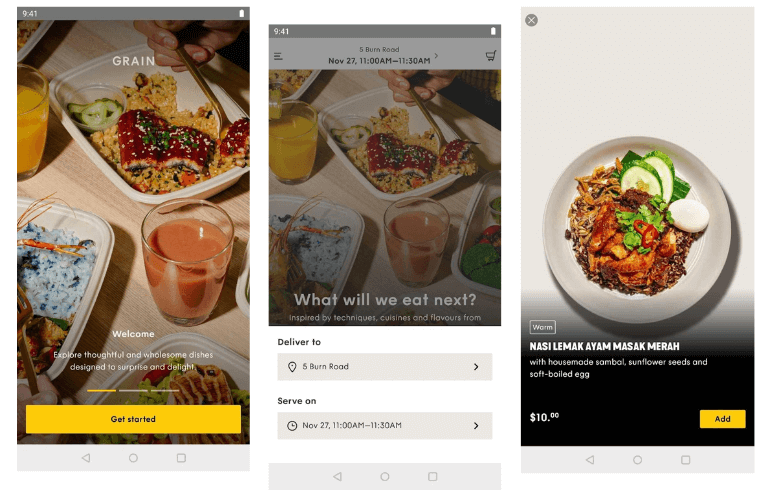 If you're trying to maintain your fitness and health through your diet, grains are your best bet. They are well-known for their extensive selection of vegan meals for one or a large gathering.
They provide meat eaters and vegetarians alike with a variety of appetizers, desserts, and beverages to complement their main courses. When you order their refreshments, you can choose between a takeout buffet, cocktails, or tea time.
Many people regard it as among the best food delivery services in Singapore because of the variety and quality of the healthy meals they offer.
Highlights
Nutritious food.

Food and drink service catering.
Grain is available on both Android and iOS for free.
6. Pickupp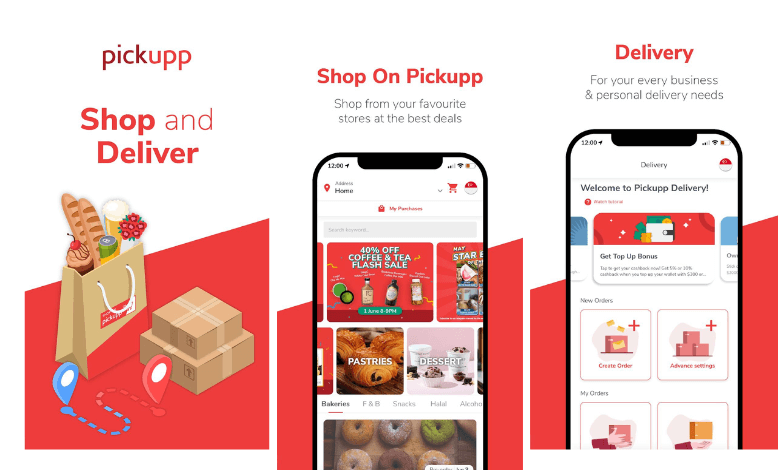 Pickupp is your best bet if you need anything delivered quickly and cheaply. They will always find a method to get your food, wine, supplements, or gifts to you quickly and easily.
They are dedicated to delivering your things quickly and easily with only a few clicks, and they have earned a reputation as Asia's premier smart delivery platform.
Easy to navigate, and equipped with a GPS-based, real-time package monitoring system, their online portal allows you to keep track of the status of your order at any time.
They are also one of the best food delivery services in Singapore because they deliver all over the country. Get in touch with them if you need anything shipped right away.
Highlights
Low shipping costs for all orders.

Quick and dependable.
Pickupp is available on both Android and iOS for free.
7. Oddle Eats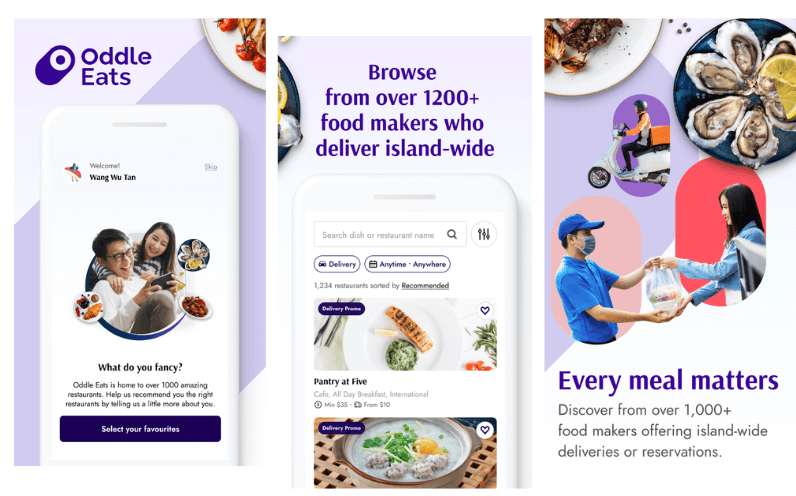 Oddle's ultimate goal is to facilitate restaurant expansion and management by providing a unified online ordering platform. Oddle, which initially launched in Singapore, has since expanded internationally, with offices in more than 10 countries and 3,000 different brands using the service.
Oddle is Singapore's go-to food delivery platform because of how convenient it is and how well it has worked for other businesses.
Highlights
Has a network of over 500 restaurants.

Rapid service.
Oddle eats is available on both Android and iOS for free.
8. Fong Fu Food Industries
Fong Fu Food Industries has been providing first-rate delivery service to Singapore for over 15 years. Fong Fu Food Industries is your go-to catering company for any and all events, whether you need food for a buffet, tea reception, or just your regular weeknight dinner delivery.
You can count on them to always have access to fresh, healthy food that tastes great since they adhere to the strictest standards of cleanliness in the kitchen.
Their organization is dedicated to providing you with delicious treats and high-quality assistance at reasonable prices. If you're hungry at any time of the day, call them up and they'll deliver.
Highlights
Nutritious Foods.

Discounted Shipping Costs are Offered.
9. Kemono Healthy Japanese Roast Chicken
Do you feel like having an untraditional meal tonight? Kemono is the solution! Kemono is a company that delivers roasted chicken and takes pride in utilizing only the freshest ingredients.
Without the use of antibiotics or growth hormones, their poultry is truly healthy. Kemono's "no fried food" policy means you may order as many of their frozen chicken breasts as you like without worrying about your health.
Kemono provides around-the-clock delivery, so you may order chicken whenever the mood strikes. Kemono has a delicious meal for each occasion, whether you're hosting a picnic or just treating yourself after a long day.
Highlights
Delectable and freshly cooked cuisine.

Lightning-quick service.
10. Where Got Food?
Where Got Food was created after the COVID-19 pandemic made going out to restaurants unthinkable and major food delivery app services looked to be the only option.
Because of Singapore's emergency measures, people were forced to rely on large delivery services rather than go out to restaurants.
The Where Got Food guide is a great resource for finding restaurants in Singapore that deliver overseas. From bakeries to pubs, grocery stores to hawkers, their listings cover it all.
Highlights
Multiple categories to select from.

Accept several forms of payment.
Read Also: How to Develop Meal Kit Delivery App like Blue Apron?
Food Delivery Business Models: Various Types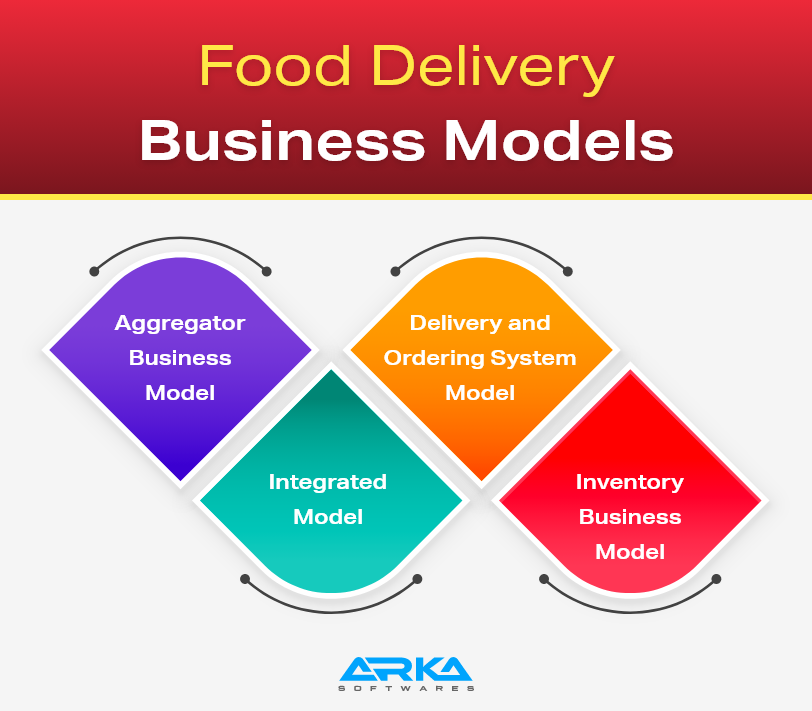 Aggregator Business Model
Aggregator-style online meal delivery services do exactly what their name suggests: they aggregate various eateries onto a single delivery platform.
This company model centralizes the services provided by numerous eateries under one roof. In this setup, the platform serves as a go-between for the diners and the eating establishments.
Delivery and Ordering System Model
This business model has three primary players: the platform owner, the restaurant managers, and the delivery service provider. In this type of setup, a separate company is responsible for delivering the food to the customer.
In most cases, a third-party courier or logistics firm will work in tandem with the platform's proprietor to bring the aforementioned meal delivery service to the users. The costs associated with shipping your order are determined by the company providing that service.
Integrated Model
Integrated meal delivery is the most adaptable and sought-after business concept in the sector. This structure allows for both the administration and the eateries to handle the delivery.
In order to provide their food and services online, many businesses just need access to a network of delivery agents. It is effortless for integrated-model-based online meal ordering platforms to serve such outlets.
Inventory Business Model
The online food delivery service uses a fully internalized inventory methodology. There is only a single entity engaged. The meal delivery company handles all aspects of the business, from developing the food delivery website or app to fulfilling consumer orders. The value chain is entirely within the platform owner's control.
This business model for meal delivery does not permit several businesses to provide their offerings on a common platform. The order is prepared in a central kitchen that the company owns and is delivered by a contracted delivery service. This facilitates the business owner's ability to monitor the quality of the food being delivered.
Advantages of a Starting a Food Delivery Service for Your Organization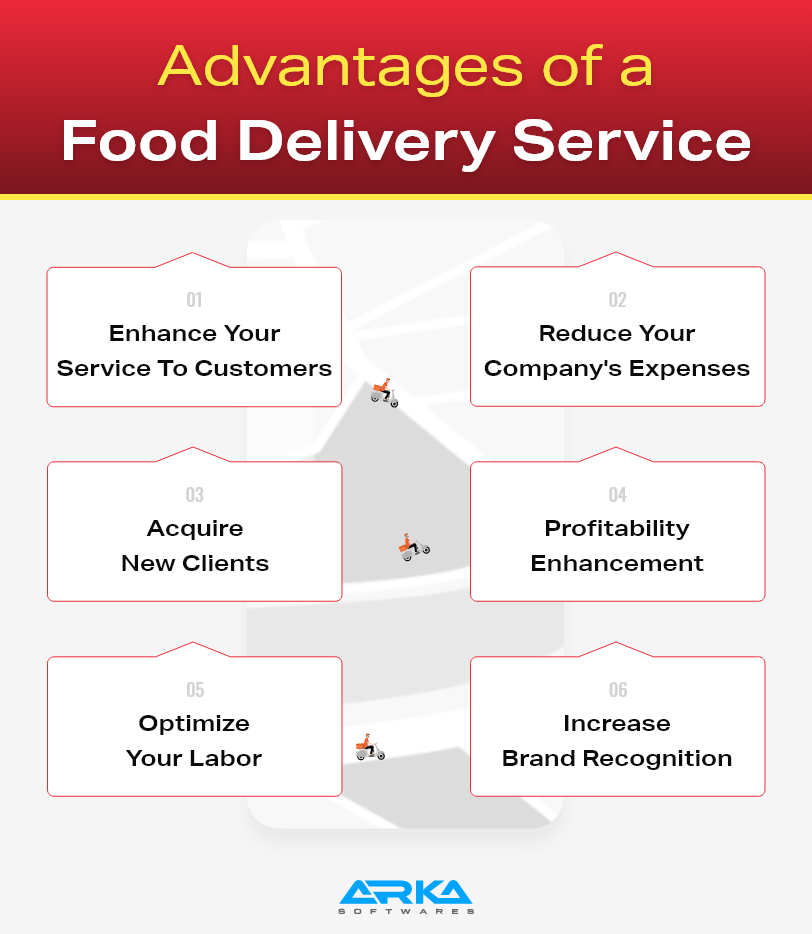 Enhance your service to customers
There is a strong demand for the best food-ordering app development services in Singapore, thus simply providing that service isn't enough. With the help of third-party delivery services, you can provide your consumers with the conveniences they desire and easily win their praise for the excellent quality of your business.
Reduce your company's expenses
Third-party delivery services may have higher initial costs, but they often end up saving you money in the long term. If you choose a third-party food delivery service available in Yishun, you won't have to spend money on fuel, pay for insurance on the delivery trucks and drivers, or provide transportation.
Acquire new clients
A major advantage of collaborating with a food pickup and delivery service in Singapore is that it can also serve as a marketing tool. Using the third-party app or service will help more people in your neighborhood know about your restaurant.
Profitability enhancement
It is simple to comprehend how the best food delivery services in Singapore might contribute to an increase in your profits once you take into account the new clients you will acquire and the cost reductions you will enjoy as a result of using the service. It has been estimated that partnering with a third-party solution can boost restaurant revenue by as much as 30%.
Optimize your labor
When it comes to improving your restaurant, nothing beats outsourcing to a food pickup and delivery service in Singapore. They save you money because you won't have to pay for a separate delivery driver, as we discussed before. However, they use digital transmission of orders, leaving your workforce more time for other responsibilities.
Increase brand recognition
If you use the best food delivery services in Singapore, you can increase your restaurant's exposure while also reaching a larger audience. For most customers, the service is like having a personal recommendation from someone they know and trust.
How to Choose the Most Effective Food Delivery Service?
1- Look for stable, scalable tech integration
The smoothness of online order placement and data transfer between you, your team, your food delivery app provider, and the consumer will make or break the success of your restaurant.
When running a cloud kitchen, efficiency is key, therefore minimizing manual data entry and doubling down on automatic connectivity is a must. One must seek out a distribution partner that provides a high level of technological integration.
2- Opt for flexible pricing structures versus commissions based on sales volume
The typical fee for using a food aggregator platform is 18-30% of your total order revenue. One-time integration fees are also being considered by some food tech firms.
Long-term, this might not be enough to keep your company afloat. Instead, you can avoid this by working with a provider that uses variable pricing.
3- Demand great attention to sensitive things
You should make sure that your meal delivery service offers individualized options for various food products based on their relative susceptibility to damage during transport.
The meal must be delivered to the consumer in flawless shape. No damage should happen to the product's flavor, texture, or appearance while in transportation.
4- Customers desire promptness and frequent updates
Your cloud kitchen's success or failure may hinge on the service level agreements (SLAs) governing food pickup and delivery. People are staying indoors more often because of the pandemic, so they want quicker deliveries and constant order tracking.
If you can meet this need for efficiency and transparency, you'll have a leg up on the competition. Before choosing a food delivery service for your company, it's a good idea to do some research into the market for the best food delivery services in Singapore.
5- Make your brand stand on its own
Cloud kitchen sales could potentially increase after being featured on a food aggregator portal or marketplace. On the other hand, it could backfire if you're counting on a steady stream of repeat business in the future. A separate ordering system is essential if you want clients to associate positive feelings with your business.
Finding a reliable food delivery service among the best food delivery services in Singapore will accurately reflect your brand at the customer's door without getting in the way of your daily operations.
The aggregator business model rarely lets companies have complete control over their client data or create personalized approaches to increase repeat purchases.
Find a food delivery app development company that will not interfere with your ability to make money. This will allow you to analyze your orders and implement effective customer relationship management practices.
6- Impress customers with your front-door service
Your only interaction with the consumer is through the food delivery company. See to it that receiving your order at your door is a unique experience.
The quality of the at-door experience depends on a number of elements, including the competence and friendliness of the delivery staff, the patience with which they answer customers' questions, and the cleanliness of the packaging in which the food is delivered.
Customer happiness and loyalty are boosted by a seamless at-the-door experience. This improves your economy of scale by increasing your income and decreasing your unit fixed cost.
It's clear that a positive first impression at the entrance contributes to the longevity of your brand and the growth of your bottom line.
Conclusion 
As soon as you have a better understanding of the many benefits offered by the various Singaporean food delivery platforms, you will be better able to choose the one that is most suitable for your company's needs.
It doesn't matter if you go with a major player like GrabFood or a niche service like Oddle; success on any meal delivery platform comes down to making delicious food that resonates with customers.
FAQs regarding Food Delivery Services