Either you are on vacation or want to take a ride around the city, motorbikes are promising vehicles to give you absolute freedom and fun to move around the way you want and motorbike enthusiasts are everywhere.
This is why the businesses of motorbike rentals are fulfilling. With a powerful motorbike rental app, this business can go to the next level of growth and spread its reach to a wider audience.
In this blog, we will talk about every aspect of Motorbike Rental App Development such as market condition, the feature list of mobile applications, and the cost of developing a motorbike rental app. Hopefully, you will find almost all the answers to your questions related to motorbike rental app development.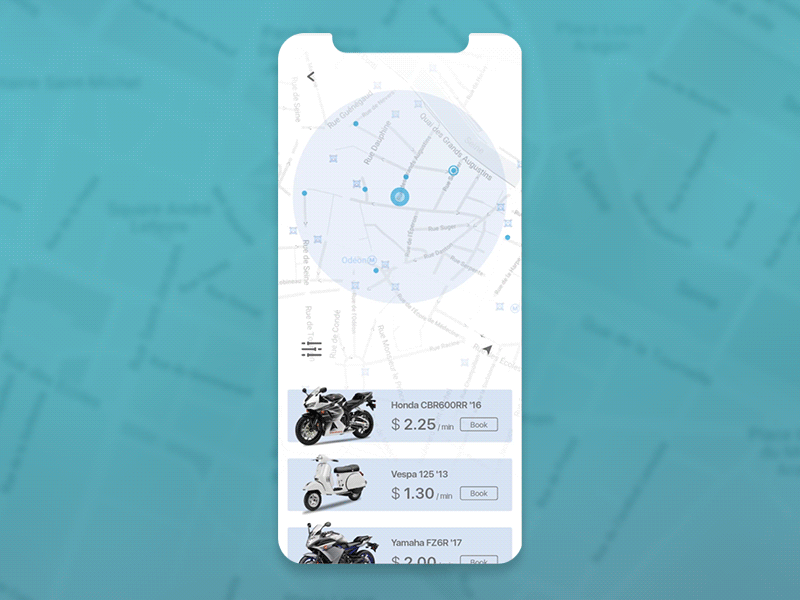 The Market Scope of Motorcycle Rental Business
According to the Global Motorcycle Rental Market 2017-2021 report, the motorcycle or motorbike rental business is about to gain significant momentum by 2021 with the help of the rising eCommerce industry. A reliable source stat that the motorcycle rental market would grow at a CAGR of 7.74% during the period 2017-2021.
The market is experiencing unprecedented growth due to the rise in road trip tourism in countries like the US, UK, India, and many developing Asian countries.
On the other hand, big motorcycle brands, like Harley Davidson, Ducati, Indian Motorcycle, etc. are experiencing a massive boom in sales due to market demand.
Therefore, developing a motorbike rental app for your business is not only an optimistic approach but it will certainly a fruitful venture. Let's talk about the business model of the Motorbike rental app.
Business Model of Motorbike Rental App
A motorbike rental app brings simplicity and increased accessibility to your business which leads to remarkable business growth. So, before the development of motorbike rental app, let's find out the basic business model of a motorcycle rental app.
For Users
For normal users, the app experience starts with the first sign up to the application. The user can quickly sign up with either email ID or social media accounts.

After logging in the application, the user can start booking her motorbike by selecting the brand, model, color, rental duration, delivery, and pick-up spot.

The user is also required to verify the documents like photo ID and rider's license with the Bike owner as well.

After completing all the formalities, the user can proceed to pay with his preferred payment mode.

There is also a profile of the users where they can track all the rental history save favorite motorbike selections as well.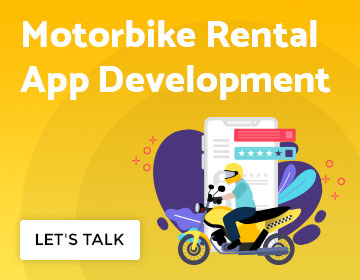 For Motorbike Owner
The motorbike owners are also required to sign up to the dedicated motorbike rental app to start renting-out their motorcycles.

Owners can manage the listing of their motorbikes. And accept, reject, and verify the rental requests from the user side.

The financial and analytical dashboards within the application show all the essential data to the motorbike owners.
So, this is a basic business model of a motorbike rental app. Now let's find out what are the major features of this application.
Features of Motorbike Rental App
Since there could be three types of end-users of a motorbike rental app. Hence, the features for each end-user would be different. For your convenience, we have classified the features accordingly.
For Users
Easy Sign Up/In
This is the first interaction of a user with the application. It allows users to conveniently sign up and sign in to the application their email IDs, phone number, or social media accounts. After signing in, they're all set to book their favorite motorbikes.
Select the Bike Type
Providing the features like Select the Bike type put the users in charge and offer them the liberty to select the type of bike (company, model, color, etc.) to complement the user experience.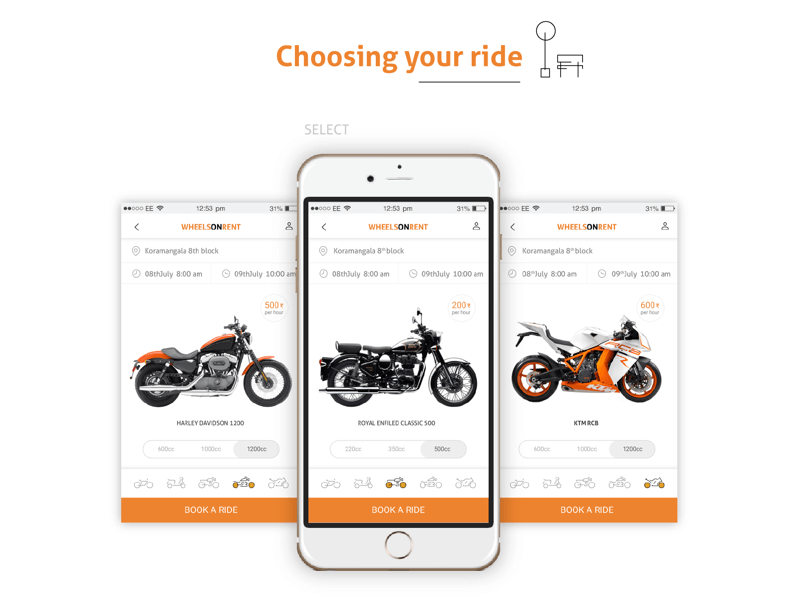 Book Now
This feature could be a massive time saver in times of urgency. If a user of motorbike rental app requires a bike instantly, then this feature cuts down advanced sorting and selection options and books a motorbike immediately from nearby places.
Schedule the delivery
Some users prefer scheduling their motorbike trips to make sure that nothing leaves behind. This feature allows users to book their favorite motorbike and schedule the delivery.
Premium Motorbike Access
This feature is dedicated to motorbike enthusiasts. It enables users to explore the collection of premium sports and cruise motorbikes to rent. As a result, there would be a significant rise in rent prices.
Fare Estimation
After selecting a suitable motorbike and rental duration, the user is provided with a detailed fare estimation. It gives the user an idea of how much is the rental going to cost her. It is simple, yet helps a lot in enhancing user experience.
Select Pick-up Point
When users select the delivery spot of the rental motorbike, they are also asked to choose a pick-up point of the bikes so that the owner can collect those motorbikes.
Multiple Payment Modes
For added convenience, the users are provided with a wide range of payment modes, like e-wallet, Visa or Mastercard, or internet banking, etc. within the motorbike rental mobile app.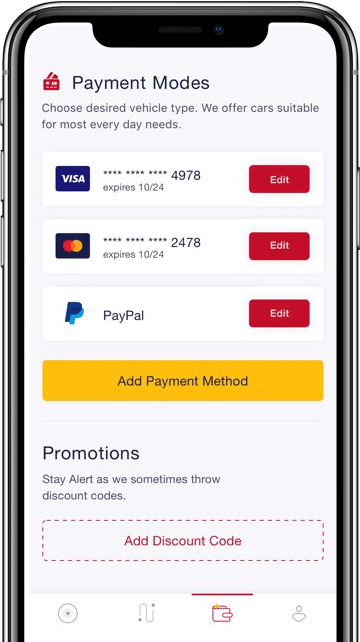 Door Step Delivery
The user is asked for the delivery spot before paying for the motorbike. After selecting the spot of delivery, the motorbike is delivered to the user's selected place at the chosen time.
Booking Cancellation
Changed plans? This feature gives users the freedom to cancel their booking of the motorbike with a few taps on the mobile phone's display.
In-App Camera
In-app camera feature enables users to capture the picture of their documents (photo ID, driver's license, etc.) and upload them into the application to share with the rental bike
Pop-up Notifications
For booking confirmation, estimated delivery time, payment confirmation, and type of alert or notification, there are pop-up notifications that show relevant information to the user over any application or while the phone is locked.

For Motorbike Owners
Accept & Reject Booking Request
This feature allows the motorbike owner to check the requirement of the users; then they can either accept or reject the booking request.
Manage Bookings
This dedicated section systematically organizes the bookings for owners of motorbikes and allows them to keep track of upcoming booking for their motorbikes.
Financial Dashboard
The financial dashboard shows detailed information about motorbike booking earnings and transaction between the bank and the motorbike rental app and vice versa.
Promotion
For increased visibility and boost business, this feature allows motorbike owner to provide special offers and discounts to the users.
For Admin
Dedicated Dashboards
Dedicated dashboards are role-based dashboards that show all the essential analytical data and information in visual and graphical form. Every dashboard shows information on different categories, like real-time online users, earnings, bookings, etc.
Manage Users
This must-have feature provides the administrator of a motorbike rental mobile app control over the users of the application. It allows admins to supervise the activities of the users and performs necessary actions like suspension, edit, add, etc.
Manage Price & Surge Charges
Admin can manage and modify the rental prices of motorbikes and apply surge charges according to the increased demand and geographical locations.
Manage Payments and Earnings
An important and precise feature that allows admins to take a deeper look at the financial performance of the application.
Customer Relation Management
Customer Relation Management (CRM) enables admins to improve business relations between the application and the users while executing and managing multi-channel marketing campaigns and customer data management.
Content Management System (CMS)
A versatile Content Management System (CMS) allows admins to manipulate or modify the entire content available on the motorbike rental mobile applications.

Additional Features
Behavior Tracking
Behavior tracking is yet another feature that enhances the user experience of users. It provides suggestions to the users according to their past activities. It also saves the favorite motorbikes and type of rental package for quick rental motorbike bookings.
In-App Chat
For quick communication between the users and motorbike owners, the in-app chat is a handy feature. Users can ask their question directly from the motorbike owners and maintain a transparent conversation.
In-App Phone/Video Call
In-app phone and video call feature take the conversations between users and motorbike owner to the next level of convenience because not every user is a fan of chatting.
Promotional Codes
Promotional discount codes and offers grab the attention of the users, and that translates into brand awareness and business growth.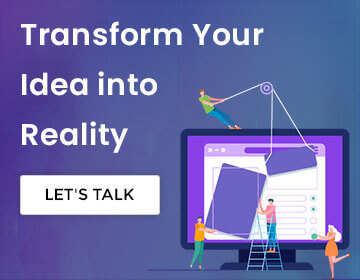 What does it take to build a Rental Motorbike App?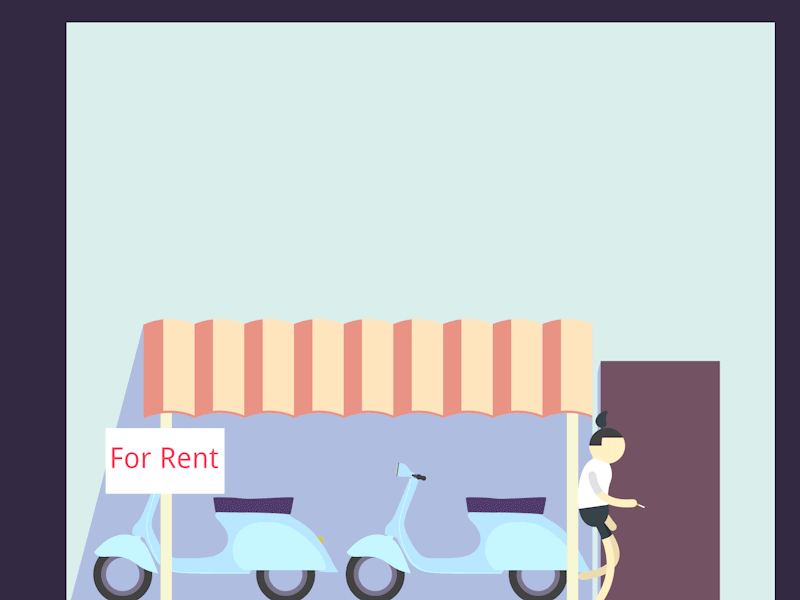 Apart from your ideas and business model, all you need is a motorbike rental app development company or developers. The right mobile app development company is capable of understanding your vision and they have a complete set of technology and skills repertoire to manifest your vision into a lucrative reality.
So, let's explore the elements that are going to play major roles in the development of an exceptional and feature-rich Motorbike Rental Mobile App that sells itself by providing users with great user experience.
Read Also:  Car Rental Mobile App Development Cost and Key Features
Team Structure Required for Motorbike Rental App Development
A right working plan needs a competent team that can take the unique app idea and turns it into a powerful mobile application that can drive business. Therefore, a team must contain members who can breach the limitation and offer you an innovation-driven motorbike rental mobile app.
Hence, every developer, designer, UX/UI professionals, etc. play a vital role in making the application, robust, scalable, attracting, and most importantly, secure. Here is the basic team structure that you may want to consider for your motorbike rental app development.
Android Developers
Project Manager
iOS Developers
Backend Developers
UX/UI Professionals
QA Professionals
Tech Stack Required for Motorbike Rental App Development
Mobile platform – Android, iOS
Real-time Analytics: IBM, Apple Flink, BigData, Cisco, Spark, Hadoop
Database: Mail Chimp Integration, Postgress, HBase, MongoDB, Cassandra
Payments: e-Wallets, Stripe, PayPal, Braintree
Voice, SMS, & Phone Verification: Twilio, Nexmo
Push Notifications: Push.io, Twilio
Cloud Environment: Azure, Google, AWS
Revenue Model of Motorbike Rental App Development
Now here is the tricky part; the revenue model of any particular online business is heavily based on the amount of the creative potion you can mix. A mobile application is an entire marketplace in itself.
Every segment of this app confides the opportunity to add extra numbers in total revenue. Let's talk about some of the efficient and conventional revenue models that are working for thousands of businesses.
Commission Based
Most conventional, yet a major revenue source of mobile applications like motorbike rental app. In this model, whenever a user books a motorbike from its owner, a certain percentage of commission from bike owner automatically goes right into pockets of the owner. It is fast, convenient and almost effortless.
In-App Promotion
Advertisement and promotions offer great opportunities to earn revenue. Showcasing relevant advertisements in your motorbike rental app could help in earning revenue from other companies. It also helps in establishing good business relationships with other companies.
How much does it cost to develop a Motorbike Rental App?
To be frank, telling the exact cost of motorbike rental app development is not an easy task. Because there is a myriad of factors that affect the overall cost of the development.
These factors are the geography of app development, number of features, number of mobile platforms (Android, iOS, etc.) for which the app is being built, etc.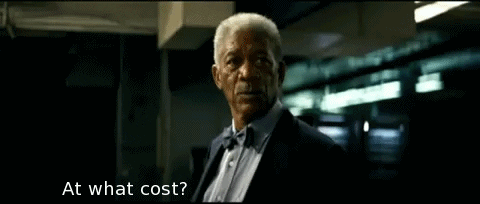 Factors that affect the Cost of App Development
Geography
Due to the dissimilar economic conditions of the countries, the hourly cost of mobile app development varies accordingly. To give you a contrast, the hourly cost of development in the USA lies somewhere between, $150 – $250 USD, in the UK it is, $150 – $180 USD, whereas in India the hourly cost is somewhere between $60 – $120 USD. Since the cost is dependent on the condition of the respective country, there is no difference in the competence of the developers.
Number of Features
The number of features that you want to include in your motorbike rental app defines the overall development cost. A minimum viable product (MVP) version of the app can be developed at a much lesser price than a powerful application that comes with all the modern and advanced features.
Mobile Platform
Getting a motorbike rental app developed for just one mobile platform cost less than getting it developed for multiple platforms, like Android, iOS. However, for a wider reach, the app has to be developed for multiple platforms.
So, these are some major factors that affect the overall cost of motorbike rental app development. But still just to give you an estimation, an app for one platform with the basic feature may cost somewhere around $25,000 – $35,000 USD.
Let's

build something great together!

Just take one step forward and we can build history.

Want to build something good for the business but still good for the customers?
You know the answer is, Yes!