The Indian Premier League 2023 will start very soon, and there is no doubt that Indian fantasy sports lovers are eagerly waiting for it. Another category of legends is waiting to play, compete and win the matches based on IPL-2023. If you are also one of them and reading this article, then it is indicated that you are searching for top-10 fantasy cricket apps.
Including existing apps, another excitement is yet to come for you. The secret was revealed on 27 February; Ashneer Grover's third unicorn is set to enter fantasy cricket with an app called – CrickPe. However, it will go fully functional on 31 March 2023.
So could you cross your fingers for it? In the meantime, you can read this blog to learn about other fantasy cricket market legends. Let's start with some key stats before diving deep into the blog.
An Overview Of Fantasy Cricket Market Size In India
Although multiple cricket matches and series happen in a year, IPL(Indian Premier League) is one of the most significant contributors to increasing the number of fantasy cricket lovers in India. It is one of the surprising facts that create a buzz. There are other facts and statistics.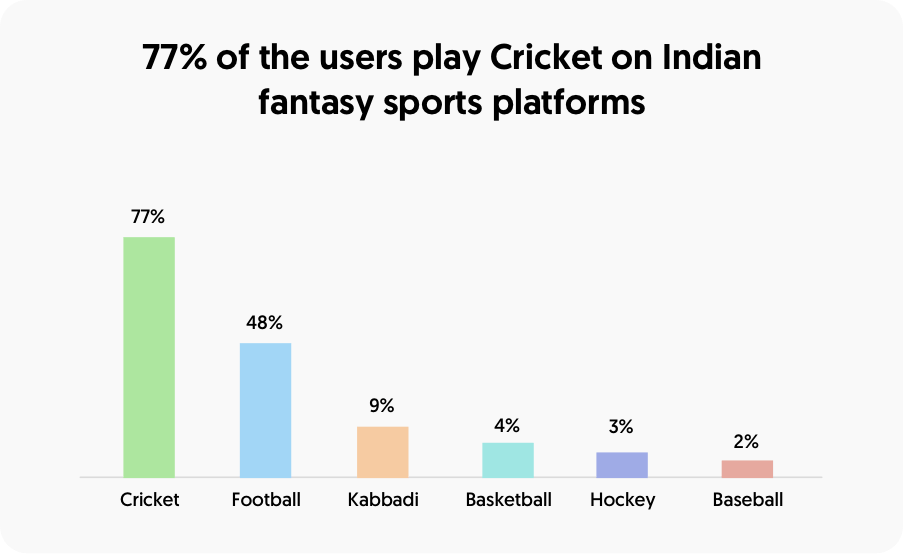 Let's check!
In the financial year 2021, the experts evaluated the fantasy sports market size; India is Rs 34,600 crore and will be estimated to grow Rs 1,65,000 crore by 2025 at a CAGR of 38%.
India is the world's largest fantasy sports market, with a 13 billion user base.
The fantasy cricket market in India is continuously growing at a rate of 30% CAGR.
77% of users counted as registered users in fantasy cricket out of the total percentage of registered season long fantasy app users in India.
In the Indian fantasy sports market, cricket has a significant share, which is 85%.
The primary end users' age group involved in fantasy cricket is 25-35.
There are 200+ fantasy sports platforms in India.
The share of Esports players in India who prefers in-app purchase is 33%
In March-2022, a crypto-friendly fantasy sports platform entered the Indian fantasy sports market to join IPL.
All these stats indicate an ample growth of fantasy sports where top fantasy cricket apps In India are major contributors. It also indicates that it is worth investing in Fantasy cricket app development.
List of Top Fantasy Cricket Apps in India To Try On
Here are the details of the best-10 fantasy cricket apps in India that you can consider to try to play a game or take as a solid reference if you are interested in creating a fantasy sports app.
1. Dream 11
Dream 11 is a fantasy cricket app launched by a company named Dream Sports that deals in fantasy sports platforms. Via this app, a user can play fantasy cricket with an owned virtual team of 11 cricketers based on their real-time performance.
Users can opt for standard gaming formats such as T20, ODI, tests, and domestic leagues. It is counted as one of the top fantasy cricket apps in India.
Its unique features are:
Play season-long, such as TATA IPL.
Watch live matches
Invite Friends and earn up to Rs 500 on each invite.
Multiple contents with a bigger cash prize
Smooth UI
All major leagues are available
Private Contests
Real-time chat with fellow players
Know more: How to Develop Fantasy Sports Mobile App like Dream11?
2. MyTeam11
MyTeam11 is counted as one of the best examples of trusted fantasy cricket sports apps in India. Since its launch in 2016, its number of users is exponentially increasing. You would be surprised that it has 18+ million users onboarded to play different fantasy sports, including cricket.
It entertains users by offering games like cricket, kabaddi, football, and basketball. One of the biggest advantages of MyTeam11 is its wide variety of contest options such as from practice matches to mega contests such as ODI and others.
MyTeam11's unique features include the following:
100% legal and secure
Instant withdrawals
Welcome offers
1000+ everyday contests
5 Crore+ winnings every day
Refer and earn a bonus of upto Rs 1000/ referral
Rematch feature
3. My11Circle
Only a few users do not know about MyCircle11, and those are not true fantasy cricket lovers. It is not a surprising fact, as almost all fantasy sports lovers know about My11Circle- one of the top fantasy cricket brands in India.
This app is also known to the sports lover due to its brand ambassadors, who are famous cricketers – Saurav Ganguly (BCCI President), Shane Watson, and Rashid Khan. Its numbers of users surpass the figure of 2.9+ crores, and to date, total users have won prizes worth 500+ crores.
Its best features are:
Fastest scorecard updates
Quick withdrawals
Innovative gameplay, i.e., Beat The expert, Beat The Score
Improved team performance tracking
Interactive scorecards
Leaderboard participation
Free and cash contests
4. MPL Fantasy Cricket
If you are looking for one of the best fantasy cricket apps in India, then you can consider MPL fantasy cricket one of these. It is one of the leading fantasy cricket apps that offers multiple features and advantages beyond your expectations.
Its brand ambassador is world-famous Indian cricketer Virat Kholi whose name does not need an introduction. It is also a wide fantasy sports platform that offers multiple games where cricket is the leading fantasy sports game.
MPL's list of key features contains the following:
Multiple fantasy and games tournament
Dream team formation
Multiple referral schemes
Integrated pay wallet named MPL wallet
A wide category of fantasy gaming
Unlimited free practice games
Instant withdrawal
5. Ballebaazi
As its name suggests, Ballebaazi is specially built for fantasy cricket lovers. But it also offers other games, such as kabaddi, football, baseball, and fantasy basketball apps.
This one of the top fantasy cricket apps is based on the concept that is – Made In India, Played By India. The Ballebaazi app is perfect for the Indian user's sentiments about cricket, and that is the reason behind its user base of 80 Lakhs+.
Ballebaazi features covers:
Micro tournaments
Multiple leagues
Wide variety of fantasy sports
Special deposit codes
Referral bonus
100% safe and secure
6. 11 Wickets
Your search for a one-stop for fantasy sports or gaming ends at 11Wickets. It promises the best experience of fantasy cricket apps in India.
It is the top choice of 4M+ users and distributed 1 Crore+ prize to the users. There is one thing that makes this app super fantastic, and that is the 12th man selection that allows you to have a backup player in your fantasy cricket team.
11Wicket's key features are:
Last-minute team selection
Lowest commission leagues
Live score
Player rank update
Super-fast Withdrawal
Cash Bonus
12th man selection(as backup player)
7. Halaplay
Halaplay is one of the trusted names when it comes to playing a fantasy cricket league. It is considered one of India's best & top fantasy cricket brands that offer multiple options to play fantasy cricket. Not only cricket users can also enjoy fantasy football app contests.
Halaplay key features are:
Multiple contests
Player analysis
VIP pass
Free practice games with a cash prize
Quick league joining
Multiple options for deposit, bonus, and discount offers
Browse and pick upcoming matches.
8.FanFight
FanFight is one of the legends among the top fantasy cricket gaming apps. Recently it has got its new name, and that is A23 Games. Maybe this information is new to you, but its users already know about its new name.
It is also known as A23 fantasy, where a user, including cricket, can play other fantasy games such as football, kabaddi, basketball, baseball, and volleyball. It has a special place among sports lovers as one of the top-10 fantasy cricket sports apps in India.
FanFight's significant features are:
Attractive interface
Multiple league play options
Minimum withdrawal limit
Quick win prize distribution
9. First Games By Paytm
First Games is one of the super fantastic cricket apps in India that offers multiple fantasy gaming options. Among other top-10 fantasy cricket apps, it has an eye-catching interface and graphics.
It is created keeping all the expectations of cricket lovers in mind. The participants or users can create their team using virtual currency that differentiates it from other daily fantasy sports mobile apps available on Android and iOS platforms in India.
Its key features are:
User-friendly UI
Exclusive cash price
Smooth transactions
Fair game policy
Anti-fraud mechanism
Thrilling contests and tournaments
Highly secure payment mechanism
10. Real11
Real11 is one of the complete fantasy sports betting mobile apps that offers a fantastic experience of fantasy gaming. Including cricket, football, and kabaddi, users can also enjoy other fun games such as bubble shooter, carrom, and more.
It is counted as the fastest-growing platform among the best fantasy sports apps in India. Real11 is known for its features, daily contest offers, and unlimited opportunities to win prizes.
Real11's best features are:
100+ daily contests
50+ Lakh daily winnings
Lowest entry fee
Signup rewards
Budget-friendly leagues
Refer & earn
Regular deals and discounts
So, the list of top-10 fantasy cricket apps in India ends here. All these apps are fantastic and contain features that attract every fantasy sports lover. Suppose you are looking to develop a daily fantasy sports mobile app, then these can be great references.
This blog does not end here. I have more information to share with you. So, let's move to the upcoming section of this blog that will help you to choose the best fantasy cricket app for playing the game.
Read more: Top Fantasy Sports App Development Companies
How to Choose the Best Fantasy Cricket App for You?
Playing fantasy cricket requires your deep understanding and analytical ability about the gameplay. If you know all cricket gameplay rules, then you have won half of the battle. To win another part of the game, you need an app so you can form your own team and play the contest.
But things can be different if you have not chosen a suitable app. So, if your question is how to choose the best fantasy cricket app? Then you need to consider some points before onboarding on any fantasy baseball app.
The points you need to consider while choosing the best fantasy cricket apps in India are:
User Friendly
downloading any fantasy sports app is okay, but before installing it, you must check whether it is user-friendly.
Beginner's Suitability
suppose you are a beginner, then it must guide you to understand the whole mechanism. If it is not, then things can get worse.
Bonuses & Returns
it is self-understood that fantasy sports apps allow users to win cash prizes and bonuses on winning the match. So, check before downloading what kind of bonuses or returns it provides.
Smooth Withdrawal
the app you are going to install must have a smooth mechanism for the withdrawal of the winning amount. You also need to check whether you can transfer the amount straight to your bank account.
Follows Compliance
there may be fraudulent apps that also exist, so take care of them. Before downloading any fantasy cricket app, check if it follows compliance or not to refrain from any fraud.
Multiple Team Feature
creating multiple team features allows users to take part in more than one contest and also increases the chances of winning. So cross-confirm this feature before downloading the app.
Considering these points mentioned above choosing the best fantasy sports app can greatly help you. Now, if you want to know more about creating a fantasy cricket team on an app like Dream11 or another, the upcoming section is dedicated to it.
Know more: How to Make a Popular Fantasy Sports App like FanDuel?
How to Create a Team in Fantasy Cricket Apps?
To play the perfect game and to win the prize, it is necessary to have a perfect team for gameplay. So, the first requirement before forming a team is the player's performance record. You need to choose the players who are performing well in real-time.
It will increase the chances of winning the match. From creating the team on any of the best fantasy cricket apps in India, you need to consider a few simple points, and these are:-
For each cricket team, you need to select 11 players.
Eleven players can be from any of the teams playing matches. Here you can select the players in combination, such as 4 batsmen, 3 bowlers, 3 all-rounders, and 1 wicketkeeper.
Once you have formed the team now, it's time to assign the role of captain and vice-captain.
So, now you are ready to participate in any of the desired contests as per your choice.
Things To Take Care of While Playing Fantasy Cricket
Although playing fantasy cricket is joyous, you must put in all your efforts to win a league. Most of the users make a common mistake while playing fantasy cricket, and that is selecting random players, forming a team, and starting the game.
Here it would be best to have a fine strategy, a game plan, and research about players' performance. If you take care of some points, you can play and win the game better. So, here are these.
it doesn't matter how much you love to play cricket on fantasy gaming mobile apps. To win the match, stay updated about all information, such as weather conditions, pitch reports, players' injuries, and any last-minute changes.
if you are new to fantasy cricket gameplay, instead of directly participating in cash contests, it would be much better to participate in a free contest for practice. It will give an idea of how things take place.
the first crucial step is to choose the team carefully. Forming a team with performing players would be best instead of choosing their favorite players without analyzing their performance.
A fantasy cricket game is not an ordinary mobile game. Here, you will invest your money to play and win the game. So, always go for a smart buy. Do not invest a major portion of money in a single match or contest.
Smart Selection of Captain & Vice Captain
selection of captain and vice-captain can put you in a win-win situation if your choice is smart. The captain and vice-captain earn 2x and 1.5x, respectively. The best idea is to make the captain and vice-captain all-rounder instead of selecting a captain from batsmen or bowlers.
Calculate the Player's Cost
Experienced players come with more cost, and young players have less cost. So, while choosing the players, calculate their cost first. In particular tournaments, young players might perform better than experienced players.
All the points mentioned in this section can help you to play fantasy cricket excitingly. Last but not least, it is better to confirm and check the gameplay rules of the particular fantasy cricket app you will install.
Related: How you can Benefit by Investing Money in a Fantasy Platform in 2023?
Legality Of Fantasy Cricket Apps in India
The fantasy cricket mobile apps in India are blooming, but still, some people used to ask the questions like:
Is playing fantasy cricket legal in India?
Are fantasy sports apps legal to use in India?
Even some people confuse it with gambling and ask – Does fantasy sports count as gambling?'
The one-word answer to all these questions is – "NO." Playing fantasy sports is not gambling as it requires skills, knowledge, and judgment, so as per the Indian constitution, it is legal. Anyone can participate in fantasy cricket or in any other fantasy sport at their own financial risk.
Indian constitution's Article 19(1)(g) supports it. As per the Indian constitution, a game, whether physical or online, requires expertise, skills, logical & analytical ability, talent, and knowledge required to win the play is legal. The users can decide to play the game as they desire and as per the rules.
Conclusion
Now you are fully aware of the top 10 fantasy cricket apps in India and all related points to it, such as choosing the best fantasy cricket app, creating a fantasy cricket team, things to take care of while playing fantasy cricket, and the legality of fantasy cricket and sports in India.
This blog aims to share all types of valuable information regarding the best fantasy cricket apps and all related points. You can use it as a great reference regarding all your queries for fantasy cricket mobile apps. For initiating the business, you can also consider it a great medium for revenue generation.
Are you ready to develop your next fantasy sports app? Contact us our expert will help you with your requirement.
FAQ Related to Top Fantasy Cricket Apps for IPL