SaaS (Software as a Service) is a software paradigm in which a service provider keeps software digitally in the cloud and delivers them to end customers through the web. 
Software as a Service (SaaS) solutions are increasingly commonplace, for users including IT experts, company owners, and individuals of all ages and backgrounds. This cloud-based distribution approach accounts for more than 60% of web-based services.
Is there a reason why the SaaS market is expanding so quickly? Is B2B SaaS software a must for organizations to function properly? Do these products have the potential to help the company expand? 
The answers to these questions will be found as you read along with this blog.
What is SaaS?
Software-as-a-service (SaaS) is a software distribution technique that enables data access from any Internet-connected machine with a web browser.
Typically, a SaaS company gives organizations on-demand access to its features, technical assistance, and other resources via a web platform.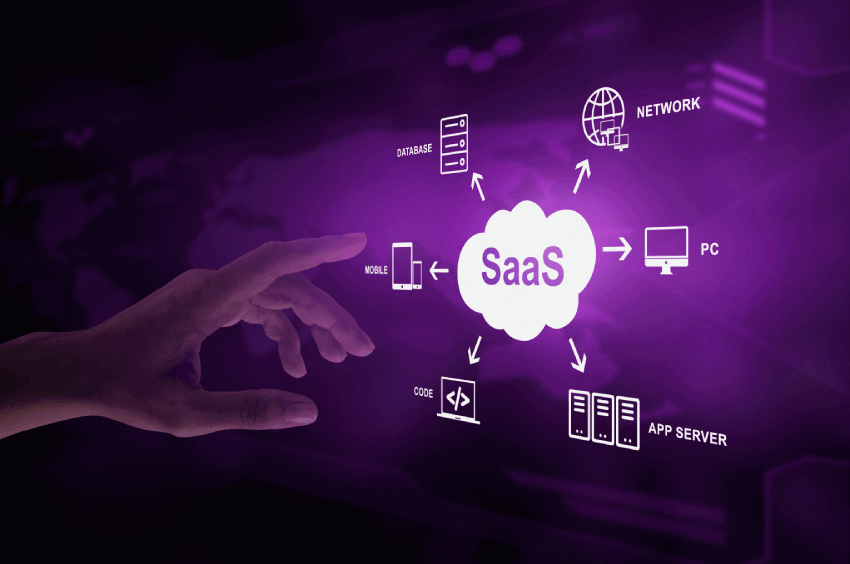 While utilizing a SaaS application, clients are not required to download or install the software on their operating system. As an alternative, users can continue to use the application on their laptops, tablet, or any other device they like. 
Despite the fact that all applications use the same source code, they are always being updated to accommodate new features and upgrades.
The software as a service (SaaS) market is expected to be worth approximately 152 billion US dollars in 2021, rising to 208 billion US dollars by 2023. SaaS applications are typically run in the cloud and are accessible via desktop and mobile applications, as well as a web interface.
What is a characteristic of Software as a Service?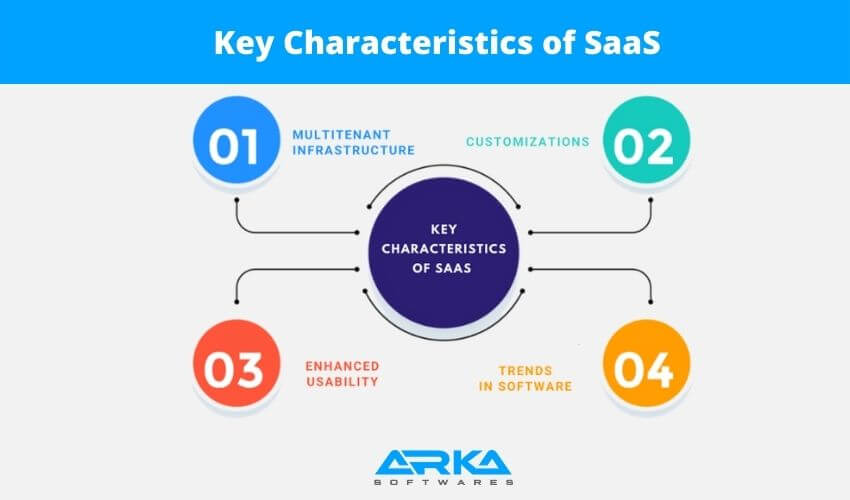 1. Multitenant Infrastructure
An architectural paradigm in which many instances of the program are hosted on a physical host is known as multitenant architecture. It enables servicing numerous tenants or users with a single application version.
It is the company's responsibility to maintain the platform and source code for a set of users collectively referred to as tenants. 
As a result, memory is allocated and released on demand. This makes it easier for vendors to develop and distribute time-bound changes and features for their customers because everyone uses the same codebase across all users.
Cloud service companies such as Microsoft, Amazon Web Services, and Google Cloud have a multitenant infrastructure.
2. Customizations and Add-ons
Software as a Service (SaaS) packages may be readily customized to meet your specific company requirements. This is due to the fact that the architecture accommodates various organizations differently. 
A Microsoft office 365 account, for example, may be used by people as a personal account or by corporations as a corporate account. Depending on your business strategy, subscription prices might vary.
3. Enhanced Usability
It is imperative that SaaS products adopt a multitenant design so that customers may access their information anytime from any device. All platforms display the same data, which is protected by robust data security and access control measures that ensure data integrity.
4. Trends in Software as a Service
According to Gartner's 2021 poll of emerging technology, SaaS is one of the top three innovative technologies. By 2024, McKinsey & Company predicts that cloud-based computing will increase to approximately $200 billion in market capitalization for B2B SaaS firms.
What is B2B SaaS?
B2B SaaS stands for software-as-a-service for businesses. It incorporates cloud-based apps for a variety of operations, including payroll, office efficiency, customer care, and more. B2B SaaS solutions are paid for on a monthly or annual basis by enterprises.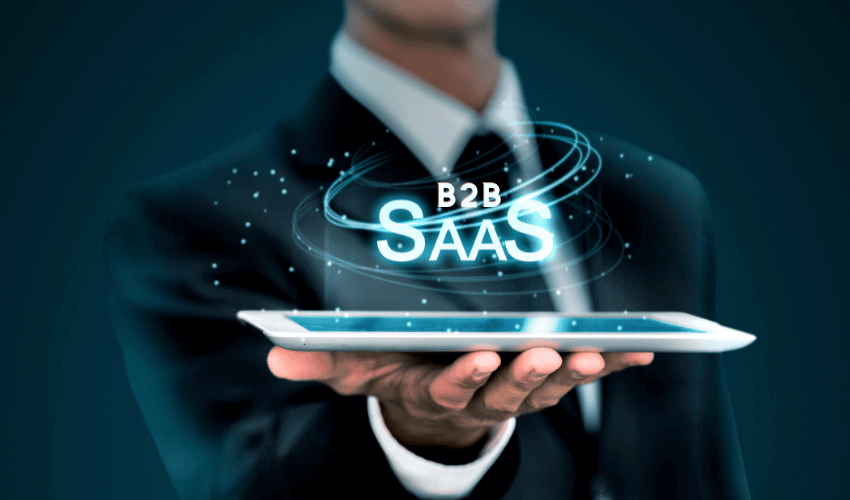 The primary goal of using B2B SaaS is to cut back on the costs of human resources. As a result of this advantage, several businesses utilize SaaS to optimize their pricing, marketing, and customer service in order to increase store profitability and revenue.
B2B SaaS Model: How Does It Work?
The SaaS business model is a deployment solution for cloud-based applications. A service provider in the software industry develops the solution digitally to meet the needs of a certain group of business users. As a result, the whole user community has access to a single, unified solution.
This application is then hosted by B2B SaaS companies on a third-party cloud infrastructure. Authentication techniques and login credentials are made available for users to safely access the program.
In order to keep their servers and databases safe, SaaS companies that operate in the B2B model continually need to keep them upgraded and maintained.
After successful registration, authorized users are now able to access all program functionalities through a web browser. Products like this don't require any special setup. 
The developer of the app may, however, request that you install specific third-party extensions in order to have full access to the application's functionality.
Benefits of B2B SaaS Products
Effortless Approach
Software-as-a-service SaaS solutions are tools designed for regular usage by organizations. For these tools, there are no client installs required and they may be accessed from any web browser. Small firms that can't afford expensive IT support might benefit from these solutions.
Cost reduction
Instead of typically licensed versions, SaaS solutions are built on subscription models, which lowers a company's overall operating expenses. All of the company's B2B clients use the same platform, making these services more cost-effective for everyone.
Streamlined Revenue Stream
For SaaS solutions, one of the most crucial advantages is that income is predictable. Providers may readily estimate their B2B customers' income because subscriptions are either yearly, half-yearly, or quarterly based. It assists in the planning of their subscription strategy and annual revenue development.
Free Upgrades
SaaS organizations are able to swiftly roll out upgrades and new features without affecting their customers' workflows or affecting their business operations. 
Typically, these deployments require only a browser refresh to be made available to the end-user. Moreover, B2B enterprises offer clients with 24 hours assistance.
B2B SaaS vs. B2C SaaS: Which Is Better?
B2B SaaS solutions and B2C SaaS offerings have a lot in common. Similar measurements are used by both to assess profitability. Moreover, both are handy, subscription-based service solutions that may be utilized by a variety of consumers. However, there are a number of important differences to keep in mind:
Pricing
In general, B2B SaaS solutions are more complex and hence more costly than B2C SaaS solutions. This is because they're built for developing businesses and teams, which necessitates a higher level of sophistication.
Use of Language
The communication styles of the two alternatives frequently differ significantly. Companies selling to other software development companies might utilize industry jargon and key phrases to support their product positions in discussions. software development
However, in order to engage with and relate to regular consumers, the same corporation would have to speak in layman's terminology.
Social Networks
B2B SaaS companies utilize social media in a very different way than B2C SaaS companies. B2B SaaS firms appreciate LinkedIn because they encourage a more professional, business-oriented approach to social media utilization. 
When it comes to B2C SaaS firms, Pinterest and Instagram are more popular options since they are more fun to use.
Relationships
Despite the fact that most customers want to feel like they have a personal connection with the companies they buy from, a B2C SaaS customer-brand relationship is low-maintenance. 
B2B connections, on the other hand, have a great deal of attention and care, particularly over the long term.
B2B SaaS Marketing: What You Need to Know
Keep Your Product Pages Well-Documented
Customers in the B2B market, especially those looking at SaaS app solutions, need to know exactly what your product can accomplish. 
All the information they need to know about how your product works, why they should take a closer look, and most importantly, why it's better than the competition should be at their fingertips.
In addition to providing the information, ensure that you provide your customers a glimpse of the product itself. Make use of graphical elements like interface screenshots, mock-ups, and other tools to make your marketing more effective.
Customize Your Content For Your Intended Audience
When it comes to B2B SaaS marketing, the goal isn't to get your message in front of as many people as possible. Instead, you should focus on building relationships with senior executives at the organizations you're selling to. PPC advertisements and content marketing are two of the most efficient methods for accomplishing this.
Make sure your message focuses on the unique problems your solutions can solve for those businesses.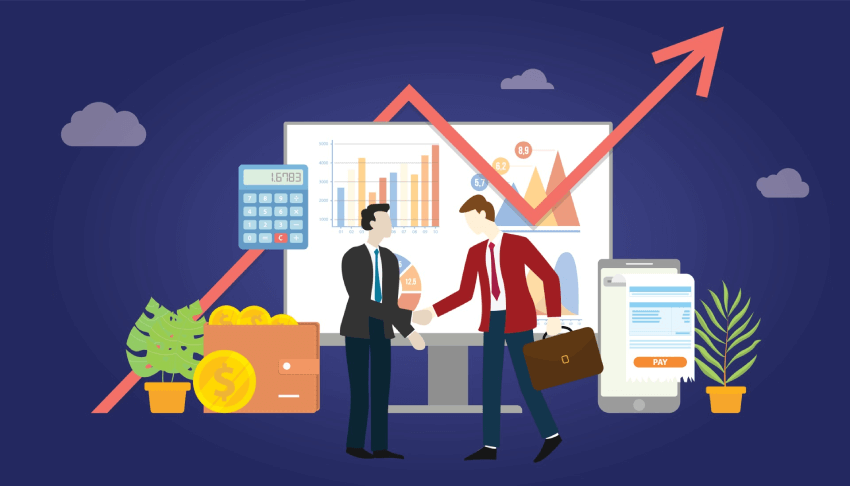 Assign A Project Manager To Each Prospect
As soon as a sales prospect has successfully made contact with your organization, you should begin aggressively cultivating the relationship. 
For each potential customer, assign an account manager or sales rep to contact them. Set up a call if feasible to resolve any issues or queries.
Keeping the email conversation continuing is also vital. Don't rely too much on autonomous solutions in this situation, although a well-cultivated autoresponder system will be beneficial here. 
After a trial or demo period, account managers should actively follow up with prospects to ensure that they are still interested in working with the company.
Make it easier for potential customers by offering discounts and other incentives. A little nudge might go a long way in getting someone who's already intrigued to take the next step.
Maintain Client Engagement After The Sale
Good B2B SaaS marketing does not end when a deal is closed. You shouldn't simply assume that your customers are pleased and can make the effort themselves if they have any more inquiries. Keep in touch with a strong re-engagement marketing campaign. 
Let your consumers know what's new in your product by contacting them from time to time. Your customers will appreciate it if you keep them informed about new features you add.
Make sure they know what's accessible to them if they decide to purchase a more expensive plan or a related product. Try implementing a referral program as well, so that your current clients may benefit from incentives for bringing friends and peers to your company's fold.
KPIs To Monitor For B2B SaaS
B2B SaaS campaign setup is merely the first step in a long-term marketing strategy for a SaaS business. The only way to truly know if your efforts are bearing fruit is to keep a close eye on KPIs.
Customer Acquisition Cost (CAC)
This number is exactly what the name implies—the average cost of acquiring a new client. Compare this figure to the comparable earnings to guarantee a healthy return on your initial investment.
Customer Lifetime Value (CLTV)
Using this statistic, you can calculate the average value of each client over the course of your engagement with them. As an example, a client who pays you $100 each month for an entire year will have a CLTV of $1200, rather than $100.
Churn Rates
Customers that cancel or do not renew their subscriptions are known as churners. The churn rate is the ratio of consumers who left your service within a specific time period to those who stayed.
In order to calculate the churn rate for a given time, divide the number of consumers that opted out from your service by the total number of clients you signed up with. 
Monthly Recurring Revenue (MRR)
A successful marketing campaign, whether B2B or B2C, requires careful planning, and MRR is a key indicator to look at when evaluating yours. A typical month's recurring income is the amount any business may expect to earn on a monthly basis. MRR may be used to establish and manage the continuing budgets, as well as to measure whether a firm is increasing consistently over time.
Annual Recurring Revenue (ARR)
When it comes to evaluating your business's profitability, MRR and ARR are two critical metrics to keep an eye on. What you anticipate making in a year is, of course, what you put in. The greatest approach to ensure that your business becomes successful and remains so on a continuous basis is to monitor and alter your KPIs.
Top Five B2B SaaS Companies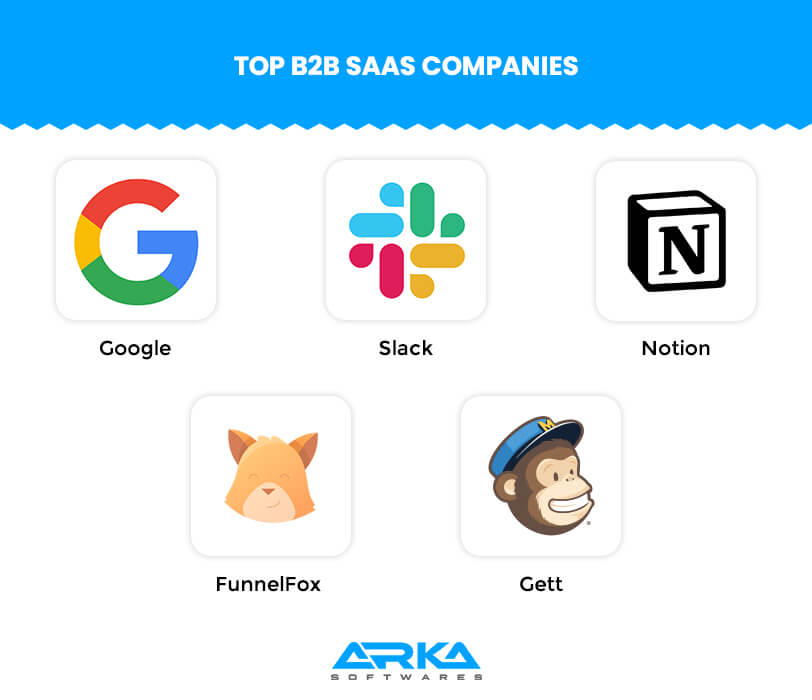 1. Google
If you're talking about digital solutions, you're probably going to bring up Google, aren't you? Although the company's search engine is its most well-known platform, it also offers various B2B SaaS products that you have undoubtedly used a few times previously.
Sending an email doesn't necessitate the installation of any software, right? Gmail is accessible from anywhere and on any device. The same holds true for other Google tools such as Drive, which enables cloud-based document storage, Forms, which focuses on forms and surveys, and Docs, Google's SaaS-based equivalent of Microsoft Word.
The company started as a little startup in 1998. Today, 21 years later, it has $136 billion revenue.
2. Slack
Slack is a network and coordination center that may be used for a wide variety of jobs and operations. One of the fastest-growing SaaS businesses, it is now a multi-billion dollar corporation in just four years. Slack is a popular alternative for small businesses and freelancers since it allows users to communicate via direct messages, chat groups, and topic-based communities.
3. Notion
Notion is a collaborative workplace that unifies all topics, documents, and forums under a single umbrella. Notion integrates with Google Drive, and Basecamp to save all of your important data in one place for small to medium-sized teams.
To summarize, Notion is an excellent choice if you're dealing with folder and file anarchy. As a bonus, it's a breeze to use, making it ideal for managing a wide range of resources including collaboration, messaging, and file-sharing.
4. FunnelFox
Using FunnelFox's in-server technology, you can streamline administration and increase efficiency. It informs CRMs and sales reps of opportunities or critical events to connect with clients, as well as notifying them of other information that is necessary for sales trades.  
5. MailChimp
Mailchimp, which was formed in the early 2000s, is the most popular small business marketing network. With classic products like Mandrill and TinyLetter, it provides various automation tools. This service allows users to automate the sending of emails as a marketing tool for their businesses.
Conclusion 
The SaaS business model has grown as a result of increased access to a range of technology resources made possible by digital transformation. B2B SaaS is becoming increasingly popular as a way for firms to supplement their own operations.
Easy to use, low cost, multiple payment options, and regular vendor updates are all advantages of using a B2B SaaS solution. The B2B SaaS industry is expanding in tandem with the need for increasingly complex and sophisticated applications in various areas.
FAQs for B2B SaaS