In today's fast-paced environment, people expect rapid access to a wide range of services, right at their fingertips. We constantly encounter numerous menial activities that require the expertise of a professional.
Fixing a dripping sink faucet, washing and polishing the vehicle, giving the house a good cleaning, keeping the appliances in good condition, and so on all fall under this category. Certain things that used to be simple and straightforward now necessitate some sort of assistance. 
Moreover, there is an added degree of difficulty if you are a newcomer to the city. You have no one to ask for help, and you don't know how to set up the basics in your new home. In such a situation, only the best handyman apps will be able to help you.
A recent survey indicated that the digital home service sector generated a total of $869.95 billion in revenue. The evolution of handyman booking services has made it less challenging to find reliable contractors and professionals.
The best handyman apps offer a time-and-effort-saving method of just the most qualified professionals visiting your home.
On-demand Handyman Mobile App: Overview and Market Stats
The best handyman apps connect people looking for home repair services with companies who provide them. It also makes it easier to carry out all the processes required in delivering handyman services in an orderly and efficient manner.
Businesses offering a variety of in-home services can benefit by collaborating with an on-demand handyman app development company. The services might include plumbing, housekeeping, construction, furnishings, cleaning, pest management, healthcare, and many more.
These days, an organization's success or failure hinges on its applications. This generation lives in an app-based environment. 
More and more individuals rely on applications to help them fulfill their daily needs. The widespread adoption of smartphones was a major factor in the expansion of many businesses.
Due to the increasing levels of competition for well-paying jobs, business owners are always looking for fresh opportunities to launch successful ventures. Designing a top on-demand handyman app is a straightforward and scalable solution.
Consumers' increasingly busy schedules, especially in the United States, have contributed to a worldwide rise in the demand for home services.
Nearly three-quarters of customers in the United States who use the best handyman apps to hire a handyman do so to fix a variety of issues.
In 2022, the value of the global home service market is predicted to reach $478.35 billion. The same market is anticipated to be worth $2,247.84 billion by 2028, representing a CAGR of 29.9%.
Best 15 Handyman Apps
1. TaskRabbit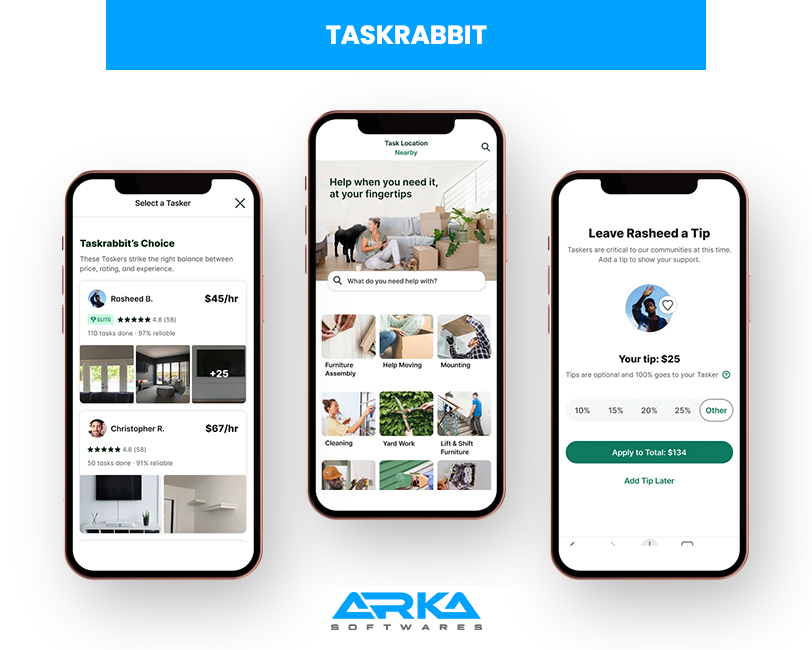 Clients can use the TaskRabbit app to post one-time requests for services, such as putting together flat-pack furniture, mowing the lawn, hanging pictures, or installing shelves.
TaskRabbit isn't limited to only handymen, either. Taskers can be basically any type of service provider, including cleaners, gardeners, carpenters, plumbers, cosmetics artists, dog trainers, and physiotherapists, among others.
If you're a handyman, this is most probably among the most unique handyman apps for finding work. You may use TaskRabbit to browse available jobs, and then submit bids on the ones that seem like a good fit for your talents and experience. It doesn't cost much to sign up with TaskRabbit, and there are likely to be a variety of jobs available for you.
TaskRabbit is available on both Android and iOS for free.

2. Urban Company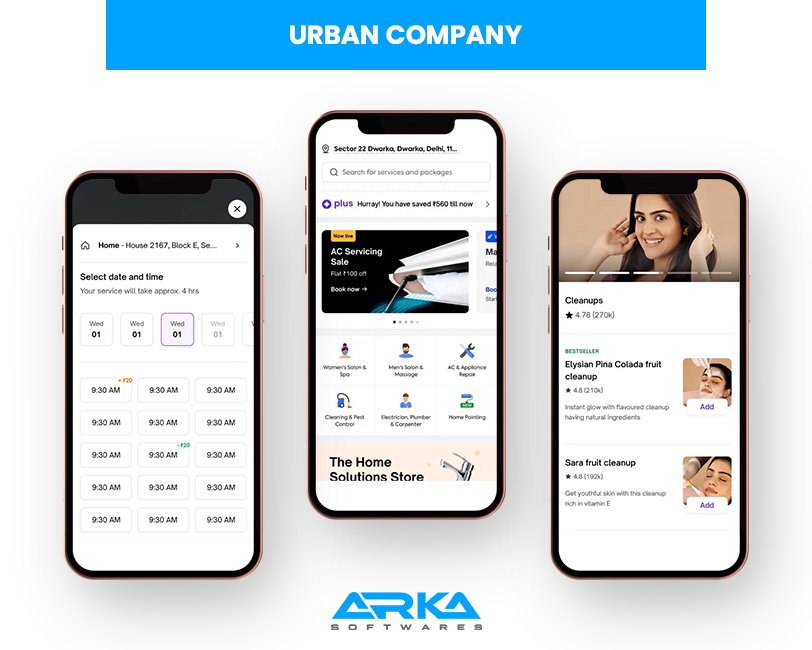 UrbanClap is a generic app for home services, therefore it should come as no surprise that handymen can simply sell their services on the platform. Its massive user base and a wide variety of open vacancies are two of the app's best features. There are hundreds of reviews for each worker, making it easy to choose the best one every time.
The application assigns a unique rating to each service provider which makes it one of the top apps to find handyman. The higher in the rankings the service is, the greater its popularity. Hiring a contractor is a breeze. Schedule a handyman's visit and discuss the specifics over the phone.
UrbanClap is available on both Android and iOS for free.
3. Handy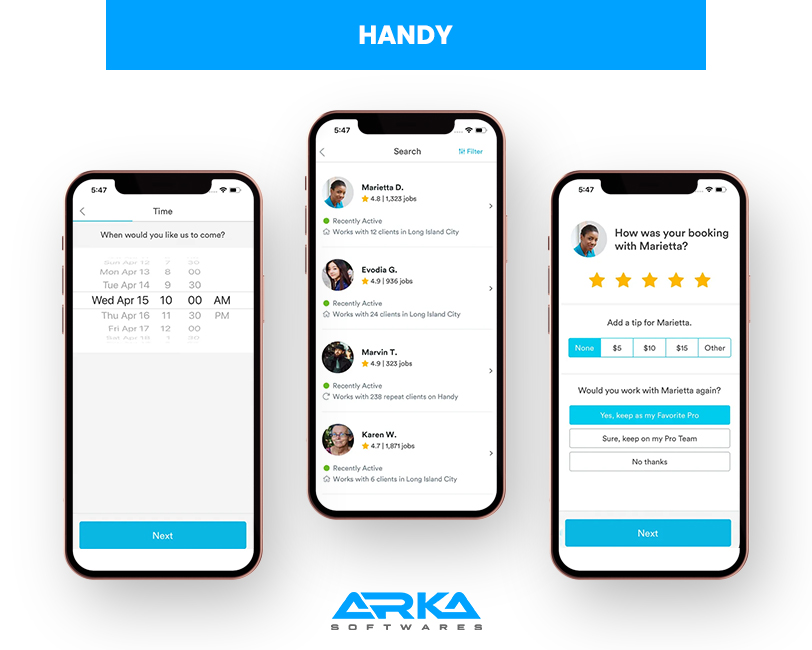 When it comes to handyman apps, Handy is perhaps among the most popular and best handyman apps in both US and UK. With its user-friendly interface, it makes it simple to make a booking for low-cost handymen and house cleaners.
Pick a service, locate a reliable handyman, and pay for everything with a single tap on your phone. Professional, well-reviewed, and extensively vetted handymen are the backbone of this Uber-style handyman application.
Appointments can be scheduled seven days a week, with next-day availability, thanks to the company's round-the-clock effective communication.
Handy offers a small menu of in-home services to address a wide range of issues. This top on-demand handyman app is your one-stop shop for all of your home improvement needs, including plumbing, electrical work, air conditioning, and painting.
Handy is available on both Android and iOS for free.
4. Jobber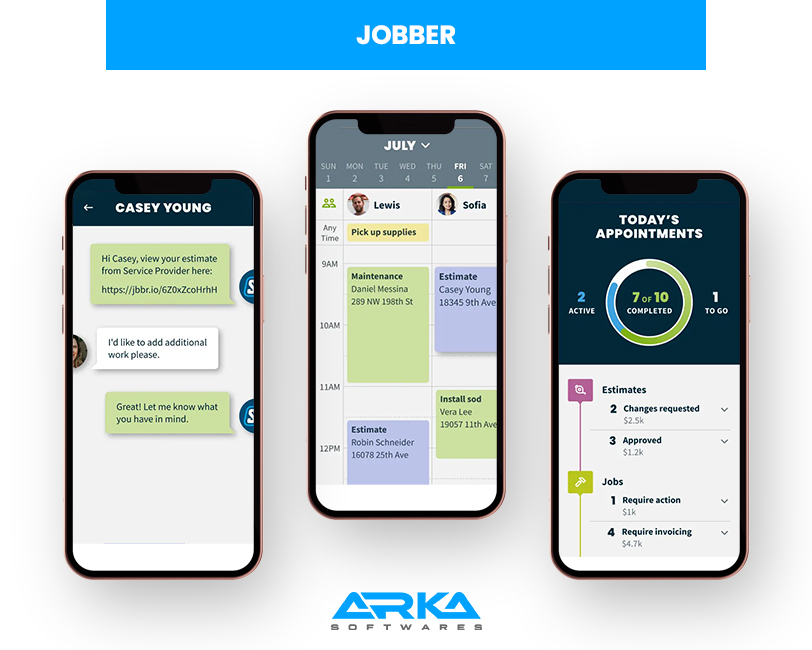 If you're a handyman looking to expand your business, Jobber could be the best application for you. This app's intuitive layout makes it ideal for handymen to use as a means of income generation.
It has a ton of useful functions, like the ability to make estimates, send invoices, and organize your staff's schedule. This application will help you maintain a streamlined business by facilitating better management.
In addition to letting, you track the whereabouts and progress of your team, it may also help you plot the most efficient routes.
Using the app's notetaking and image-sharing features, collaboration within the team is enhanced. Companies that prioritize their customers tend to thrive.
Jobbers is one of the best handyman apps since it allows you to track your clients' histories, accept payments online, and notify them when your crew is on the route.
Jobbers is available on both Android and iOS for free.
5. Thumbtack for Professionals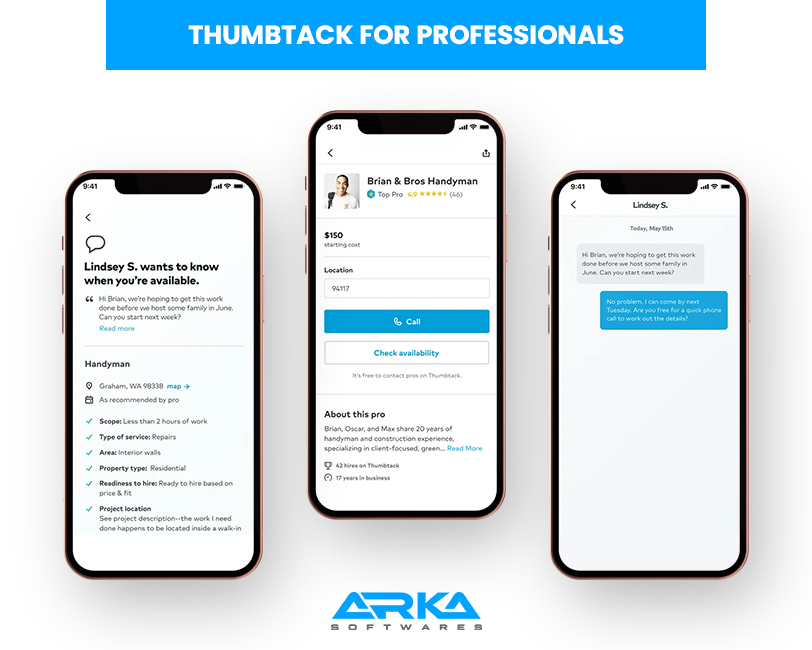 Thumbtack, which provides on-demand handyman services, is based in California. It is among the best smartphone apps for finding local specialists to help with home repairs and maintenance. This app connects you with skilled individuals in a variety of fields, such as photography, sports, and furniture assembly.
Thumbtack is the ideal method to book professionals for any handyman service, whether it's remodeling, decorating, repairing, removing furniture, installing security systems, or even cleaning.
To top it all off, it's simple to browse the different price quotes, read up on the companies, and research the evaluations and previous work of other pros before making your final decision.
Thumbtack for professionals is available on both Android and iOS for free.
6. Angi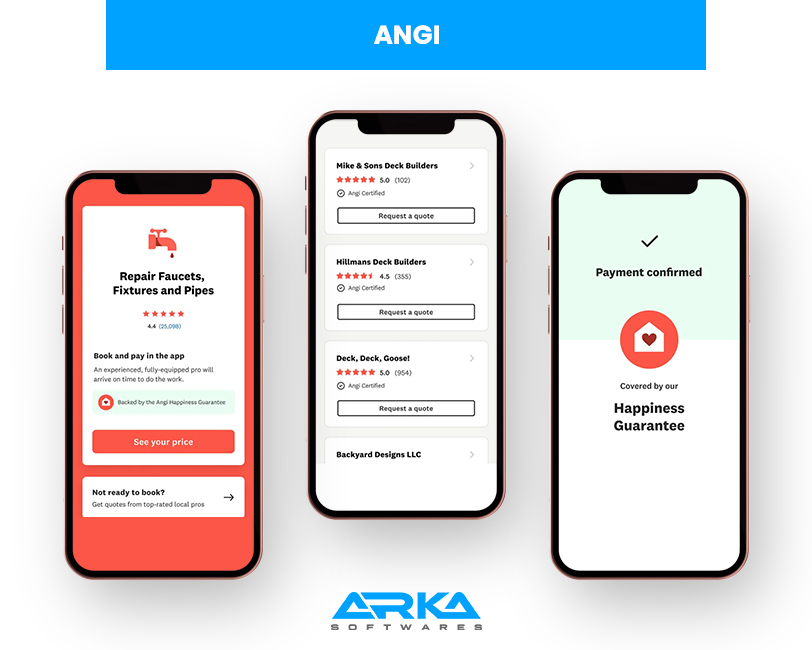 Angi is an iOS and Android app that helps users locate handymen in their area. Here, customers may connect with trusted handymen and contractors in the local region that are known for their reliability and reasonable rates.
The "satisfaction guarantee" is a fantastic perk offered by the Agni app that might help you relax. You may rest assured that the staff will do all it takes to make you satisfied with the final product.
Whether you need a handyman, a plumber, or an electrician, Angi can connect you with the best professional in your area for the job. This platform offers convenient in-app payments for services, so you can skip the middleman and pay for what you need without ever leaving the application.
Prior to making a reservation, you can view estimated prices and make price comparisons. In this way, you may locate the most affordable options without sacrificing quality.
There are more than 500 distinct sections devoted to various aspects of house maintenance and renovation, which is a huge plus. No matter what kind of help you require, Angi will be able to locate the most qualified expert for you, hence making it one of the best handyman apps available in the marketplace.
Angi is available on both Android and iOS for free.
7. BrightNest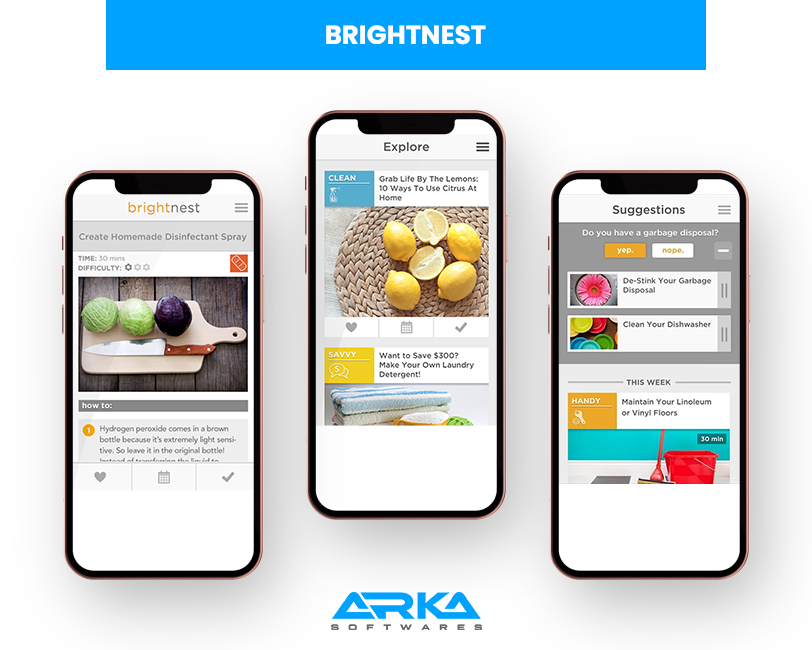 Using BrightNest, you won't have to strain yourself to complete mundane household tasks. Simply put, it has a ton of recommendations that can help you simplify your task. You may get all you need to know to give your home the best possible form by decorating, cleaning, fixing, etc., all in one convenient app.
Many common household tasks, such as changing air filters, decorating with blackboard paint, unclogging a showerhead, making a homemade disinfectant spray, unicycling wine bottles, inspecting an attic, arranging jewelry, and cleaning a microwave with lemon, are covered.
When browsing the app, you will find a wide variety of interesting tasks that don't call for a lot of time or effort. The app's usability and utility are enhanced by its user-friendly interface.
BrightNest is available on Android. 
8. Mr. Right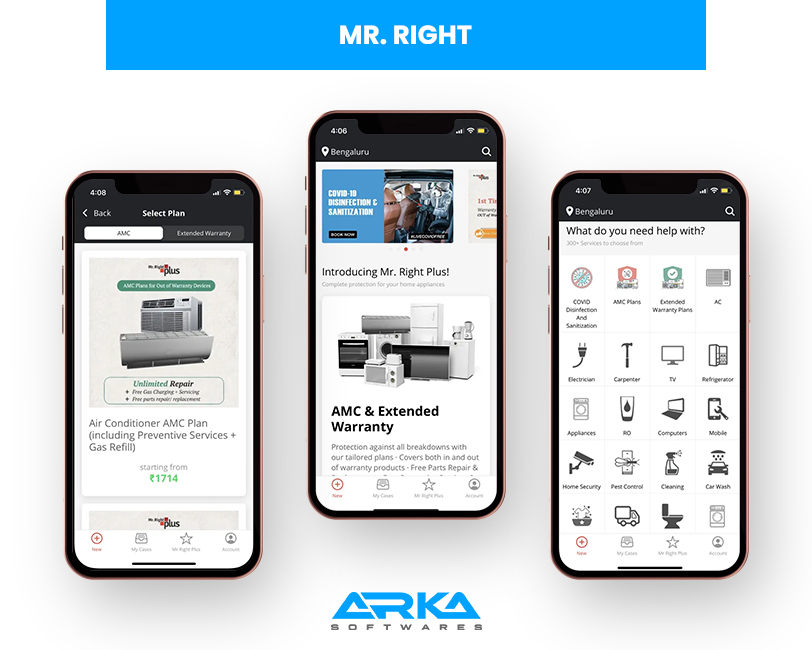 The Mr.Right app is a handyman service that consolidates a number of different home improvement and maintenance options into a single interface. You may find qualified, trustworthy specialists with little effort with this application.
Finding qualified professionals in any trade, from carpenters to plumbers to electricians to dog trainers, is as simple as contacting a single service provider.
Mr. Right offers a variety of repair and maintenance services, including pest control, car washing, CCTV setup, RO cleanser, smartphone & computer repairing, and more.
Mr.Right is available on both Android and iOS for free.
9. Helpr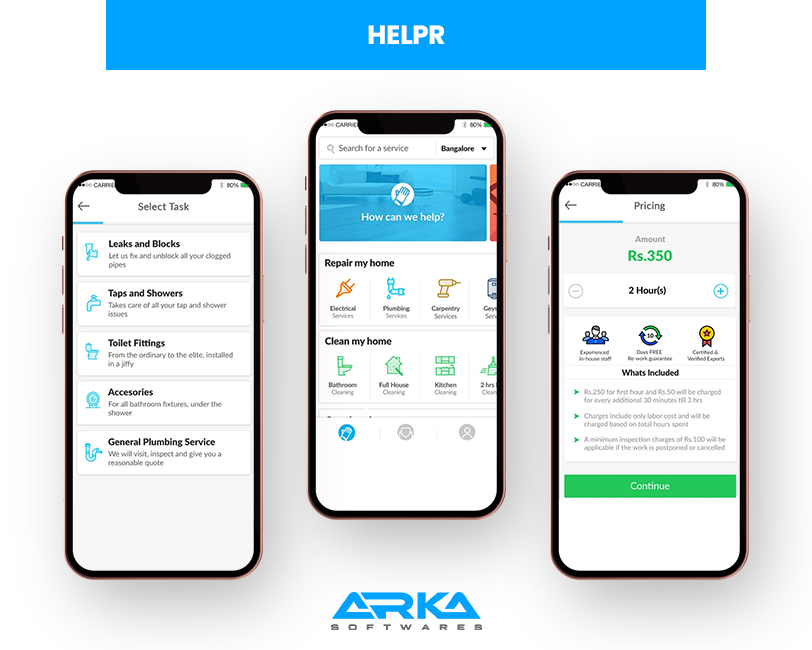 If you're looking for a reliable application that can assist you around the house, go no further than Helpr. The Helpr app connects users with qualified handymen in their area, streamlining the booking and service processes for those in the handyman industry.
Helpr offers a variety of services, including maintenance for homes, electronics repair, housekeeping, and security.
The Helpr app allows you to book handyman services, monitor their progress, and review the service provider, all from the convenience of any mobile device. It's available for free on both the Google Play and Apple App Store.
Helpr is available on both Android and iOS for free.
10. HOMEE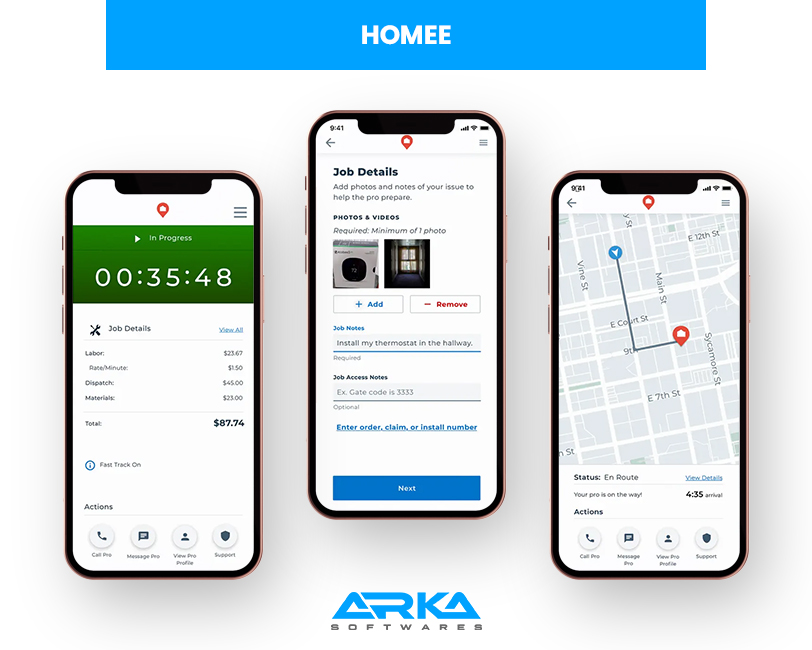 Using HOMEE, it's quite simple to get a handyman's help whenever you need it. A wide variety of common household issues, such as plumbing, installation, and maintenance, can be addressed with the help of this robust platform.
Simply by using your smartphone, HOMEE connects you with highly rated professionals who are available around the clock to service your household. Before hiring a handyman, it's a good idea to research their record and settle on a preferable expert.
This application lets you keep an eye on everything as it happens for your own peace of mind. It also has simple, upfront pricing that makes it simple to locate a service that fits within your financial constraints.
HOMEE is available on both Android and iOS for free.
11. KnockNok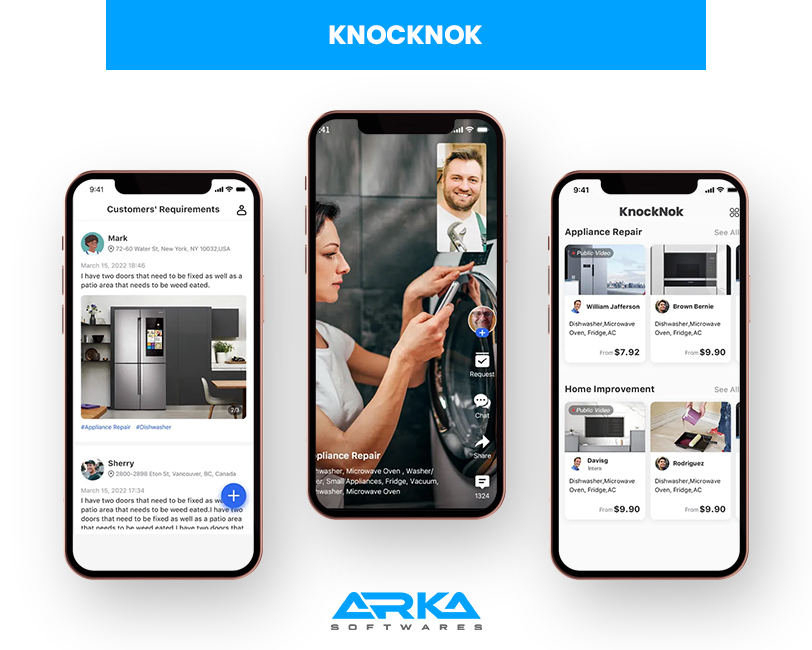 Whether you're having trouble with your refrigerator or dishwasher, KnockNok can help. Experienced handymen back this app, so you can get help with things like appliance repair, home remodeling, and plumbing whenever you need it.
You'll be able to save both time and money using KnockNok. Each repair starts at just $10, which is much more economical than regularly planned maintenance.
It also emphasizes the convenience of being able to contact handymen immediately rather than having to schedule a visit. In addition, one-on-one live instruction is available through the app if you wish to attempt appliance repair on your own with assistance.
You can report an issue with a home appliance to a service provider, get answers to your inquiries, and access individualized assistance in real-time.
Being among the best handyman apps, KnockNok allows you to look through appliance categories and hire a handyman with a single tap.
KnockNok is available on both Android and iOS for free.
12. Eazy Pizy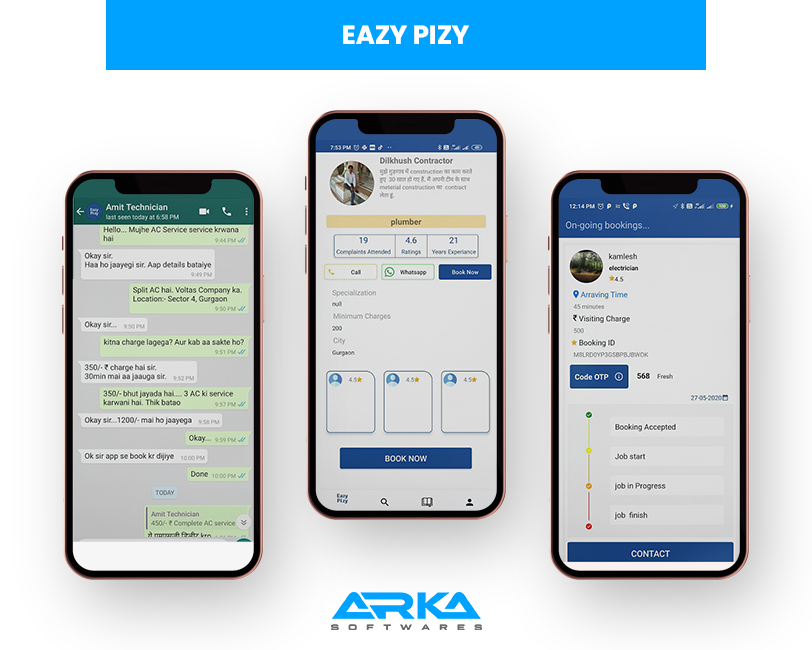 If you're looking for a reliable handyman in your region, Eazy Pizy is a fantastic app to try. The developer will assist consumers in obtaining necessary home repairs and renovations. The pinnacle of ease and convenience without ever leaving your house is now possible with just one click.
By facilitating a direct connection between users and qualified handymen, this application is a game-changer in the service industry. The intuitive layout makes it the best option for anyone who wants stress-free maintenance of their home's electronics, plumbing, or other structures.
With Eazy Pizy, you can view a handyman's whole profile before making an appointment, allowing you to pick a qualified person that suits your needs. Moreover, it enables basic tracking that displays various states, so you may monitor the project's development as it unfolds.
Eazy Pizy is available on Android for free.
13. The Family Handyman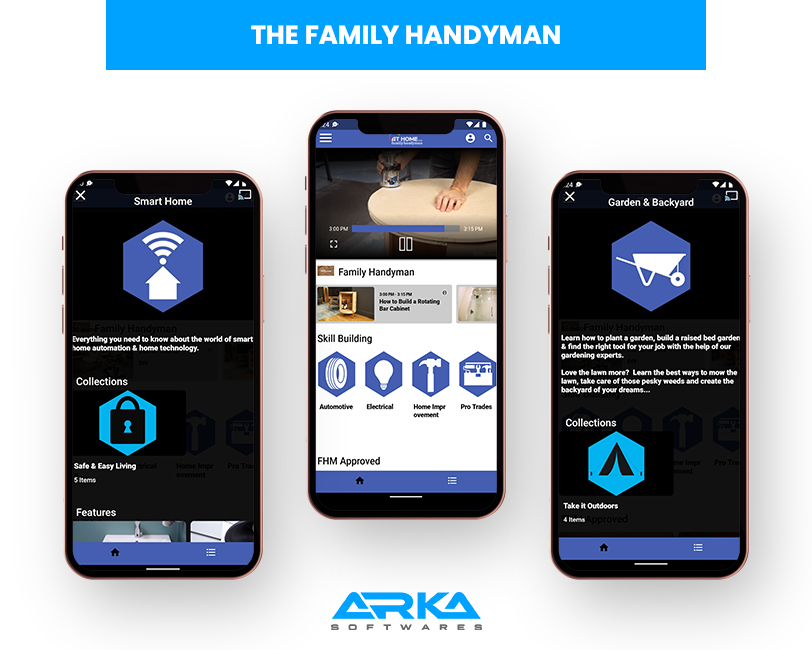 It's a top choice among the best handyman apps since it gives you and your customers access to a wealth of information about how to save money, time, and effort while designing, renovating, and repairing.
If you're planning a home renovation project, you may quickly and simply examine DIY guidelines covering anything from carpentry and scrubbing to repainting and pest control to carving and window washing.
If you need to do any sort of home improvement, whether it be plumbing, adding extra storage, repairing appliances, or even expanding, this app is a must-have.
The Family Handyman is available on both Android and iOS for free.
14. Porch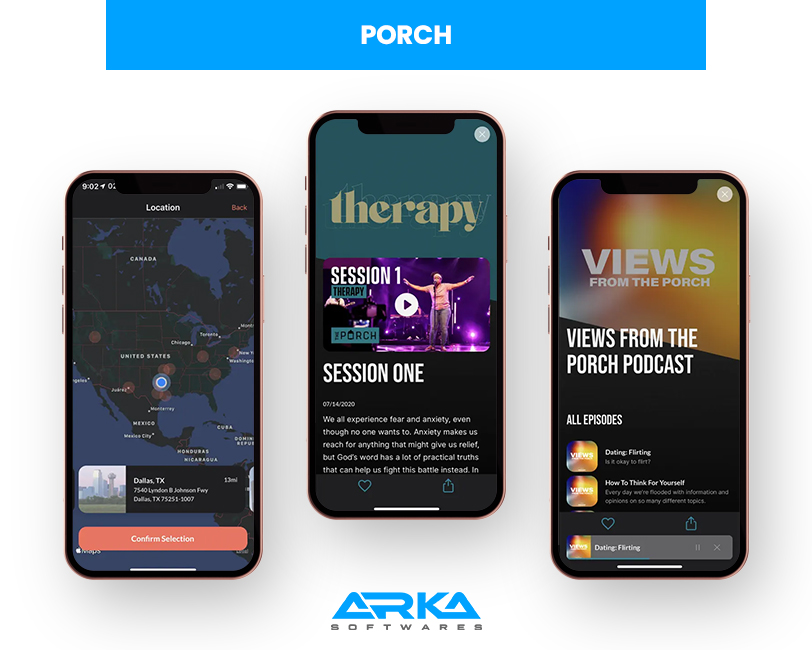 Porch is a widely used mobile app for handymen to advertise their services and provide home maintenance and repair. The porch's straightforward interface makes it simple for the users to locate and hire a handyman. In addition, the app allows you to schedule a handyman's arrival and discuss other logistics.
Customers may quickly and simply book trustworthy home services through Porch, including house maintenance, electrical and plumbing, HVAC system setup, furniture assembly, relocation, security installations, etc.
When you hire a professional handyman service, you can also schedule the service at a time that is most convenient for you.
Porch is available on both Android and iOS for free.

How On-Demand Handyman Mobile App Works?
To find a handyman in your area without disclosing your residents' full address, you can use a local handyman application. With the right app, a user in need of help can instantly locate the most reliable local service providers in their area. This would make it easier for clients and businesses to share information and gain a deeper appreciation for one another's requirements.
Consumers valued the fact that they could schedule their errands at their own convenience using a top on-demand handyman app. They have the option to seek assistance whenever they need it, be it immediately or at a later time, providing them with greater flexibility in planning their day.
Advantages of having a Handyman Services Application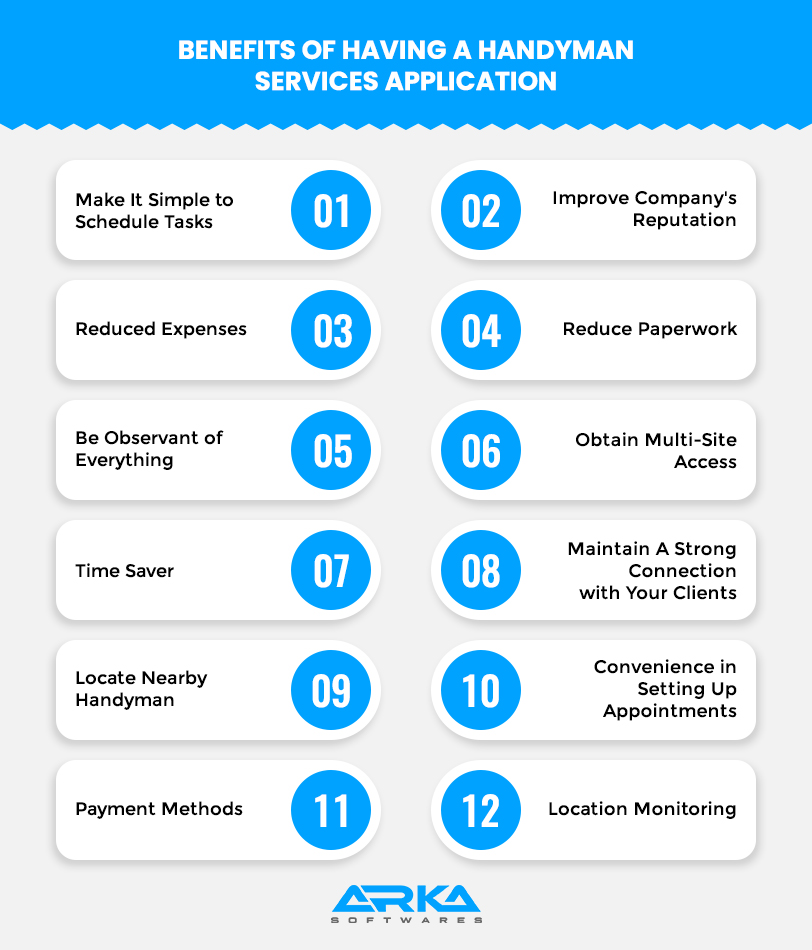 Make It Simple to Schedule Tasks
The ability to rapidly generate and schedule assignments for the handymen is a major advantage of using a mobile app.
With the help of these apps, handymen may see all the jobs they have due for a given day, week, or month in one convenient place.
The greatest benefit of a developing a handyman app is that business owners would save time by not having to make routine phone calls to their employees.
Improve your Handyman Company's Reputation
Customers may find reliable service providers at the tap of a button when they use a handyman app. The app can help your company effortlessly manage job scheduling and even generate customer bills.
With the handyman app, you may leave a lasting impression on the mind of users as a reliable and trustworthy professional. Thereby, the presence of an app contributes to the growth of the company's reputation.
Reduced Expenses in Management
Apps that connect customers with handymen facilitate online booking at a low cost. These apps also facilitate easier time management for team leaders and employees.
Since you won't have to hire as many office helpers to handle tasks like drywall installation and painting, the handyman app is a crucial tool for your company.
This arrangement continues to function successfully even if more handymen are employed and new activities, including furniture assembling, construction, and renovation, are scheduled.
By freeing up time formerly spent on administrative tasks, you can devote it to matters that directly contribute to the growth of your billings' profit margins.
Reduce Paperwork
If you own handyman business, going paperless is the best approach to boost efficiency. In addition to being a cost- and time-saver, it also contributes to a cleaner, greener world.
Many different types of handyman work, such as cleaning, pest management, and other home service jobs, are typically performed by handyman businesses.
Using digital platforms is the most efficient method to eliminate such a lengthy procedure. Using document management software, you may scan paper documents, take pictures with your mobile device, or import any form of file to create digital copies.
The primary function of this document management method is to provide new and improved security features that make it simple to monitor sensitive files and prevent them from being misplaced, lost, or damaged.
Be Observant of Everything that's Going On
Handyman apps, in general, feature a reliable data system that can effortlessly keep tabs on all the necessary activities to handle everything associated with labor.
In addition, any part of the business can be analyzed in a precise manner. The most fascinating aspect of Handyman apps is their ability to detect and eliminate flaws, complexity, and common blunders at an early stage.
Obtain Multi-Site Access
The handyman app's ability to support several locations makes it convenient for the CEOs of handyman enterprises to manage their companies from anywhere in the world.
Additionally, businesses may see and manage a large number of schedules, contracts, reports, inquiries, staff, and billing with a few touches.
The GPS tracking and client notification tools included in the handyman platform make it easy to keep tabs on your taskers and keep them in the loop.
Time Saver
Incorporating smartphones into your business is a simple way to increase efficiency and cut down on wasted time. Additionally, you may accomplish more in less time and more efficiently manage everything having to do with running a business.
Although it takes time to get your company app up and running, the increased return on investment will be obvious in no time.
Maintain a Strong Connection with your Clients
The handyman app streamlines the process of keeping track of multiple clienteles at once by integrating with a customer relationship management system.
Work orders, papers, customer information, e-mail data, quotations, and invoices are just some of the things that service providers may simply handle with the use of customer service software.
The use of handyman applications allows for simple management of business operations, accurate monitoring of employee productivity, and a more streamlined approach overall.
Locate Nearby Handyman
Mobile apps simplify and expedite our lives, and the same is true for handyman services, as they help users to stay on track. Customers in need of house repairs these days want such services delivered when it's most practical for them. Evidently, locating local handymen is of greater importance to them.
As a result, handyman applications have a powerful feature called "Find Nearby Handyman" that gives customers the contact information for a handyman in their immediate vicinity.
Customers can look for standard rates for any service they need, whether it is a plumber for plumbing work, a janitor for surface cleaning, or any number of other technicians for home-related tasks.
Convenience in Setting Up Appointments
Customers can effortlessly schedule handyman services with the use of an app for iOS or Android. If clients can't schedule appointments using the app, the company stands a greater probability of failing and suffering bad publicity. For this reason, it is essential to allow users to schedule services directly from their phones.
Payment Methods
You need to get specific about the accepted forms of payment in your handyman application. The user may want to pay using a digital wallet to schedule the services, but the app may not provide that option.
So, then what? The potential customer is going to dump you, it's obvious.
That's why it's crucial that users have access to a variety of payment methods that best suit their needs. Instead of trying out a completely novel payment method, stick with the tried-and-true options.
GPS and Location Monitoring
A handyman app allows clients and service providers to use GPS to keep tabs on one other's whereabouts. Clients are able to simply track the locations of professionals and get an estimate of when they will arrive.
Conclusion 
After reading about the top handyman applications, it is normal for you to be inspired to develop on demand handyman app for your business.
You just need a comprehensive breakdown of the most popular on-demand handyman applications, including how they function, their most important advantages, and their primary features.
Whether it's invoicing clients or keeping tabs on employee hours, these top handyman apps are vital tools for any business owner.
FAQs for On-demand Handyman Apps