At home, we frequently encounter many modest tasks that necessitate the assistance of a specialist. Things like fixing the leaky kitchen faucet, washing the car, cleaning the house thoroughly, maintaining the appliances, and so on.
We must accept the fact that our lives have gotten increasingly hectic and frenzied over time. Tasks that seemed minor and easy before now require assistance. Moreover, if you are a stranger to the city, the challenge increases.
There is no one to turn to for advice and you got no idea how to arrange even the most fundamental aspects of your new place. In such a situation, a Handyman App will come to your assistance.
A recent study found that the digital home service business produced $869.95 billion in total sales. As a result of on-demand handyman app development, it is now much easier to connect with qualified contractors and designers.
These handyman service applications are a convenient way to get the best technicians to your home with minimal work on your part.
What is On-demand Handyman Mobile App?
The handyman applications serve as a meeting place for those in need of home repair services and businesses or individuals offering such assistance.
Moreover, it facilitates the smooth and well-organized execution of all steps involved in providing handyman services. The handyman app development process provides value to a wide range of businesses that provide in-home services, including but not limited to those dealing in plumbing, cleaning, carpentry, furniture assembly, laundry, pest control, healthcare, and many more.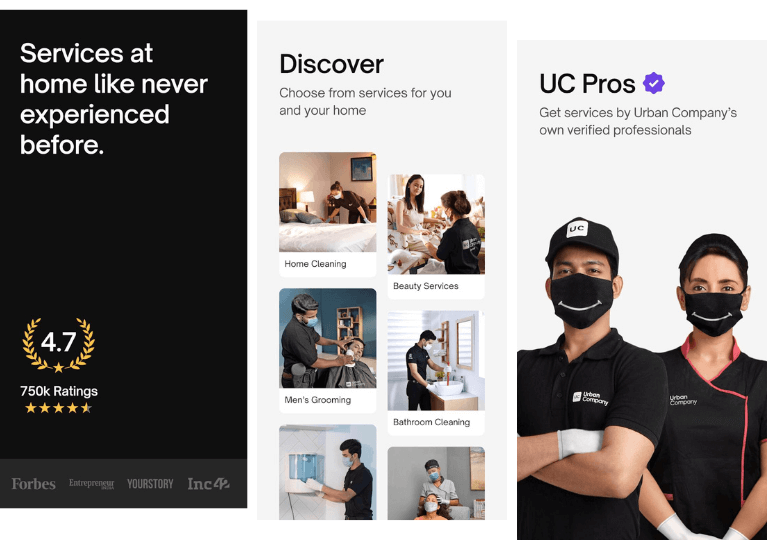 How On-Demand Handyman Mobile App Works?
If you need a handyman but don't want to give out your residents' full addresses, you can download a local handyman app to help you discover one.
When a user is in need of assistance, they can quickly find the best local providers of that service by consulting the appropriate app. This would facilitate communication between customers and service providers and help both sides better understand the needs of each other.
The convenience of scheduling chores was also appreciated by the consumers. They can ask for help at any time, whether it's right now or later on, giving them more freedom to organize their day as they see appropriate.
Industry and Market Size – Why Invest In Handyman Apps?
Nowadays, applications are what make or break a business. The modern world is app-based. People today have a lot on their shoulders due to their hectic work schedules and other commitments. Putting aside time for recreation is a tough task.
As a result of this change in behavior, there has been a dramatic increase in demand for on-demand app creation. A growing number of people rely on apps to help them meet their basic living requirements.
Businesses were driven to seize the opportunity and grow as a result of the growing popularity of smartphones and their simplicity of access. Due to the fierce competition for high-paying professions, entrepreneurs are searching for new alternatives to establish profitable firms.
The option to build a handyman application is a simple and scalable one. The increasing demand for home services worldwide can be attributed to the increasingly hectic lifestyles of today's consumers, particularly in the United States.
The vast majority (almost 73%) of US clients who use handyman services do so to address multiple problems around the house. The total value of the home service industry worldwide was estimated at $478.35 billion in 2022. With a CAGR of 29.9%, the same market is projected to reach a value of $2,247.84 billion by 2028.
Types of Handyman Booking Mobile App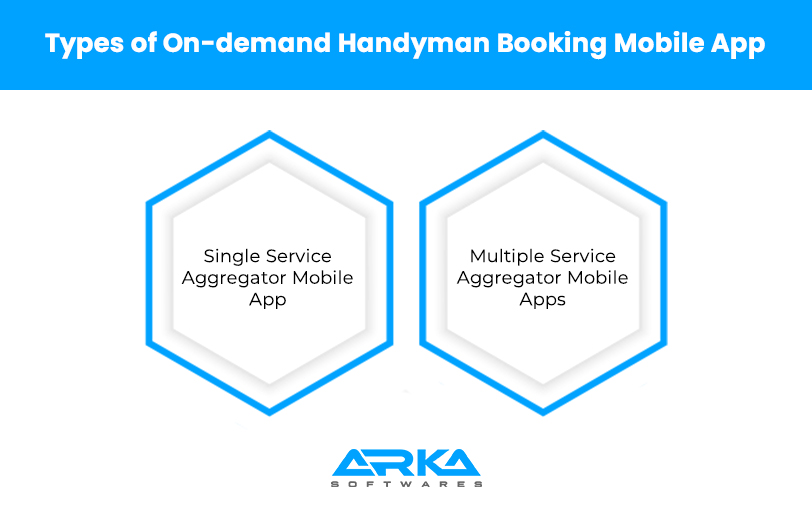 1. Single Service Aggregator Mobile App
These apps, as their names imply, are designed to perform a single function. As an example, GoMechanic caters specifically to the auto repair industry. It's simple to manage these apps because they're all about a single type of service, requiring input only from experts in that field.
As an added bonus, these apps cater to a specific subset of users because they are each designed to do a single function.
2. Multiple Service Aggregator Mobile Apps
The most prominent of these applications are TaskRabbit and UrbanCompany. Services like housekeeping and personal grooming are just some of the many that such apps address. It's not easy to coordinate the management of these apps, which require a wide range of specialized expertise.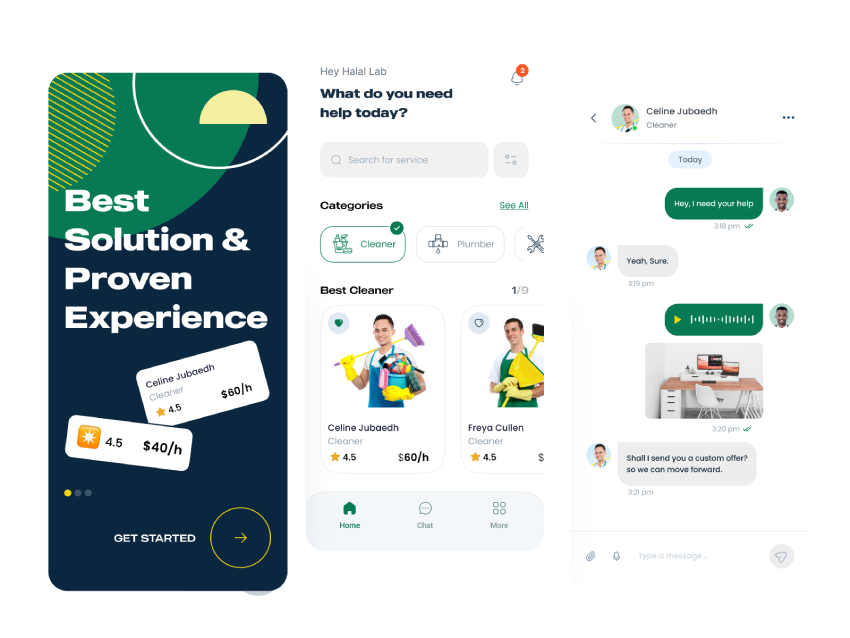 However, due to the breadth of services they provide, this sort of on-demand handyman app development attracts a wider user base and generates more revenue.
Top Sought-after Services Through Handyman Mobile App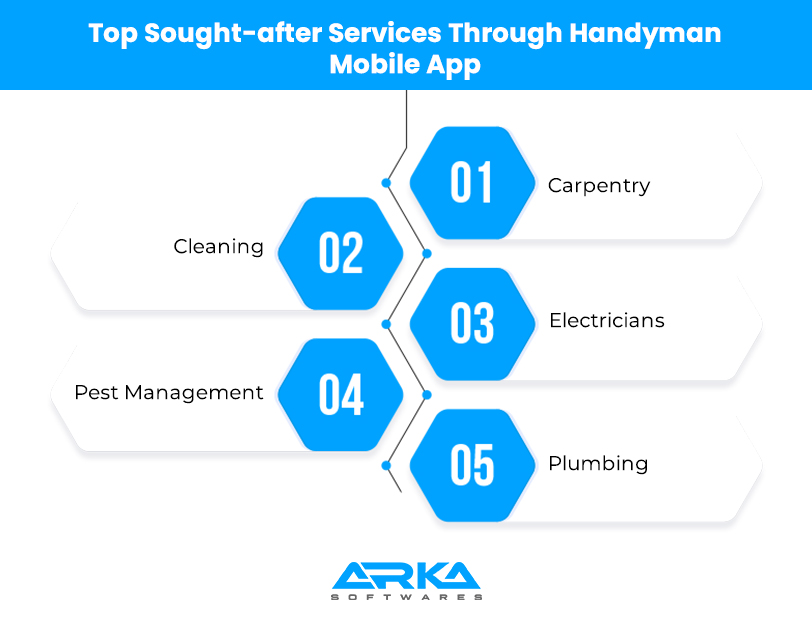 1. Carpentry
Carpentry is a highly requested service for on-demand handyman app development. It's not easy for one person to take on carpentry by themselves due to the need for specialized tools and equipment.
Therefore, they would rather pay someone else to do it. Include carpentry as one of your handyman services if you're going to create a mobile app.
2. Cleaning
As with other handyman services, cleaning is greatly sought after on these apps. Most working couples would rather employ a cleaning service because it is difficult for them to clean their houses before going to work in the morning. Getting the help of such experts is essential when relocating a home or business, or cleaning up after a party.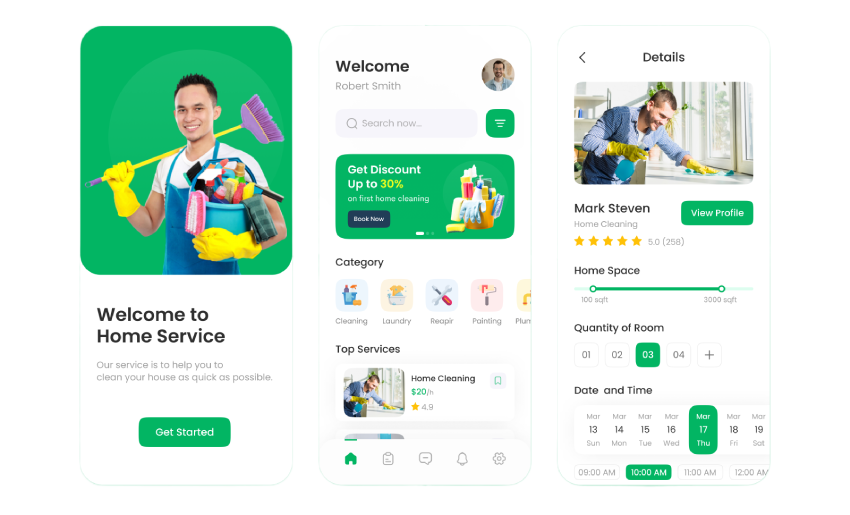 Given the consistent demand for cleaners, it's no surprise that this job has the potential to be most profitable when it concerns on-demand handyman app development. Offering a subscription service on a weekly or monthly basis may be a wise move.
3. Electricians
Expertise and specialized equipment are necessary to provide this service, neither of which are readily available to the general public.
Everyone requires the assistance of an electrician at some point, whether it be to undertake electrical work in a new home, to set up a workplace, or to maintain the air conditioner, and thus these specialists are in high demand.
The 347k reviews for electricians that can be seen on Urban Company at present are evidence of the categories and these experts' widespread acclaim.
4. Pest Management
This may seem like something you just need to do once a year, but in reality, it's something that every home and business needs to do regularly.
Additionally, unlike an electrician or carpenter, the fees for pest management are hefty. Evidently, the greater the fees, the greater your profit as the application owner.
5. Plumbing
Plumbers are the most immediately required professionals. It's possible that someone may put off repairing their electrical panel or the broken leg of the dining table, but they definitely wouldn't want to wait for someone to come fix their constantly dripping bathroom water tap. Indeed, this creates a demand for plumbers.
Plumbing services are in high demand on Urban Co., with plumbers receiving the highest searches of any home service specialist. Therefore, a handyman app development company should incorporate this service into your handyman app.
Benefits of the On-Demand Handyman App

1. More Value to Customers
Creating an app for a needed service on demand is a simple and lucrative business strategy. Online home service apps that include loyalty programs are a fantastic method to increase your customer base and keep your current clientele coming back for more.
2. Highly Reliable and Safe
The most trusted providers of home service apps use only the most advanced encryption methods. These highly secure apps can withstand any attempts made by hackers to compromise them. By partnering with a professional handyman app development company, you can rest assured that your client's data will be protected. 
3. Increased Business Potential
Today's successful companies understand that to remain competitive, they must meet their customers wherever they may be. If you own a handyman services company, you should create an app because more than 70% of your consumers utilize mobile devices. Exciting app features are highly sought after, thus it's important that your app is user-friendly.
4. Marketing Strategy
Handyman apps that provide on-demand services are growing in popularity. A company can use them to monitor client activity. Businesses can utilize analytics to learn about client preferences and make informed choices.
Features of On-Demand Handyman App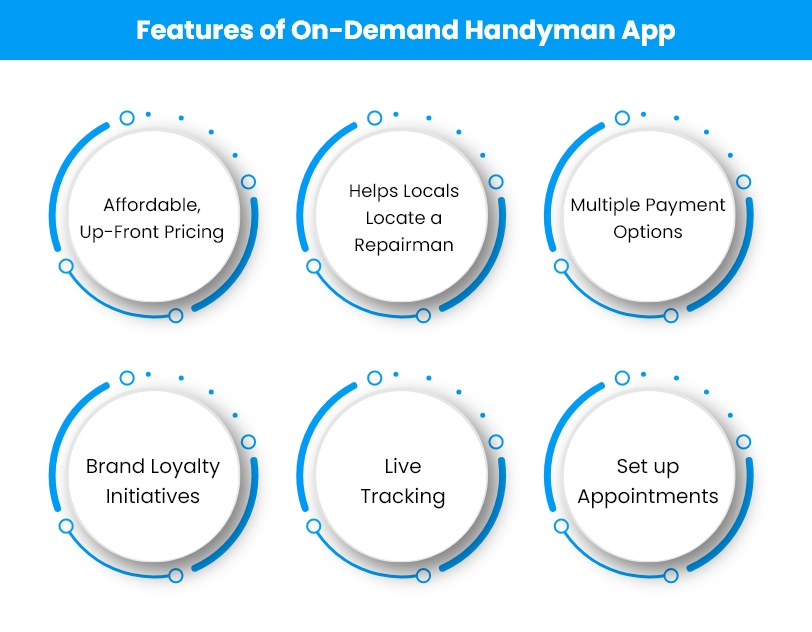 1. Affordable, Up-Front Pricing
The application must always be completely honest with its users. Users would be dissatisfied if they discovered additional fees for repairs after the service.
Before making a hiring decision, customers need to know everything that will cost them, including service fees, estimates, and cancellation penalties.
The process of finding and hiring a handyman on demand can be made easier by considering all the information a user would need and then providing it.
Consider using some of the various handyman applications to determine their features before making your way towards the handyman app development process. Create a distinct value proposition for your app's end users and service providers to help it stand out from the crowd.
2. Helps Locals Locate a Repairman
One of the most important aspects of a handyman-focused on-demand application is this functionality. Neither a plumber nor a carpenter would drive 250 kilometers to work on the house. Therefore, it is essential for app users to establish relationships with neighboring professionals.
A variety of on-demand professions, including electricians, mechanics, carpenters, cleaners, plumbers, packers, movers, and so on, should be available to users. There should be a wide variety of handyman services available through an on-demand handyman application.
3. Multiple Payment Options
Users of a handyman app should be able to choose from a variety of payment methods. Users benefit greatly from the ease of use that is inherent in frictionless payment systems.
Even a non-expert should be able to make a payment after reading about the available options. Providing only one payment method risks alienating customers and compromising the company's reputation.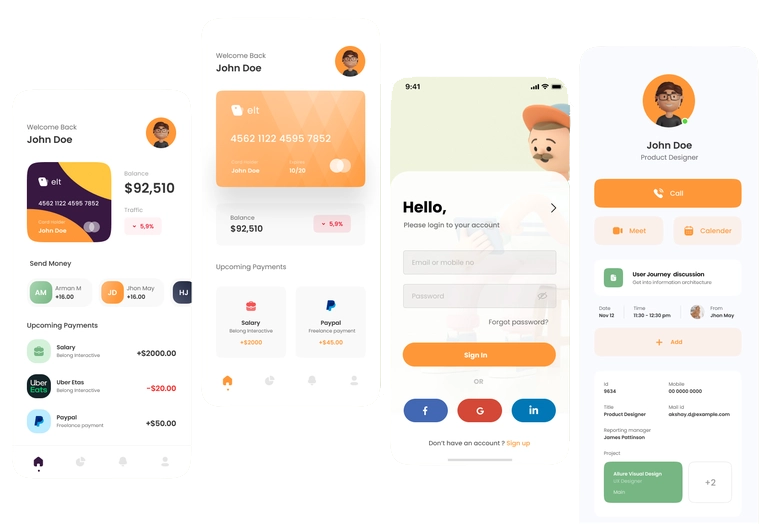 Payment methods like debit and credit cards should also be offered. You should give serious consideration to incorporating reliable online payment methods like Venmo, PayPal, and Stripe.
4. Brand Loyalty Initiatives
This may be a very encouraging factor for people to continue using your on-demand mobile app's offerings. Sending out promotional coupons and discount offers on a regular basis is essential if you want your customers to return. In order to boost sales and lead generation, this method is crucial.
With push notifications, you can reach the largest possible audience by informing them of discounts and sharing incentives like referral codes.
5. Live Tracking
With this one-of-a-kind function, customers may monitor the handyman's whereabouts in real time. A handyman's work can be monitored and reported on in great detail.
Once a handyman accepts work and gives the go-ahead, the user may follow the professional's progress to find out exactly when the handyman will arrive at the user's or customer's location.
6. Set up Appointments
Users of an on-demand app should be able to make bookings and appointments whenever it's most convenient for them. Some app users may choose to schedule a call with the handyman for a later time, while others may need immediate assistance. You should let people book in advance for a specific time and day.

Tech Stack for Creating Handyman App
Use Google Web Toolkit to Create Dynamic Apps.

Managing Data with Datastax.

Verify phone numbers, send text messages, and make phone calls using Twilio.

Use Mandrill for All Your Email Needs.

Manage Push Notifications via the Google Cloud Messaging Service.

Payment options include PayPal and Stripe.

Database Integration with MongoDB, HBase, Cassandra, Postgres, and MailChimp.

AWS as a Cloud Platform.
Cost to build an H
andyman Mobile App
For those considering launching an on-demand handyman service, the next main concern is likely to be handyman app development cost. However, even for similarly specialized apps, the expenses to develop them might vary significantly. Therefore, it is critical to comprehend the pricing model of such handyman apps.
Developing an on-demand handyman application is a time-consuming and intricate procedure. There are a lot of technical people involved, so you may expect to pay for their time and the tools they use. More advanced features in paid apps mean higher prices, while fewer features in free apps mean lower prices.
Key variables that increase the price tag for building an on-demand handyman app include:
Team leaders in charge of the project.

The utility's cross-platform readiness.

The app's ability to function across a wide variety of mobile platforms.

Various necessities in the back end.

Different choices for storing data and integrating with outside parties.

The testing of applications to find flaws and provide prompt fixes for a trouble-free user experience.
For those wondering about how to build an on-demand handyman app within a limited budget, a handyman app can be developed for between $10,000 and $20,000, which typically includes the aforementioned features and supports either Android or iOS. Apps differ in price based solely on their features and the technologies they employ.
How Do Handyman Apps Make Money?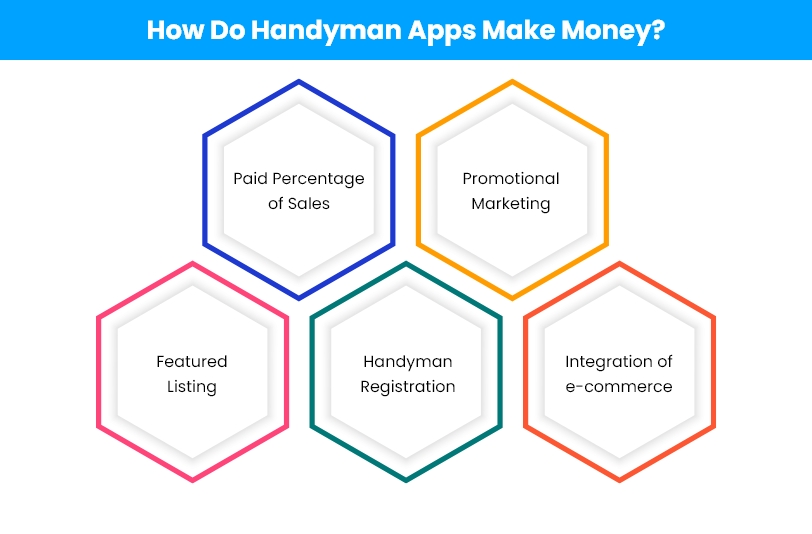 1. Paid Percentage of Sales
This straightforward method has been adopted by the vast majority of existing handyman apps. The consumer requests a service using the app and pays for it, and the handyman performs the service and receives payment.
However, the sum that is given to the handyman is less than what the user actually paid. The owner of the app receives a commission equal to the difference between the two prices as payment for providing the medium via which the client and the service provider can interact.
One of the finest parts is that the user, not the handyman, pays the fee. The handyman will be compensated in full for his time.
2. Promotional Marketing
In order to resolve issues with specific services, you may need supplementary parts, such as pipes or faucets. If you sell faucets or pipes, you should definitely advertise on a website designed specifically for businesses that need your products.
This is the effectiveness of commercials for these repair apps. Making money with targeted advertisements is a tremendous opportunity for handyman applications like UrbanClap, and TaskRabbit.
Customers can quickly and easily purchase the items they require. When vendors advertise to this specific demographic, they reach their ideal customers. A situation in which everyone benefits.
3. Featured Listing
Customers can choose from a number of different suppliers who all seem to offer the same service, but only the most prominent ones will get hired. Accordingly, there must perpetually exist an opportunity to elevate the profile of the top service providers; a featured listing accomplishes this.
By making a financial contribution to the app's developer, a service provider can have their company's name prominently displayed at the front of the service providers list or beneath the featured list. In this approach, both the app's creators and the service providers benefit financially.
4. Handyman Registration
When a handyman signs up for some handyman applications, they are required to pay a one-time subscription cost. This not only helps the app's owner make some extra cash, but it also ensures that only legitimate service providers sign up for the app.
However, if registration is free, scam listings may appear. Charging a nominal fee is mutually beneficial for the app's developer, the service provider, and the user.
5. Integration of eCommerce
Many of the handyman services, as was said before, necessitate the use of various equipment, instruments, and supplies. Most of the time, users or handymen will need to get these items on their own.
Making it possible for handymen and users to shop for supplies without leaving the app saves time and money by allowing the app's creator to charge a commission to the vendors of those items.

How Can Arka Help To Develop Your Handyman App?
If you're a startup either wondering about how to build an on-demand handyman app or want to get the ball rolling on app creation, you need to come up with creative strategies to set yourself apart from the competition. The app's primary goal should be to ease the burdens of its users and help them achieve their goals.
Arka Softwares is a top on-demand app development firm, thus can assist you in creating the ultimate on-demand app for handyman for Android, iOS, or both. If you're looking for a company that can provide you with specialized web and mobile solutions, looks no further.
FAQs For
Handyman App