In this era of e-commerce and social media, it is important to catch customers' attention to fast-track your business's marketing strategy.
However, it is not that easy as attention spans are shrinking to just eight seconds, and if you can't capitalize and tempt your customer in that time, then you will miss the opportunity.
Fortunately, we have Photo editing applications, that can help you get the intended outcomes using various photo filters, effects, and touch-up functions to enhance your images.
A large number of marketers say that visual images are the most significant form of content for any business. Images increase customer engagement, as people don't just look at them, but they share them with their social media app.
The contents with images get more than 40% more engagement and share than the content without pictures.
What is a Photo Editor Application?
Typically, a photo-editing application is software designed to edit images on a mobile device. For an enterprise, it can help them build an effective visual marketing strategy, displaying its products and services professionally and aesthetically.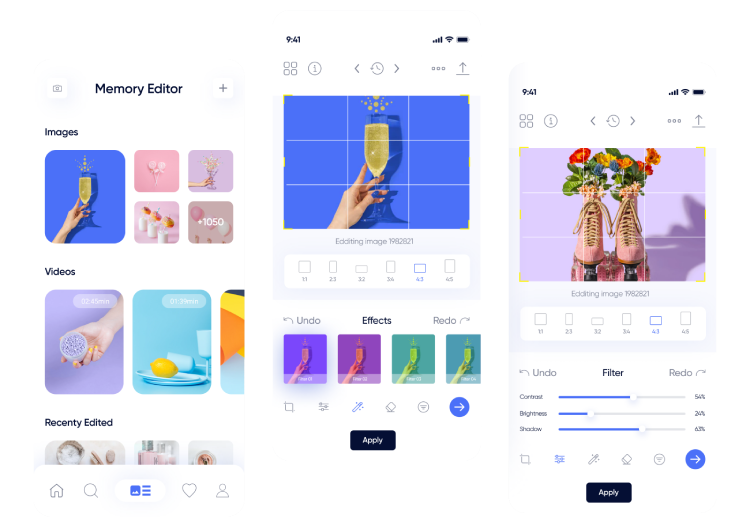 The photo editor app offers a plethora of features from adding filters, changing picture color composition, cropping, controlling shutter speed, and many more. It can also let you create automatic settings for scenes and collages. 
If you take a quick look at the Google Play Store or Apple App Store, you will be left overwhelmed with the options available to choose from.
It is quite a challenging task to identify the best photo editor app which can offer suitable features and meet your business requirements.
To give you a glimpse of the best photo editing apps, we have put together this list of various renowned photo editor applications.
If you are looking for powerful photo editor apps to handle your enterprise portfolios and social media campaigns, whether you are an iOS or Android user, you can select any of these apps to fulfill your needs.
Best Photo Editor Apps in 2022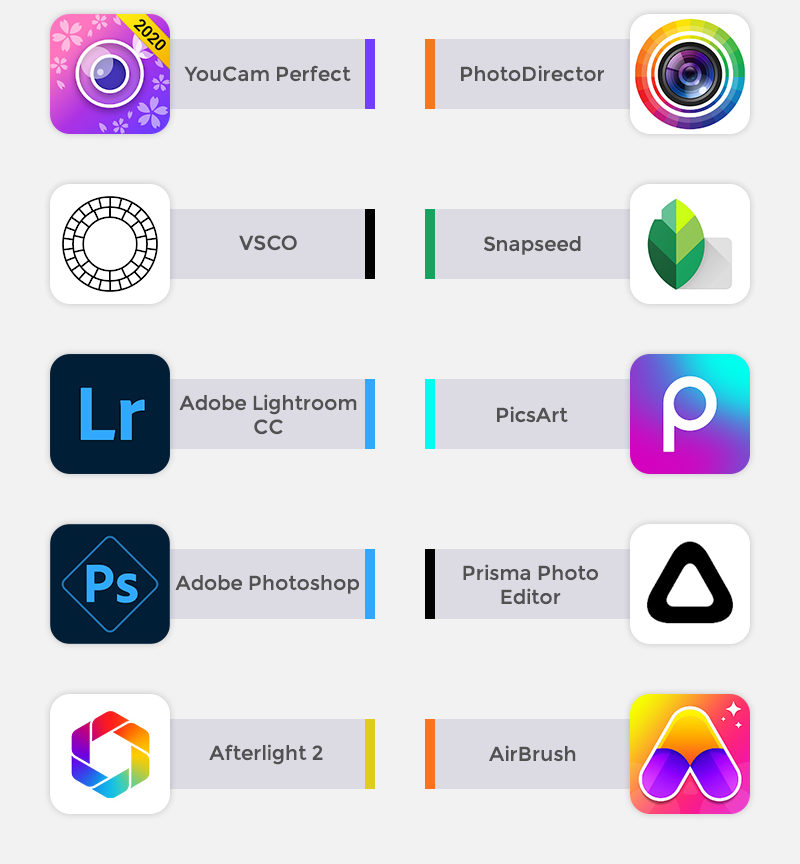 YouCam Perfect

–
It is a perfect photo editing app for you, no matter what level of picture editor or photographer you are. It allows you to edit pictures, make collages, apply a wide range of effects, animations, frames, blending, and much more.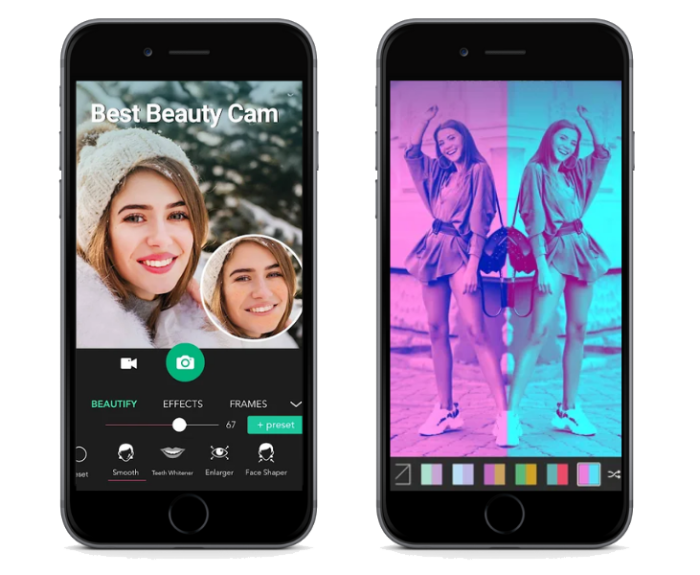 The Premium version offers additional animations, effects, and retouching of selfies. It also allows you to change the picture background and replace it with sceneries, sky, or other landscapes.
It also allows you to perform natural editing with the help of a Body Tuner, which can mitigate any issues caused due to poor lighting or bad angle. It provides the Removal Tool, which allows you to remove any specific object or person from your picture with ease.
| Pros | Cons |
| --- | --- |
| Wide range of ready-to-use editing content such as collages, photo frames, filters, collages, stickers, and more | It doesn't support LUTs filter for professional photography usages |
| Urbane photo retouch features to enhance selfies | Doesn't support split-tone editing |
| Offers various aesthetic tattoo styles to decorate your body and face | Premium features need a subscription instead of a one-time purchase. |
| Offers In-built multi-layer photo editing | Some accessories look unnatural and don't fit into the pictures |
Verdict
–
Offers many easy-to-use features that enable even a novice to edit pictures and create amazing photos. It is suitable for the social buffs who post their pics on social platforms such as Instagram or Facebook. It also offers advanced editing features for seasoned professionals to perform business-level tasks.
PhotoDirector

–
It is a perfect combination of absolute creative control, a user-friendly interface, and an in-built stock library provided by iStock and Shutterstock. It offers high-quality tools that can help you to transform a common snap into an enthralling picture in a matter of a few seconds.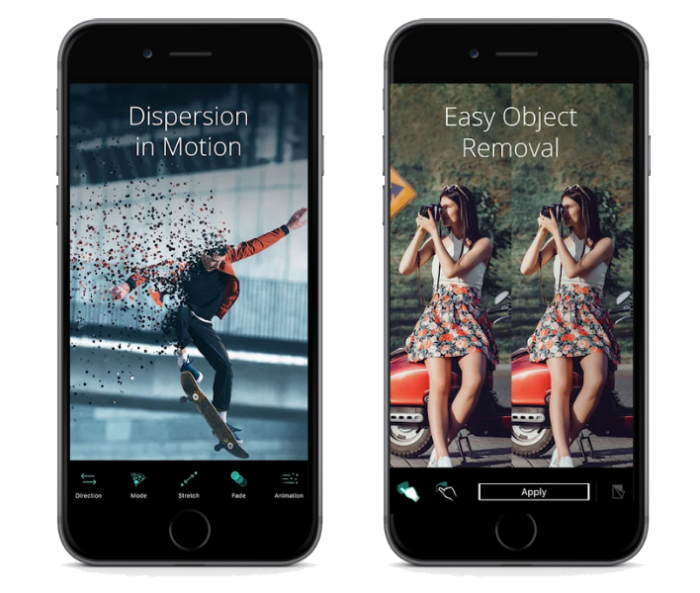 It offers basic editing features to perform color grading, object removal, and develop customized collages. It is equipped with an AI-powered sky replacement tool, that allows you to add seamless sunsets to your pictures.
It allows you to animate photos by creating motion lines and placing anchor points to customize them further. You can also add animated décor and stickers to please your followers. It also supports the most popular Instagram effects, which can further enhance your pictures.
| Pros | Cons |
| --- | --- |
| Effective Color and Light adjustment tools | Absence of Teeth whitening feature  |
| Quick apply effects and filters      | No support for LUTs filter |
| AI-Sky replacement & light ray tool        | Offers more animated text features |
| Animated overlays and Animation tools | Offers no Free/Freemium version |
Verdict
–
It is a decent app with straightforward functions and a user-friendly interface, that simplifies the picture editing app process. It allows you to quickly upload multiple pictures, make necessary adjustments, and create amazing visuals on the go with your smartphone, tablet, or iPad.
VSCO –
It is known for its highly popular "VSCO girl" vibe. It has gained popularity due to its unprecedented features and capability to edit pictures and transform them into trendy visuals.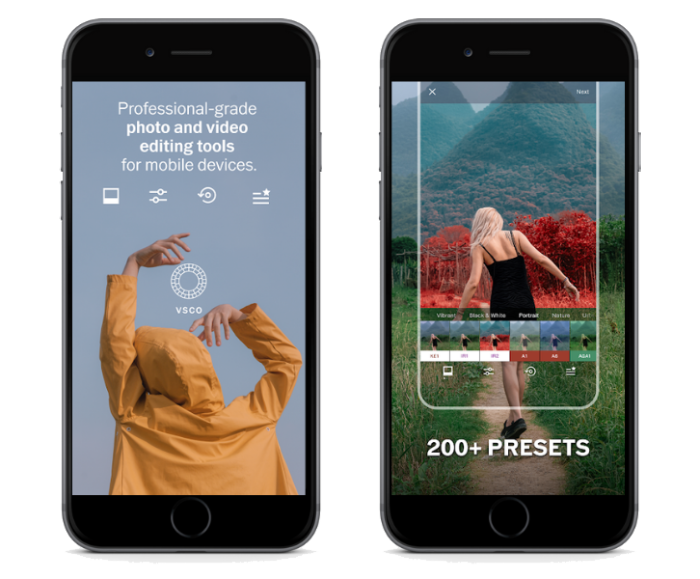 This app is gaining good traction among the youth who want to flaunt their style quotient with trendy images.
| Pros | Cons |
| --- | --- |
| Availability of effective color filters for videos and pictures | Lacks other photo editing features besides basic color filters |
| Supports LUT filter support Great | It doesn't support the dark mode feature. |
| Amazing split tone tool | The app is mobile-based and not available for desktop or web versions |
| Offers basic video editing features in the paid version | Advanced tool kits and filters are available for paid version only. |
Verdict
–
 VSCO is a popular image editing app, but it is made for target users with a specific requirement for color filtering (for both photo and video). It offers brilliant color filters, that can enhance images in a matter of a few seconds.
Snapseed

–
If you want an easy and quick way to edit your images without putting in a lot of effort, then Snapseed is a perfect option for Android and iPhone users.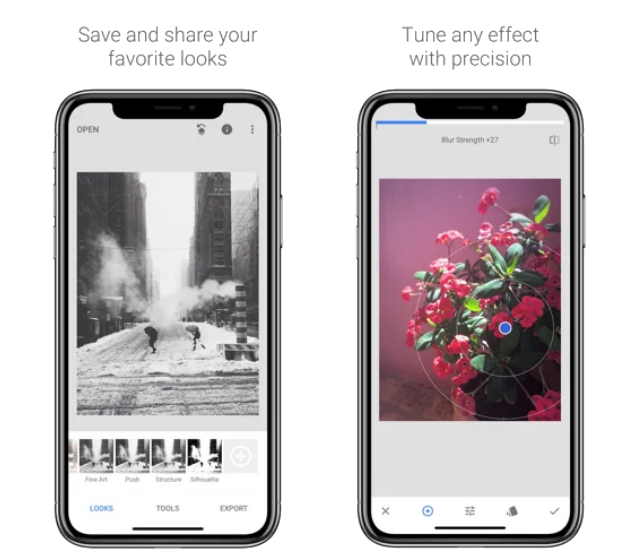 This is a Google product, that comes free of cost with no in-app purchases, it allows users to generate "presets" that can then be stored and used for future image edits.
| Pros | Cons |
| --- | --- |
| Offers professional-level editing tools such as RAW editing, color curves, de-noise, and many more | Offers basic editing elements |
| Offers brilliant color filters for photos | Most decorative elements such as stickers, photo collages, and templates are not available in Snapseed |
| It is free to use | The social network integration options are not efficient |
| Offers easy-to-use finger swipe sliders for image editing, it doesn't require a stylus | Save options aren't very instinctual. |
Verdict
–
It comes with a plethora of editing options derived from conventional photography usage. One needs to learn these tools before using them, If you have gained adequate knowledge of professional photography, then this tool is a must-have for you.
Adobe Lightroom CC

–
This is a perfect photo editing software for all types of users. It is undoubtedly the first choice for professional photographers who are already using the Adobe Suite of applications — Photoshop, Lightroom, etc.
If you're already using Adobe products, then this is a perfect option for you. The newbies may have to spend some time and explore the tools and their features before using them like professionals.
| Pros | Cons |
| --- | --- |
| It comes with Pro-level camera features (manual adjustments for exposure and ISO) | Re-touch and Beautify features are not available |
| It offers professional-level photo editing features | It lacks decorative elements such as stickers, photo collages, templates, and backgrounds.  |
| It uses non-destructive editing | It doesn't support the creation of vector and raster images |
| It offers built-in Image-management and Cataloging features | It offers very limited image editing options |
Verdict
–
Lightroom application targets skilled and seasoned professionals and users. Newbies and average users may find it a little bit difficult to understand its functions and features, however, it is a perfect fit for the professional photographers and image experts who are already working on Adobe products.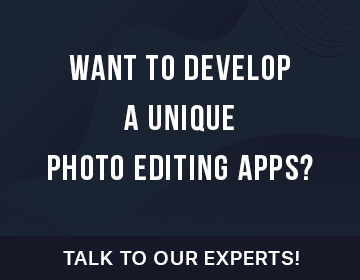 PicsArt

–
This application is for those android and iPhone users who are looking for a striking and bolder image editing application.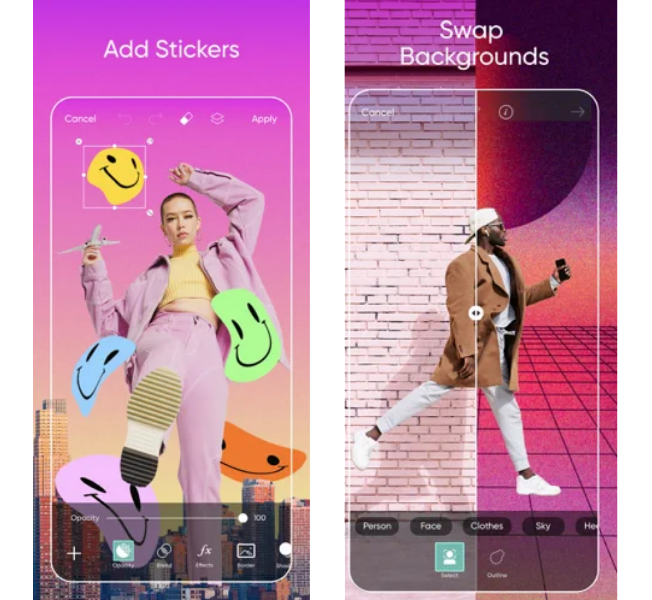 It comes with numerous templates, more than 100 fonts, freely available stickers, and a plethora of features with a paid version, which can transform your image editing capabilities.
| Pros | Cons |
| --- | --- |
| Offers a wide range of content for photo editing | Most of the free content is not professionally built |
| Immaculate collection of tools for portrait retouching | The live retouch feature is unavailable in camera mode |
| Easy-to-use interface equipped with various in-built templates | The app occupies huge storage space in mobile phones |
| Offers clip art, Photoshop-style editing tools, and drawing tools. | Few features don't work properly if there is no connectivity |
Verdict
–
PicsArt is a brilliant all-around photo editing app for day-to-day usage. It is among the most popular apps in the world with more than 1 billion downloads.
It offers tons of photo editing content, templates, and features, but it lacks a sophisticated camera mode with live retouching capabilities.
Adobe Photoshop

–
It is a mobile version of the highly popular Adobe Photoshop app, that is unarguably the best such app in the market. It is equipped with a lot of features and capabilities, that make it the top choice among business users and professionals.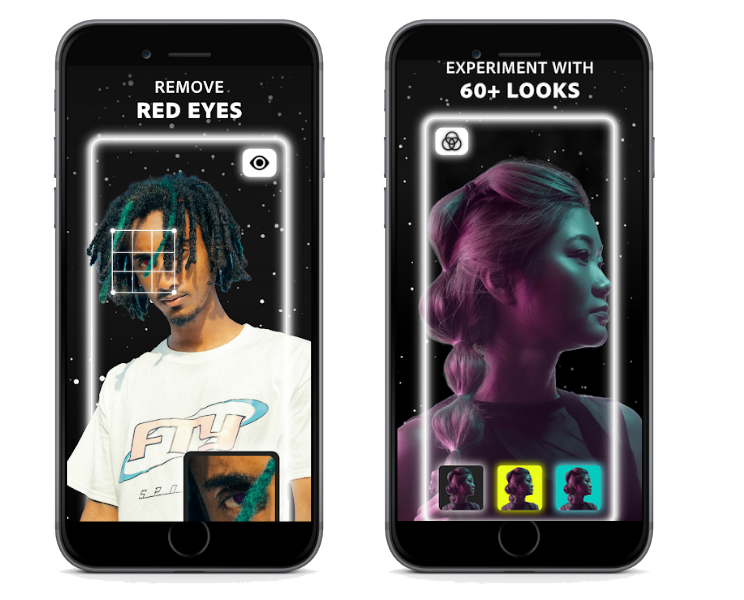 However, it comes with a condition, you must subscribe to PS Express Premium to avail its features. The app provides handy yet highly effective editing tools such as background replacement, selective editing, brilliant themes for collage and photos, retouch, scrapbook for college, and many more.
| Pros | Cons |
| --- | --- |
| Offers a wide range of professional photo editing tools to adjust and enhance your photos | It has fewer retouch options |
| User-friendly interface | A large number of features are paid |
| Offers RAW files editing capability | It lacks the syncing ability |
| It provides options such as masking, Blend modes, and opacity adjustments | It is a little difficult to learn |
Verdict
–
If you're familiar with the Photoshop desktop application, then the mobile version would be a cakewalk for you. Photoshop Express Photo Editor provides numerous photo editing tools that enable you to express your creative abilities.
It comes with great documentation and support from Adobe, which can be very helpful for novice users.
Prisma Photo Editor

–
It is a freely available photo editing app that uses AI technology and a Neural network to apply artistic effects to your pictures and transform them into eye-pleasing visuals.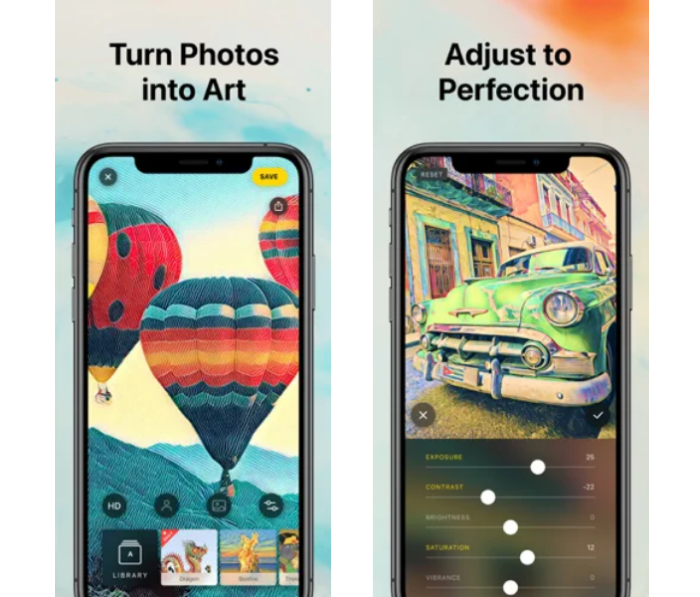 It offers a wide range of features and tools to edit pictures. It comes with more than 500 creative filters that you can apply to selfies and portraits.
| Pros | Cons |
| --- | --- |
| Wide range of filters | It requires internet connectivity to function |
| Uses AI technology and Neural networks to create unique photos | The app is too heavy and resources hungry |
| You can utilize any filter on any image. | Some features are not professionally made |
| It saves every image to your camera roll automatically | App's user interface is not impressive |
Verdict
–
It is an amazing application that can turn your simple photos into artistic drawings and paintings. All you need to do is upload your pictures, select a filter, apply it, and you are done.
Afterlight 2

–
This is another highly popular photo editing app that offers basic features and also lets you adjust the image brightness, contrast, hue/saturation, exposure, and tone. It also offers numerous customization options to add texts to your photos.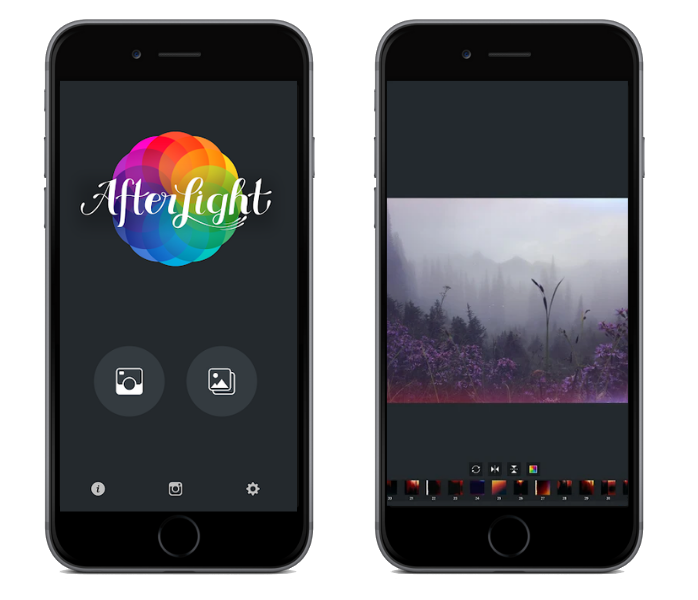 It is equipped with great filters and more than 70 frames to make your photos enthralling. It also offers various sets of textures, prism effects, dusty film overlays, and real film light leaks to make your photo editing impressive. Afterlight 2 also allows RAW file editing on both Android and iOS versions.
| Pros | Cons |
| --- | --- |
| Easy to use interface | Offers various unnecessary features and filters |
| Offer a wide range of in-built preset filters | Offers very less frame options. |
| Allows community filter sharing | Most of the features are available in the paid version.  |
| Provides Text overlay tool | The user interface is cluttered |
Verdict
–
Afterlight is indeed an all-in-one and feature-packed photo editing application. Its color adjustment, composition, structural, and exposure tools are quite extensive.
It also enables users to roll back the changes and traverse to a specific stage via the history panel. It is highly popular among beginners, professional photographers, and smartphone users, who want to edit their pictures on the go.
AirBrush –
It is indeed a versatile photo editing application ideal for portraits and selfies. It offers a combination of photo editing and beautifying features that will help you craft aesthetically pleasing pictures and selfies.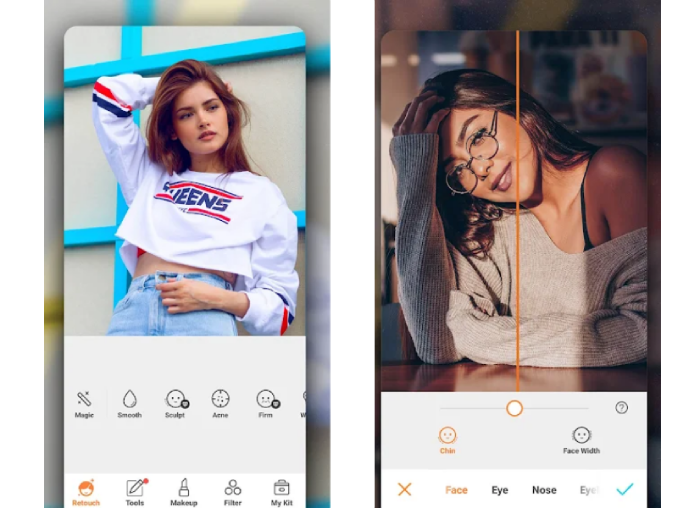 It comes with some innovative features, such as Prism and Relight, as well as virtual makeup and classic retouch tools. It allows you to erase unnecessary objects from your pictures and add alternate backgrounds.
It offers a free version, but you need to subscribe to the premium version to avail most of the features.
| Pros | Cons |
| --- | --- |
| Easy and Quick photo editing with makeup and retouch tools | It works well with selfies and portraits, but it lacks the ability for the rest of the photos. |
| Offers My Kit option to access favorite editing tools immediately | Most of the features require premium or paid subscription |
| Highly user-friendly interface | Feature outcomes are sometimes unrealistic |
| Offers amazing photo Blur and Enhancement tools | Frequent issues with updates and customer services |
Verdict
–
It is a perfect choice if you are aiming for an application that can enhance your picture on android and iPhones. It comes with a wide range of beautifying tools that will take your selfies and portraits to the next level.
It enables you to share your pictures on various social media platforms using its immaculate integration options.
Instasize –
This application is quite popular among Instagram users, who make quick cropping and editing before posting it on their profile instantly. It offers a wide range of filters, text features in-app, adjustment and beautifying tools, basic frames, collages, and many more.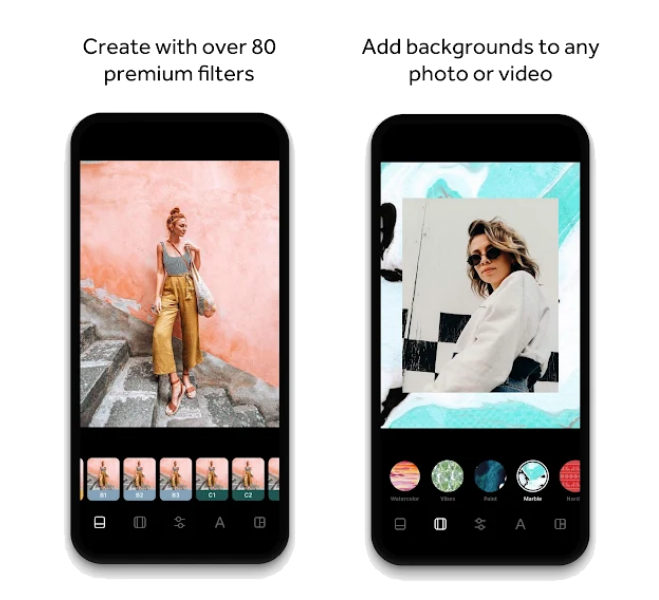 It allows you to edit video clips as well, which is a big advantage. However, you need to use the premium version to avail most of the advanced features.
| Pros | Cons |
| --- | --- |
| Works well for both photos and videos | Most of the advanced features need a premium subscription |
| Straightforward user interface | Offers no animation features, stickers, and object removal capability |
| Easy and Quick social content creation | Sometimes it reduces the quality of image past editing |
| Offers basic video editing capability | The user is allowed to select a single image at a time while creating a collage |
Verdict
–
Instasize is a wonderful application when you need to edit your videos or photos quickly and post them on social media. It delivers a brilliant user experience but lacks when it comes to the availability of photo editing features. Most of the advanced features require a paid subscription, which is a huge letdown.

Final Words
It is a well-established marketing fact that photos are used in delivering simple but effective messages to the customers. Photos are indeed a perfect amalgamation of desires, needs, and emotions, that could be expressed with way fewer efforts.
To improve marketing efforts and enhance business branding, one must use photo editing apps.
Fortunately, we have a huge number of photo editing applications available in the market. You can either research or use our blog to determine the best photo editing application for yourself or your enterprise.
However, we would recommend you try free versions of the above-given applications to get a taste of their functionalities. 
We are hopeful that this blog will certainly assist you to decide on the best Photo Editing application for your business.