People are no longer eager to visit banks and other financial institutions in order to obtain loans, as global banking services evolve.
People are looking for quick and easy cash loan approvals and disbursements. A cash advance App like Dave goes a step further by providing users with quick cash advances after thoroughly verifying their profiles and personal finances.
Users all across the world are flocking to utilize these services because of their low or no interest policy. Organizations are jumping into this market to expand their own customer base.
Dave App: Overview
If your monthly phone bill is due and you are short on cash, you may borrow money via apps like Dave. If you need a minor loan to pay your bills or other charges, this app is the perfect choice for you.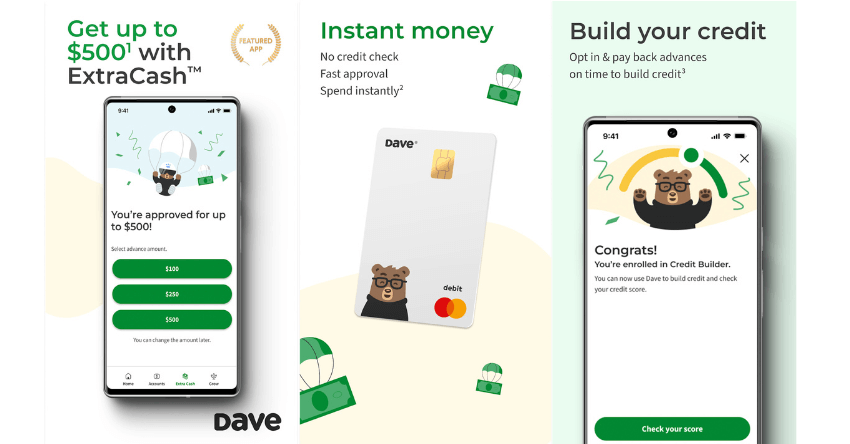 With the goal of avoiding overdraft and other financial penalties, Dave was created in 2017. Mark Cuban and Capital One Financial Corp. have invested in the app, making it one of the most popular Fintech apps.
The Dave app does not charge you any fees for having a low balance or an overdraft. Furthermore, you can develop a good credit score by taking microloans. It may be a good idea to create business apps that are modeled like Dave.
Top 5 Apps like Dave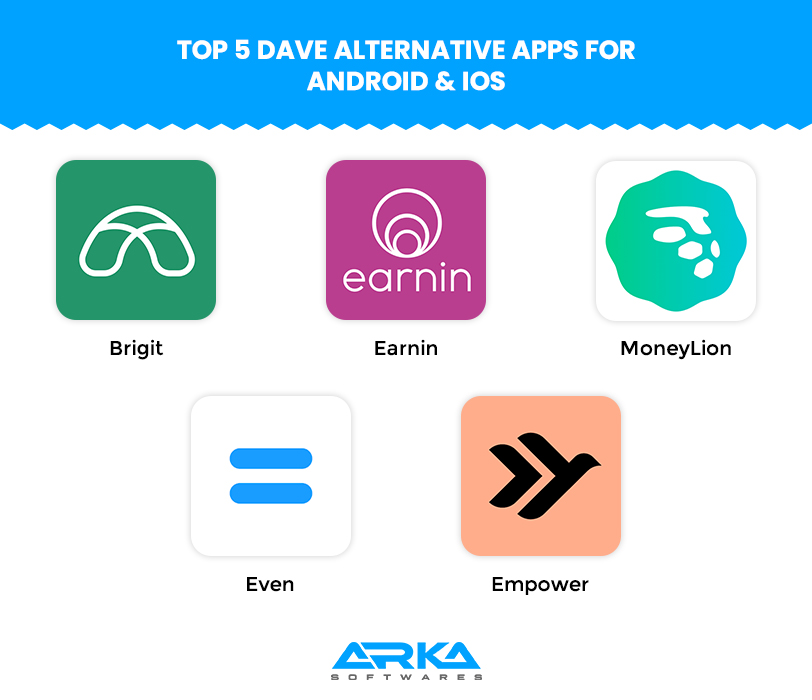 1. Brigit
Brigit One of the greatest and most popular cash advance applications like Dave, Brigit offers modest payday advances of up to $250. A monthly subscription of $9.99 is required even though there is no interest charged on the loan itself.
It's a lot more expensive than Dave's one-dollar fee, but it does include free account monitoring tools. This will contain tools for tracking your income and expenses.
As an additional service, Brigit allows customers to pay back their loans early and extend the payback deadlines. The application promises it doesn't disclose or sell your personal information and employs 256-bit encryption to protect it.
2. Earnin
If you don't want to commit to a long-term subscription, Earnin is a perfect option for Dave. Instead, the app asks you to pay a gratuity that you feel is appropriate for the service you received. With this application, you may get up to $500 in advance on your next salary, up to a limit of $100 every day.
If your bank account balance falls below a certain level, Earnin will send an email alert to your inbox. With the Cash Out option, you may avoid overdraft penalties by depositing up to $100 into your bank account.
3. MoneyLion
MoneyLion is a comprehensive mobile banking application that makes it simple for users to lend, save, spend, and earn. With its 'Instacash' function, it provides quick cash advances and early access to a salary.
There are no fees or credit checks, and you may borrow up to $250 from your next salary with no interest or hassles. No matter what time of day or night it is, the organization promises to be able to promptly deposit the funds into your account. 
MoneyLion's best feature is that it does not demand a minimum balance. There are no costs associated with ordinary transfers, international transactions, digital check deposits, or card renewal.
You may move money from your savings account to ETFs that are specifically tailored to your requirements and risk tolerance with the aid of this app. If you want access to loans of up to $1,000 each month, you will have to pay $19.99 per month for the app's 'Credit Builder Plus membership.
4. Even
Even is a cash advance app that connects you to more than a million employers that have collaborated with the firm Like Dave. The application does not charge interest, but there is an $8 monthly subscription cost. However, some companies subsidize part or all of these costs.
The Even app not only offers cash advances but also aids in budgeting between paydays, notifying you of forthcoming bill payments and the amount you'll need.
It is essential to know that Even is only accessible through employers that have collaborated with the application. InstaPay, which transfers money into your bank account in as little as one business day, works with over 18,000 banks.
However, unlike some of the other applications on this list, Even does not distribute loans. It just provides easy access to previously earned payments.
5. Empower
Empower provides a $250 interest-free cash advance. A $3 fee will be charged if the funds are transferred to a bank account other than your Empower savings account.
Using the Empower app, you won't have to worry about late fees or credit checks. The only catch is that after a free 14-day trial, a monthly membership fee of $8 is required. As a result, you must make frequent direct deposits into your Empower Bank Account in order to qualify for cash advances.
Another useful feature is the ability to deposit a paycheck up to two days earlier, which is called "Early Paycheck Deposit." It also provides a 10% cash-back incentive on purchases made at hundreds of restaurants, supermarkets, and petrol stations.
The Empower app also serves as a budgeting tool, allowing you to keep track of your expenditures depending on your monthly income. For each category, the app recommends a maximum spending amount and delivers warnings when you're close to exceeding that amount.

Dave App: Market Size & Statistics 
At $715.3 million in 2018, the worldwide mobile banking market is estimated to reach $1824.7 million in 2026. According to market data, there are over 57 million m-banking users in the United States, which makes it a significant business landscape.
Global mobile banking application revenue is expected to reach $5.8 billion in 2022, a record high. In the following years, it is anticipated that the overall financial revenues would multiply.
Dave App: How Does It Work?
Cash advance apps like Dave aim to help working professionals who need a little more money until their next paycheck arrives.
When it comes to using Dave and other similar applications, the overdraft, personal loan, or usage of a credit card may be linked to their operating principles.
However, the aforementioned services either require an incredible amount of time or impose an inflated interest on the principle. Dave addresses these bottlenecks and facilitates consumers' access to advance funds and paychecks.
Using the app's bank and your current bank account, you may take money out and put it back in at the appropriate times. No interest or transaction fees are involved. There is a one-time $1 monthly cost to keep the services available to you. 
Business Model of Dave App
Ultimately, it's all about generating a profit. Getting money by taking advantage of your customers' pockets is one thing making money by being kind to their pockets is quite another. To serve its customers, Dave is a low-cost app that does not charge interest or other fees.
The reason that it has been on the market for more than a decade is due to the fact that Dave is also profiting from this business model. Dave's business strategy emphasizes more on serving the customers and making them feel like they're getting value for their money.
Income Sources Of Dave Money App
The app relies on a variety of sources of income to maintain the services available to its users, including:
Membership Fees
Dave's primary source of income is the membership fee. By collecting $1 as a membership fee, the application is able to cover a wide range of expenditures without burdening its customers.
Every time Dave connects to another bank, they must pay costs, which are covered by this membership fee.
Donations
One of Dave's main sources of income is donations. When they borrow money, they have the option of leaving a gratuity. In order to reward consumers for their generosity, Dave plants a tree for each tip they get. However, you're under no obligation to enter any tips into the app.
Transaction Charges
Dave's Mastercard Debit card provides the platform with competitive interchange costs. If you're paying by credit card, the charge is often a percentage of what you spent. However, because it is less than 1%, businesses have no problem accepting it.
Interest on Cash
User accounts are lent to other institutions like banks and professional organizations through this app. Those lending funds pay an interest rate of 3.35% to Dave, which is a significant source of income for them.
Referral Fees
Dave's "Side Hustle" function is a major source of income for the company. Gig workers are drawn to the gig economy by the online marketplace.
The partners of Dave who provide gig employment pay Dave a percentage or referral fee whenever they acquire a new worker using the app.
Features to be Included in a Cash Advance App like Dave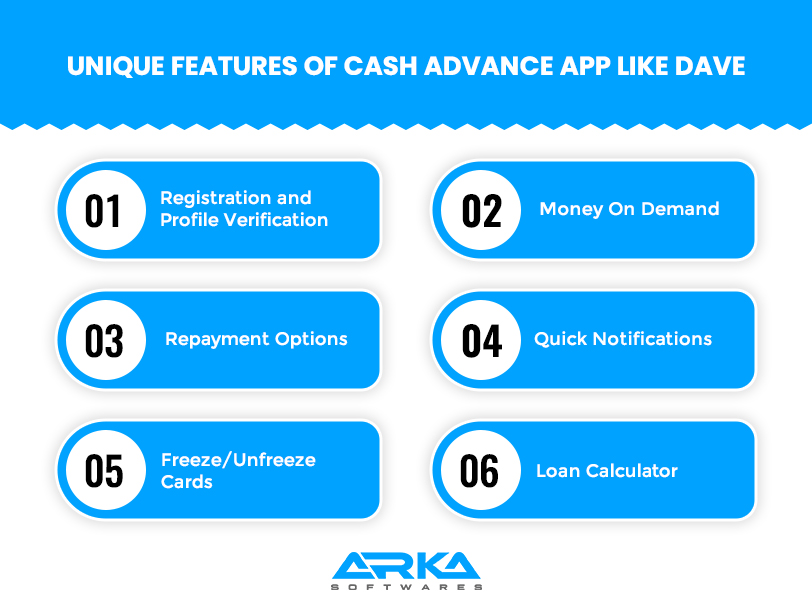 Registration and Profile Verification
A loan application and approval process are often perceived as being time-consuming and complex. As a result, your first and most important feature evaluation should be the ease of sign-up. It should just take a few seconds to link the user's account with the app's.
Apps that lend money should make it as easy as possible for customers to get the money they need. For additional security, make sure that you urge the user to validate their profile.
Money On Demand
It would be a huge turn-off if an individual had an emergency and needed money instantly, and couldn't receive it. As a result, your cash lending apps must enable consumers to request money with only a single touch.
Either the requested amount of money is sent immediately to the user's bank account, or the user can pick it up from a chosen location.
Repayment Options
As a business, you have the option of integrating repayment methods. The loan amount can be deducted from the user's account as soon as the salary is credited to it. Keeping track of repayments is now much simpler for customers thanks to this feature.
It's also possible to provide a quicker repayment option, allowing the consumer to repay their debt more quickly. Even if clients request a more extended period of time to pay, he only needs to provide an estimate stating as much. 
Quick Notifications
Is your application able to predict how much money it will be able to lend? What if you want to notify your customers of their forthcoming debt payment? Want to provide notice of impending costs? Added a new product or service to the business's offering? 
Consumers may get all the information they need through mobile app notifications that are sent to their mobile devices. Moreover, a real-time reminder may be sent to your customers if they are over their financial constraints.
Freeze/Unfreeze Cards
What would happen if a customer misplaced or lost their debit card?  Your organization should be able to freeze their current cards and allow them to apply for new cards in these cases.
This demonstrates that you care about your customers, and it raises customer satisfaction in the process.
Similarly, if a consumer wishes to unblock one of their frozen credit cards, your app must allow them to do it seamlessly with just a few clicks. 
Loan Calculator
A loan calculator is another distinctive feature in a money lending application that you should not overlook. This functionality is triggered when the money-lending application provides consumers with an estimate of the total amount owing after interest.
It's a win-win situation since it gives people the information they need to make an informed decision. It also eliminates the tedious and time-consuming procedure of determining the loan amount for you and your team.
How to Develop App Like Dave?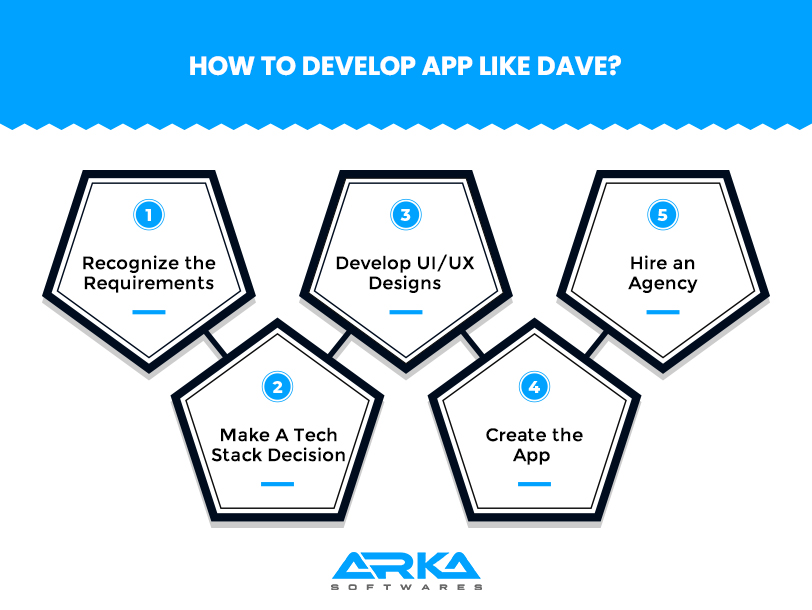 Recognize the Requirements
When you begin to develop an app like dave, you must pay attention to a wide range of issues. Determine who your app is aimed at and what kind of individuals will need to use it. You can design a compelling app if you know who it's for.
Check out applications like Dave to help you decide on the finest features for your app's financial technology features.  You can go to the next stage if you have a clear understanding of the prerequisites.
Make A Tech Stack Decision
What programming languages, tools, and frameworks would you employ to create Dave-like cash advance apps There are a number of emerging technologies that are dependent on the platform, so choose wisely.
A cross-platform app allows you to reach more people. To top it all off, hybrid applications are also a feasible option for any company.
Develop UI/UX Designs
You must first work on the app's designs before moving on to real development. To do this, keep up with the latest trends in app development and utilize new technology.
It transforms the app into an attractive, sturdy, and innovative product. You will need to recruit professional front-end and back-end engineers to work on the looks and functionality of your app.

Create the App
The fundamental development process has now begun. It facilitates data exchange between the server and the apps. When it comes to app and server functionalities, back-end developers are the ones who take care of the things you can't see.
Hire an Agency
Hire an on-demand app development business if you don't want to deal with the stress of development and management. Every aspect of your app will be handled by an expert there. As a result, you won't have to find someone else to do the job. 
Cost of Developing an App like Dave
Trying to estimate the price of your app based just on its concept is nearly impossible. App development costs are influenced by several factors. However, we can estimate the cost of developing a loan application like Dave.
The typical cost of a Fintech app is between $30,000 and $120,000. Various companies require different app features and functionalities, which explains the huge range of options available to app developers today.
You might expect to pay between $30,000 and $55,000 to design a basic Dave substitute. However, if you want a unique application, the cost might range from $30,000 to $70,000.
Bottom Line
We are aware that Dave is not the only advance cash application that may help individuals who are now experiencing severe financial hardship.
As the market is so broad and all applications in the business are setting the trend, it would be wonderful if you too developed a feature-rich application like Dave.
Cash Advance App Like Dave – FAQs

Let's

build something great together!

Just take one step forward and we can build history.

Want to build something good for the business but still good for the customers?
You know the answer is, Yes!