The most important question while planning for a vacation that strikes in mind is to book a hotel where you can get the best leisure time as per your budget and requirements. Hospitality and travel are experiencing tremendous growth with the advancement of technology and smartphones.
Now it hardly takes a few seconds to convert the planning to Hotel booking. As per the research, travelers around the world are getting familiar with and adapting emerging technologies to make their lives fast and easy. Now people are more inclined to book the hotel per their comfort and necessities.
Gone are the days when travelers have to book hotels after reaching their destinations. The travel industry and hospitality app development are experiencing rapid growth, driven by the increasing preference of customers for online booking platforms such as Hopper.
Now from a hotel booking application, you can check entire details related to the hotels, rooms, and services being offered and can make comparisons to get the best deal within your budget. This has really made the booking experience easy and quick.
In this article, we will provide a comprehensive guide on the various aspects of hotel booking app development. We will cover topics such as the different types of hotel apps available, essential features that should be included, and monetization strategies. By following these guidelines, you can create a top-notch, customer-centric hotel booking app.
Online Travel Market Analysis
Although the COVID-19 pandemic has had an impact, the travel and tourism industry is expected to experience substantial growth over the next year and is projected to reach $8335 billion by 2025. Additionally, the online travel market is also rapidly developing.
80% of hotel bookings are done via mobile.
45% of bookings for online travel agencies fall on mobile devices.
The possibility of conversion rates on mobiles is around 5 times higher than on the web.
Though the core concept of hotel booking apps is the reservation in a broader aspect, the application can provide the services such as restaurant booking, taxi booking, holiday, or sightseeing packages in an economic budget to its customers.
Hence, the above-mentioned statistics clearly define that mobile bookings are now becoming the prominent or ultimate way for customers to book and pay for their stay.
Types of Hotel Booking Applications
Aggregator Application:
As the name defines, such applications have various hotels available in the respective city registered with them. The users get an advantage that rather than checking individual hotel websites they can get the details for various hotels in one go.
The search results can also be refined by applying various filters such as star ratings, budget, facilities required, etc. After checking the details the users can book the stay as per their needs and requirements.
Examples of such types of applications are: Trivago, Booking.com
Dedicated Hotel Chain Application:
An app that is developed specifically for a particular chain of hotels or resorts to carry out its business operations is called a dedicated hotel chain application. In such applications, the users can get complete information regarding the various hotels or property types that a particular brand owns.
The services like reservations, restaurant bookings, food ordering, etc can be managed from the application itself. Examples of such types of applications are Taj Group of Hotels, Ramada, Hilton, etc.
Online Travel Agencies App
These are the online companies that allow customers to book various travel-related services from the website or application directly. They are the third-party agents selling various holiday packages, hotel bookings, cars, flights or railway reservations, etc provided or organized by others. Examples of widely used OTAs are Make My Trip, Agoda.com, Expedia, and Trip Advisor.
Top Hotel Booking Market Players
Unique Selling Proposition:
A unique selling proposition is a factor that differentiates your offerings from others. Some of the USPs that are used are as follows:
Applications like Booking.com, Trivago, etc offer last minute deals that attract the attention of various users.

Pay at the property: The users can make the booking of the hotel without paying any initial amount from the application itself. Only the details of the debit / /credit card are taken to authenticate the booking.

People who need to stay somewhere for one night can make bookings at lower rates.
Advanced Features
Social Login/Signup:
With this feature, the user can complete the signup process easily. Customers can set up their accounts just by typing their email addresses, contact details, and other login credentials details. They can also Sign up using their social media accounts such as Facebook or Gmail.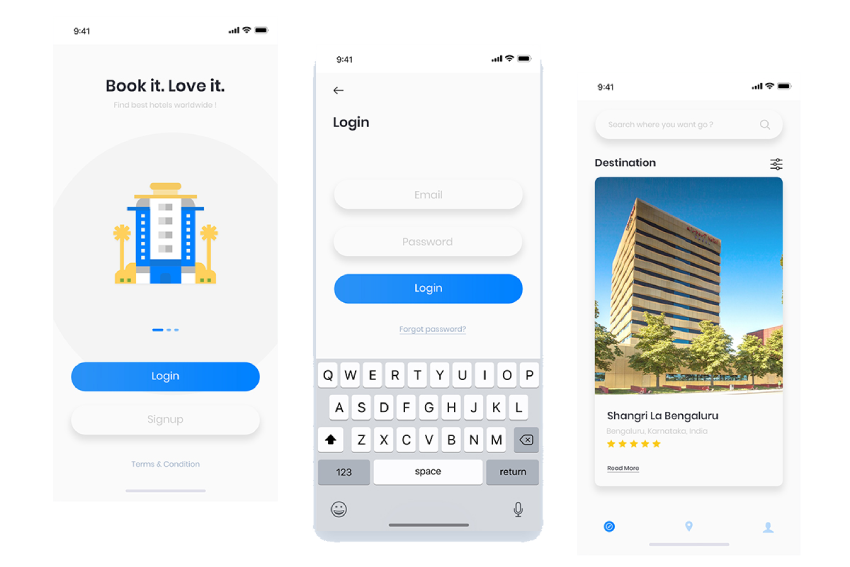 Push Notification:
Users get various notifications related to their bookings, check-in / check-out times, new offers, and discounts.
GDS Integration:
This is the most important feature of mobile applications. Global Distribution System (GDS) is a worldwide computerized reservation network that is used as a single point of access for accommodating hotel rooms, car rental apps, and other travel-related items by travel agents, online reservation sites, and large corporations.
Recommendation Engine:
As per the user's last searches, the app providers customize the hotel recommendations. The suggestion for the hotels can be displayed as "Recommended for you". This gives a sense of personalization to the users and helps in-app engagement.
Room cost -forecast:
The rates of the hotels keep on fluctuating and the users can get a rough estimation of the cost and they can plan accordingly. With a prior analysis, the best deal can be catered to easily.
Metasearch Integration:
A metasearch engine is an online information retrieval tool that uses the data of a web search engine to produce its own results. The integration of metasearch engines helps visitors in comparing rates from multiple websites. A metasearch engine compiles the room rates from multiple online channels (OTA) onto a single platform.
Virtual Reality Experience:
Users can get a complete dynamic view of the hotel and rooms by exploring the 360-degree photos or still photos available on the application.
Language & Currency Converter:
As per the user's location, the application automatically adjusts the language and the currency.
On The Go Assistance:
The application comprises intelligent travel assistants such as chatbots, Google Assistant, and messenger which help in providing a better customer experience 24X7. Common issues can easily be navigated with their help.
Analytics Dashboard:
Admin can check the customer dashboard, and hotel dashboard and this facilitates real-time decision-making. For example, in any city, the bookings are less due to some reasons so there low booking prices can be offered so as to gain business.
Loyalty Programs:
Rewards and referral programs motivate the customers to share and use the application more and more in order to earn more reward points which can be converted into attractive discount offers. It is really beneficial for the hotel booking app to boost the approach among potential customers.
Marketing Tools:
Various marketing tools that can be used to reach out to the target audience are Chatbots, paid social media advertising, Email marketing, push notifications, and many more.
CRM Integration:
CRM integration is really important in a hotel booking application, as providing the best customer experience is to ensure that the customer feels at home. Adding a CRM helps in strengthening customer relationships with the app.
CMS Integration:
A content management system is the most important tool for admin. From this system, the entire content of the application can be controlled and managed.
With the integration of CMS in the application, the functionalities like rolling out notifications related to the offer, and booking management can be done easily without any effort.
Behavior Tracking:
Users' last search criteria get stored in the application and whenever they use the application again the results related to that search are always displayed. This helps in making various personalization strategies for the customers.
In-App Navigation:
Google maps and Apple maps are integrated into the app so that users don't face any difficulty in finding locations during the trip.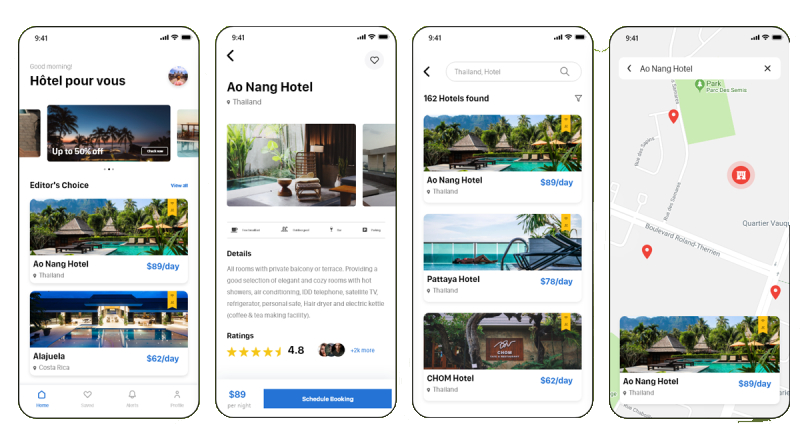 Weather Forecast:
With Google Apps integrated, users can check the weather forecast and plan the day accordingly.
City Guide:
It ensures that users have a good experience while traveling across the city without any inconvenience.
Rating-Review API:
If you want to integrate the API from any other website, for example, the API of Trip Advisor can be integrated so that the users can read other customers' ratings and reviews.
Payment API:
To ensure easy payments, Payment APIs of various modes such as PayTM, net banking, debit/credit cards.
Places Nearby:
Using the geolocation tracking feature, customers can easily search the places nearby, such as tourist destinations, restaurants, movie theatres, malls, etc.
Taxi Booking:
By integrating third-party API with Ola and Uber, users can book taxis easily during their travel.
Restaurant Booking:
Using a third-party app integration feature within the application, users can also book restaurants during their trip from the application itself.
User Contribution:
The users can share their experiences on the application through reviews, pictures, videos, travel blogs, etc.
Required Team Structure For Hotel Booking App:
Every successful project requires a talented pool of professionals who helps in transforming thoughts into reality. So, let's take a look at the team structure you will need for your app.
Business Analysis Team

Project Manager

Android and iOS Developers

Front-End Developers (UI/UX Developers, AngularJS Developers)

Backend Developers (PHP Developers, .Net Developers, NodeJs Developer)

QA Professionals
Hotel Booking App Development Cost
The cost estimate of a hotel booking app depends on the functionality, size, and complexity that it includes. Apart from it, the location of developers and the number of hours invested in the app development plays a very important role in deciding the app development cost.
US-based developers charge $100 to $250 per hour.
Eastern Europe-based developers charge $80 to $180 per hour.
India-based developers charge $25 to $50 per hour.
Moreover, a feature-rich hotel booking application can cost around $20000 to $30000 for a single platform.