In the past few years, we have witnessed a tremendous increase in the travelling culture, as today more and more people are bitten by the travelling bug and thus it is pretty obvious that this craze for travelling has also brought a massive rise in the hotel bookings. The hotel industry is booming right now and it has become integral to own a highly-functional hotel management software to manage the vast number of guest requests and their management.
To a large extent, the presence of hotel management software (HMS) has taken the stress off the heads of hotel staff as they can now easily manage the operations without being physically present at the desk 24/7. This is why the requests for reputable hotel management systems are high and today there are a number of hotel management software development companies, who are offering services in this domain.
Owing to the rising development firms, it becomes tough to make the right choice, hence one has to be really clear of their needs from a hotel management software. Instead of trying to hit all the user types and bringing in many out-of-the-box solutions that are not really needed, the idea should be to create an easy-functional and user-friendly software that serves just what is required to run the hotel operations smoothly.
Hotel Industry: Market Size & Statistics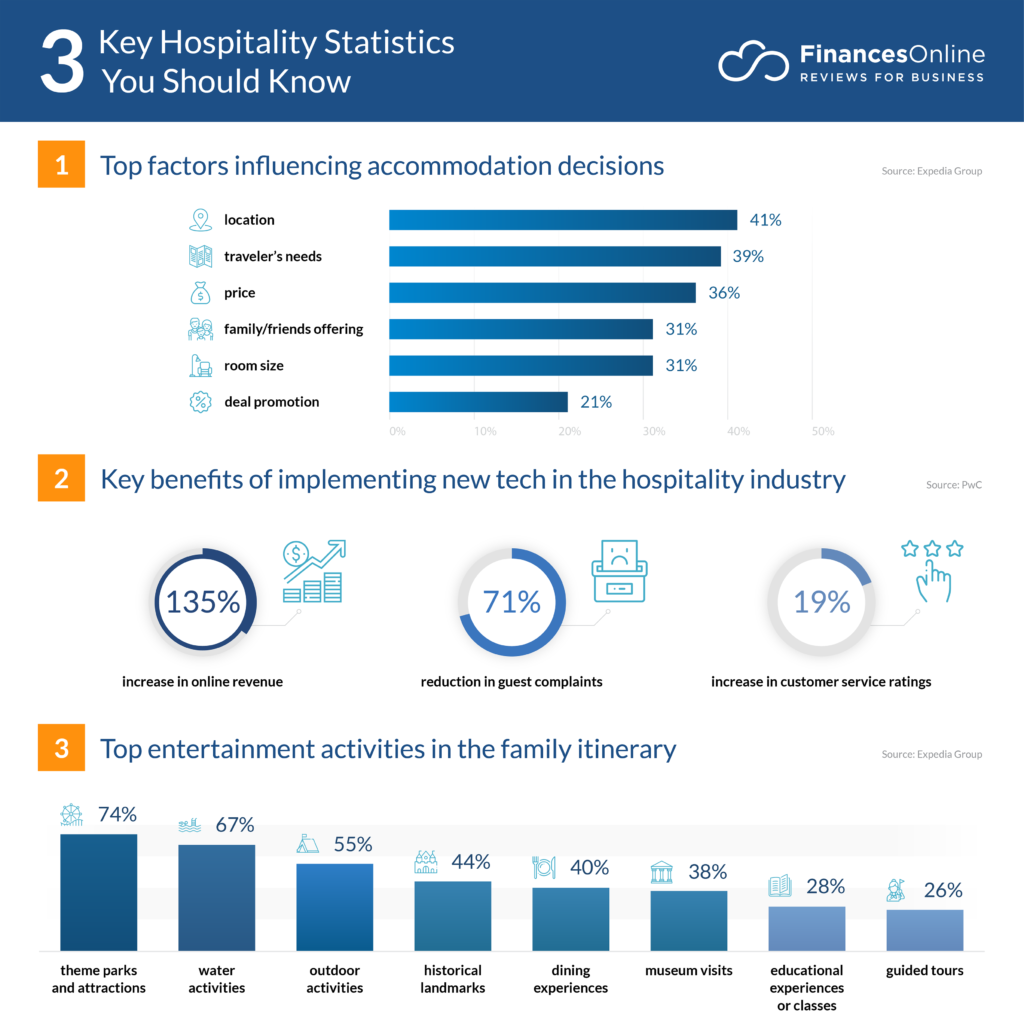 What are the benefits of an efficient Hotel Management System?
In the present times, hotel management software comes useful for a range of purposes. It offers everything from efficiency, accuracy, convenience to financial benefits. Here we have mentioned a few of the many benefits of hotel management software solutions in a hotel property.
1. Streamlined Processes
HMS solution is useful for streamlining the processes, starting from automating the distributing tasks to generating the financial reports in a pretty quick and efficient manner. When hotel functionalities are automated, it gets easier carrying out the hotel operations even without the manual intervention of hotel staff. This makes the hotel able to share the data all across the property and also across the hotel chains, which helps in removing barriers. This way there are also lesser chances of human error.
2. Reduced Costs
Even though the hotel needs to make an initial investment in hotel management software, but in the long term, it can result in remarkable cost-savings. It is owing to the fact that lesser human involvement is needed in the daily proceedings. Thus, labor costs are reduced as well as there will be increased productivity in a number of other areas.
3. More Revenue
Not just it helps in saving money, but it also helps in generating more revenue. Like, the revenue management system in the HMS is useful for optimizing pricing & distribution, with the use of past data, existing data, and wider industry data. This helps in anticipating the demand accurately. Then, there are reputation management programs that help to increase the demand for hotel rooms. Marketing intelligence in the HMS is helpful at creating customized offers on the basis of customer data, whereas distribution channel managers allow managing the availability & visibility across the online distribution channels.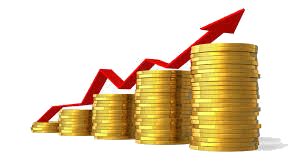 4. Better Customer Experience
HMS can hugely help in enhancing the customer experience offered by the hotels. Like, it allows mobile hotel check-ins and check-outs, thus making arrivals & departures seamless. There are many HMS solutions that offer point of sale (POS) options, which makes it easier for the guests to make hotel payments. Also, the smart hotel system allows to automatically optimize things like lights, heating, and air-conditioning. This leads to enhanced customer satisfaction and comfort while also makes the hotel more energy efficient.
5. Stay ahead of competitors
Though there are countless benefits of integrating hotel management software, the most amazing one is having a competitive advantage over your rivals. A few software packages offer a lot of useful real-time industry insights, which enables the hotels to be more competitive in regards to the room rates, package discounts, and other crucial factors. Besides, an HMS is also helpful at building great customer relationships, save money, generate customer loyalty, and receive positive feedback.
Key Automation of Hotel Management
1. Booking Automation
This section is dedicated to handling the online hotel booking app (through the booking engines developed by the hotels by their app development team, or it could be third-party engines like Trivago, MakeMyTrip, and others). As revealed by the latest research, by 2023 around 700 million people are going to book rooms online. Even right now people prefer booking online more instead of contacting hotels over phone or email. All the users are required to do is place their requirements and choose a room as per their liking, and then easily book the hotel room from the app itself. They can also book activities, such as internet space, bowling alleys, pool service, internet space, etc.
Reservation Management is to handle reservation requests. As soon as a request is received, it marks the number of days the guest will be staying for. This way the hotel employees can check & update the room status, cancel the registration, issue receipts as required. It is helpful for staff to check guests in & out, this way it makes the procedure automatized and saves the clients' time.
There are also property listings where the hotel property is listed on different online platforms, so users can come around it and make easy bookings. Same way, using the Channel Manager, hotels can choose to associate with more than 100 International & regional OTA channels with the GDS channels, like Worldspan, Pegasus, Galileo, Sabre, and Amadeus. It is used to synchronize inventories with several Online Travel agencies, such as Booking.com, Expedia, Galileo, TripAdvisor. When the hotel system is integrated with GDS, then the information like hotel facilities, vacant rooms, is updated automatically on the other sites & booking engines.
2. Relationship Management
This section is dedicated to managing relationships with the customers in a manner that leaves them satisfied and encourages them to book in a particular hotel in the future as well. Not just it manages the customer relationship but to do it effectively it also maintains and manages customer data, enabling the hotels to serve them better. Like, as a guest visits your hotel, it is best to collect details about their preferences, habits, visit purpose, driving means, and others, to serve them better. This way, personalized customer experience can be offered to the guests to serve them entertainment & services as per their taste. A hotel management system stores all details in just one place, thus whenever it is required to collect the contact details of the guests, preferred modes of payment, kind of rooms booked, total spending, etc. then it is easily available.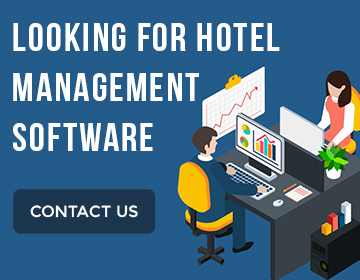 Using the system, hotels can constantly send updates and information to the hotel guests via notifications and confirmations, by sending emails, SMS, notifications, calls, and alerts. It can be about hotel booking confirmation, payment confirmation, as well as various notifications that can be sent at all stages of their stay, be it before arrival, during the stay, or soon after the check-out. Guests can be informed about additional services offered by the hotel, the best offers & discounts provided, to promote extra services as well as to give a list of best dishes available in the hotel restaurant. As well as the guests can be requests for a feedback post the check-out.
It is quite often that guests ask for invoices once they check-in, and they expect it to be issued fast, hence the HMS system must offer all information related to the recent payments with secure payment modes keeping all details safe.
3. Staff Management Elements
Here the system comes useful to manage the different elements consisting of the hotel staff. It handles the HR related activities as well as payroll, whereas housekeeping activities and tasks can also be easily delegated. Like for business processes to be streamlined, it is vital to assign tasks to the employees and track their progress. With Hotel Management System, it gets easy for the hotel managers to organize workflow more efficiently as then they don't need to contact each person and can assign tasks to particular people via the app itself.
Management of back-office is also easier to keep things smooth by integrating custom HMS with the staff management channels. This way the hotel managers can be on the same page of all the internal interactions. Information can be updated by the managers about the salaries, vacations, sick leaves, employees' days off, distributed shifts into the database and can be reviewed as needed.
4. Analytics Automation
This section is to manage the overall functioning of the hotel, consisting of reports regarding the performance of staff, guest details, data delivered by the custom hotel property management system, and a lot more.
Revenue management allows to monitor the overall financial situation and take the right measures to increase the profits. Even though OTAs & marketing campaigns are helpful in increasing revenues, it is also crucial to monitor the everyday expenses and income in order to get a better understanding of what led to the gains or losses.
Extra services, like cafes, restaurants, spa facilities, swimming pools, adventures, recreational activities, etc.) are offered by the hotel, in case the hotel guests are keen on trying them. The system offers a feature to monitor extra services by tracking the services used by the guests the most and which ones among them proved to be more profitable. This is a useful means to automate all transactions and keep them in just one place. At the same time, the system can be used to automatically apply the gained discounts. This way the hotel staff won't require asking customers to show a discount card each time, as everything will be checked automatically.
Modules of Hotel Management System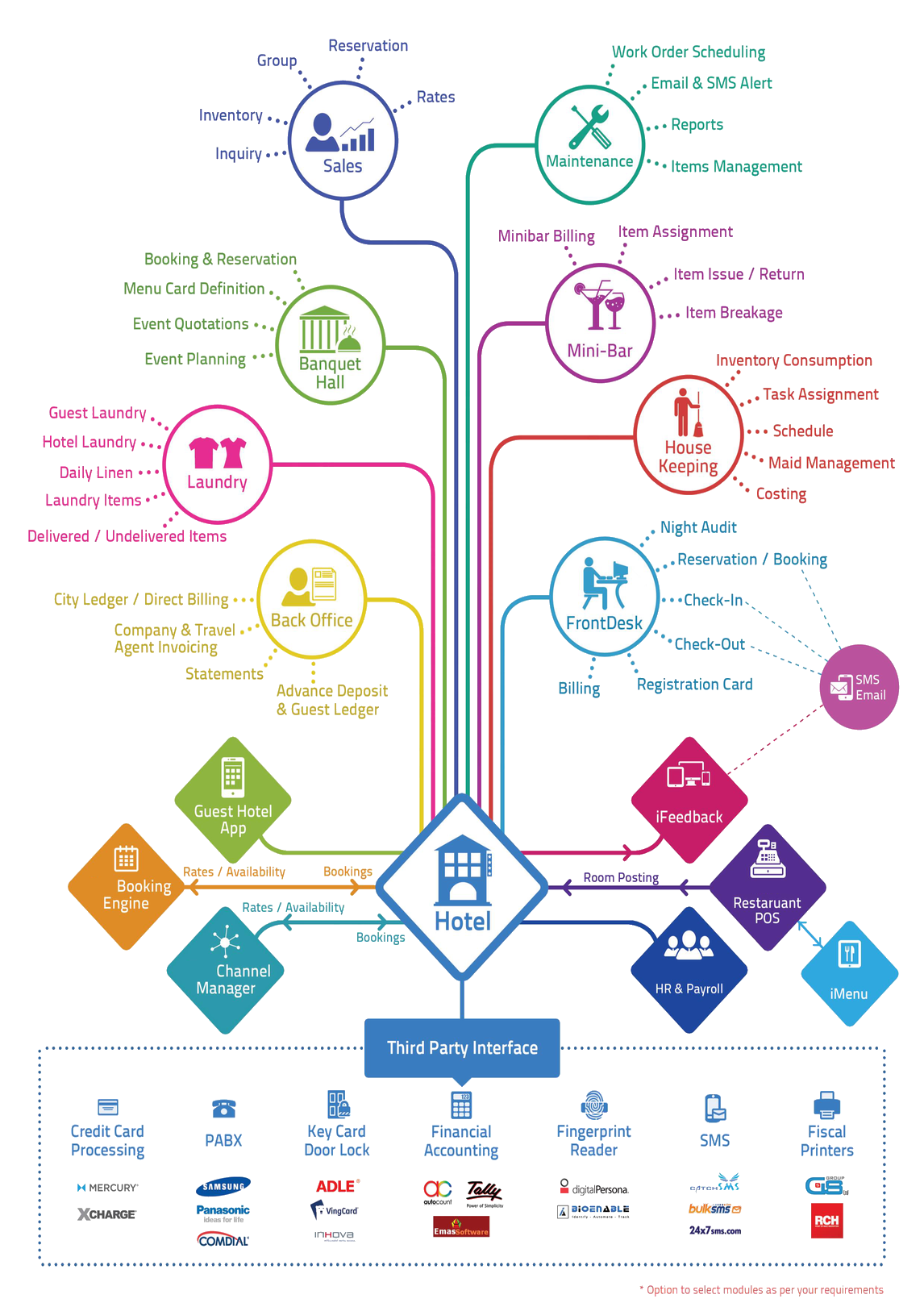 General Features of Hotel Management Software

Back office management

Front Desk Management

Room division

Minor Management

Food & Beverages

House Keeping Management

Inventory Management

Reservation and Booking System

Sales Management
Maintainance of Daily Arrangements
Group Management
Mini-Bar

Banquet and conference Management

Laundry Management

POS invoicing

Membership Module
Other Modules and Features
Guest Hotel App:
As soon as the client books a room in the given hotel, he is provided with an access link for the Guest Hotel App from where a lot of things can be managed easily. Once the app has been installed on the smartphone, the guest can easily access a lot of services and enjoy them by simply placing requests via the app. This way a hassle-free experience can be offered to the customer as all they have to do is to place a request or make a call using the app for the required assistance.
Hotel Kiosk:
Nowadays most hotels offer separate kiosks for different kinds of services, and via the software, it becomes easy to manage all of them efficiently.
Restaurant & Bar POS:
Whilst their stay at the hotels, clients often tend to use a number of facilities, be it dining at the hotel restaurants, using spas & salons, purchasing stuff from bouquets. However, for utilizing these services, there is no need to make instant payments, as Point of Sale (POS) systems are there to manage these expenses. In a POS system, it is integrated into the HMS, where all hotel expenses of the guest are saved into the system and they are constantly added to their final bill that is to be paid upon their departure.
Laundry Management:
To offer a pleasurable and comfortable stay for the guests in their hotels, it is vital to offer basic amenities and one such is laundry services. With the hotel management software, it is quite easy to manage things like Hotel Laundry, Guest Laundry, Daily Linen, Laundry Items, delivered or undelivered laundry items. All of this can be managed with laundry management features in the hotel management system.
Maintenance:
This is one of the modules in the hotel management system that is devoted to maintaining the daily arrangements, like sending email & SMS alerts, scheduling the work orders, send reports, and to manage the items.
Essential Feature List of a Hotel Management System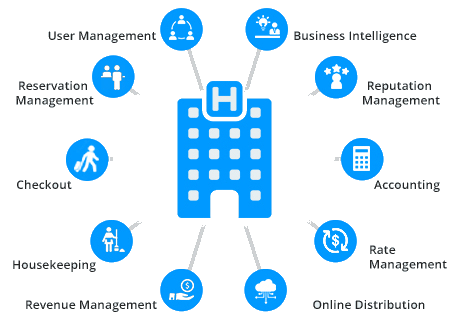 This list mainly consists of the third-party interfaces integrated with the Hotel Management System:
Credit Card Processing:
In a hotel management app, it is crucial to provide the clients with an easy medium to make quick payments and this third-party service can be integrated to enable payment processing. This way through a Hotel Management system, payment processing for the reservation charges as well as deposits can be automated via a payment gateway. A few names which are renowned for this service are XCharge, Mercury Payment Systems, NAB Credit Card, and SlimCD.
PABX:
This third-party service is a Call Accounting Interface that is useful to manage the everyday call records to the hotel management system. It enables the hotel to easily track the calls, charge the guests for phone usage, offer guest satisfaction and reduce the telecommunication costs incurred. Usually, Panasonic, Comdial, and Samsung are used to offer this service.
Key Card Door Lock:
With this feature, the hotel staff gets complete access control & system management as it is integrated directly into the hotel management system. The hotel managers can easily track lock events of each room as all of the records are saved in the system, including card numbers, data, and card type.
Financial Accounting:
This new mechanism is suitable for sales analysis as it assists to analyze all of the hotel activities & proceedings from the past, present & future. When the HMS is integrated with the financial accounting system, the entire management and functioning get way easier. Tally, Ema's software, and Auto-Count are a few of the known service providers.
Fingerprint Reader:
In order to offer the best security by identifying hotel guests and to enhance access control security, Fingerprint Reader works best. This system is useful to verify customers, facilitates keyless entry, protects customer information, and reduces costs. ZKSoftware, DigitalPersona, and BoiEnable are renowned names for this service.
SMS/Emails/Push Notifications:
Hotels are required to send daily emails, SMSs, notifications to their customers, and for this reason, you can integrate the service with a third-party system. It can be synced with HMS, which stores all records. Catches, 24×7, BulkSMS, are a few known names to provide this service.
Fiscal Printers:
This technology offers high performance in regard to speed & reliability. The known names to offer this technology are Dzhies Group Ltd, Bixolon America Inc, RCH Group, and more.

Mobile & Tablet Apps
Now essentially a hotel management software is integrated on a computer system, however, it can be quite effective to get the mobile and tablet apps developed as well. This makes the entire system way more flexible and easy to be managed by anyone from just anywhere. The hotels can choose to get both Android and iOS mobile & tablet apps developed, making the whole processing of hotels more efficient.
Technology Stack
Back-end development tools
Language: JavaScript, Node.js
Framework: Express
Database: MySQL
API documentation: Swagger
Infrastructure: AWS
Front-end development tools
Language: TypeScript
Framework: Angular
Required Team to get a Hotel Management App developed
In order to get an HMS system development, the development team needs to consist of the following professionals:
Project Managers

Android /iOS front-end developers

Back-end developers

A team of designers

Q/A Testers
It is important to ensure that the team is highly experienced and has great expertise in the domain of hotel management software development. If you are looking to get such an app developed, consider hiring a renowned hotel management software development company, which is known to offer quality services at best prices.
How much does it cost to develop a Hotel Management Software?
The cost to develop a hotel management software depends on a number of factors, like whether you are getting the app developed for a single platform (Android or iOS), or both. To develop the app for a single platform costs less while developing for both increases the cost of mobile app development further. Another factor that hugely affects the cost of app development is the region picked for the development. For instance:
US-based developers charge $100 to $250 per hour
Eastern Europe-based developers charge $80 to $180 per hour
India-based developers charge $25 to $50 per hour
Hence, it is best to hire mobile app developers from India as the price is most reasonable here. Like, if you choose to get the app developed with limited features and for a single platform, then it could cost somewhere from $15000 to $25000, whereas to get the mobile app developed for both the platforms along with kiosk web-portal, then the cost will accordingly increase.