What is something about trivia that keeps up amused and hooked up for hours? Believe it or not, right before writing this article I installed QuizUp to know what's exactly the fuss all about, and I ended up wasting 4 hours straight competing with strangers from all over the world with my knowledge of Game of Thrones! And when I won a couple of challenges, it made me feel good about myself. So, this is how it pretty much works.
And probably this is why QuizUp has more than 10 million downloads on Google Play Store alone. In 2013, QuizUp was the fastest-growing iPhone game in history. According to Business Insider, this simple-looking app had more than 31 million registered users with 13 million daily active users in 2015. We are in 2020 now, things have changed so much and the popularity of trivial games like QuizUp has only increased. This is why it is a perfect time for you to develop your own trivia game like Quiz Up. In this article, we will talk about all those aspects that incorporate into making a gaming app like QuizUp and we will also talk about how much does it cost to develop a mobile game like QuizUp.
What is QuizUp?
QuizUp is a fun trivia app with quizzes related to public interests. Here users can register and play quizzes of their own interests. These interests come in thousands of categories to choose from. Speaking of varieties, these interest ranges from Disney movies to logos, to politics, pop cultures, TV shows, Movies, etc. Like I chose to play quiz of Game of Thrones. You will find almost everything here.
Now that is just one way to describe this game, but what makes this game unique and engaging is its social media persona. Yes, this app is as social as any other social media out there in the market. The quizzes that I mentioned can be played either in single-player mode or you can challenge any online stranger from any part of this world. But that's not it, you can add these people, you can chat with them, you can post memes. You can also make your own brain teasers as well and engage people in playing them.
So basically, it's a fun, engaging, social, and instantly rewarding game. Even though it does not give real cash rewards, QuizUp offers Badges or Medals to brag about as you grow while playing more and more trivia. I think we are safe to say that the makers of QuizUp did a great job with this app. With such an app the makers of this game were able to raise $22 million in Series B round.
But wait, why are we praising QuizUp while we must be focusing on making our own trivia game app?
The reason is, QuizUp is the game that has made it, that means they are doing that actually show results. They have paved the path, we can walk on this path and as soon as we reach near them, we can see a clear picture of the further, from there on we can make our own path.
In other words, we must do what they did right with their game, and by adding our secret element, we can develop a trivia game that will have all the good things with a different persona – enough to attract new players.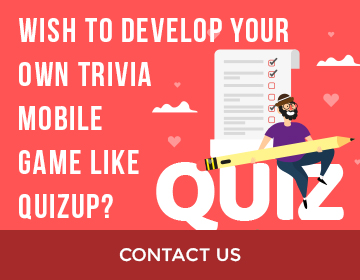 What's So Good About QuizUp?
Let's talk about the properties that are the driving forces behind the success of QuizUp. It will help you to pick ingredients for the success of your own trivia game.
Interest-based quizzes

Thousands of topics to choose from

Meet & compete with new people

Daily tournaments

Topic communities

Memes

Attractive app design
Take a look at these properties. These are meant to attract the audience and engage them in an all-inclusive gaming experience. If a user gets bored with one thing then the app has to offer other elements that support the continuity of the experience at the optimum level.
These are the good things about QuizUp and it has everything to do with its success. Now while we are developing your trivial puzzle game app for you then we need to do everything that QuizUp has been doing then include our surprise element as well. Just to make it fun and new.
Mobile Gaming Market Statistics
The year is 2020, and if you are investing your money in a potential venture then you have to be sure to get certain benefits out of it. Even though the market seems far more promising but taking a look at statistics may give it substantial encouragement.
According to a reliable source Statista, there will be more than 2.4 billion mobile gamers all over the world by the end of 2020. And this number is expected to grow to 2.7 billion by the end of 2021. It indicates that the target audience for your quiz app will only grow that opens gates for more experiments and a wider scope of opportunities.
Now let's talk about the revenue. According to MediaKix, the global gaming market is expected to reach $165 billion in 2020, and it is going to reach $180 billion by the end of 2021. The surprising thing is, according to Statista, 51% of this revenue is generated by Mobile Games and yes, this percentage is going to increase to 58% by the end of 2021.
This speaks so much about how people love mobile games, their fun, engagement, and most importantly their mobility. Because of this, they tend to spend on these games to buy in-game currencies, special features, capabilities, etc. And these people are spending money on games and apps now more than ever.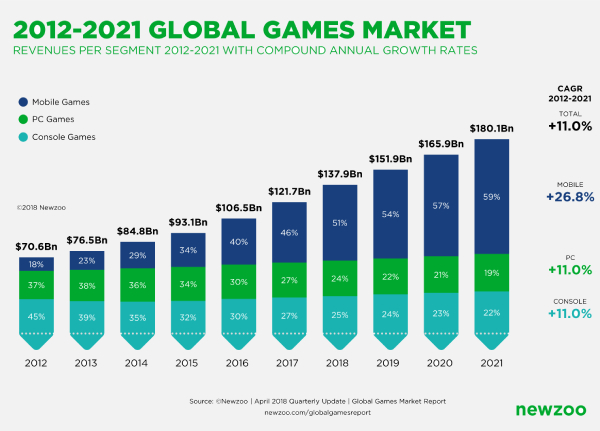 According to Leftronic, gamers spent almost $137 billion on games in 2018, and this number is likely to reach $180 billion by the end of 2021. Not to forget 51% of this revenue comes from mobile gaming.
Without any argument, we can admit that mobile games are popular and this popularity will proliferate uncontrollably. Because a report from AppAnnie says that, out of all the app downloaded worldwide, 33% are mobile games.
However, the mobile game itself a huge category, so why should you develop a quiz mobile app? The answer is simple, the popularity of this quiz or puzzle games comes in second place right after the casual games. These games are easy to follow along, stop, and pick up from where you leave. You can play them whenever you want in any given timeframe. In addition, these games do not demand any kind of commitment whatsoever.
At this point, you must be all set to develop your own trivia game like QuizUp. So, let's get to the next part, i.e. the app itself. The very important part of any game or app is its features and functionalities.
Features of Trivia Game Like QuizUp
As we have talked about it, the features or functionalities are the most important aspects of any app or game. Because it is the part from which the users interact and the end of the day it the only thing that matters. Hence the rule of thumb says, the more interesting features you will have in your game the more people it will attract. Here we will talk only about the most important features that are responsible to make a difference.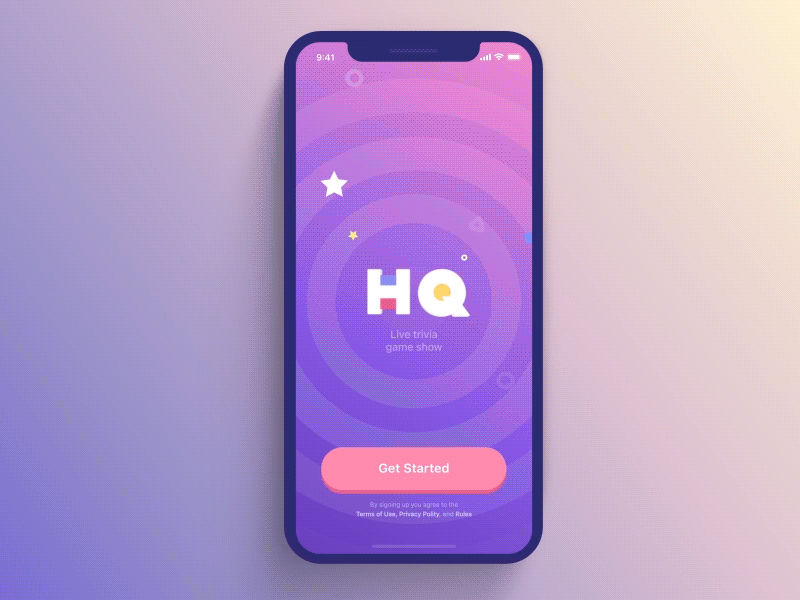 Social Media Sign Up
This is quite a small feature, yet holds a great convenience. It prevents users from remember yet another email ID and password. With this feature, users can easily connect their social media account like Facebook to sign up for the game.
Personal Profile
From setting a unique username to saving all the activity records and selected topics, all go in the personal profile data. And the user can easily access this data whenever she means to. Therefore, having this feature makes a huge difference in a systematic organization. Here, players can also check their friends.


Add/Follow Frien
ds
There is going to be a time while playing with strangers, people get along with each other. This feature allows them to add them as a friend just like any other social media platform.
Message Friends
This is a simple feature, common in all social media platforms but it is not so common in gaming apps. This is why having an ability to message with friends can improve the user experience to a couple of notches.

Challenge Friends
Here it gets better. Since it is a gaming app, it has its own type of social media. With this feature, users can challenge their friends for a particular quiz. The friend will get a pop-up notification and from there they can play quizzes.
Solo & Play with a Stranger Mode
This feature comes in the action when the user selects a particular topic to play the trivia quiz. He can either choose to play solo, where he plays all by himself and in the end, he gets the score. But if he chooses to play with a stranger then the app algorithm connects him with a random online player and this way the quiz is played between two players. Of course, only one becomes the winner of the game.
Select Favorite Topic
Making any game user-centric is one of the best strategies. Therefore, there must be a wide range of topics to play quiz of and users should be allowed to choose their favorite topics. It allows the app to make a personalized user interface for the user, where only interesting topics are shown to the users.
Push Notifications
Push notifications have been around us for quite a while and showed us why they should be a part of any app or game. They show alerts, updates, new information via pop-ups that are intuitive and interactive as well.
Create Own Quiz
Putting users in-charge gives a unique sense of freedom to them. It also makes a game more personalized. And somehow it is one of the core reasons that customer retention increased for the QuizUP game. Letting users create their own quizzes promotes the game as users want their quiz to reach out to their friends and even larger audience.
With this feature, users can create any number of quizzes and add various questions too. It's fun, personalized, and engaging.
Share Memes
Humor connects people, and nothing connects modern people as much as memes do. They are animated, effective, and succinct way of expressing thoughts and views. This feature allows users to share memes under a particular topic. People are passionate about their favorite topics and they love memes related to those topics. Hence, it's a great way to engage them.
Rematch
When users play with strangers, they often want to play with the same person again. But if the algorithm makes them play every game with a different person then it's a deal-breaker. Hence, this feature comes into the action after a match where users can request the stranger to play once again if accepted by the stranger, the user can play again.

Badges
When a user wins a quiz match, she earns certain points, this gives her some special badges. This is a type of reward; other players can see these badges on her profile. These badges are unique for each topic. The best part is, these badges are relevant to the topic too. Like when I was playing a trivia quiz of F.R.I.E.N.D.S. I won a badge called, 'Smelly Cat'. It's fun and exciting.
Refer A Friend
Speaking of friends, this feature works as mouth publicity and it works like a charm. When users love to play with your trivia mobile app, they would love to share it with their friends as well. Because everything is great with friends. In addition, some points can be given to the users if they refer the game to their friends. It just cranks up the fun a little bit.
Like these, there are a lot of features that play a crucial role in a trivia quiz mobile app. So, if you're building one you must consider them all. Because these features make the difference between those games in the market. Hence, features can make you win the race.
Required Team Structure for Developing a Trivia Game like QuizUp
When you are finding the right mobile game development company, it should be your priority to check if they have all essential team members to execute the mobile game development task. Only trivia mobile game developers are not enough there are some more team members whose collective efforts turn a pile of codes into a beautiful and attractive game to play. A right team makes a game into an experience. In addition, the right trivia mobile game development team will help you to make the game ready for the market competition. Because they know both the market and the audience.
Let's take a look at what team structure you should be looking for in your dream team:
Business Analyst

Project Manager

iOS Developers

Android Developers

UX/UI Designers

Graphic Designers

QA Professionals

Delivery Manager

How much does it cost to develop a trivia mobile game app like QuizUp?
The actual cost cannot be given in fixed numbers. Because there are several steps that go into defining the actual cost of game development. The initial stage of project discussion can vary the cost because this discussion can expand or reduce the scale of development according to the requirements.
In addition, the actual development can affect the overall cost because it takes several months to develop a mobile game or an app, during this time the scale of the development may change according to your requirements.
In addition, there are a couple of major factors that also take part in defining the quiz mobile game development cost. These factors are the platforms of the game (Android, iOS, Hybrid), number of features and functionalities, and the region of the development as well. Because in different regions of the world the per hour cost is different regardless of the quality of development. Asian countries have the lowest development cost and often people choose countries like India for the same reason.
But just to give you a ballpark, we can that to develop a trivia mobile game like QuizUp, it may cost around $45,000 to $65,000. However, do know that this figure may vary according to your special development requirements.
So, this was everything you need to know about quiz game app if you want to develop a trivia mobile game like QuizUp. If you still have some questions about the development, please feel free to talk to our experts. We are always happy to help you with your dreams.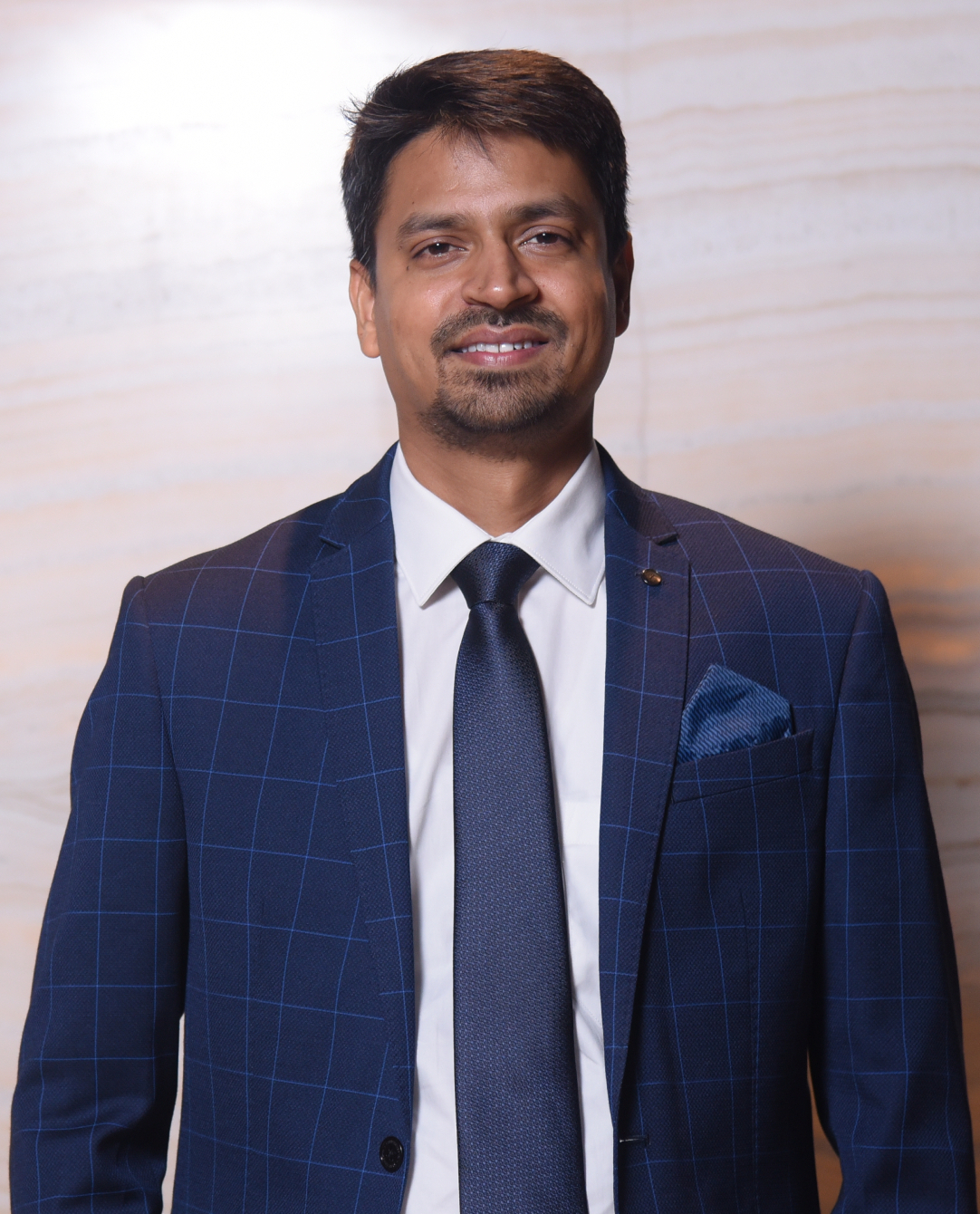 Rahul Mathur is the founder and managing director of ARKA Softwares, a company renowned for its outstanding mobile app development and web development solutions as well as specialized in Android and iOS app development. Delivering high-end modern solutions to all over the globe, Rahul takes pleasure in sharing his experiences and views on the latest technological trends.