Indeed, the success rampage of apps like BYJU's has been very overwhelming for investors and entrepreneurs in India and the rest of the world. After phenomenal success in the e-learning market in India, BYJU's has started proliferating in western parts of the world as well.
In less than a decade, the net worth of this business unicorn has reached 10 billion. Now that's a whopping growth! If the m-learning market is growing at an exponential rate, then you must be willing to invest in this market as well. 
Well, it all starts with e-learning mobile app development. But wait, we will get to that point later, but first, let's take a look at the factors that made BYJU's learning platform a massive success that even Harvard Business school made a business case for.
BYJU's came to India when students needed a supplementary education source because the conventional education system fell short of providing a good quality of education.

The best part about BYJU's is that they provide education in an interactive and immersive form. Their lectures are in video forms that are digitally modified to make them more fun and interesting.

BYJU's not only improved the quality of education but also has given education mobility and flexibility. Students can learn from anywhere at any time with BYJU's e-learning mobile app.
If you consider these growth-driving factors in the present time, they may seem mainstream. But imagine these ideas back in 2011, almost a decade ago. This much time took, Byju Raveendran, the founder, and CEO of BYJU's to turn his idea into a multi-billion-dollar company with a net worth of 10 billion.
History is proof that a market flourishes when there is healthy competition. Because only then the company strives to offer the best quality of products and services to the customers. And that is the sign that is prompting you to develop your e-learning mobile app.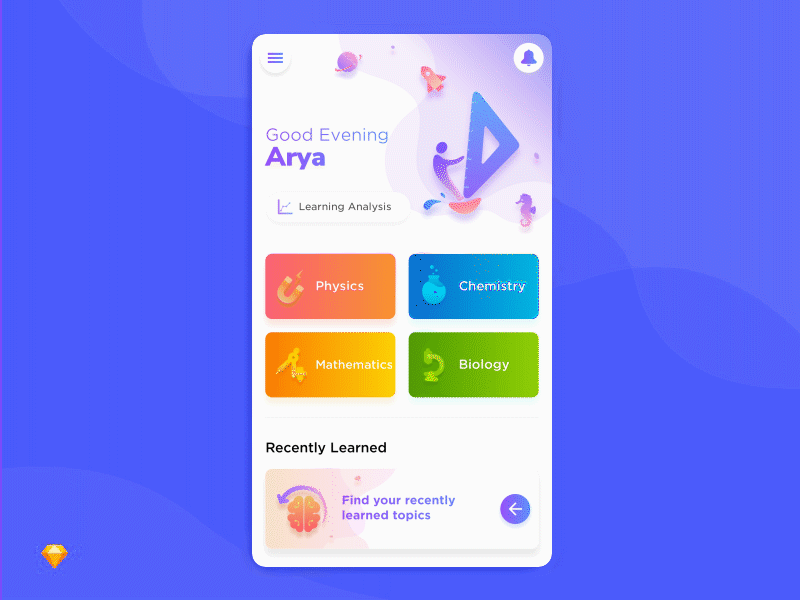 You do not have to have the exact same business app idea. You can build something around it and offer a whole new educational experience to your idea that will make your business model unique and attractive. It will also build your separate loyal customer base as well. And when you have such an idea, you will also get investors, as BYJU's got theirs.
Some of BYJU's investors are Chan-Zuckerberg Initiative (CZI), Sequoia Capital India, Sofina, Verlinvest, Tencent, Naspers Ventures, etc.
So, if you are ready to set the course of your new business idea, shall we proceed?
Perfect!
Brief Introduction to App Like BYJU's & Market Demographics
BYJU's was founded by Byju Raveendran in 2011. Initially, they focused only on Science and Math subjects but as time passes, they kept on increasing their teaching repertoire. Currently, they are offering m-education services for K-12 students in almost all subjects.
Now they are offering online courses for competitive exams like IAS, CAT, JEE, NEET, etc. BYJU's offers its service in the middle east as well and they are actively focusing on entering the western market as well. BYJU's launched its mobile app, BYJU's – The Learning App, in 2015.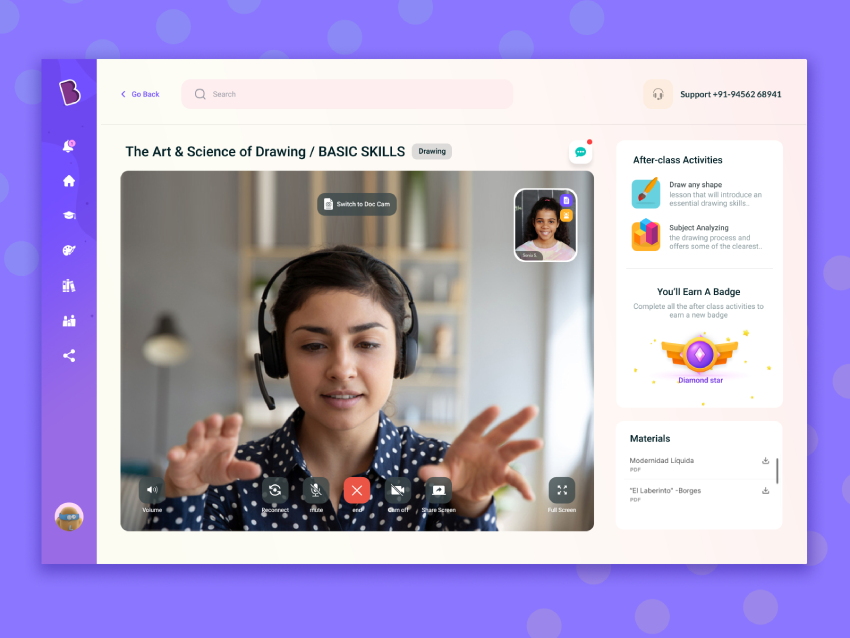 BYJU's became the world's most valuable ed-tech company in 2019. The app has over 42 million active users with more than 3 million paid users, and they are increasing every day. Simply, it is an Editor's Choice app in Google Play Store with more than 50 million installs and 4.5 app ratings.
This growth is the result that Harvard has case study of BYJU's.
Revenue Model of App Like BYJU's – How Does BYJU's Make Money?
The main revenue model of BYJU's is Freemium. In other words, BYJU's allow users and students to download their mobile app for free and access a small amount of their entire e-learning course for free. If users want to try the complete subscription experience, then BYJU's offers a free 15 days of trial subscription as well. After that, the subscription amount is 10,000 INR for a year.
Hence, the major income of BYJU's is from their paid subscribers.
But if you want to dig a little deeper into the revenue model then you can get some options like in-app advertisements and promotions for increasing revenue. In addition, an e-commerce portal can also be integrated into your e-learning app where you can sell merchandise and accessories related to educational app and courses like Books, Stationary, CDs of lectures, etc.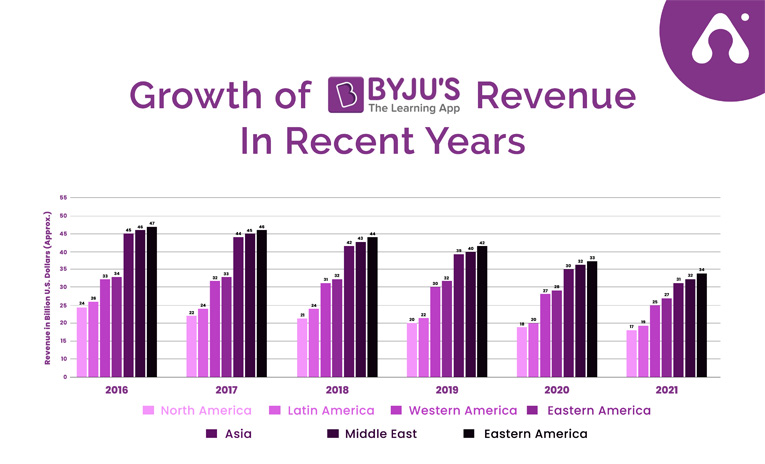 Global e-Learning Market Demographics
The global pandemic caused by the spread of COVID-19 has given a glimpse of the future of e-learning mobile apps and services.
According to Forbes, the worth of the global e-learning market was $166 billion in 2014, and it is projected to grow as much as $325 billion by the year 2025. That is a 'green' sign to invest in the online learning business.
According to Statista, 81% of US college students have claimed that online learning statistics is helping them improve their grades.
Online education is not limited to school and college students, it has also benefitted corporates as well. For example, IBM saved around $200 million by switching to e-learning. In addition, an online learning platform called Lynda.com was acquired by LinkedIn in 2015 for $1.5 billion.
One can look at digital learning from any possible angle and she will find two things, A. Opportunities, B. Growth. Such is the time for investing in eLearning app development.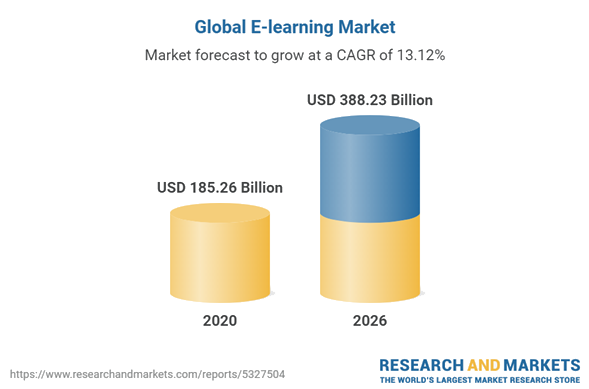 Let's assume that you are ready to start the education app development of your m-learning or e-learning app, what is the very first thing you need to think about? 
The very first step is to have a robust app idea. It could be similar to BYJU's but it is always a good thing to take the original idea and improve it and then start the process of implementation.
So, once you have the idea, you need to take it to the right people who will take this idea, give it some finessing, and start turning it into a reality, and who are these people?
Finding the Right App Development Company for Your Next e-Learning App
Finding the right app mobile app development company is the most crucial part of the entire app development. It is because you are trusting them with your idea, time, and money. That is not it, the right company will,
Help you improve your app idea by minimizing risk factors and increasing growth elements.

Understand your long-term plan with your business and will develop the app accordingly.

Understand your target audience to develop a personalized and effective e-learning app.

Suggest the right stack of technologies for app development.

Maintain seamless and comprehensive communication with you throughout the app development process.

Save your time and money.
Now you know what you need from a company, you need to start finding the right company for your e-learning mobile app development. There are two ways to do this, either you get references, or you start finding online. If you get references, then it's a piece of good luck. But in case you don't have any good references, you need to start looking for companies online.
For starters, there are a few organizations that examine the quality of work and communication of app development companies and rate them accordingly. Some of them are, Clutch and GoodFirms. On these websites, you can find top software development companies, their average project budgets, their customer feedback and reviews, and other essential details that will help you find the right company for you.
You can shortlist several companies, and do some background checks and you will have the best company for your project.
But in the quest of finding the best app development company, you will probably stumble upon the idea of whether to outsource your development task to a company or start building in-house. For that, I think I have an answer.
Outsource Company Vs In-House Team
Long story short, if your idea is new and you are just beginning your project, it is good to outsource your eLearning application development project to a good company. 
It saves costs by saving the cost of infrastructure for the in-house team, operational costs, and other miscellaneous costs.

A company has better infrastructure, tools, and human power that can help in complex situations.

A company will always deliver the best quality of work because it needs to maintain a good reputation in the market.
But now that your business is running smoothly and it is growing like anything. You might want to start building your in-house team. Because
An in-house team offers better control over your project.

Better communication, transparency, and reporting.

You can scale up and down the size of the team according to the need.
Since your e-learning app like BYJU's is pretty new, you ought to consider outsourcing your project to an education application development company. Because they have e-learning mobile app developers who know their work very well.
Required Team Structure for e-Learning App Development
The right composition of team members makes a team ideal for any task. Therefore, it is essential to have the right members when you hire a mobile app development team to make your e-learning app development project a successful venture.
A team fosters seamless communication, project involvement, systematic reporting, and more. Communication is a very important part because when educational app ideas are well communicated, the execution becomes much more personalized. Hence, for such a team, you will be required
Business Analyst

Project Manager

Android Developers

iOS Developers

UX/UI and Graphic Designers

Q&A Professionals

Delivery Manager
Now let's talk about what makes an e-learning app a must-have app for learners. The features!
Know more: Top 20 Education Apps For Online Learning
Features of an e-Learning App like BYJU's
Features and functionalities are almost everything that can make an app famous among its users. It is quite simple that people love to interact with an app and the more an app allows users to explore and interact the more they get involved in it.
This is the foundation of app development. Not to mention that this addition of features to your learning app must be done carefully because you don't want to clutter your app with useless features. It is against the good reputation of your app. And believe me, users see everything. Hence, you need to be creative and careful with selecting the features for your app.
Officially, BYJU's learning app highlights its major features:-
Learn
A self-paced learning program that includes immersive and engaging video lectures that turns a boring learning session into a fun one.
Test
According to the learning requirements of each student, personalized tests are provided after the completion of each chapter. It helps students in improving their understanding and grasp of the subject.
Analyze
BYJU's learning app is impressively smart. It tracks the learning journey of each student, the personalized tests, learning patterns, accomplishments, etc. to offer a detailed and comprehensive analysis of their progress and performance so that they can modify and improve their learning.
Revise
To help students to improve their grades in exams, the app offers revision features for each module to improve the understanding of each concept and topic.
Quizzes
Quizzes are fun ways to test knowledge and learn while playing at the same time. These are great for competitive examination preparation.
Knowledge Graphs
These smart knowledge graphs offer students customized recommendations in order to learn and understand a concept better.
Practice
For each concept, there are three modes for practice, warm-up, run, and sprint. Based on a student's level of understanding, this feature allows them to test their pace.
Live Classes
During the lockdown, for students of classes 4-12, BYJU's teachers are conducting free live classes. These live online classes cover Science and Math subjects of CBSE and State Boards. These are some of the features that are making BYJU's an outstanding e-learning app. Now is the time to dig a little bit deeper to know features according to the type of users.
E-learning App Like BYJU's– Student Panel Features
Registration
In order to start using the learning app, a user is required to register to the app with some personal details. The registration gives the user an ID and password to log in to the app.
Log-in
This feature allows registered users to log in to the app with their User ID or linked social media accounts. Once logged in, users can start using the app and its services.
Forgot Password
In case a student forgets her password then this feature helps her to reset or generate a new password by using a registered phone number or email ID.
Browse Courses
This feature offers students a dedicated space that allows students to explore classes and courses.
Profile Manager
Profile manager helps students to manage personalized details that include:
Profile Picture

Email

Password

Mobile Number

Payment Mode

Class

Subscribed Courses
Search Courses
Two sorting ways help students to find their preferred courses:
By Name: Learners can type the name of the course to find the exact course they are looking for with some similar courses as well.
By Category: Users need to select the category to browse through all the courses in it.
Course Details
Quite an important feature that offers comprehensive information to the students about a particular course. The information may include:
Description of Course

Contents of Course

Chapters

Price of Course

Option to Buy Course
Purchase Course
This option simply allows users to purchase a preferred course via the selected payment mode.
Online and Offline Study
To offer great mobility, your e-learning mobile app can allow users to choose between online and offline app modes. Online learning mode requires an active internet connection, whereas offline learning requires users to download content in the local storage of the device.
Live Chat
Live chat makes it easy for students to communicate with the tutor in a live class. There can be several payment modes in the app such as debit or credit card, Net Banking, e-Wallet, UPI, etc.
View Purchase History
This section of the app shows users their overall purchase history containing names of courses or items with price and purchase date. Also, the payment mode can be added to this information.
Take Test
This feature enables users to take participate in a test related to the topic covered so far.
Track Shipment
If a user wants to track the shipment of her order then this feature comes in handy.
E-learning App Like BYJU's- Admin Panel Features
User Management
The admin works as the owner of the entire platform and manages every aspect of the e-learning mobile app. Hence, managing users also comes into the overall management. With this feature admin becomes able to perform the following task for users:
Search Users

View Profiles

Add User

Delete User

Activate Profile

Deactivate Profile

Ban User
Role-Based Dashboards
Role-based dashboards are one of the most actively used features for the admin of the app. These dashboards show essential analytics and live data separately in different displays. These details are the number of active users, total income, active regions, and a lot more.
Course Management
Like any other aspect of the app, admin has control over the courses of an e-learning app as well. This feature allows the admin to perform the following tasks pertaining to courses:
Search

Filter or Sort

View Course

Choose Category

Name of the Course

Description

Topic Name

Price of the Course

Course Duration
Subscription Management
Admin is also able to manage subscriptions on the app and perform the following tasks:
Add Subscription

Delete Subscription

Edit Price

Edit Description

Edit Subscription

Activate a Subscription

Deactivate a Subscription
BI and Analytics
Business Intelligence (BI) and Analytics are crucial features of an admin panel. These features offer deep and detailed business insights to the admin.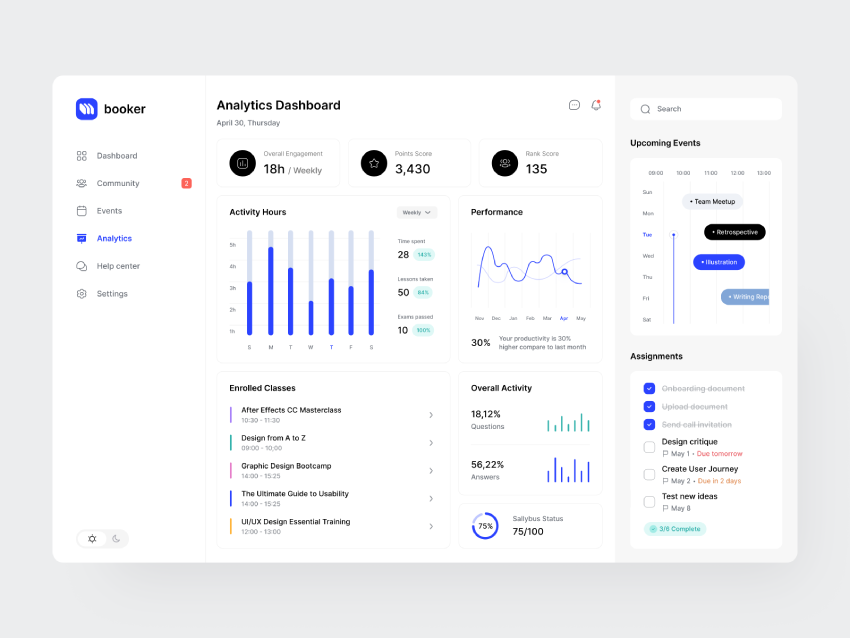 These insights are based on a wide spectrum of data collected from different aspects of business operation. Backed by artificial intelligence, this feature shows a visual representation of business statistics with insights that can help in making important business decisions.
Content Management System (CMS)
The content management system (CMS) allows the admin to modify or manipulate any visible content on the app or the web platform. It intelligently assists the admin to add, remove, or modify media or text content on the platform.
Inventory and Supply Chain Management
Inventory and supply chain management are features that come in handy if your app offers e-commerce services as well.
Customer Relationship Management (CRM)
Customer relationships, multichannel marketing, customer detail management, data analysis, report generation, etc. come under this admin-exclusive feature.
How Much Does it Cost to Develop an e-Learning Mobile App Like BYJU's?
Now is the time when we talk about the sum of money that you are supposed to invest in this optimistic venture. I would like to remind you that, we are here talking about the cost of app development only, the cost of content creation is not included in this cost.
So, to be very clear, it is not possible to give you an exact idea of the cost of the development of a mobile app because the cost is affected by several factors. These factors could be:
Number of platforms (Android, iOS, Wearables, IoT)

Number of Features

Scope of project scaling up during app development

Fully Fledged app or MVP (Minimum Viable Product)

Region of app development- 

Hourly charges of different regions:-
USA – $160 -$220

Europe – $140-$180

Australia – $120-$160

Asian Countries – $60-$120
Now that we know these factors, we can include some of them and create a scenario to get a vague idea of app development cost.
Imagine an e-learning mobile app for just one mobile platform with only essential features, developed in an Asian country like India. It may cost probably around, $35,000 to $50,000 to develop an e-learning mobile app like BYJU's.
Conclusion
The Technology paradigm is kept on evolving with time, the learning domain is not an exception. BYJU has gained a massive reputation due to its pathbreaking approach, and within such a short span it has turned into an EdTech decacorn.
However, it is not that easy to develop an app like BYJU, as it involves a lot of complex procedures, exceptional features, and programming prowess to achieve what you are aiming for. To develop a learning app, you need adequate planning, lots of experiments, and an innovative bend of mind.
This is where Arka Softwares takes the lead, as we believe in Creation, Ideation, and Innovation. We are a passionate group of app creators who are known for developing solutions to resolve conventional problems. As a reliable app development organization, we assist enterprises to create their niche space in the learning industry.
If you are planning to venture into the learning market, then you can certainly approach our consultants, who are capable enough to shape your imagination into a popular learning application