Back in the day, people thought that youngsters were easily distracted by their smartphones but e-learning app for kids have changed the game.
There was a deliberate attempt from parents and educators to limit students' access to electronic devices. Nonetheless, the recent COVID situation and the widespread availability of low-cost internet have resulted in development of best learning apps for kids.
Some of the best free educational apps for students help them to keep their attention where it belongs and avoid distractions.
As an added bonus, the interactive nature of these learning apps engages users and motivates them to learn.
Education Apps for Online Learning: Industry Trends
In 2021, the corporate eLearning market was estimated to be worth $100 billion, and it is expected to grow at a CAGR of more than 20% between 2022 and 2028.
The expansion of the training services market will be supported by the growing emphasis of businesses on training program enhancement.
According to a report by Polaris Market Research It was anticipated that the global market for elearning will increase at a CAGR of 20.5%, taking it from USD 214.26 billion in 2021. The market is projected to reach USD 1,124.79 billion in 2030. The Regional scope is from North America, Europe, Asia Pacific, Latin America, Middle East & Africa.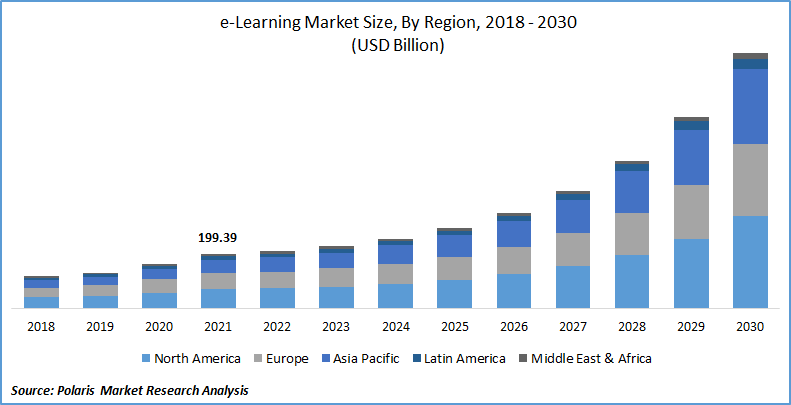 There's no question that mobile learning has proved to be very beneficial in the era of virtual classrooms. Predictions on the future of eLearning in 2022 reveal that developers can go even further with AR/VR.
With a CAGR of 36% between 2021 and 2022, the virtual reality market in education industry is projected to grow from $6.3 billion in 2021 to $8.66 billion. The market is anticipated to reach $32.94 billion in 2026 at a CAGR of 39.7%.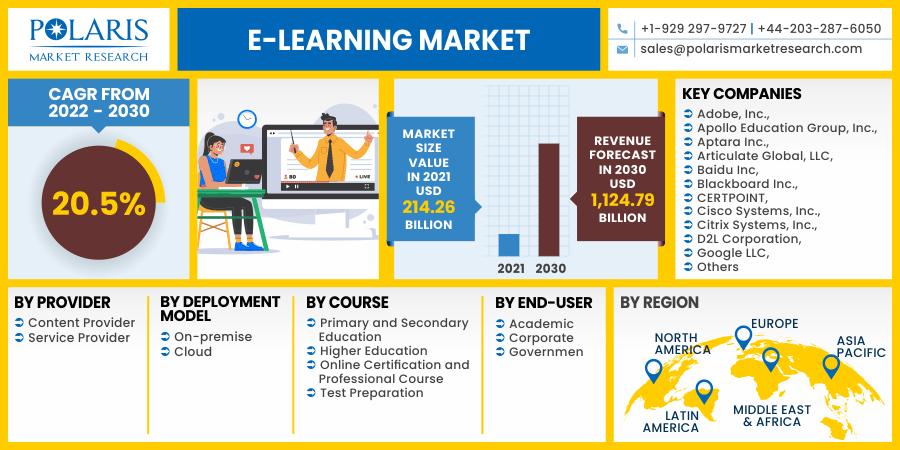 Some of the best free educational apps for students help them to keep their attention where it belongs and avoid distractions. As an added bonus, the interactive nature of these learning apps engages users and motivates them to learn.
20 Best Learning Apps for Kids
1. Google Classroom
Google Classroom is a set of web-based technologies that lets educators distribute and collect student work for grading and feedback all in one place. It was developed to help schools transition to paperless classrooms and expand access to digital education.
Its original intention was to be used with computers in classrooms so that teachers and students could more easily share class materials and assignments.
Google Classroom's popularity has exploded as schools embrace digital education and educators embrace paperless classrooms.
Google Classroom is compatible with Google Docs, Sheets, Slides, and Gmail, and may be augmented with Google Hangouts or Meet for real-time, in-person teaching and doubt clearance.
Google Classroom is available on both Android and iOS for free.
2. Epic: Kids' Books & Reading
In Epic, a new collection of children's books and movies is added every week, making it the ideal e-reader. The feature allows educators to distribute books to their classes either individually or in groups.
This is an extremely user-friendly platform, especially when combined with services like Google Classroom.
Epic's ability to help educators and parents monitor students' reading development is a major selling point. Digital versions of many best-selling writers' works are at students' fingertips, with an integrated dictionary to aid in comprehension and vocabulary development.
Epic is available on both Android and iOS for free.
3. Duolingo: Language Lessons
Duolingo is a top education app for online learning that is modeled after a video game. It provides a digital platform where learners of all ages and skill levels can access and study a wide variety of languages.
You can learn a new language with Duolingo by visiting their website or downloading their app. This makes it extremely accessible, and students can install it on their personal devices.
Learners feel a strong sense of ownership when given this kind of access and when given the opportunity to design their own game avatar characters. All of it works together to create a more immersive experience and a resource that students will want to use again.
Duolingo has a highly effective self-correcting learning system that not only informs pupils when they have made a mistake but also displays the correct answer immediately. Because of this, using the app as a means of independent study is a viable option.
Duolingo is available on both Android and iOS for free.
4. Remind: School Communication
Teachers can use the web and mobile-based tool Remind to quickly and easily contact a large group of students or parents at once. This means safe, one-on-one interaction with the whole group or smaller subsets within it.
Once upon a time, Remind was a one-way service, functioning similarly to a notification's gadget. Students and parents can now provide feedback. But if a teacher feels it's necessary, they can disable this feature.
A teacher can also upload images, videos, files, and links in addition to text. There is no limit to the number of students that can be assigned to a teacher's class.
Anyone can use this app to organize a field trip, notify parents and students of upcoming tests, announce changes to the schedule, and much more.
Users can collect read receipts, form groups, invite co-teachers and arrange meetings. While Remind's free version is great for individual teachers, more robust paid solutions are available for schools.
Remind is available on both Android and iOS for free.
5. edX 
How many of you don't wish to study at a prestigious university like Harvard or Stanford? Surely there can't be more than a handful of us. However, we are also aware of how challenging it is to gain admission to such institutions.
Don't fret, since, with edX and a decent internet connection, you can accomplish everything you set your mind to. This app provides access to world-class educational resources, allowing you to earn credentials from some of the world's best colleges while learning nearly anything.
edX offers courses in a wide variety of fields, from computer science and linguistics to business and engineering. Some edX courses may also count toward degree requirements. When coupled with your professional degree, this can catapult you into the salary range of your dreams at lightning speed.
edX is available on both Android and iOS for free.
6. Elevate – Brain Training Games
The purpose of the Elevate app is to enhance cognitive functions such as communication, learning, and memory. Every student is given a unique learning plan that evolves with them to achieve the best possible outcomes.

Elevate training has been shown to increase productivity, earnings potential, and confidence in the workplace.
Active members of Elevate have reported increased vocabulary, memory, and general mental acuity. There are no exceptions to the accessibility of Elevate. It doesn't matter how old you are or what you do for a living. Users from many walks of life can make use of this application.
Elevate is available on both Android and iOS for free.
7. Khan Academy 
Khan Academy is a widely used online resource that offers lessons in a variety of disciplines, from mathematics and statistics to psychology and foreign languages. It was established with the aim of spreading education and has a philosophy that places the learner at the center.
This educational app takes advantage of the widespread availability of the internet to make high-quality education accessible to everyone, anywhere around the globe.
Courses are presented in the same video lecture format as seen in most other learning libraries; that is, a recording of drawings is displayed on a digital blackboard, just as if a professor were giving a lecture.
If you need help getting ready for a standardized test like the SAT, LSAT, etc., Khan Academy has you covered there, too. You can also use services like TestMaxPrep to find a dedicated LSAT tutor for the LSAT specifically.
Khan Academy is available on both Android and iOS for free.
8. Photomath
Photomath is another one of the top educational applications for pupils. Many schoolchildren find mathematics to be baffling. The formulas may be too complicated, or the concept may be too vague. We must now bid farewell to those times.
With the help of Photomath, anyone may quickly and easily learn to solve even the most difficult mathematical problems.
It's straightforward: just take a photo of the question with your device's camera, and the app will analyze it, breaking down the steps for you in a video tutorial.
Sometimes these explanations will include a number of different approaches to the same problem, graphical representations of the data that can be interacted with, and even animations to help explain the process. It has a scientific calculator built right in, and it can do all this without an internet connection!
Photomath is available on both Android and iOS for free.
9. SoloLearn
Do you think the breadth of coding and programming will ever decrease? Never in a million years. As our community becomes more and more reliant on digital and virtual systems, the ability to communicate effectively with computers will become as valuable as magical knowledge.
The vast majority of newcomers to the world of computer programming begin their journey on SoloLearn, which features a lively and engaged community of programmers.
SoloLearn has a wealth of interactive tutorials covering recently developed technologies and frameworks. This application is great for getting your creative juices flowing, whether you're just starting out or a professional enthusiast trying to hone your talents.
Because of its excellent library of courses on topics like Python, Java, C++, JavaScript, HTML, CSS, etc., it is widely regarded as one of the greatest educational apps available.
SoloLearn is available on both Android and iOS for free.
10. Brightwheel: Preschool & Child Care Management App
If you run a daycare, preschool, summer camp, or after-school program, you should check out Brightwheel. Users are able to oversee operations at the center, improve efficiency, and communicate with guardians. 
It allows you to keep tabs on students and classes, record attendance and monitor class sizes, store and share media, evaluate student progress, contact and bill parents digitally, and analyze daily logs including employee records.
Brightwheel is available on both Android and iOS for free.
11. Kahoot! Play & Create Quizzes 
Kahoot is a game-based learning application used by universities and other academic institutions as a learning platform.
It can be used as a respite from regular classroom activities and as a means of evaluating the student's progress toward learning goals. The app and website provide access to user-created multiple-choice quizzes and educational games.
Teachers can set up immediately playable games by preparing a set of questions and answers and entering them into the Kahoot! app. It provides resources to assist educators in enhancing the appeal and participation of their online courses.
Kahoot is available on both Android and iOS for free.
12. Udemy
Udemy, with its extensive library of video lessons on every conceivable topic, is widely considered one of the best and most widely used educational apps for students.
Udemy offers courses on anything from technology and business to self-improvement and yoga. Udemy provides self-paced education through its library of recorded lectures.
As is customary, you can always turn to the course's professors or fellow students for assistance on the forums if you run into any problems.
Udemy hosts courses from a wide variety of subject matter experts from around the world. Udemy makes it possible to have in-depth conversations with other students at each stage of the learning process.
There is a good reason why Udemy is considered one of the top educational apps. It offers thousands of teachers and a plethora of subjects covered in courses.
Udemy is available on both Android and iOS for free.
13. Skillshare
The online learning community and marketplace Skillshare hosts classes on a wide range of subjects including arts, crafts, business, and more. The goal of this organization is to ensure that everyone who wishes to advance in their education can do so easily.
Courses are completed by watching videos, with students putting their newfound knowledge to use by creating their own coursework. 
Skillshare is available on both Android and iOS for free.
14. Flipgrid
Video-based platform Flip (previously Flipgrid) facilitates conversation across electronic devices in a social and interactive fashion, making it a great tool for classroom use. Flip is meant to facilitate class conversations without putting any one student in the spotlight.
It's a perfect way for students who have trouble expressing themselves verbally to share their ideas with the rest of the group. Having the option to re-record answers is a huge stress reliever, making this a fantastic tool for teaching.
Students are inspired to think outside the box when they are given the opportunity to incorporate multimedia elements. By customizing their notes with emojis, text, and stickers, participants can connect with course topics in the same way they would with friends on social media.
This can make students more comfortable and give them the confidence to share their ideas freely, leading to a more in-depth experience with the activity. The end outcome of it, ideally, would be enhanced learning and retention of concepts.
Flipgrid is available on both Android and iOS for free.
15. Coursera
Coursera is an online education marketplace where users can enroll in on-demand courses and self-paced learning projects. Courses are made available through the platform's collaboration with educational institutions and corporations including Amazon Web Services, Google, and IBM.
The digital certifications users receive can be displayed on their résumé or shared with their LinkedIn connections.
The platform allows users to earn professional certifications as well as bachelor's and master's degrees in a variety of disciplines through the completion of a series of courses. The MasterTrack certificates offered by Coursera divide up master's degree programs into bite-sized chunks that can be completed entirely online.
Coursera is available on both Android and iOS for free.
16. Alison: Online Courses
Those interested in obtaining a Diploma or Certificate can do so at no cost through Alison. Alison's mission to make education accessible to anybody, regardless of their background, means Alison regularly updates its catalog of 4,000 free online classes with brand-new courses.
More than 25 million students are currently using the platform, 5 million people across the world have graduated from courses offered by the site, and 170,000 new students join each month to take advantage of free education and move closer to their goals.
Alison's goal, as an early adopter of the MOOC (Massive Open Online Courseware) model in 2007, is to become the most prominent provider of high-quality education available for free online.
Education, in their view, can have far-reaching effects on people's lives, affecting not only the student but also his or her loved ones, coworkers, community, and even the entire planet.
Alison is available on both Android and iOS for free.
17. Quizlet: Languages & Vocab
What is the best technique to restore your memory on a previously learned topic? Flashcards! Quizlet is one of the top apps for studying using flashcards.
First off, you'll notice that this application offers a wide range of study options, from flashcards to direct learning to writing.
In each of these formats, you'll find a lot of customization options to suit your individual learning style. Quizlet's identifying feature is its ability to make use of flashcards.
The process of active recall is facilitated by using flashcards. Repetition and recall of previously learned content is a powerful memory-enhancing technique that can be used throughout the learning process. Quizlet provides access to millions of premade flashcards.
You can make your own, share them with your friends, and even play games to test and improve your knowledge. The application not only keeps you on track, but it also provides you with frequent reminders and progress checkpoints to monitor your success.
Quizlet is available on both Android and iOS for free.
18. Scratch
Scratch is a community and programming language with a user-friendly graphical interface that encourages children to learn computer science by making it possible for them to build their own interactive media such as video games, stories, and animations.
The Scratch Foundation is a charitable foundation responsible for the creation, maintenance, and promotion of the Scratch coding environment.
It encourages people to think computationally about problems, encourages innovative pedagogy, fosters a culture of open communication and cooperation, and helps create a level playing field for everyone involved in the field of computing.
Scratch is available on both Android and iOS for free.
19. Seesaw Class
Seesaw is a digital tool where students, instructors, and parents/guardians may collaborate on and share school projects.
Students can demonstrate their knowledge through the use of a wide variety of media types when they use the Seesaw app, including but not limited to images, videos, sketches, text, hyperlinks, and PDFs. All of this is stored on the Seesaw app, where teachers and even parents may access it and provide feedback.
As the user's academic career progresses, so does the student portfolio. This is a fantastic approach for teachers to view the student's development over time, and to see the steps taken to achieve the desired outcome.
Seesaw is available on both Android and iOS for free.
20. Kids Learn Professions
This fantastic app is available in multiple languages, and it includes 11 engaging games that introduce students to a wide range of careers.
With this app, you can give your child more time to appreciate puzzle-solving and learn something from it. About 200 challenging puzzles in 7 interesting formats will teach him the ropes. Even a three-year-old could use it with ease because of how simple and intuitive the UI is.
Kids Learn Professions is available on Android and iOS for free.
Tips for Selecting the Most Effective Educational App
It can be tough to choose the best free education app for your kids. The market is saturated with a variety of eLearning apps, making it difficult to choose the best one.
That's why we've prepared this list of important tips to facilitate your decision-making process. This might serve as a checklist as you select the most effective E-learning app for kids.
1. Content & Instructor
Examine the course description to make sure it covers everything you need to know. Typically, landing sites for such courses include comprehensive information on the entire course, from the topics to be taught to the testing and doubts that might arise.
Viewing a teacher's demo lessons will give you an idea of whether or not their approach to teaching is conducive to your preferred method of learning.
This is especially true for platforms like Unacademy and Udemy where students can choose from a number of instructors teaching the same course. It is advisable to view some clips and content to ensure that it meets your needs.
2. Accessibility and Simplicity of the User Interface
Having a straightforward interface is important to almost everyone. No one wants to deal with a confusing interface every time they need to access important information or use a certain feature.
Having a well-designed user interface (UI) makes it much simpler to move from one lesson to the next. While maintaining a clean and unobtrusive interface, the learning app keeps you focused on your objectives.
3. Gamification
Gaming techniques are being included in an increasing number of educational apps in an effort to pique students' interest in the subject matter. The addition of gaming elements makes the educational app more engaging, encouraging users to take an active role in the learning process.
Applications like Duolingo and Quizlet are great examples of gamification. Every action you take within these apps' rewards you with experience. The concept of "leveling up" and "comparing yourself to your peers" are only two examples of how gamification can be used.
The term "gamification" can also refer to the numerous elements of the app that are designed to make studying more interesting.
Memrise is an app that helps you learn a language by allowing you to have conversations in that language with a chatbot. This bot will talk to you, correct your mistakes, and offer advice.
4. Formats of Various Content
The most effective educational applications are those that encourage active learning by incorporating a variety of content types. After seeing an e-learning video, it's helpful to take a few quick tests to ensure that you've retained the information.
Learning a new skill through a project is an excellent alternative, particularly relevant when learning computer programming or graphic design. Once you get started on the project, you learn a lot more than you did before.
Learning the theory is great, but real learning happens when you put it into practice. Coursera follows a comparable strategy; earlier courses will introduce you to the skillset, and the final course will require you to demonstrate your mastery of the abilities through a fully-fledged project.
5. Doubt Clearing
Occasionally, you may find yourself at a dead end in your studies. This is exactly how you would get support when learning anything offline, from an instructor or a trusted friend. In contrast, when using an online learning tool, you don't have face-to-face interactions with instructors or other students.
This makes getting your questions answered that much more difficult. When selecting an eLearning mobile app, this is a crucial factor to consider.
There are a variety of approaches taken to address this issue within the context of online education. During class, if you have any queries, you can use a chat feature on an app like Unacademy. Furthermore, instructors will occasionally conduct dedicated doubt sessions to address student concerns.
In other cases, you can mail your instructor and ask them queries directly through apps like Udemy. You can also take part in online discussions with other users of platforms like Coursera.
6. Offline Learning
Some users may not always be connected to the web. Let's imagine you need to get some work done, but you can't access the internet because you're on the subway, a plane, or any other public place.
You may also want to avoid being distracted by your phone's constant notifications if you're trying to study. The ideal learning environment would be one in which you could concentrate without interruptions.
Many apps now offer offline access to their information, allowing you to study in peace regardless of your connection speed.
7. Progress Syncing
It might be really difficult to study when you are utilizing several different devices at once. Without proper session saves and progress synchronizing, you could waste a lot of time trying to reconstruct your last point of work.
With the ability to sync your progress across devices, you can start up where you left off in your studies wherever you happen to be. Even if you're studying offline, the information should be synchronized with your online account as soon as you connect.
8. Micro-Learning
The popularity of increasingly shorter video platforms reflects how easily distracted we may be. Watching ten shorter videos of five minutes each is considerably more manageable than sitting through a single longer video that runs for fifty minutes.
Chunking refers to the practice of dividing a huge piece of content into more manageable pieces before disseminating them. This can be a very efficient method of learning the material.
To make learning and understanding essential topics easier, many modern platforms like Coursera now divide courses into smaller subsets.
9. Numerous Quiz-Taking Possibilities
One effective method of maintaining and improving one's knowledge is via taking quizzes. A learning app that provides timely quizzes and assessments can be a great tool for ensuring that information is retained.
Having a leaderboard in a quiz is a fun way to encourage healthy competition amongst users and students.
Conclusion 
Apps for the classroom have the potential to increase student involvement and foster a deeper understanding of course content. Students are benefiting not only from the premium apps but also from the free ones, which are designed to help them learn and grow.
Many tools exist to facilitate education, from apps that encourage creative writing and teamwork to online courses and virtual classrooms.
FAQs for Online Education Apps