If you had heard about Zoom Video Conferencing software before COVID – the 19 pandemics, then you probably belong to the tech industry. But now it is a synonym for any video call.
Due to the worldwide lockdown, corporate workers, school students, college students, and many others rely on Zoom to conduct meetings, classes, and webinars.
Now that Zoom is an essential part of our daily life, can you guess the total worth of Zoom? Believe it or not but right now Zoom is worth more than Uber and Lyft combined.
And if that is not enough, take this, the total number of downloads of Zoom apps on both Android and iOS is 73 million. As a result, the fresh installation of Zoom has risen all the way up to 730%.
At this point in time you must be thinking, how can you dip your toes in the market of video conferencing by launching your own Zoom-like app? How can you develop an app like Zoom? And how much does it cost?
But most importantly, how can you develop an app better than Zoom?
Well, all your answers will be answered here. But before we start making a better version of an already perfected app, I think, we should know something about it. Without further ado, let's get to know Zoom a little better.
Is it safe to invest in a video conferencing app like Zoom in 2022?
The thing is any mobile app ideas that you can possibly think of are flooded with other dreamers. Inventing an extremely unique mobile app is the rarest of rare ventures.
That means you are left with two options, wait for an uncertain hypothetical idea or invest in the idea that has already been materialized.
But now the question lies in how to launch an online meeting app like GoToMeeting while there are big guns like Cisco, Microsoft, Adobe, and many others?
The same question was asked by Forbes to which the Founder and CEO of Zoom, Eric Yuan answered,
"It's extremely crowded, but the potential is huge. If our product is better than any others, we can survive."
This is exactly what he did with Zoom, while other big giants were clouding the sky, he simply slipped out of the crack and went higher than the rest. And we have seen it as well that in the tech world the one who offers more useful and innovative services always wins.
We have seen the fall of giants like Yahoo who seemed invincible at some point in the past. Whether it is the tech world or the real world, it is always the survival of the fittest.
In other words, we have just received the formula to develop an app like Zoom from its founder himself.
What are the services offered by Zoom?
Zoom was basically made to streamline video conferencing for the corporates. The app or software is simple, easy to integrate, and provides enterprise-level of audio and video quality that helps its customer to get the maximum out of these video meetings.
However, the current times have shown that Zoom is not limited to the corporate world only. It can be used by anyone and at any time.
But that's not it, to improve customer experience, Zoom offers several services to their customers to improve their user's experience. What are those? Let's find out.
Zoom Meetings
Zoom Meetings is the service that offers enterprise-grade HD video conferencing service with real-time messaging and content sharing. Ideal for meetings, online classes, or any video chat with friends.
All these services are offered to achieve unparalleled usability which means customers can use these services at any time with any device. It also offers some really helpful features like calendar and scheduling, etc.
Zoom Video Webinar
Not many people know about it but Zoom is a globally admired platform for live virtual event hosting and broadcasting. Zoom Video Webinar helps users to host an online event with up to 100 interactive video participants with 100 to 10,000 view-only attendees.
There are separate paid plans that determine the number of maximum hosts and attendees. The host can also monetize the webinar via PayPal and Zapier integration. 
Apart from HD video quality and the highest security, the Zoom Video webinar offers features like Q&A Polling, Attendee Raise Hand, Attention Indicator, etc.
Zoom Conference Rooms
Zoom Conference Rooms is a dedicated service for corporate offices because only they can leverage the true potential of this service. Zoom Conference Rooms is a combination of online conference hardware and Zoom Meeting service.
With this service, users can share screens to multiple devices and show different data and visuals during an ongoing meeting. This service is available in several subscription models starting with a free first-month trial service.
To make Zoom Conference Rooms a truly interactive experience, the company also sells its own conference hardware item as well. This includes an HD webcam, Digital Signage, Zoom Touch Displays for Whiteboarding sessions, scheduling display, etc.
Zoom Phone
Zoom Phone is exactly what its name suggests. It is a global phone service but with sophisticated enterprise-grade capabilities. However, this service is not available globally just yet but still, it is available in the US and Canada in its fully-fledged version.
With this service, Zoom offers HD phone call services with the modern customer and employee interaction.
Zoom Chat
Zoom chat is there to streamline the communication of users in the simplest way possible. Available across the platforms, desktop and mobile, it helps the user to chat, and share content in 1:1 or group sessions. Users can also make a group video call to up to 1,000 members at a time regardless of their platforms.
Advanced search, comprehensive availability status, security features, and archiving, are some of the many features that make this chat service more sophisticated than all the rest.
So, these are some services that Zoom offers to their customers and help them to host online video conferencing to achieve 82% – 90% more engagement and productivity.
How well is Zoom doing right now?
I think the aforementioned stats at the beginning of the article were enough to get the idea of the current state of Zoom. But that is not enough, we need to dig deeper than that. Because if you think this global pandemic is the reason behind the success of this video conferencing company then you are thinking wrong.
In August 2018, Gartner made its signature magic quadrant of Meeting Solutions and they put Zoom right beside Microsoft and Cisco.
And in January of the same year, Gartner released a report for Meeting Solutions in which Zoom had received the highest "Voice of the Customer Score" which is higher than Cisco and Microsoft.
In the year 2019, Zoom Video was the best IPO of the year. It further turned out to be the top performer on NASDAQ with 130% gains this year.
Now let's talk about the revenue. In the year 2017, Zoom Video reported $60 million in annual revenue which skyrocketed to $330 million in 2019, providing 100% revenue growth to the company.
So, these numbers are the signs that Zoom Video had been performing pretty well all along. It is the global pandemic that has turned this side-kick into the protagonist.
Now talking about recent events, in the March first week, Zoom Video released their 4th quarter results of the fiscal year 2020. The report showed record growth in revenue. The quarterly revenue mushroomed to %188.3 million.
The annual revenue of Zoom Video grew by 88% from the previous fiscal year. With a CAGR of 117%, the revenue grew between the years 2017 to 2020 and went all the way up to $622.7 million. It is projected that the company's revenue will grow to $925 million in the 2021 fiscal year.
I think the numbers speak for themselves. If you want to get a bigger piece of the pie then it is the right time to develop your own video conferencing app like Zoom. Mobile app development is not the hardest part, the hardest part is taking the first step.
If you are ready to take the first step then let's move to our next segment.
Advanced Features Offered by Zoom Video
The common features of any app make sure the app does what is supposed to do and offers basic functions. On the other hand, the advanced features determine the user's experience, user engagement, customer loyalty, and even brand value.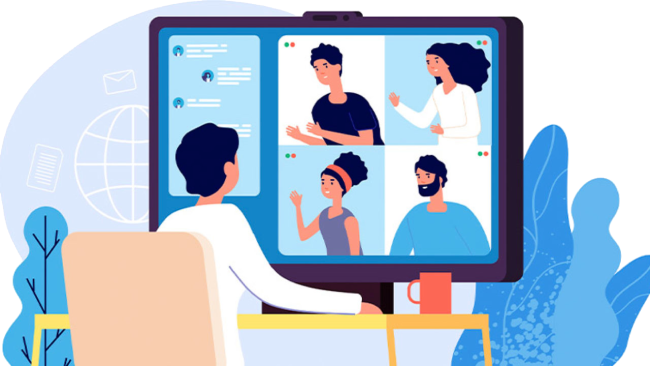 Zoom Video became successful among its users because it offered something that the other platform couldn't offer. It is always the easiest business strategy to offer optimum customer satisfaction. And this is exactly what Zoom did with its software and services.
If you hire mobile app developers for your mobile app development then make sure you consult with them about the potential advanced features for your app that can really make a difference in the way people are hosting and attending virtual meetings.
That is one way to grow above these companies. The advanced features are:
Easy to Scale
Zoom believes in connecting more people to one unified platform and this company knows no limits. This is why Zoom Video offers flexible scalability options to their customers for enhanced video conference and webinar sessions.
Zoom offers the ability to host meetings with up to 1,000 video participants and up to 10,000 view-only attendees for webinars.
HD Audio & Video
Zoom offers high-definition audio and video quality to its users in virtual meetings and conferences. This enterprise-grade audio and video help in increasing meeting productivity and engagement by a very high margin.
Recording and Transcripts
Zoom allows users to record meetings and share them with the searchable transcript as well.
Calendaring and Scheduling
This one is quite an important feature for everyone. Zoom helps users to integrate favorite calendars into the app and use it for planning and scheduling their meetings, etc.
Team Chat
Chat with friends or colleagues with a simple user interface. Share emojis and content in 1:1 chats or group chat with up to 1,000 members. Users can seamlessly switch from 1:1 chat to group video meetings from any platform.
Note Taking
In the live meeting or classroom session, this feature is quite helpful for the attendees or other participants.
This feature allows users to take notes during live meetings. It is a simple, yet very powerful feature for users that want the get the best out of the session.
Virtual Backgrounds & Touch Up My Appearance
Virtual backgrounds and Touch Up My Appearance are two essential features of Zoom that are unanimously admired by platform users.
Virtual background changes the background of the video conference participants whereas touching up my appearance makes the participants look more presentable on the camera.
Screen Sharing
This is yet another widely used feature provided by Zoom to their users. With the screen sharing feature, multiple participants can share their screens simultaneously and co-annotate for an interactive and engaging meeting.
Public Polling and Q&A
Public Polling and Q&A are the features that make virtual meetings more interactive and engaging at the same time.
With these features, hosts can make a public poll where other participants cast their votes. Whereas Q&A offers an opportunity to ask questions and provide an answer to those questions during live meetings.
Virtual Hand-Raising
Virtual hand-raising is a small and intuitive feature provided by Zoom. This feature allows video conference participants to raise their hands virtually to notify the speaker that a particular person wants to talk. These features simply take interactivity to the next level.
Track Engagement with Attention Indicator
The engagement tracking and attention indicator allow the hosts to check if their participants are paying attention to the session or not.
This feature indicates hosts whenever a participant spends 30 seconds or more on a different tab.
Reporting and Documentation
Reporting and documentation help the host to download essential reports regarding the recently finished virtual meeting.
Safety and Security
Every video conference, chat, and phone call is encrypted by Zoom, in order to maintain the highest level of safety and security of customer data.
These are some of the top advanced features that are admired by the majority of the Zoom userbase. These features are the reasons behind the massive inclination of users toward the platform.
Hence, if you need to develop something more powerful then you will have to think from a different perspective.
How to Hire Developers to Develop an App like Zoom?
This is the most important part of the entire app development procedure. Hiring the right team of developers can take your project to an unexpected level of success.
If you do not play the right way then this may cost you your precious time and money, which seems unhealthy by the sound of it.
If you are completely on board with the plan of creating an app then you will be given two options to choose from. Either you hire a team of developers from a reputed IT company or you hire some freelancer.
One option is cheap and the other one is slightly expensive. One option is reliable and the other one may turn out to be a gamble. I hope you are good at connecting dots and figuring out what I am talking about.
Believe it or not but the right team of developers will become the reason behind taking your video conferencing app development above the competition.
Required Team Structure for Developing an App like Zoom
The scale of the team responsible for app development depends on the scale of the project itself. However, the members of the team remain the same, as their roles remain the same.
No matter how small or large your project is, make sure you must have the following team members in your team of app development. Because every segment of your app development is going to define its robust nature and ensure the highest quality of development.
These team members are:
Business Analyst

Project Manager

iOS App Developers

UX/UI Designers

Back-End Developers

Q&A Professionals
How much does it cost to develop an app like Zoom?
I always feel perplexed while writing this section of my articles. Because to be honest, it is not possible to tell exactly how much is it going to cost to develop a Zoom-like app or any app in general.
From the ideation to the delivery of a mobile app there are numerous revisions, change in plans, and alteration that takes place that changes the initial quote by a huge margin.
You can reduce the requirement to buy and maintain expensive hardware by hosting the mobile app in the cloud.

On the other hand, there are several factors that affect the overall development cost of app development.
Some of them are, the type of app (MVP or Fully-Fledged), number of features, number of mobile platforms (Android, iOS), and even the geography of the app development also drastically vary the overall app development costs.
But still, I will try to offer you a ballpark for the development cost. Consider an MVP mobile app like Zoom or GoToMeeting development with essential features, is being developed for one mobile platform and the development location is an Asian country.
Then the development cost may fall somewhere between $40,000 to $60,000. However, this is just an idea but the cost may vary as the number of features and functionalities increase and the number of mobile platforms increases.
Conclusion
Video conferencing has become a fitting requirement not only for enterprises but for common individuals as well. Amid the post-COVID scenario, the demand for video conferencing and video chat applications has only been skyrocketing.
In the video conferencing application space, Zoom has established itself as a standard benchmark. Within no time, it has become the most sought-after video conferencing application across all platforms.
Having said that, there is always an adequate scope for more players, who can venture into this domain and capture the imagination of customers around the globe.
If you are planning to develop a video conferencing app like Zoom, then this is indeed the right time to make your presence felt. The ensuing benefits and financial returns past developing a video conferencing application are clear enough.
All you need to do is contact our app development consultants, who can understand your business idea and help you transform it into a beautiful reality.
Arka Softwares is a renowned application development company in India. We are comprised of a capable team of seasoned app developers with extensive domain experience. So, what are you waiting for? Get in touch with us and build a video chat application like Zoom for yourself.