Do you Have an On-Demand Laundry Mobile App for your Business? If not, get it now to Scale the Revenues!
What can be more pain-some than being involved in a household task? None, right? After all, no one likes sweating out completing meager tasks like home cleaning, dish-washing, or doing the house laundry.
Yeah, the latter tends to get more arduous than the rest, cause washing those bedsheets can be extremely taxing.
This is the major reason for the popularity of on-demand laundry mobile apps. They are in every way efficient and amazing as these on-demand laundry services simply pick up and drop off laundry for the customers and this way saves them from washing and lugging around heavy baskets.
Popularity and Market Size of Laundry Mobile apps
In this era, when on-demand services have entered every domain and tasted success too, the prominence of laundry and dry-cleaning services did not seem surprising.
Today they are immensely popular among people and they hugely depend on them. They appreciate the fact that these on-demand apps allow them to devote their precious time to other integral or pleasant activities.
Hence laundry mobile app poses a win-win situation for both customers as well as businesses. For the former, it brings inconvenience, while for a business, it brings in substantial income and a larger audience.
"Statistics reveal that the dry cleaning and laundry services revenue in the USA alone will amount approx. US$ 7660 million by the year 2022. Not just this, but by the year 2024, the global on-demand laundry service market is estimated to amount to over US$ 96 billion."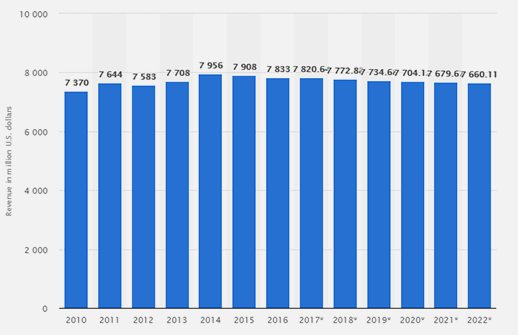 Dry cleaning and laundry services revenue in the U.S. 2010-2022 (in million U.S. dollars)
Presently, on-demand laundry mobile solutions are a significant part of the service industry. They make this whole process of dry-cleaning and laundry super quick & convenient.
App users can schedule an appointment, arrange pickup and do a lot more by simply tapping on their phone screen. They can even rate and review the service as per their experience from within the app, via the rate and review feature.
Ultimately, to make a mark in the domain of on-demand laundry mobile apps, you simply require to take care of three crucial aspects, such as business model, functionality, and obviously, unique features to stay above competitors. Once it is ensured, you are good to go and ready for a long haul in the market.
Top Players in the Domain of Laundry Mobile app

This app is quite unique from the rest, as it even allows the users to choose who would be doing their laundry. Here the service charges the businesses, instead of users, hence the users only have to pay cleaner's fee for cleaning & delivering their clothing.
However, with Delivery.com, this firm takes no responsibility in case the cleaner mistakenly ends up shrinking the clothing. The minimum amount for one particular zip code range from $20 to $45, while the delivery time could be around 48 hours. But the good thing here is that the app offers all the laundry options in just one place and allows its users to choose how much they like to pay and how long they can wait.
The price depends on the cleaner picked by the user and the same goes for the turnaround time. Meanwhile, it offers services in more than 40 cities that include, Chicago, Baltimore, Boston, New York, and Dallas.

It works as simply as opening the mobile application and scheduling a 'rinse'. Here all of the customers are on a specified 'route' and on their designed days they receive free delivery of their items.
Meanwhile, for urgent laundry requirements, the app offers a feature, i.e. 'Rush Delivery'. Using this feature users can have clean clothes delivered to them in just 24 hours or even less with just an additional $5.
Here, the users require separating their wash-and-fold clothing items from the dry-clean items. Also, they need not be at home to receive clean laundry, just give the firm access to a safe area where they can place your clean clothing & items. Presently, 'Rinse' offers its services in Los Angeles and San Francisco, and charges $1.75/pound for washing & folding for a minimum of 15-pound.
The price for dry-cleaning starts at $2.50, and it varies as per the item. Meanwhile, the service takes around 24 hours to deliver cleaning clothing.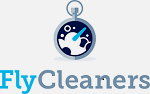 Same as Cleanly & Rinse, the FlyCleaners app allow its users to schedule laundry pick-up and drop-off as desired, from 6 am to midnight. In case of urgency, the app even offers an overnight cleaning facility and delivers the clean items in separate bags, one for laundry and the other for dry clean items.
The app also offers this feature of the 'Special Instructions box' where the user can enter up to four clothing pieces that they desire to hang dry. The app presently serves in most of Manhattan & Brooklyn, and also overnight service, where the laundry would be picked for wash-and-fold by 11 pm and would be delivered by 11 pm, while for dry cleaning it can take up to three-four days.
Meanwhile, the price here varies as per the location, but it can be about $1.50/pound for the wash-and-fold items, and for dry clean, it is $15. Also, it implies a delivery fee of $4 for all orders under $30.

How Does an On-Demand Laundry System Work?
This simple guide below will help you understand how an on-demand laundry mobile app functions. Firstly, the stakeholders that are involved in this system are Washer, Delivery Person & the User.
Washer/Laundry Person:
After a customer places an order, Washer can accept or reject it. As the Washer confirms a customer order, the delivery man will collect the laundry from the user and get it to Washer, who will then wash, dry & iron them, or dry clean, as chosen by the user, and then it sends back to customers via Deliveryman.
Delivery Person:
The Delivery person will collect the laundry from the user as per the scheduled time and then take it to the Washer. Once the laundry is done, Washer makes a call to a delivery person, who will then collect clean clothing and send it back to the customer.
Customer:
Here, the customer will use a website or a mobile app to place a laundry order, and while placing an order, s/he can also schedule a time for laundry pickup.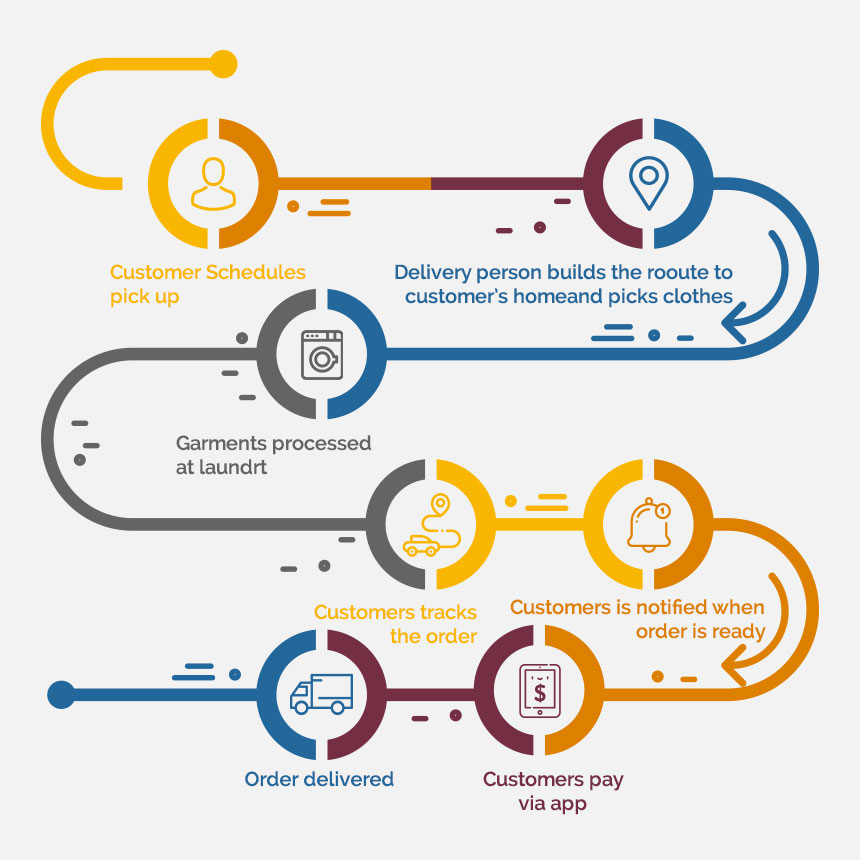 That's how the laundry App works
It takes just a few taps on the screen and the entire laundry job is done. Now, next, let's understand the business models for an On-demand mobile app.
Business Model for On-Demand Laundry App
Presently, the companies that are prominent in the on-demand laundry market follow one of the two business models that have been mentioned below: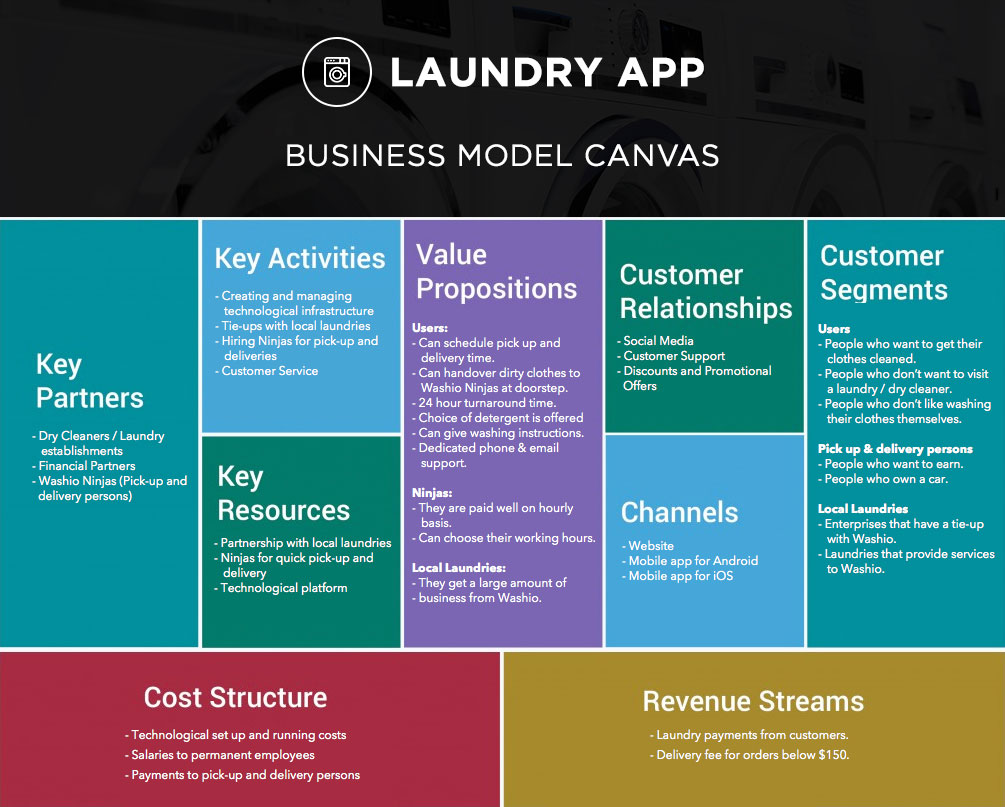 On-Site Model:
This model is suitable for businesses that already have a laundry business running and are looking to scale up their business.
By getting a mobile app or a website developed for their business, these businesses can enable their users to easily place orders for laundry pickup and clothing delivery at a convenient time, and for a reasonable price.
Aggregator Model (Marketplace):
This model tends to be more suitable for startups that don't own their own equipment. Here, in this model, a platform is created where users are able to connect to the different laundry services.
When it comes to the transactions, they are handled by marketplace operators. Herein, the operators collect data regarding user location and preferences and accordingly arrange delivery to the laundries in partnership with the platform.
You can choose the model that suits you best and begin accordingly.
What are the Key Features of an On-Demand Laundry Mobile app?
Before we jump into the key features, first understand that there are three panels for the on-demand laundry app and they are:
Customer Panel

Laundry Panel

Delivery Boy Panel

Admin Panel
Now, let's understand the features for each of these panels: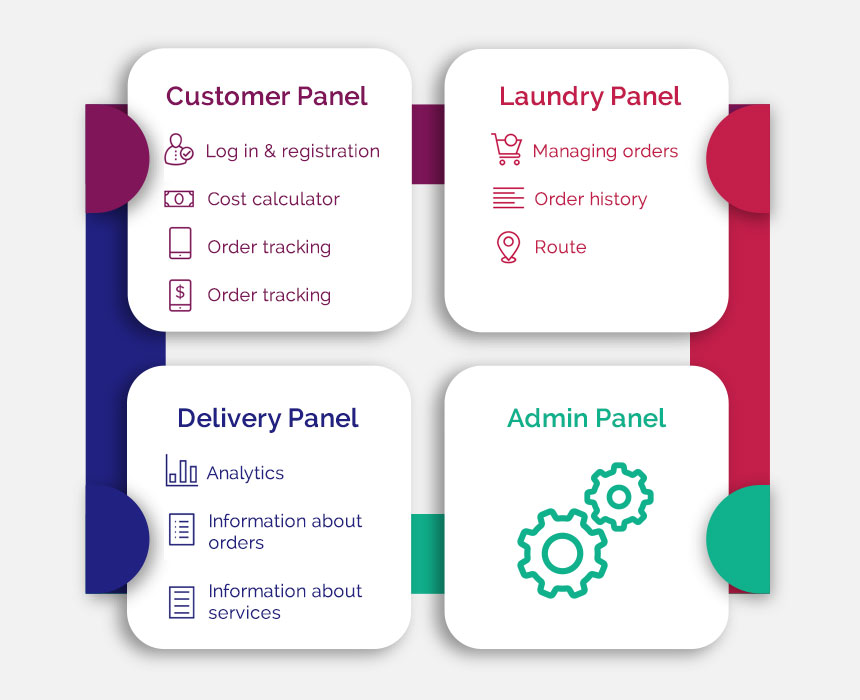 Super-Admin

Effective Management of Laundry Man
Laundry Category Manager
Payment Management
Content Management
Customer Management
User Management
Manage Commission
View orders & payments
View Analytics (App usage, total users)
Run Marketing Campaigns

The Laundry Panel

Login through username and Password
Manage laundry charges
Accept /decline Order Request
View Order history
Manage Referrals
View stats and reports of total users,
View earnings and commission paid
View and Manage Profile
View Order Request
Manage Orders and their status
Manage Offers and discount
View Reviews and Ratings
Communicate with emails, push notifications & messages

The Customer Panel

Social Signup and Logins
Select laundry type and view prices
Send laundry collect Request
Schedule Pickup and Delivery time
View Order status (Picked, washed, En-route, and Drop)
View Order history of your current and previous orders
Give your feedback and rate the service
View nearby Laundry Man
Select pickup date and delivery date
Track laundryman on Google map
Pay through COD or In-app (Card, Net banking)
View Offers and Discounts
Refer your friend and earn rewards
Receive push notifications about order status, offers, and discounts.

Delivery Boy Panel

Delivery Boy Log-in: The delivery boy can log in using a valid ID which is provided by the admin.
Check Orders: Check all the ongoing orders, payment details, time of delivery. Pending and completed orders can be checked from here.
Payment Claim: In the case of Cash On Delivery (COD), the delivery boy will need to collect the payment from the customers.
Delivery History: The delivery person can track the record/history of all the completed orders.
In-App Calls: When the delivery boy receives an order, he can communicate with customers.
In-App Chat: When the delivery boy receives an order, he can chat with customers.
Geo Location: In this, the delivery person can get the location of the customer to deliver the order.

Advanced Features for Laundry App:
Once you are done with the key features, it is time to understand the advanced features and functionalities that can be added to your On-demand laundry mobile app to make it unique and give it an edge over the competitors.
Laundry Mobile App:
This feature is extremely useful in the case of a laundry mobile app, as here the communication will take place between three panels, user, Washer, and delivery person.
Thus, these people would require to stay connected, and what can be better than push notifications for this purpose. This functionality also keeps the users engaged with the app and keeps them updated about the processing all through the service duration.
In-app Messaging:
This feature is useful to send notifications to customers regarding any changes in their laundry status. Customers, on the other hand, can also send a message regarding any special requirement. 
In-app Messaging:
Along with the in-app chat, the Customer and delivery boy can communicate through in-all calling features with number masking options.
Split Payment:
This is quite a useful feature. Here it allows the users to split the payment and pay in parts using different payment/transaction models. Customers can certainly be amazed by this functionality that adds to their ease and convenience.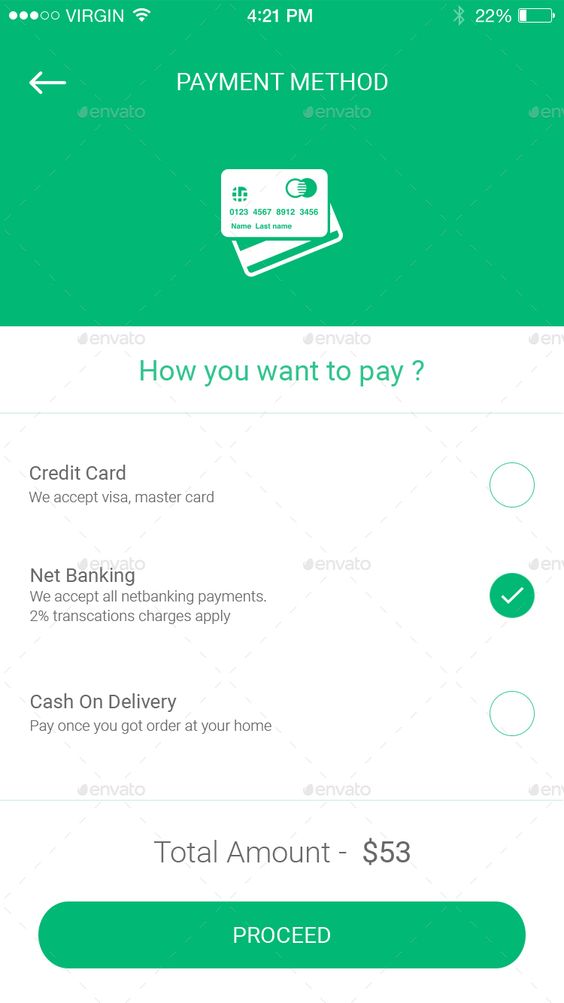 GPS Tracking:
GPS (Global Positioning Service) allows the customers to track the delivery person as he comes to pick up and drop off the laundry.
At the same time, it gets easier for the delivery person to locate the customer's address. This way, this functionality ends up saving a lot of time on the part of the delivery person, while allowing the customers to track the moves and assist the former with more optimized routes.
Analytics Dashboards:
For a business, it is vital to review the process from time to time. Real-time Analytics Dashboards allow the entrepreneurs to clearly visualize & identify leading service areas as well as the areas where the business is not gaining revenues.
The functionality offers a clear view of all statistics regarding user base, sales, most-used services, running price standards, and a lot more. A business can choose to integrate the app with several analytic tools like Apache Spark, Open Source Analytics Tools & Apache Storm in order to escalate the performance of their laundry business.
Marketing Tools:
A mobile app in itself is a great marketing strategy as the push notification feature and other functionalities enhance user engagement with the app and keep them utterly satisfied. Other than that, one can choose to integrate the app with in-app apps as they serve as a great marketing tool.
Loyalty Programs:
Several loyalty programs can be run from time to time within the app, in the form of new offers, coupons, and exciting discounts for loyal users. This keeps the users satisfied and motivated to use your app in the future as well.
CRM Integration:
For an app like an on-demand laundry mobile app, Customer Relationship Management (CRM) functionality plays a crucial role, as it allows to strengthen customer relationships, by managing their queries, resolving issues, if any, and constantly working to keep them happy with the services.
Multi-currency & Multi-language Support:
This functionality allows the users to make the payments in the desired currency available within the app. Besides, the multiple language feature allows users to set the app language as desired by them and what they are convenient with.

Technology Stack required to Develop Laundry App
Push Notifications – Twilio, Push.io

App Platform – Android, IOS

Front-End – XML, React Native OR Angular JS

Backend   – NodeJS/ASP.Net/PHP

SMS, Voice, and Phone Verification -Nexmo, Twilio
Payments – Braintree & PayPal, Stripe, EWallets
Database – MongoDB, HBase, Cassandra, Postgress, Mail Chimp Integration
Cloud Environment – AWS, Firebase Development, CloudFirestore, Azure
Real-Time Dashboards – PubNub, Custom-Development
Navigation – Google Map
Laundry Service Mobile App Development Process

Required Team Structure
In the earlier part of the blog, we discussed the key functionalities and basic requirements to create a laundry mobile application. Next, it's time to talk about the development process. So, what do you really need to create a great mobile app? We say a team of expert app designers, app developers, backend developers, and QA Experts.
Thus, as you begin with the app development process, it is vital that you choose the right app development firm that suits your app requirements and budget and along with that offers a great app development team.
Your app development team should consist of the following:
Project Manager:
This person is responsible to manage the app development process at all stages. S/he needs to be fully aware of the client requirements with the app and should have excellent management skills, after all, it is the project manager who would be communicating with the team at different stages and keep them all connected.
Android/iOS Developers:
Now you can choose to create your on-demand laundry mobile app either for the Android platform, or iOS platform or in case your budget allows, you can choose to develop the app for both platforms.
Here, the iOS Experts and Android developers are responsible for developing the front-end and back-end of the on-demand laundry mobile app.
UX/UI Designers:
These individuals play a crucial role in the success of an app, as they are responsible for the look and feel of the mobile app.
QA Experts:
It is the responsibility of Quality Analysis experts to ensure that your on-demand laundry mobile apps run smoothly and is entirely bug-free. 

How Much Does it Cost to Create an On-Demand Laundry Mobile App?
As it comes to determining the cost of an on-demand laundry mobile app, it basically depends on four major factors, i.e.
App Complexity:
It consists of how complex is your app, like whether you have chosen a simple design or a complex design, as the latter adds to the cost.
A Number of app platforms:
Whether you are developing the app for iOS or Android, or both platforms, going with the latter would add to the cost.
Features & Functionalities:
Whether you have chosen the basic features and functionalities or have also integrated the app with advanced functionalities, going with the latter would add to the cost.
Development Region:
Now, this tends to be the most crucial aspect, as ultimately the cost can hugely vary as per the development region you choose for your on-demand laundry mobile app development.
In the case of developers in the US, they charge $50-$250/hour, developers in Eastern-Western Europe charge $30-$150/hour, whereas India-based developers tend to be charged $10-$80/hour.
"Thus, if you choose to get the app developed by Indian developers, then the app development cost for a basic featured app for a single platform (either Android or iOS)is going to be around $10000-$25000. Adding more functionalities and more platforms can take the cost up to around $30000."
Let's

build something great together!

Just take one step forward and we can build history.

Want to build something good for the business but still good for the customers?
You know the answer is, Yes!