Excellent sleep, good nutrition, and regular meditation are three elements that everyone should incorporate into their daily routine to keep their health in check.
As the epidemic has progressed, more and more individuals are becoming aware of the significance of mental health and taking action to improve their well-being.
Aside from spiritual gurus, experts in mental health apps and psychiatry all around the world suggest meditation as a means of calming the mind.
When it comes to meditating, there are those people who can do it effortlessly, while others have to work hard and need help. As a result, meditation applications for mobile devices have grown in popularity tremendously.
When you're looking for some peace and stillness from the whirlwind of daily life, you're just one tap away. People may easily calm their minds and enter a meditative state with the help of these smartphone meditation applications.
The growing popularity of meditation applications is enticing entrepreneurs to enter the market of meditation app development and make a lot of money.
In this article, we'll go over a few important meditation app statistics in 2023 that will blow your mind and show you why this domain is a great place to invest.
Top 5 Most Popular Meditation Apps
Name of the app
Features
Play Store Link
App Store Link
Calm

New Daily Meditation
Sleep Stories
Masterclass

Headspace

Stress And Anxiety Relief
Meditation Music
Meditation For Kids

Aura

Meditations Tracks
Beginner Friendly
Meditation Music

Breethe

Guided Meditations
Hypnotherapy Sessions
Sleep Stories

Buddhify

Guided Meditations
Buddhify Membership
Anxiety Relief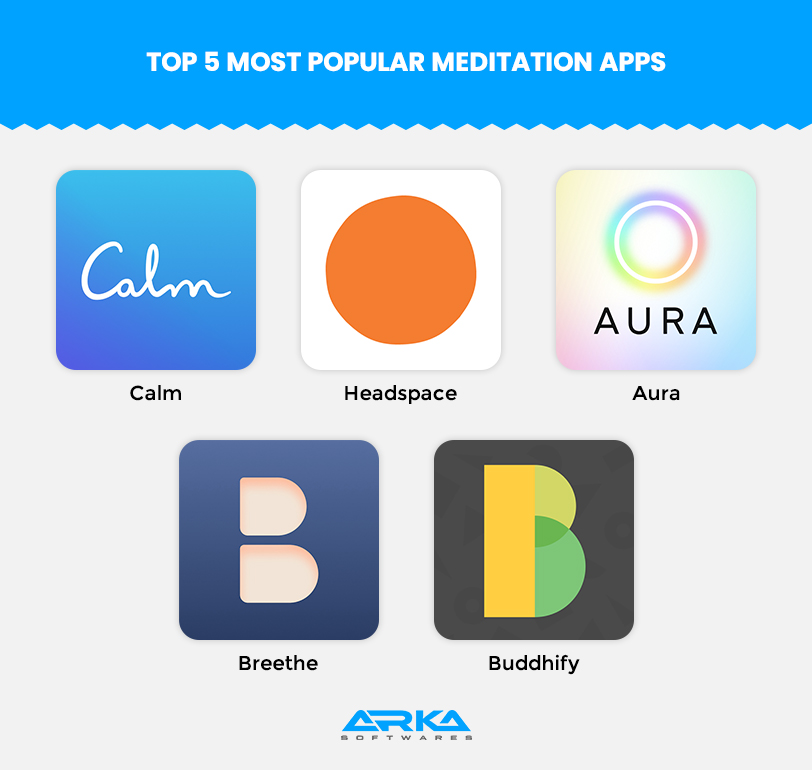 1. Calm
With this app, you'll feel happier and clearer about your day-to-day activities. It is widely accepted that this application is excellent for meditation, mindfulness, and good change in one's personal life.
Calm delivers the sound of rain falling in the background, but you may also select to hear a crackling campfire, crickets, or celestial white noise.
Those who have used this application feel it's worth the price. It motivates you to continue your meditation routine and improves your ability to concentrate on your daily activities. Use this application whenever you feel low and you'll be amazed at the outcomes.
2.
Headspace
Headspace offers the user with spoken-word meditation sessions that are intended to be utilized for around 10 minutes each day, beginning with a 10-session bundle that is provided at no cost upon initial download.
There are also SOS meditations, which may be used in times of trouble and are designed for persons who are always on the go.
One of the finest features of the headspace application is that you may explore all the premium features for free before opting for a paid plan. Users may learn how to make meditation work for them on their own terms with the help of this app's guidance.
As per the company's marketing, Headspace is like having a gym membership for your head. As a result of using Headspace, many people report experiencing an increase in their capacity to focus, as well as a sense of calm, serenity, and wakefulness in the face of daily stresses.
One user even claimed that this application alleviated his anxiousness, despite the fact that he had previously taken prescription medication.
3. Aura
A daily three-minute micro-meditation is provided to the user via this meditation app. Aura is a stress-relieving meditation app that combines cutting-edge technology with user-friendly simplicity.
Some of the most sought-after meditation instructors and therapists collaborated to design it, which was then customized by AI.
Apps like Aura allow users to create gratitude journals, monitor their moods, and listen to natural sounds. With this app, you can even turn meditation into a game. If you have a limited amount of time each day to meditate, this may be the appropriate app for you.
4. Breethe
Breethe is a free application that tracks users during the day, from the moment they get up to the moment they go to sleep. It offers users helpful tools and assistance to help them keep on track with daily meditation practices each day.
It provides five-minute meditations, as well as advice on how to deal with stress, love yourself, and live a life of purpose and inner peace.
5. Buddhify
Theme-based meditation sessions are available in this app, which organizes meditation sessions based on where you are. When it comes to dealing with anxiety, it's widely considered to be one of the greatest applications out there, and the application is tailored to your specific needs based on what you're doing at any given time.
Among its many features is a library of more than 80 meditations prepared by specialists in the subject for you to try. People who are constantly on the go in today's competitive environment would appreciate Buddhify.
Most Common Types of Meditation Applications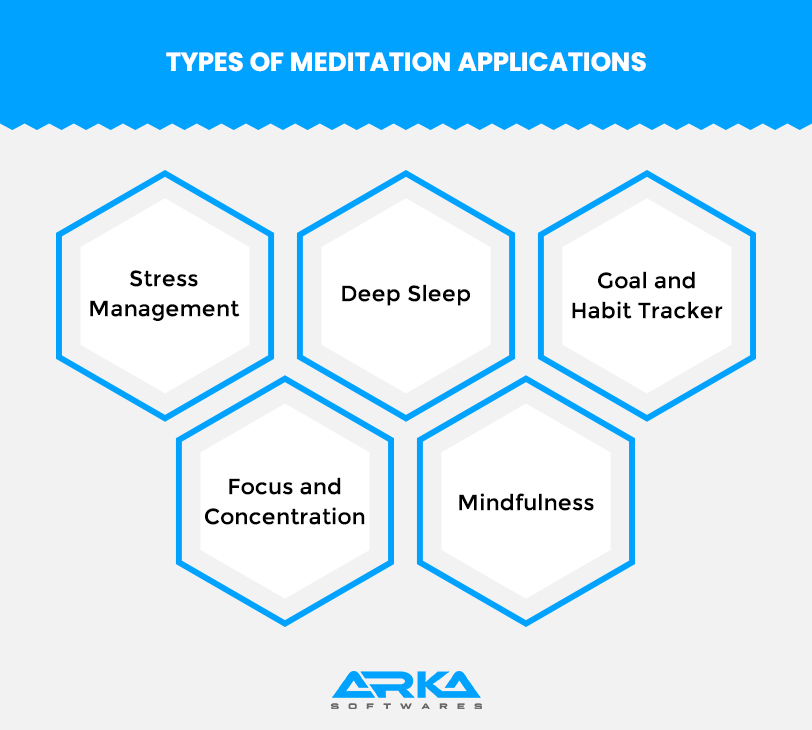 Stress Management
As a meditation tool, it lets the user identify their stress level and then utilize various online meditation programs to lessen and manage it.
Deep Sleep
This app is a great option for individuals who have trouble falling asleep at night and are already taking sleeping drugs. The app's soothing music and aura help you relax and get a good night's sleep.
Goal and Habit Tracker
With this app, users may create objectives, overcome bad habits, and keep track of their behavior. Using this app, the user may keep track of their progress toward their targets and receive notifications and reminders that can be tailored to their specific needs.
Focus and Concentration
Users with anxiety can use the application to distract and block other users. It aids the user's ability to focus and concentrate while at work.
Mindfulness
Sessions offered by the application have proven to be a blessing to its users. The user's consciousness is refocused and their mind is rejuvenated as a result of using it.
Important Meditation App Statistics in 2022
1. Yoga and meditation application searches climbed by 65%
You don't have to give up your Ferrari and become a monk in order to lead a more peaceful existence these days. Spending a few minutes meditating on a smartphone app might help them relax and find inner peace.
Since the advent of yoga and meditation applications, there has been an increase in the number of scientific and media presentations on the subject, as well as a growth in the number of web searches for these topics.
There was a 66% rise in the number of people searching for yoga and meditation-related terms on Google between 2019 and 2020, the search engine.
2. During the year 2019, 52 million people downloaded the top 10 meditation applications
There are many reasons why people use meditation mobile applications, from reducing stress to improving attention and increasing vitality. As per mental health app statistics data, 52 million meditation mobile application downloads were registered in 2019.
3. It is predicted that by 2026, revenue from meditation applications would reach US$6,717.18 million
By 2026, revenues from mental health and meditation app development are estimated to expand at a 13.35% annual rate, reaching a projected market volume of $6,717.18 million dollars in the United States. It is projected that the Average Revenue Per User (ARPU) would rise to US $21.07.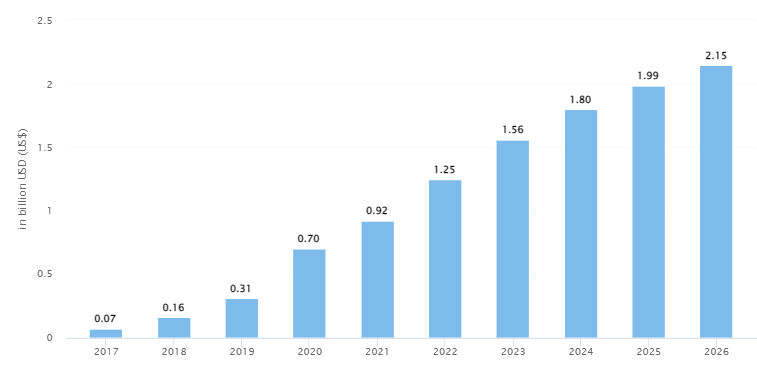 Not only does this show that people are enthusiastic about the notion of utilizing smartphones to alleviate anxiety, but it also encourages entrepreneurs to work with a reputable wellness app development business to break into the market and gain a larger stake.
4. Over 2,500 meditation apps have been released for smartphones and tablets since 2015
There has been a dramatic increase in the number of mobile health applications hitting the market as a result of an increase in the number of people using them. Between 2015 and 2020, around 2,500 applications were launched in this category.
5. A total of $195 million was earned by the 10 most popular mobile meditation apps
According to Statista, the premium features and functions of the meditation application Calm brought in about $119.19 million in revenue. Furthermore, since 2012, there has been a three-fold increase in the number of people in the United States who meditate.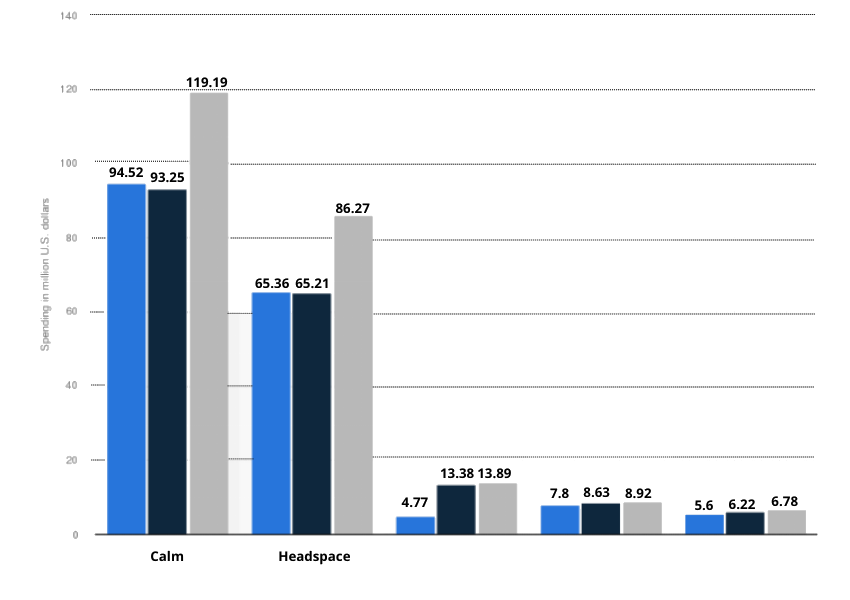 6. By 2032, the North American market for meditation applications is expected to grow at a CAGR of 5%
North America continues to be the primary market for meditation apps because of the large number of Americans who meditate on a daily basis to relax and unwind.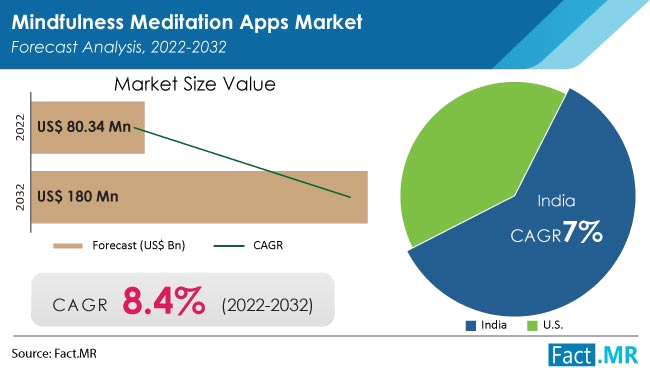 7. The most popular category of health-related applications in the United States is "meditation."
According to Statista, 34% of the most popular developed top-notch healthcare applications in the United States are meditation apps. In the third position, slightly behind diet and sleep-tracking apps, are meditation and mindfulness applications.
8. Self-care meditation apps are more popular on iOS than on Android
The Android vs. iOS debate has also found its way into the world of mindful meditation. Even though there are more apps being developed for both iOS and Android, iOS has the dominant position.
9. 53% of aged people in the United States practice meditation at least once a week
One of the interesting facts and figures about mindfulness in the United States is that, while everyone practices meditation on a weekly basis, those 65 and older dedicate more time to it.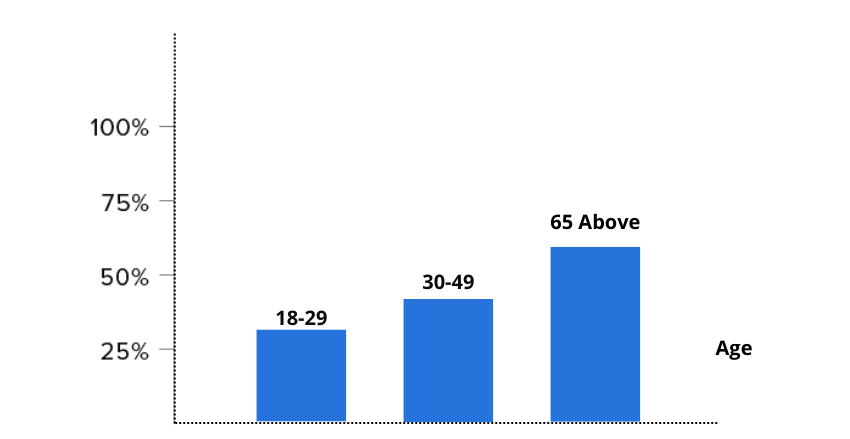 10. There has been an 800% increase in the number of youngsters meditating since 2012
Even while the elderly are meditating every week, it's important to remember that the number of youngsters who are doing so is also rising. An 800-fold increase in the ratio has occurred since 2012. This might be mostly due to a lack of assurance about their future and a demanding study schedule that keeps them on their toes 24 hours a day.
11. When compared to males, women are more likely to meditate on a regular basis
When looking at the demographics of meditation app like mindful users, it's important to remember that 16% of females and 12% of males practice meditation.
12. By 2023, the market for VR-based meditation and mindfulness is expected to reach $3.9 billion
The future of meditation applications is being revolutionized by a variety of new technologies. Virtual reality is one example of this type of technology.
People's mental health is being improved through the use of technology that allows them to virtually travel to various locations and environments. The VR-powered meditation industry is expected to grow to USD 3.9 billion by 2023 as a result of this.
Hire experienced meditation app developers to create a cost-effective app for your business?
Ways to Monetize Meditation Apps
It's imperative that you have a serious discussion about app monetization before you start developing a meditation app of your own. There are a variety of ways to make money through meditation applications, including:
Subscription
Most meditation applications are monetizing their app this way. A free trial period of one or two weeks is offered to users upon installation of an app. To continue using the app or to gain access to additional features, the user must purchase a subscription once the trial time finishes.
Purchases Made Within the App
In this approach, the app users must pay to acquire premium stuff, such as specialized meditation practice bundles, or premium features.
Pay Per Download
It's not common for these applications to make money this way. However, certain applications, such as Buddhify, take advantage of it. The user must purchase the application on the App Store or PlayStore in order to download it.
Advertisements
Using this strategy, app developers may charge other companies a fee based on the number of clicks their ads generate. Apps with a large number of daily active users tend to perform better under this paradigm.
Integration of eCommerce
Users may generate money by selling related items and services by integrating eCommerce capabilities into their apps. This is yet another amazing monetization approach.
Important Characteristics of Meditation Mobile Application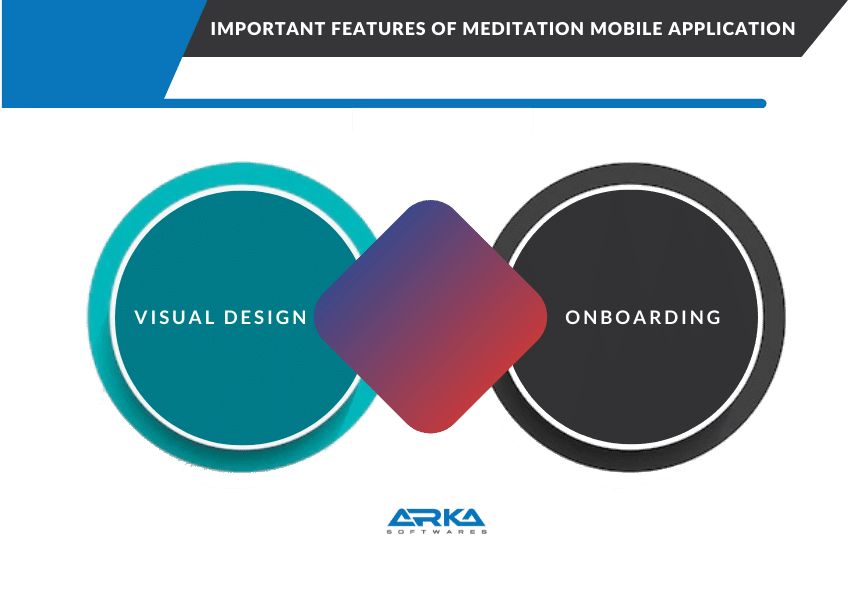 Visual Design
Meditation applications are designed to help people relax and unwind. While designing a meditation application, it is crucial to employ the color theory because colors have a major impact on the perception of things and our moods.
The majority of the most popular meditation applications have a soft color design. For example, Headspace employs a palette of muted oranges, blues, greens, and yellows to create a soothing atmosphere.
Green and blue dominate the color palette of the app. The use of bright, obnoxious colors in a mindfulness app is generally avoided.
Onboarding
Here we have another critical component of meditation applications that has an impact on how people utilize them. Many people who use meditation apps for the first time have no prior experience with the practice and are hesitant to give it a try. Because of this, the best way to keep users engaged is to make the onboarding process fun and exciting.
Videos describing what meditation is and how it affects our mental and physical health, as well as our mood, are also a good idea. To ensure a positive user experience, the onboarding process should be both fun and educational.
If you're looking for some inspiration on how to get started, have a peek at Headspace. By mimicking the style of Instagram stories, it successfully reaches its target audience.
Basic Features to Include in a Meditation App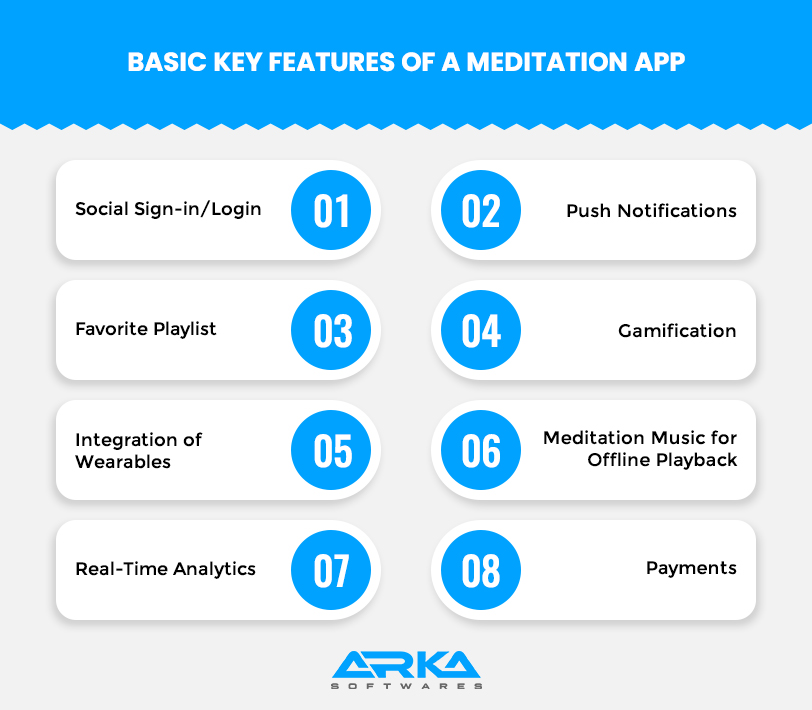 Social Sign-in/Login
Using this feature, users may sign in or register for the application using their social network credentials. As a result, there will be no need for them to fill out lengthy registration forms every time they log in.
Push Notifications
Mobile meditation applications need this feature to be able to deliver messages to their users instantaneously, such as reminders for forthcoming meditation sessions or other relevant information. Meditation applications may benefit from customizing their reminders.
Favorite Playlist
The practice of meditation is easier for some individuals than others, and this is especially true for those who prefer to listen to music while meditating. In this way, your app's users may keep a running playlist of their most-loved music, which they can then play whenever they launch the app for meditation.
Gamification
This feature is a godsend for the app's user experience. Almost everyone enjoys good competition, whether it's with others or with themselves. An A/B test on your target audience will help you figure out which gamification approach works best for your app.
Integration of Wearables
There are an increasing number of applications that allow users to send notifications or alerts to their smartwatches and activity trackers. Consequently, it may also help meditation apps.
Real-Time Analytics
This feature provides the app owner with real-time insight into the app's performance. This will give you an idea of what the app needs in terms of new features or upgrades.
Meditation Music for Offline Playback
This ability to download meditation tracks and play them whenever wanted is very useful for people who may not have access to an internet connection at all times.
Payments
Having numerous payment gateways available to app users is essential if they are to be able to pay easily for the services they have selected through the app.
Conclusion
We really hope that this blog has provided you with some guidance on how to design a develop app like meditation app that will both benefit your users and earn you money.
Meditation's popularity is on the rise because more and more people are learning about its potential health benefits.
If you want to build a great meditation app, you need to pay attention to the design elements and select the most professional mobile app development company.