The number of mobile phone users is increasing at an exponential rate. However, the behavior of consumers when it comes to mobile applications remains unclear. We know consumers keep their phones close by and check them frequently. 
At the office, at residence, on the road, when dining, in bed, and even in automobiles, people use their phones. It's possible that you're reading this as well on your phone or tablet right now. 
To be specific, 86% of smartphone time is spent on applications by the users. This is excellent news for application developers, marketers, and anybody else considering launching a mobile application.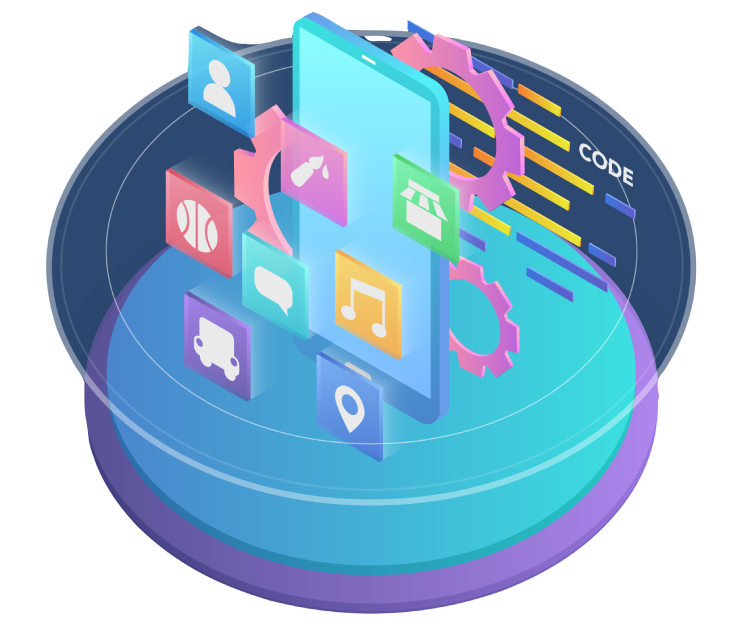 The mobile app market has exploded to unprecedented heights, with the total user base approaching 3 billion. Not only that, but the mobile app business continues to develop at a breakneck pace, indicating a bright future for mobile apps. There are several Mobile App Statistics that would surprise you with exceptional facts and figures. 
Mobile App Usage Trends in 2021
India is the market leader in terms of app growth, followed by the United States and Brazil.

25% of millennials open a smartphone app up to 50 times every day.

By 2023, mobile app revenue will reach $940 billion.

Nearly 3% of users open an application more than 100 times each day.

96% of Generation Z is already smartphone-equipped.

The Asia-Pacific region accounts for 68% of app downloads.
By 2022, the revenue for in-app advertising is estimated to reach $210 Billion.

The most common reason for app removal is crashing, accounting for 71% of uninstalls.
Number of Apps Across Platforms
| Top Platforms | Number of Apps in 2021 (in million) |
| --- | --- |
| Google Play | 3.48 |
| App Store | 2.22 |
| Amazon Appstore | 460,000 |
Statistical Representation of Technological Advancement using Mobile Apps
Over the last few years, the mobile app for business has seen a massive shift. Businesses remain informed about technological advancements and trends.
Mobile applications have become a significant influence in transforming organizations and providing them with a new platform for growth.
Smartphone applications are no longer a luxury but a must for the industries into which all business owners are expanding.
With that said, let us look at some figures that will aid in providing a more accurate picture of how the sector is expanding. As we all know, a typical person checks their phone roughly 80 times every day, which equals more than 3 hours.
#1 Statistics on App Downloads
The mobile market saw a total of 212 billion app downloads in 2019. Typically, an average user's phone has 45 applications installed.
Out of the 45 apps, 89 percent of the time is spent on only 20. This suggests that more than half of those applications are inactive. 
Downloads from Google Play vs. the App Store
Google Play Store and Apple App Store are the world's largest and most well-known app marketplaces. It is, in fact, a competitive rivalry.
Users of iOS devices will install required applications from the Apple App Store, while users of Android devices will install applications from the Google Play Store.
As of August 2020, the Google Play Store had almost 3.21 million apps. On the other hand, the App Store has roughly 4.5 million applications.

Nevertheless, the proportion of app downloads on the App Store is substantially lower than compared to Google Play.

The overall number of installs via the Google Play Store in the first quarter of 2020 was 25.6 billion, continued by 28 billion in the second quarter and 28.5 billion in the third quarter. The App Store received 9.6, 8.9, and 8.5 billion app downloads over the same period.

When compared to the previous year, the Play Store has grown at a stunning 32.4 percent year on year, while the App Store has grown at a somewhat less impressive 2.8 percent.
Downloads from the Apple App Store
With a 15% market share in the worldwide smartphone industry, the App Store's library of applications has progressively risen to 1.96 million apps available for download, with over 35,000 apps added on average each month.
Over 90% of applications listed on the App Store are free, with the majority of revenue coming from in-app advertising.
Downloads from the Google Play Store
Android devices make up 87% of the market report, which means that there is less rivalry in the Google Play Store compared to Apple's App Store, which shows that there is room for growth in the Google Play Store for numerous mobile app development projects across the globe.
While the Google Play Store has limited the amount of applications accessible, on aggregate, the number of applications launched on the platform in 2021 as compared to the last quarter of 2020 exceeds 100,000.
This is a significant difference in terms of average monthly application releases, as Google Play Store is far simpler and more cost-effective to use than the App Store.
As a result, Google Play Store is the preferred listing platform for mobile application development firms in the USA.
#2 Revenue
The mobile application market is thriving, and development teams are able to profit from it through advertising, in-app sales, and downloads.
According to projections, Mobile App Statistics turnover would reach over $590 billion by the end of 2021, a 52% increase over the previous several years.
By 2023, total revenue is expected to reach 940 billion, according to Statista, which is an excellent depiction of the rate of increase in application users.
There are several revenue-generating applications available in the marketplace that are a game-changer for earning millions.
However, as indicated previously, it is mostly accomplished through adverts and in-app purchases, which are the simplest ways to earn money and provide insight into mobile app business strategy.
Additionally, Google and Apple platforms generate nearly identical income, with 90 percent of Android apps and 85 percent of iOS apps being free to use.
Moreover, the applications rely on some of the best mobile app monetization strategies, which enable developers to earn a profit.
#3 Current Market Rate
We've witnessed a significant transformation in smartphone apps, owing in large part to the epidemic that we're all experiencing. COVID19 has had a significant impact on fitness and healthcare applications.
Mobile app market competition is growing at a rapid pace, and the market is expanding at a rapid pace as a result. In 2019, the Apple App Store was predicted to have 1.9 million apps and Google Play to have 2.5 million apps.
Furthermore, we're talking about the application's global audience. This reach extends to the applications' availability on the Google Play store.
If we go back in time, there was a little reduction in the accessibility of Android applications, but it has risen again in response to the epidemic.
It is anticipated to increase somewhat further in 2021 and beyond. The opposite is not applicable for Apple stores, since the quantity of apps available has increased, but the number of downloads has not remained consistent.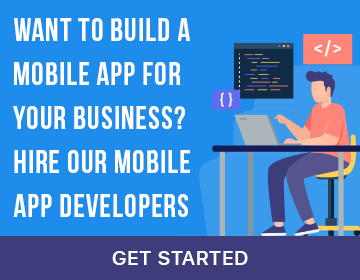 #4 Application Utilization
In addition to technology, gender, and age, the rise of mobile applications figures includes app usage as another element.
On average, a person utilizes 9 mobile applications per day and 30 per month. Assuming an average user has 50 app downloads, 62% of those applications don't get accessed every month.
What exactly does this imply? It's straightforward. People download applications but never use them. Indeed, 25% of mobile applications are downloaded once and never further used.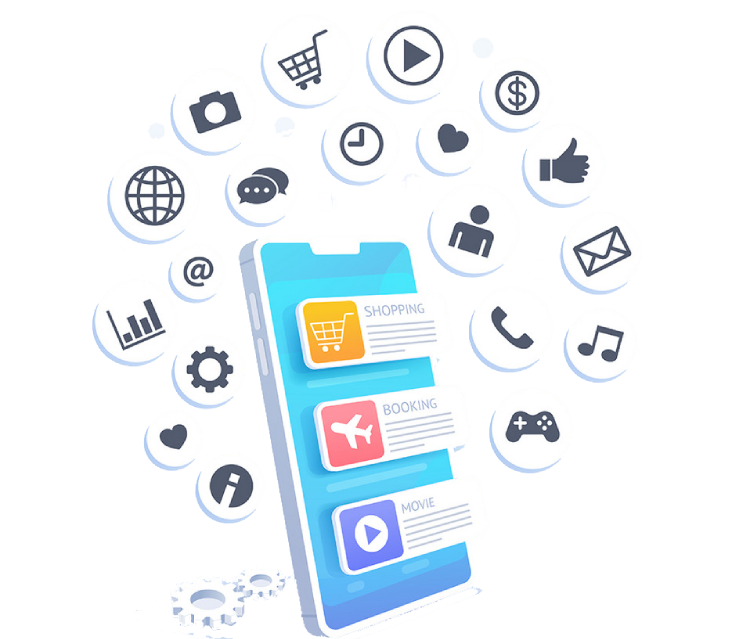 Each application falls into a distinct category when it comes to smartphone compatibility. Around 87% of weather forecast data and 95% of maps are accessed primarily through mobile devices. This data makes logical, given that individuals have a phone with them at all times.
Even retail consumption is conducted via a smartphone app, which accounts for around 45 percent or more of all transactions.
Then there are tablets, which make a massive difference in the technology world. As the mobile app market grows, mobile phones and tablets are competing with each other.
Apps for tablets operate similarly to those for smartphones. The gaming business is a significant one that is prospering in both devices at the moment. User experience is a significant aspect in encouraging owners to subscribe to and download content.
#5 Design
The UI and UX are two critical features of applications that determine the app's popularity. Moreover, there are UX strategies to consider, as well as artificial intelligence, which may help shape the future of mobile applications.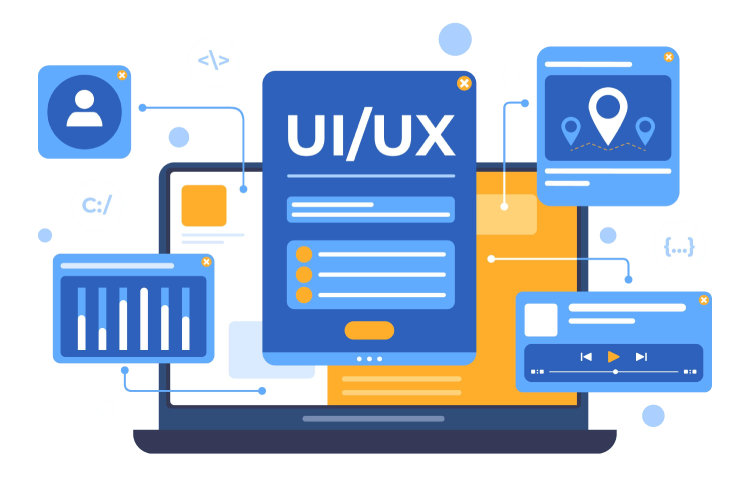 The reality is that the user-friendliness of applications will encourage consumers to return repeatedly. This improves the user experience and establishes a connection with it.
Moreover, the growth rate of users of the mobile application relies more heavily on the App store than any website to obtain information and discover relevant solutions.
The application must be designed in a way that reduces the number of steps between the home and payment page.
Designers must adhere to the latest mobile app user interface design trends to achieve 100 percent retention with little to no UX defects, bugs, or malfunctions. An attractive design instantly enhances the mobile app's user retention by 70%.
#6 Global Spending on Apple and Android Applications
Any app development company's goal is to assist its client in monetizing the app. While application developers wish to create profit, they employ the free-app method in order to distribute the application for free to users while attempting to gain revenue through in-app adverts. 
Mobile applications are predicted to produce $180 billion in revenue by 2021. Similarly, in-app advertising expenditure is expected to surge to unprecedented heights, surpassing the $210 billion mark by 2021.
Consumers spent $27 billion on mobile applications in the first quarter of 2020, an increase of 28.8 percent year over year.
Apple's App Store added the most to the statistic with $17.2 billion, representing a 29.3 percent year-on-year increase, while Google Play Store posted a 27.8 percent year-on-year increase with USD9.2 billion in total revenue for the quarter.

#7 Mobile Commerce
The retail sector is another significant industry that has benefited from recent changes. It's similar to a trend in today's society when shoppers engage with online retailers via the internet.
90% of the world's population relies on e-Commerce, with 83 percent using smartphones to visit trending e-Commerce stores.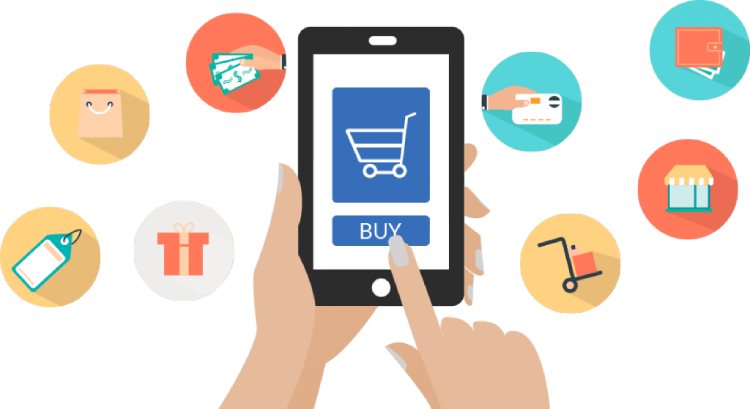 Especially during the epidemic, it has been a primary source of purchasing and having goods delivered to clients' doorsteps.
Over 50% of buyers believe that mobile phones are an excellent platform for ordering things during the epidemic. The payment gateway in eCommerce applications is also a critical component in today's industry.
Hence, the impact of COVID-19 on eCommerce companies has contributed to its massive growth.
#8 Social Networking
Social networking is one of the most popular app segments on the market. Everyone is on social media, which includes the apps WhatsApp and Facebook Messenger, which surpassed 250 million downloads.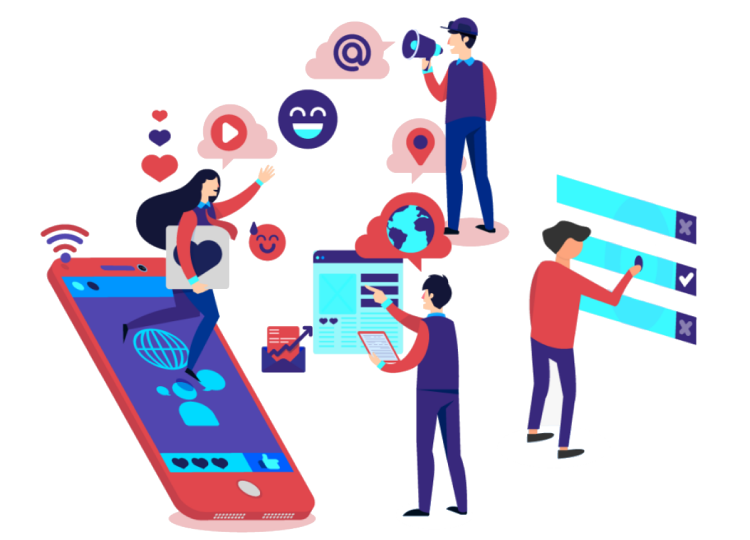 Then there's TikTok, which is developing at a breakneck pace despite not being downloaded by 75% of users. Social media use has grown in popularity over time and currently accounts for 59 percent of the market, which reflects the expansion of mobile apps.
Active Users on Social Media Sites & Apps
According to reports in the year 2021, let's see the total active users on social media websites and mobile applications.
| Social Media Websites and Mobile Applications | Active Users (In Billion) |
| --- | --- |
| Facebook | 2.74 |
| YouTube | 2.291 |
| WhatsApp | 2.0 |
| Facebook Messenger | 1.3 |
| Instagram | 1.221 |
| Weixin/WeChat | 1.213 |
| TikTok | 689 |
| QQ | 617 |
| Douyin | 600 |
| Sina Weibo | 511 |
#9 Generation Z
Around the world, nearly 7 billion people utilize mobile applications at the moment. This number is rising with time, as are users aged 16-24, highlighting the rise of mobile applications.
The popularity of most apps such as TikTok and Instagram is mostly due to Generation Z. As a result, it is feasible to estimate that 50% of Gen Z is reliant on video content, which may be regarded as a significant strategy.
Conclusion
Mobile applications have become an integral part of our daily lives. 2021 will remain a banner year for the mobile application market.
While mobile usage and engagement are at all-time highs, every set of app statistics we reviewed indicates that we are still on the rise.
This is excellent news for everyone who owns or wants to develop a mobile application. However, you cannot design or operate an application without staying relevant to the newest studies and trends.