The Healthcare industry is one of the very few areas which has availed the enormous benefits of Technology integration.
No one can deny that Healthcare has been transformed completely since the introduction of Information Technology in the last couple of decades.
If we see back in time, we can observe how the usage of advanced Technology, Tools, and Methods has completely changed the way we used to take consultation and treatment.
Gone are the days when we used to stand in long queues to get an appointment with the physician and get our medicines and reports.
We still remember that pharmacy used to be a big pain area for most of the patients when after waiting for a couple of hours, the pharmacist used to tell us that the prescribed medicine is out of stock.
Well, this is an area where Technology came as a redeemer, with the Pharmacy Compounding Software it, has become very easy for pharmacists to assist their customers and save their time and effort. 
The healthcare software ecosystem is a well-coupled network of interconnected components, that function together to achieve a specific objective and perform according to the given workflow.
These software components perform over multiple layers of critical data, which should be maintained well and secured to prevent any misuse.
Today we will be discussing the Pharmacy workflow and the plethora of Compounding software, that is used to offer acute medical assistance to the patient.
What is Pharmacy Workflow?
Pharmacy workflow is a process of filling a drug prescription, once it is received at the pharmacy intake area, order the customer either online or by telephone, until the time that it is delivered or handed over to the awaiting customer.
As far as functioning is concerned, the pharmacy workflow is the most important and fundamental part of any healthcare service provider's drug dispensing routine.
It is important to have an efficient pharmacy workflow for any healthcare service provider, as it can impact the customer experience and the revenue as well, also showing how well your backend processes are managed.
An efficient Pharmacy workflow the one which displays accurate information and offers good services to the customer with utmost professionalism and proficiency. Customers should receive correct prescription fills within the given time, which enhances customer service satisfaction levels.
Six Steps of Pharmacy Workflow
Fundamentally, we have six steps involved in a Pharmacy workflow, though it depends upon the size of the pharmacy and the number of prescriptions being filled on a frequent basis.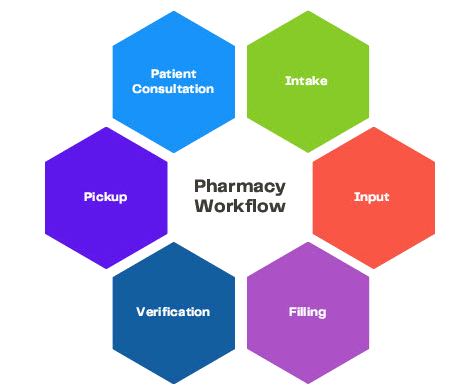 Intake
The initial step of the Pharmacy workflow system is taken at the Intake area, which is usually handled by a Technician.
In order to improve productivity and enhance client interaction, pharmacists have started positioning themselves in the Intake area to meet the clients face-to-face and then review the incoming prescription information firsthand.
This step helps them to offer better-personalized service to the customer and allows pharmacists to observe and remove any potential inaccuracies in the documentation.
Input
This is the step, which is most vulnerable, as far as an opportunity to commit mistakes is concerned. Pharmacists read and interpret the prescriptions from papers and then enter them into the system via computer.
Pharmacies usually set up computer terminals, barcode scanners, and other important devices here to ensure this work is done with utmost due diligence and care.
This is the stage where pharmacists and Technicians both work in tandem, and it is important to ensure that their work should not be impacted by any unnecessary interruption. 
Filling
As the name suggests, this step is all about filling up the medical supplies to fulfill the orders in the given timelines.
Verification
This step is taken by the pharmacist, who performed all the due diligence and ensures that everything is done properly, all the required medicines are filled and appropriate changes have been made in the system to reflect any changes in the availability of medicines.
Pickup
In this step, the customer who have placed the purchase orders, can collect their medicines and other clinical staff, and make the payment.
As this involves the financial aspect, hence it is important to perform this setup with the utmost care, also this is where the changes in the finances and stocks are updated in the system.
Patient Consultation
This is not a regular step, but still, it's a part of the Pharmacy Workflow. Patients can contact the pharmacy for any further consultation regarding a specific medicine, its aftereffects, or availability. Pharmacies are legally required to maintain patient privacy.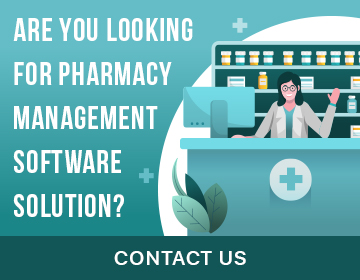 What is Compounding Pharmacy Software?
The role of conventional pharmacies was to make drugs prescribed by physicians for a specific patient, whose needs can't be met by commercially available drugs.
Compounding pharmacies not only offer customized medications, but also provide critical service while meeting the regulatory and compliance requirements, recordkeeping, and inventory management needs.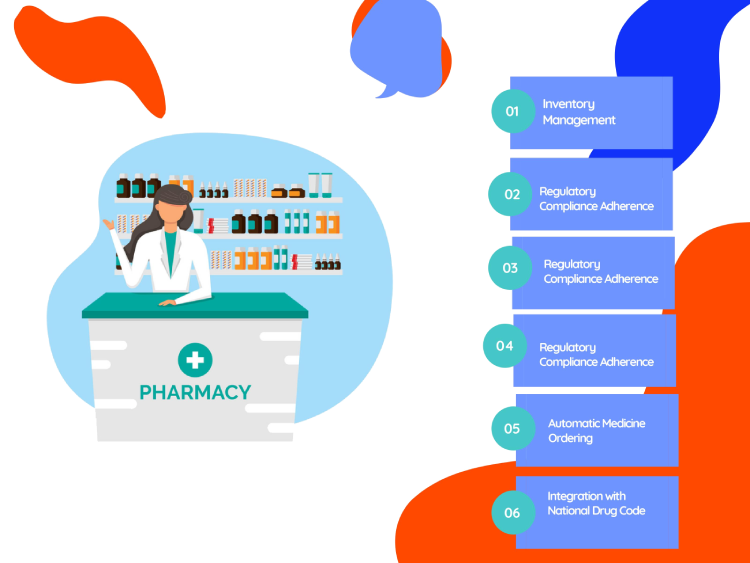 On the same lines, Compounding Pharmacy Software is a program, which helps a pharmacy to take care of its conventional responsibilities along with the newfound objectives in the current era.
It helps a pharmacy to keep a record of its patients, automate several workflows, help it to meet all the regulatory compliance, and even help to maintain the temperature of medicines.
Features of Compounding Pharmacy Software 
An effective compounding pharmacy software should offer the following features.
Inventory Management
This keeps a track of all the pharmacy medications, which includes inventory kept in bulk storage and even stored in refrigerators.  This system automatically deducts the amounts of drugs used for each compound and order. 
This keeps scanning the pharmacy's inventory to keep an eye on the availability and raises an alarm if any drug is approaching its expiry date or availability goes below the set threshold value.
Patient Records Management
This helps the pharmacy staff to maintain the record of all the patients, the exact blend of drugs dispensed to them, and records the information of patient interaction.
It offers easier access to information about patient medications, which accelerates the refill process, and ensures correct medicine dispensing.
Regulatory Compliance Adherence and Recordkeeping
It is mandatory to have accurate recordkeeping to meet any regulatory, legal, and industry-specific compliance.  An efficient compound pharmacy software stores all documentation and information related to electronic prescriptions, core processes, and workflows, medicine dispensing records, inventory records, and even the follow-up with the prescribers and customers. All this information is mandatory to meet various kinds of regulatory and compliance requirements.
Automatic Medicine Ordering
A compounding pharmacy solution is seamlessly integrated with the suppliers and distributors for uninterrupted and automatic medicine ordering.  This includes the capability to raise an automatic order if a drug level reaches below a pre-determined level.
Integration with National Drug Code
For any pharmacy, it is mandatory to comply with the Food and Drug Administration's National Drug Code Directory. Compounding pharmacy software must have this feature, as it helps pharmacists to verify the NDC codes of all drug mixture components and take decisions while dispensing the correct medicine.
Temperature Monitoring
Such software helps with the specialized storage needs of multiple compounded medications.  This involves the usage of temperature-control sensors, which register the temperature readings automatically and raise an alarm if any sort of disruption occurs. 

Components of Compounding Pharmacy Software
The functioning of compounding pharmacy software can never be defined under limited sections. It has a vast scope and each module and function needs to be automated to enhance the productivity and efficiency of the pharmacy.
Over the years, healthcare service providers have understood the utility of this software and that's the reason why we have seen a massive implementation of compounding software systems.
As we said, compounding pharmacy software is made up of various components or modules, here in this section we will discuss those components in detail.
Pharmacy Compounding Software System
This is a customized module that is critical for the management of pharmacy workflows, medicine dispensing functions, management of approved medication and master patient index, inventory management, supplier management, pharmacy analytics, formulary database, and National Drug Code.
Pharmacy Data Management Module
This contains the support of Business Intelligence engines along with data management dashboard creation capabilities. It helps to analyze the potential revenue drivers, treatment outcomes, qualitative measurements of medicinal components, patient persistence rates, insurer response time, patient spending trends and analysis, and drug waste ratio.
This component helps a pharmacy to generate regular and ad-hoc reports and analyses, which illustrate pharmacy KPIs with infographics and comprehensive business analysis, which provide in-depth information, that helps in decision making.
Pharmacy Compounding Module
It is developed to manage the chemical inventory database, which is comprised of chemical components, log numbers, and wholesale prices, compare generic and branded drugs, calculate the formula costing, and develop consistent labels with unique barcodes.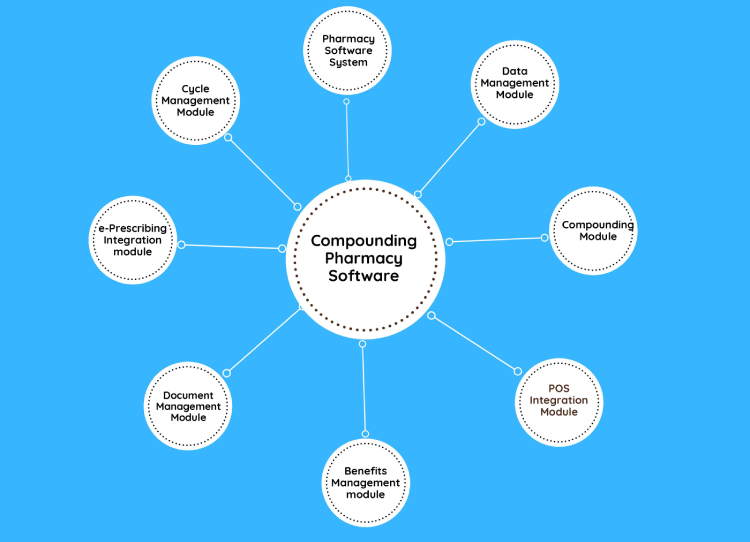 Pharmacy POS Integration Module
The Point of Sale platform is equipped with electronic signature capture ability and inventory management APIs, which are used to integrate it with POS devices. It also has seamless access to the HAS/HRA (Health Savings/Reimbursement Account) and FSA (Flexible Spending Account) networks.
This module is then integrated with the CRM, EHR, and EMR systems to coordinate and fetch the prescription histories of patients to make decisions about the medication accordingly.
Pharmacy Benefits Management Module
The Custom Pharmacy Benefits Management module is usually integrated with 3rd party PBM implementation and an e-Prescribing system. Pharmacies use this to develop cost-effective formularies, build drug benefits plans and track network-wide clinical outcomes.
Pharmacy Document Management Module
This module is designed to access and manage patient information. It is integrated with EHR/EMR system (Electronic Health and Medical Records) to maintain notes from physicians and pharmacists, accept electronic faxes, maintain EBR (Electronic Batch Records), and audit trails.
It also allows seamless integration with scanning technology, so that pharmacies can capture and organize the information from physical documents and forms.
e-Prescribing Integration Module
This module is based on e-RX network architecture, that allows secure transmission of EPCS (Electronic Prescriptions for Controlled Substances) between pharmacies, healthcare service providers, and 3rd party insurance providers.
The e-Prescribing module is designed to accelerate the medicine filling, order modification, cancellation, and renewal of medical scripts, along with the procurement of prior authorization.
Pharmacy Revenue Cycle Management Module
This component streamlines the prior authorization, claims processing, remittance advice, insurance eligibility verification, benefits coordination, appeal management, and Risk Evaluation and Mitigation Strategies. It also takes care of insurer reimbursements, process payments, and invoice automation.
Benefits of Compounding Pharmacy Software
We have a number of qualities that make Compounding Pharmacy Software a win-win proposition for any Pharmacy. We must use such software to avail the following benefits :
It makes the existing Pharmacy Workflows effective and transparent

It helps a pharmacy improve Control over Expenses

It improves Customer Retention and Experience

It helps a pharmacy to communicate effectively 

It ensures Seamless Clinical Integration

Effective Inventory Management

It helps a pharmacy to go paperless

It offers a Cost-effective and Affordable solution

It enables a pharmacy to process faster prescription

It improves Inventory Accuracy and Processing

It ensures accurate Prescription Filling

It reduces the Paperwork
If you want to develop compounding pharmacy software, then the pharmacy workflow and features should be designed and developed in such a way, that it brings ease of workflow functioning and improvement in customer experience. 
Conclusion
Pharmacy is an important aspect of any healthcare service provider, as it takes care of prescriptions, medication, and stocking vital medicinal components.
A patient receives medicine at a hospital, clinic, or doctor's office, it always comes from a compounding pharmacy. One must need effective and efficient pharmacy compounding software for effective management of its workflows.  
Compounding pharmacies play a vital role to provide access to discontinued medicines by recreating some medicinal components to ensure the patients get the required critical care.
In order to manage the compounding pharmacies, we can either develop software from scratch or may purchase it off the shelf.
It helps a pharmacy to perform many important functions such as patient management, prescriptions, medicine filling, patient counseling, clinical drug screening, supplier management, marketing management, quality control, and assurance.
It is a must to have compounding pharmacy software to provide acute medical assistance to patients and improve customer satisfaction.