Information technology and smartphone devices have brought revolutionized changes in almost every industry. The usage of smartphone devices by various healthcare professionals has transformed many aspects of clinical practices and the healthcare software industry.
The implementation of digitization has certainly created a new communication platform among healthcare service providers and patients.
Today e-prescription app or online prescription solution is getting popular as this solution is now being an interactive online medium for connecting patients with various healthcare providers.
What is E-Prescription App?
Medical information processing and software development has seen an all-around transformation in recent years. Digitalization has influenced practice management and pharmacy workflows as well.
It has been observed that a lot of effort and time goes into managing medical records, validating prescriptions, and ensuring they are error-free.
As medication errors can cause reputational damage, and financial loss to medical practices while increasing hospital visits and prolonged stays for patients.
The process of generating prescriptions electronically is known as e-prescription or online prescription. This electronically generated prescription is sent to a patient or pharmacist.
This is where the e-prescription software comes into the picture, as it can lessen the risks linked with patient misreading and medical errors. An e-prescribing software maintains data confidentiality, fills panels for patients and practitioners, and helps organizations adhere to HIPAA and other industry-specific compliances.
According to research conducted by MarketsandMarkets, the global market for e-prescriptions was at $1.2 billion in 2020, and it is all set to cross $3.3 billion by 2025. Therefore, it is a great prospect for you to venture into the market with an e-prescription application. It will help you earn a decent profit and enable you to offer better services to your patients.
On-Demand e-prescription application is growing with the increasing adoption of healthcare IT in the medical field.
Why E-Prescription Software is needed?
There are situations when a patient or a pharmacist is not able to understand the handwriting of a doctor. If any misinterpretation of the prescription can certainly risk a patient's life.
The idea of an app for online prescriptions software development is the ideal solution for facilitating an interactive communication channel between physicians, pharmacists, and patients.
Why Do Healthcare Companies Required E-Prescription Apps?
Healthcare companies are adopting innovative technologies as a part of their digital transformation strategy. E-prescription apps can help them enhance the data safety, accuracy, and reliability of prescriptions.
However, there are some other vital benefits they can avail from e-prescription applications.
Prevention of human errors 
As per FDA research, as many as 95,000 prescription-related errors have taken place since 2000. Most of the errors happened due to similar drug names and spellings.
E-prescribing enables organizations to mitigate such errors as it displays medication alternatives side by side and allows providers to select their desired prescriptions.
Management of patient medical records 
e-prescription application provides end-to-end data management capabilities to organizations. It helps them to precisely check the medications a patient is availing of and when had their script packed last.
It also allows states to check the prescriptions across numerous pharmacies and get easily integrated into PDMPs (prescription drug monitoring programs).
Seamless prescription for controlled substances 
The prescription of controlled substances such as stimulants, opioids, hallucinogens, and depressants is a highly complex and responsible task.
However, with e-prescription software this function is very much simplified, thus it increases the overall workflow efficacy for prescribers and patients alike. It also ensures adequate security with almost no medical errors.
Strict monitoring of controlled substance prescriptions
E-prescription software enables easier and faster tracking of a patient's prescription history. It mitigates various risks associated with the prescription of controlled substances.
An e-prescription software helps you to prevent issues like doctor shopping or over-prescribing.
Hassle-Free prescription of covered medicines and insurance
An e-prescription software simplifies the process of drug prescriptions that are covered by medical insurance. It lets healthcare providers select the drugs that are potentially covered under the patient's insurance.
It makes prescription and medication therapy affordable for patients.
Reduction in adverse drug events
An e-prescription software resolved the issues of prescription legibility, which could result in a reduction of ADEs (adverse drug events) if not managed properly. This capability decreases the events of readmissions, which in turn helps patients save time and money.
Security
E-prescription software deals with sensitive and confidential patient data. It is vital for any organization to store, process, and modify such information using a highly secured system with adequate security.
An e-prescription software fulfills this purpose and ensures complete compliance with the PHI (patient health information) regulations in your state.
Drug enforcement administration and compliance 
Any healthcare organization needs to comply with the DEA regulations to enable electronic prescription of controlled substances. An e-prescription software can follow the below DEA security regulations:
Prescriber identity verification

Multiple Factor authentication

Strict access control

Direct reporting of illegal activity to DEA
Benefits of E-Prescription App Development:
E-Prescription is certainly benefiting various health care sections such as:
To Pharmacists:
With electronic prescription software fake online bill generation, drug abuse, and other fraudulent activities can be eliminated. As there are proper medical records maintained in the robust database.

E-Prescription apps facilitate patients with the ease of refilling their medicines. Everything is documented over the online platform, the pharmaceutical companies get a notification from the e-prescription system regarding the upcoming refill date of the medicines hence ensuring patients compliance with the prescribed medication.
Handwritten prescriptions are not easy to understand at times, hence the life of the patients are always at risk. Therefore with the top online prescription apps, the risk of misinterpretation of the doctor's handwriting has been eliminated.
To Patients:
Safety of the patients can be ensured by online medicine prescription software. There are situations when a patient takes an immediate drug for instant relief and a newly prescribed medication can certainly lead to some reactions. Here if the records are maintained properly in the e-prescription app, pharmacists will be able to give the right medication to the patient.
With a medical prescription application patients can find other alternative medicines with exact combinations instead of the prescribed ones.

Electronic prescription software saves a lot of time for patients. Unlike the traditional pattern of waiting in long queues to get medication from the physician or doctor. With online prescription makers, things have become easy.
To Healthcare Providers (Prescription Software for Doctors):
Helps in reviewing a patient's history and current medication & healthcare information.

Entire medication lists with proper dosage details can be generated quickly.

Patient's case history can be understood easily even though they have been treated by another doctor.

Ensures drug side effects and allergies, hence educating the patients.

Accurate, safe & reliable than paper prescription and also ensure safety and medical compliance, and reduces healthcare costs.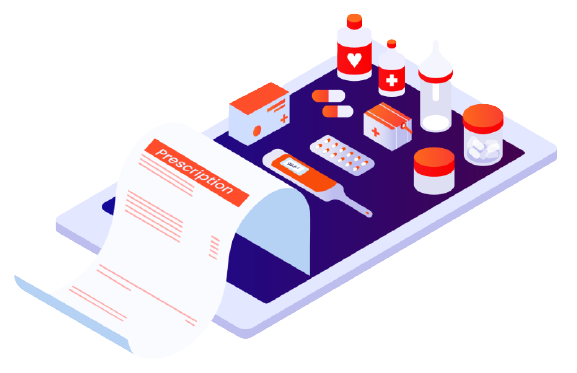 What Are the Benefits of Online Prescription Mobile Apps?
The benefits of e-Prescription Applications are as follows:
Prescription drug errors can be prevented easily.

Reduces the number of lost prescriptions.

Improves medication adherence.

Saves time.

Enhances accuracy and ensures patient's safety.
Features of Online Prescription Software
Doctor Panel
In-Patients Panel

Receive Alerts
Known allergies
Access Medicine Database
Generate Refill requests
New RX
e-Cancel
Pending List
Dose calculator
Electronically Send Prescriptions
Controlled Substances Prescriptions
Eliminate prescribing errors
Medical demographics
Customizable Views
Generate Reports
Re-Prescribing
Documentation Capabilities
Patient Prescription History

Patient Details
Known Allergies
Patient History
Doctor Details
Prescription (Text or Image)
New orders
Accept orders
Delivered orders
Track shipment
Received Payment
Prescription History
Drug Database
Check Document
Payment Integration
Caretakers/Nurses Panel
Out-Patient Panel

Known allergies
Medication history
Refill request
Medication Doses
Medication Timings

Upload Test Reports
Check prescription
Medication
Prescription history
Place Orders
Track order
Order history
Payment options
Fax to the pharmacist
Patient Education
Medicine DetailsDashboard
Advance features of the E-Prescription App
Social login /signup:
The users can easily complete the signup process by simply entering certain mandatory details with the digital prescription app. Also, they can link their social media accounts.
Document management:
It is software that allows the creation, storage, managing, indexing, protection, and retrieval of digital documents. A good document management system can help organize all the files and data in one place, keep track of all critical documents, speed up the workflow, improve accuracy and provide around-the-clock access to documents from any part of the world.
Document scanner:
This feature adds extra value to the android and ios e prescription app developed by e-prescription software development companies. By using an in-built document scanner, patients can scan their important stuff like certain test reports, prescriptions of a previously visited doctor, etc. to save it in their profile so as to use it as and when required.
Electronic prior authorization:
Electronic prior authorization is an electronic process established in the National Council for Prescription Drug Programs (NCPDP) SCRIPT Standard that enables the patient and drug-specific PA criteria and real-time approval for medication prior authorization.
Under medical and prescription drug plans, certain medications may need approval from the health insurance carrier.
Medications that certainly require approval are:
Those that may be unsafe when combined with other medications.

Have lower-cost, equally effective alternatives available.

Should only be used for certain health conditions.

Are often misused or abused.

Drugs are often used for cosmetic purposes.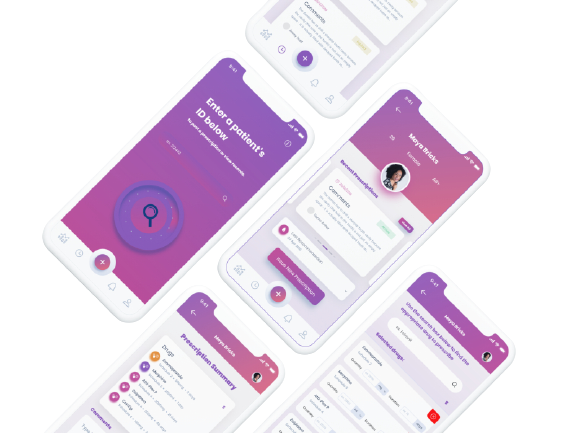 Drug reference database:
The place where information related to drugs and medications is stored is termed the drug reference database. One of the largest and most commonly used databases is compiled by the Food and Drug Administration (FDA).
The FDA is a federal agency that oversees and controls all medications in the U.S., which includes:
Over-the-counter (OTC) medications

Prescription medications

Dietary supplements

Vaccines
Claim eligibility verification:
With this feature, the patients can check the eligibility criteria for submission of a claim to their respective insurance service provider.
By simply entering certain mandatory details their application will connect to their respective insurance service provider website where they can get complete details.
EHR integration:
Electronic Health Records are a prominent solution for accessing critical patient information. EHR integration gives doctors or prescribers access to complete medical records, anytime anywhere from the application. Thus saving time and enhancing patient care
CMS integration:
A Content Management System (CMS) manages the creation and modification of digital content.
CRM integration:
This is the most important feature of the application. Customer's choices and search preferences need to be monitored in order to deliver the best so as to sustain in the competition.
Customer data collection and management, newsletter management, multichannel marketing & analytics, etc. can be managed with the help of versatile customer relationship management.
Push notification:
It is a great way of keeping the users engaged. Messages related to special offers/refilling reminders or other promotional activities can be sent to the users on the android and iPhone online prescribing app   This way, it helps to develop user loyalty and also conserves the users in the longer run.
Real-Time analytics & dashboards:
An app integrated with real-time analytics, for sure returns ample benefits. All the reports, pie charts, and live dashboards can be checked and viewed by the admin.
Statistics associated with the user acquisition and retention rates offers that are mostly used, etc can be rolled out in the form of charts for making productive business decisions.
Also, the online prescription maker software offers dashboards for different users. Various statistical reports are available that help in deriving operational and marketing strategies.
Needed medical compliance:
Health Insurance Portability and Accountability Act (HIPAA)

Health Level 7 International (HL7)

Food and Drug Administration (FDA)

U.S. Department of Health and Human Services (HHS)

HITECH's Meaningful Use Stage 1 and 2 (MU-1 & MU-2)

Integrated with EPA (Electronic Prior Authorization), and Certified with EPCS
How Much Does it Cost to Develop an eRx Application?
The cost to develop an e-prescription application depends on various factors.

Technology and Framework used

Features and Functionality required

Third-party integration

Compliance and Certification requirements

Development efforts needed

The geographical location of the development company

Availability of the app on platforms such as iOS, Android, and Windows
You can consider the above factors before making any decision. It is always recommended to hire an experienced and reputed Software development company to develop an e-prescription application.
We would recommend you hire a software development company from India, as they offer the most reasonable rate, which ranges from $20-$70 per hour, which is way less than the UK/US-based companies that could charge $70-$250 per hour and Europe based companies that could charge $80-$150 per hour.
Required Team Structure to D
evelop an E-Prescription Software?
For developing an app, numerous factors play an important role as it's a complex and wide-scope application that requires a lot of integration. So, let's take a look at the development team structure you will need for your software or app.
Business Analyst
Project Manager
Android and iOS Application Developers
Front-End Developers
Backend Developers
QA Professionals
Graphic Designers
Arka Softwares Experience in E-Prescription App Development
Arka Softwares is a renowned software development company with a decade-long experience in developing e-prescription solutions for our clients across the world.
We leverage our technological expertise to create HIPAA-compliant medical solutions, especially for US-based pharma companies.
Our medical solutions include:
Pharmaceutical Business process automation solutions

e-Prescription web and mobile solutions

Pharmacy Insurance claims-processing system

Medication Fulfillment system
With some of the below-mentioned features (but not limited to):
Business automation solutions for drugstores, pharma wholesalers, and medical startups for seamless data transit.

Secured communication, electronic document transmission, and restricted access interfaces for medical practitioners and patients.

Order and delivery tracking functions featuring geolocation and geo-tracking services.

E-Prescription and pharmacy claims solutions with OCR-based PDF-scanning capabilities.

Automated medicine labeling.
If you need qualified expertise in e-prescription software development, workflow automation, and project augmentation, then you can contact us for a free consultation.
E-Prescription Software and Mobile App Development – FAQ