The World has changed drastically in the last decade, with the advent of Mobile Technology and high-speed internet, the shopping pattern has been evolved up to a great extent. People have started using E-wallet Mobile applications for shopping which has fueled the integrated payment platform and payment gateway industry.
India has seen a gradual change in the Digital Payment space, especially post demonetization and the Covid-19 pandemic the momentum has been in favor of Digital Payment systems & increased profits for E-wallets. There is a reason why every organization is migrating or adopting the Digital Payment system. Currently, we have 1.1 billion mobile subscribers and more than 160 million wireless broadband users in India. As per RBI (Reserve Bank of India), The daily transactions average at about 100 million now for a volume of Rs 5 trillion, and it is going to surpass 1.5 billion transactions, worth Rs 15 trillion a day by 2025. These statistics prove the importance of this space and it also demands innovation and technological advancement to tap the userbase.
Now we will talk about the most important aspect of the Digital Payment system, which is the Mobile wallet. It was non-existent a decade ago, but it has surpassed the usage of credit and debit cards and gradually becoming the de facto standard for the digital payment system. A mobile wallet is a digital asset and that is why it is called an e-wallet. In a layman language, we can say that it is a virtual wallet for mobile money aka e-money which is operational based on a mobile application, where users can store money for making online and offline payments between 2 users or paying bills and payments to a seller.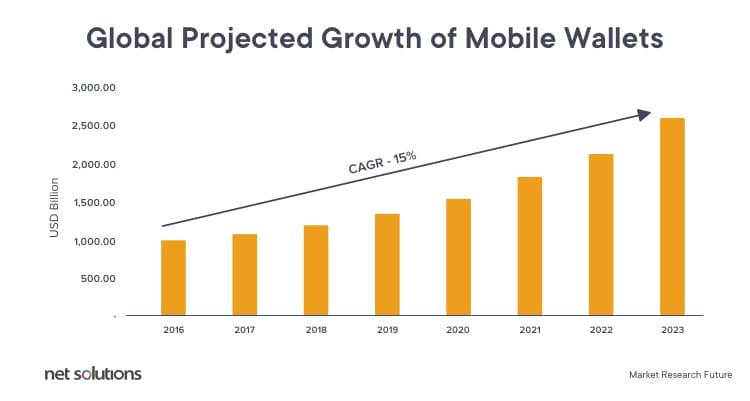 We have various kinds of e-wallets, various types of mobile wallets are such as open, closed, semi-open and semi-closed, depending on the kind of usage and payments being made. E-wallets are immensely popular these days, as they facilitate effective and efficient transactions, especially for Online marketplaces and e-commerce companies, that have integrated e-wallets in their payment gateways as well as stores & business have also opted in to offer accepting payments via the most popular e-wallets by putting a unique QR code in their shops and store. The end-user3r can scan those QR codes and pay the shop owners directly and the amount is directly deposited into the shop owner or sellers e-wallet or Bank account. Post demonetization, the Government of India did launch UPI (Unified Payment Interface) which has made the usage of e-wallets even easier, as not the money transfer happens directly from the Bank account instead of just the wallet.
Now as all of this really sounds exciting and the adoption also looks seamless, in-ground reality there are various challenges encountered by the sellers as well as the e-wallet companies. Below we are presenting one of such Challenge which should obviously help anyone across the globe who already has an e-wallet or looking forward to build an e-wallet & looking forward to hire an e-wallet mobile app development company.
Challenges of Digital Transactions – A case study
There is a famous quote from James Surowiecki, "Technology is supposed to make our lives easier, allowing us to do things more quickly and efficiently". Well, this is correct; however, the truth is, advancement in Technology comes along with challenges and problems, the same applies to Digital Payment System and e-Wallets as well.
As per our research and interactions with the e-wallet providers and the sellers we have jotted down the real-life examples to explain the challenges with the e-Wallets and Digital Payment system, especially in India & has a high possibility of the same issues to be encountered in another part of the world, as the issues are major to do with the human nature and behavior rather than the location of the country.
When we usually go out to have tea or breakfast at regular eateries. Post demonetization, most of the vendors or small shop owners have started accepting online payment, via e-wallets, UPI, and bank transfer, due to cash crunch. That was a kind of forced migration to a cashless economy, however, it proved beneficial for the Vendors themselves, as they do not have to manage the cash, the money was directly transferred to their accounts. Many of the who never had bank accounts got new bank accounts, they also learned how unique QR code works, and how they can get instant notifications of their payments, and how easily they can transfer money to their respective Bank accounts from their wallets.
However, these Vendors are facing a couple of challenges that impacted their profits, which hinders the efforts to make this Digital payment system a sure shot success. Those concerns are as below:-
Vendors or Shop owners are concerned about managing the payments during rush hours. They are afraid that people could take out their phone and act like they were paying and say, "I have paid" and leave without paying at all.

The vendor must share the QR code which is scanned by the buyer and then they must wait till the payment is confirmed and the vendor gets a message. The SMS often does not come instantly and that creates an awkward situation for both Vendor and Buyer. Notifications are unpredictable and too many delays are defeating their purpose.

Vendors must wait for the payment notifications, and they can easily lose track of innumerable payment messages. For a shop with a huge number of customers visiting and transacting, once certainly need a confirmation which is beyond 'show me the screen'.

Not every Vendor is comfortable with handling Smartphones and possess awareness about the tools and technology. Most of them use feature phones and using e-wallets and UPI is an alien thing for them, hence it is a pain area for them.

Some buyers do take the screenshot of their previous payments, and they show those screenshots to Vendors as if that was the recent payment. Vendors do not have any concrete mechanism to validate until they get a notification.

If the Shop owner is not around and the transaction is done by the shop employee, then the employee has to take a picture of the payment screen, in case there is an issue with the transaction, and then there may be a lot of troubles likes failed transaction, amount stuck, refund, etc.

Based on our survey and research we were able to figure out the following:-
Eight out of Ten shop owners were the victim of losing money in one of the above scenarios and experienced fraud transactions.

On average each shop owner loses at least 500 Rs to 1000 Rs on daily basis due to such fraudulent activities that contribute to their profit margins to be reduced drastically.

Six out of Ten Small Shop owners were required to purchase smartphones and in some cases even battery backups or power banks to ensure that they are getting payment notifications when the buyer makes payment.

Three out of Ten were not even in a position to afford smartphones.

Five out of Ten shop owners had purchased smartphones on loan to offer digital payment options to their customers.

Though there was an increase in online payments, the risk of losing money also increased drastically.
So when the same was observed by Paytm, which is the biggest player in the digital transaction space in India. It has launched too many Digital Payment solutions and it has earned enormous popularity due to it is out of the box solutions. It was the first company that integrated the Indian Government's BHIM UPI in its platform as an alternative payment method. IT has also launched a postpaid service, known as Paytm Money that allows users to borrow funds to buy groceries, pay bills, order food, book tickets and pay them within given timelines.
Paytm understood this colossal challenge its customers were facing, and it came up with another pathbreaking and easy solution. Paytm's primary focus was towards smoothening the payment process and keeping the concerns in mind, it came up with a new smart device, which is famously known as 'Soundbox'.
It is a small speaker with an internal SIM card slot, and it acts as a voice-activated POS (point-of-sale) machine for the retailer/vendor. The primary objective of SoundBox is to alert the Vendor if the previous payment transaction has been completed successfully or not. It reduces the dependency of Vendors over the SMS notification. A buyer can simply scan the QR code and make the payment, the Soundbox will simply announce that "Amount has been received successfully".
SoundBox comes with a speaker and it is powered with by MediaTek's MT6261 SoC (System-On-chips) that is developed especially for IoT (Internet of Things) devices. It comes with 4G connectivity and it remains connected to the internet to facilitate the online payments on behalf of the vendor. It an extremely simple device that makes transactions easier.
With the soundbox installed at the shop, the Vendor does not need a smartphone to accept and track the payments. The device is issued to vendors for nominal subscription fees, just like the Paytm card-swiping machines, it offers to its premium customers.
Benefits of Soundbox
It offers an Instant Payment announcement with a loud alert sound.

Facilitate seamless Integration and quick settlement of the payments.

It can replay the last transaction by pressing the function key.

It supports all payment methods including Paytm Wallet, other Apps with UPI interface and BHIM UPI.

It provides 24*7 customer support.

It offers the ability to make the announcement in the local language.
Technical Specifications of SoundBox
It is powered by the MediaTek MT6261 SoC.

It is targeted to be used in the Internet of Things (IoT) devices in the future.

It can take a maximum input of 5V at 1.5A.

It comes without a battery; hence Sound Box must be connected to the power source all the time.

Comes with a Sim card, AC power adapter and cable.
Why such Solutions are Important?
As we have already mentioned above, we are migrating towards a Digital and Cashless Era, where all the transactions will be digital. It is extremely important to understand that to make any User/Vendor/Retailer to trust an e-payment or e-wallet system, we need to convince them that their money would be safe with the Digital payment platform and that it could be transferred to the bank, whenever they require.
Unawareness about the tools and process could create a sense of doubt for the end-users and it might keep people away from things they do not understand. As soon as they would learn and understand the functioning and the benefit of using such an e-payment and e-wallet system they would readily use such mechanism for business and personal requirements.
How to Integrate SoundBox with your Mobile Applications?
We need to understand that SoundBox is an IoT device and IoT's market is going to reach 7.1 trillion dollars by 2020 according to IDC. Today many businesses are excited to develop mobile applications that can support or utilize the IoT devices to enhance the end-user experience.
There is a new domain named as IoT application development, which is driving the market. IoT devices interfaces could be exploited and integrated with the existing e-wallet application with the device-level application programming interfaces (APIs).
An IoT integration is all about Application Programming Interfaces, which acts as the logical connectors that allow mobile applications to communicate with the IoT devices, SoundBox in this scenario. APIs expose the payment-related data that enables that SoundBox to transmit data to your applications, acting as a data interface. APIs will also allow your application to control the device and serve as a functional interface.
Let us say, if you want to communicate with a SoundBox device, which is indeed a voice-activated POS (point-of-sale) machine that comes with a SIM slot, which helps it to remain connected with the internet all the time, it could be controlled using a mobile e-wallet application. The e-wallet mobile app can communicate with the SoundBox device using the API and other 3rd party tools and can receive and exploit the data it receives from the e-wallet application.
How Arka can help you?
Arka is known for providing tailor-made solutions for its clients. We are a pioneer in developing mobile applications that can provide e-wallet and other digital payment modules to our clients. We can integrate the SoundBox technology with a digital payment application to enhance the experience of your end-users. Arka Softwares have excellent experience in IoT app development & integration of hardware.
Though, we are very aware of the cost the end-user might have to bear the cost. We can also offer the amalgamation of technology where the notification could be sent to the smartphone and it could use the onboard speaker to announce the details of the transaction, just like the SoundBox. It will be a wonderful solution for Clients who have budget constraints. 
Santosh Salve is Vice President of Sales & Marketing at ARKA Softwares. As Worldwide Sales Head, Santosh is responsible for leading the sales effort and is driving work to build the overall company value proposition and brand, executive-level marketing messages and strategic marketing. Also responsible for creating and expanding strategic partnerships into various regions. He has a deep understanding and knowledge of the industry with a strong record of executive leadership in various profiles. He has vast experience in the Customer Service Industry and handled various roles & responsibility's like Trainer, Business Development Manager, Successfully executed business ventures in Consulting, IT, Marketing and Finance sector.