Owing to technological advancement, today most people rely on mobile apps to do most work for them. Be it booking a bus ticket, a cab, or booking tickets for a movie, there are apps available for everything, making the users' lives easier.
The very ease delivered by the mobile apps is the reason behind the creation of most apps out there, including marketplace apps. Earlier, it wasn't this seamless and easy for the sellers to build connections with the ideal buyers. But the arrival of marketplace apps changed this scenario.
Today with the apps like Airbnb, Etsy, Amazon, and Alibaba, sellers and buyers are provided platforms to connect instantly, by simply registering into the app.
In this blog, we will discuss several aspects of app development. But first, to create a Marketplace app like Letgo, Etsy, and others, it is vital to first understand what exactly a Marketplace is and how it can serve the users efficiently.
What is a Marketplace?
The marketplace is basically a link between the buyers and sellers. The platform works with the sole motive to facilitate seamless and effective collaboration between buyers and sellers. A marketplace app or a website allows users to shop from various sources.
Here the operator of the platform doesn't own any inventory, as their responsibility is to present other people's inventory to the users and facilitate transactions. Like, we have Amazon, for instance, this platform sells everything to everybody. Owing to the convenience, offered by these marketplaces, they have grown multifold in recent years.
Users of a marketplace are able to electronically access suppliers' inventory. The marketplace does not require to own the inventory before it is offered to the consumers.
The products sold by the suppliers are available here to the consumers. There is real-time information about products that are presented to the consumers on an e-marketplace's app or website.
Here the assortment is way broader than offered by any store. So, if you are willing to create such a marketplace for your business, it can be a profitable deal for your business, as consumers today don't like apps from single retailers.
Instead, they prefer a platform that offers product ranges broader than what a store can offer. And this is the major appeal of a marketplace.
The online marketplaces can be divided into three types:
1. Vertical:
Here in this type, the marketplace offers the products, and services from various sources, but just from one type. Like, its niche could be clothing.
2. Horizontal:
This type of marketplace offers products and services from many types having similar characteristics. Here the users are allowed to shop from several retailers without the need to individually download them.
3. Global:
In the case of a Global Marketplace platform, for instance, Amazon, eBay, and others, they just sell everything and any type of product can be found here.
Current Market Size of the Buy & Sell Marketplace App
According to Statista In 2021, retail e-commerce sales amounted to approximately 4.9 trillion U.S. dollars worldwide. This figure is forecast to grow by 50 percent over the next four years, reaching about 7.4 trillion dollars by 2025.
Retail e-commerce sales worldwide from 2014 to 2025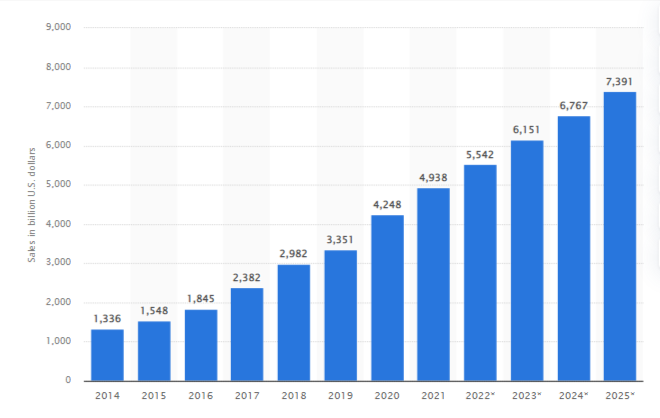 These numbers vouch for the prominence of online shopping among consumers and give more reasons for retailers to enter the digital world.
Benefits of Marketplace Apps
The marketplace is a domain where there is a lot yet to be explored and this offers business owners the opportunity to leverage the marketplace business model and create their own exclusive solutions. Here we talk about a few of the benefits of building your own marketplace app.
1. Efficiency:
The release of a marketplace app costs the same as the launch of an e-Commerce website. And even though the logic behind an online marketplace might be complex, its functionality is efficient in catering to the specific requirements of several different vendors.
2. Revenue:
As a marketplace owner, one has to choose a revenue model best fitting their market niche and that also aligns with their business objectives. It is how the marketplace owners derive revenue that is going to determine the success of their platform.
The most common monetization models are subscriptions, advertising, listing fees, lead generation fees, and offering additional services. Even though several monetization models are being implemented, while starting out, it is advised to use just one.
For instance, OLX and Craigslist earn their money from the premium listings, and renowned firms like Uber, Etsy, eBay, and Booking.com are using the commission-based model.
3. Automation:
In the case of a marketplace, usually, its primary source of revenue is the commission it receives from the sales, and that needs business process automation. Here there is no requirement for any major paperwork as everything is automatically done within the platform.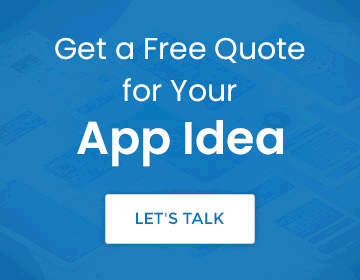 4. Value proposition:
With a marketplace, enterprises get this amazing chance to handle their supply without the need to make any kind of initial investment in a physical store.
Here the suppliers can create a kind of business card that has ratings and reviews from the customers so that the customers are able to make much-informed decisions.
In order to grab the eyeballs of product & service providers, and the customers, a marketplace can offer them a lower fee, a wonderful user experience, great earning potential, and a safe app environment instead of limiting the reach to just one physical location.
5. Scalable business model:
A Marketplace needs lesser financial risk as compared to an e-commerce store, as here no investment is needed in inventory.
However, marketplaces tend to expand quickly. Hence, the only challenge faced by a marketplace owner is to balance the supply and demand.
Here, high-quality vendors tend to attract more customers and an expanding customer base draws more vendors.
6. Customer interest:
A marketplace brings together so many offers from various suppliers/service providers. Needless to say, customers will be enticed to use a mobile app that offers wide-ranging options so that they can pick exactly what they like without having to limit their choice to one single seller or service provider.
7. Analysis:
These apps enable marketplace owners to keep track of their sales with accurate metrics. Like, an owner will be able to see which of the products and services are huge in demand and find which vendors are preferred most. Resultantly, the owners will be able to promote goods & services that matter truly to their users.
Now let's move on to the technical front of the marketplace app development like Letgo and explore exactly how the app works.
How do the Marketplace apps work?
Basically, there are two consumers of a Marketplace mobile app, they are the buyers and the sellers. In the case of the sellers, they simply need to register into the app. Once the registration process is over, they then create an account, display their products, and start selling.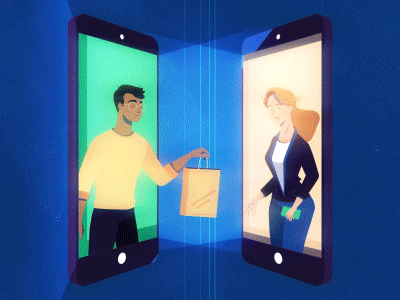 In the case of buyers, the processing is pretty simple for them. They register into the app by using their email account, or via social networking credentials.
Then, they can simply get started and browse from products or services or can search for a specific product or service. They can simply use the app as per their requirements.
Once they are ready to purchase the items, they can add them to the cart and next move to the payment section, to make easy payments.
After the transaction is successful, they will receive an order confirmation on their mail or phone number (as per the details provided by them during the registration process). After a few hours or a day, they would receive shipping details that can be used to track their order.
Present Market
Le
aders
in the Segment of Marketplaces Apps
Many apps have proved their worth as efficient competitors of Letgo and OfferUP. These apps offer a robust platform, that helps users to find their intended items, and sell and buy them. These apps do motivate customers and app owners alike. We have mentioned a few of them, let's explore them.
1. Letgo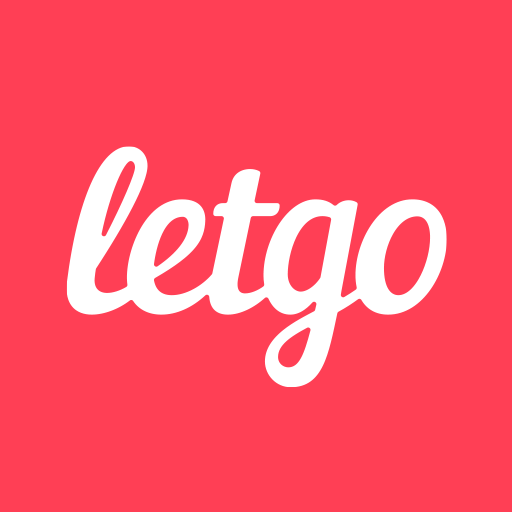 Letgo is a highly popular marketplace application that aggregates the gap between sellers and buyers. It offers a convenient platform that allows users to sell to, buy from, and chat with other users locally. Letgo does not allow payments within the application, as it requires users to meet in person to carry out all transactions.
Users can list, buy, and sell their stuff like clothing, cars, electronics, books, and furnishing items on Letgo. It enables users to grab good deals and sell their unwanted stuff without any hassles.
2. OfferUp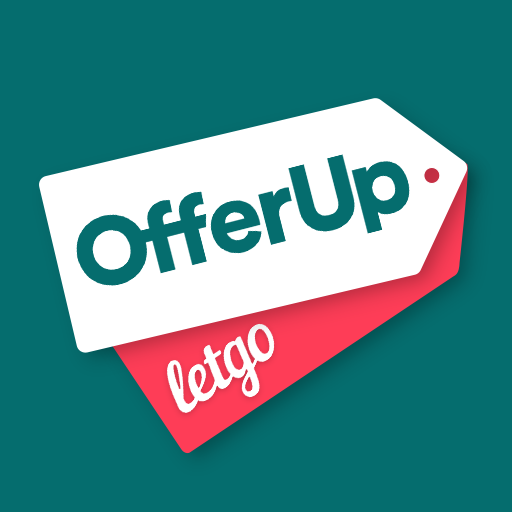 OfferUp application is a C2C or peer-to-peer e-commerce platform, which enables its users to list, buy, or sell items from locals. It is the most trusted and simplest platform to buy and sell locally. It allows users to browse tons of deals of their need, contact the buyer or seller via the app, and make the transaction as well.
OfferUp allows buyers and sellers to make a tentative agreement about the stuff. The buyer can inspect the item and make the payment directly to the seller if satisfied with the item.
3. Amazon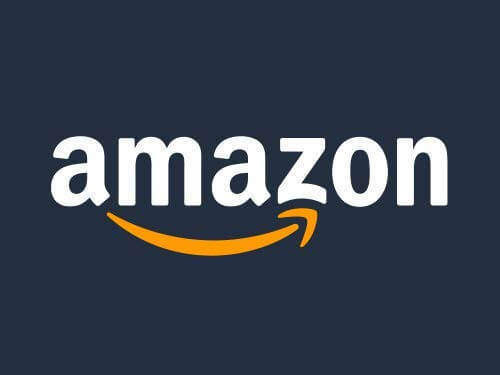 This certainly is the most renowned marketplace platform all across the world, which sells absolutely everything from clothing, accessories, home décor, home repair, or kitchen essentials.
This platform virtually sells everything that one can imagine. Amazon operates in many parts of the world, though it is most popular in North America, Europe, and Asia.
4. AliExpress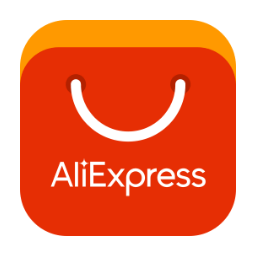 It is an Asian platform that works on the same lines as Amazon. AliExpress started off as a B2B project. Later on, it also developed a P2P platform.
The product's price is a lot cheaper than attracts a myriad of buyers from all over the globe. Hence, it tends to be among the most popular marketplace platforms.
5. Etsy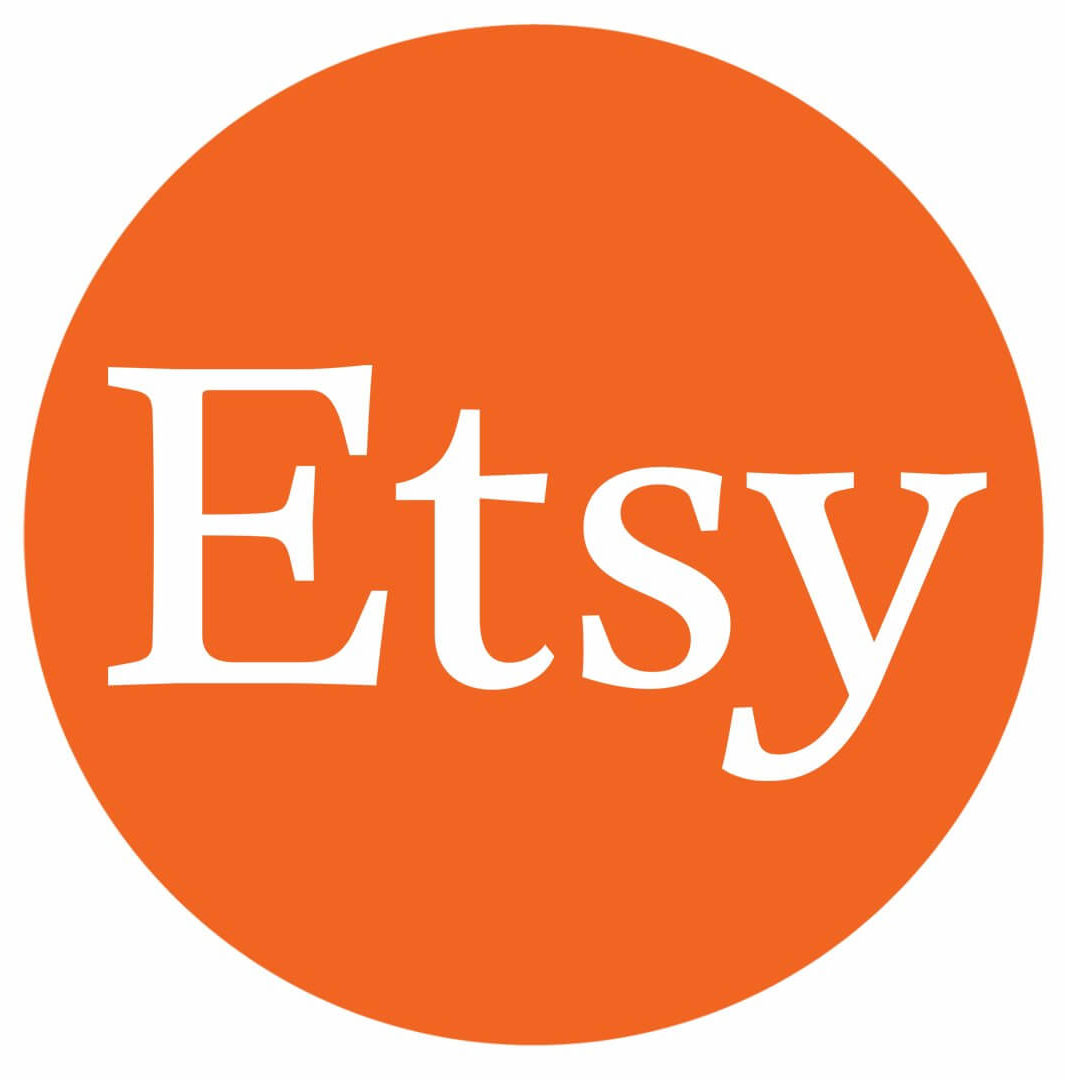 As it comes to Etsy, they handle things a lot differently than Amazon or Aliexpress. Here, they operate with handmade & vintage products, and some of the products are uniquely manufactured.
Thus, Etsy is different from the rest and enjoys immense popularity among its users, who just love unique stuff.
6. eBay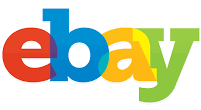 One of the oldest existing marketplace platforms, eBay was started in the mid-90s. Since then, it has been serving users who like to shop online.
Though it started off as a regular marketplace, later on, it added the options to sell personal used items and held auctions from time to time, and even rented accommodations. Even today, it tends to be on the list of most successful marketplaces out there.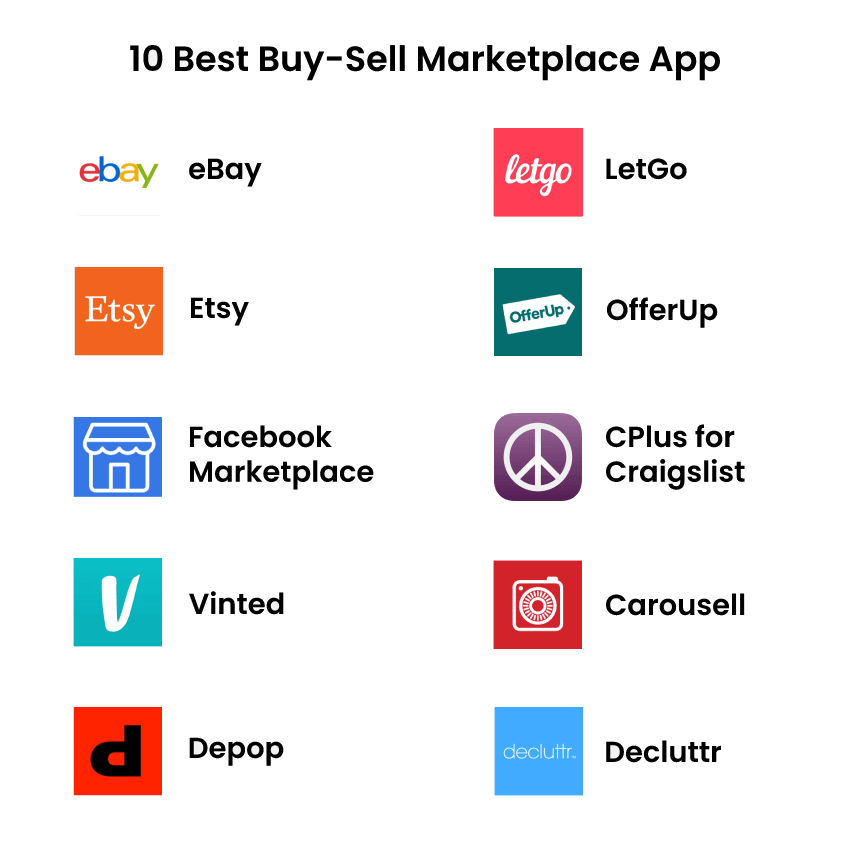 Business Model for Marketplace Mobile Apps
Usually, a Marketplace has six business models based on the platforms:
The marketplace has six business models based on platforms-
B2B: Transaction between companies
B2C: Transaction between companies and individual
C2B: Transaction between customer and company
C2C: Transaction between customer and customer
B2E: Transaction between business to employee
Others: Transaction where the Government plays an active role. G2G (Government to Government), G2E (Government to Employee), B2G (Business to Government), G2B (Government to Business), G2C (Government to Citizen)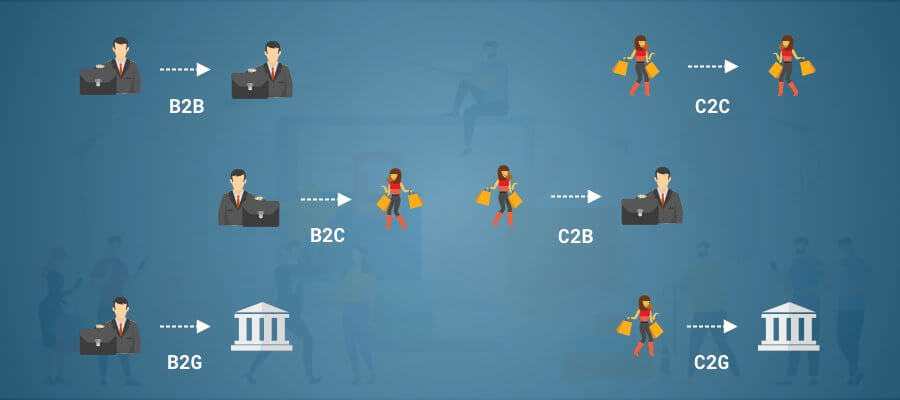 Revenue Models for Marketplace App
There are several revenue models followed by various marketplace app platforms out there and we have discussed them below.
1. Commission on Transactions:
This is a popular revenue model amongst most marketplace platforms. Here the platforms charge a commission from each transaction.
As a customer makes payment to the provider for the purchases, the marketplace app charges a percentage of the transaction or a flat fee from the seller. Sellers prefer this model, as here they are charged nothing before they get value. Airbnb, eBay, Etsy, & Uber work on this business model.
The commission model is usually considered best to be used as your main revenue stream whenever feasible. In fact, there are anticipations in the industry that in the future more and more marketplaces will be adopting this model.
2. Membership Model:
Here in this model, the marketplace users are charged a recurring fee for accessing the platform. This model offers typical value to service providers by assisting them in finding new customers and it helps the customers by offering exclusive deals, thus offering unique experiences and saving money.
This model makes for a good choice when the value provided by you is high and a typical user will engage in many transactions, however, facilitating payment is challenging.
The membership model is usually implemented by consumer-to-consumer (C2C) marketplaces. Home swapping sites such as Home Exchange, Love Home Swap, and dating apps namely Match.com and OkCupid use this model.
Meanwhile, in the B2C market, this model is commonly used in recruiting. Like, StackOverflow Careers and LinkedIn charge the firms a subscription fee in order to get access to their talent pools. Usually, with B2C firms, this platform is free for the customers but it requires a paid subscription for the providers.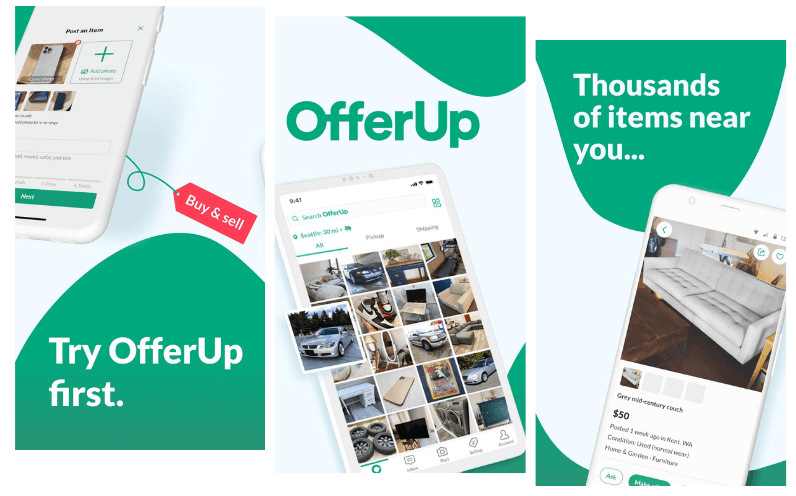 3. Listing Fee:
There are few marketplace platforms that charge fees to sellers whenever they post new listings or add new products for selling. This model is usually used when the sellers get value based on the number of listings they are having on the marketplace platform and the value per listing is big.
The model works simply as it aggregates a huge volume of listings, then locates the listings in one place, and assures a lot of visibility for the listings. Craigslist works on this model.
4. Featured Listings & Ads:
This model requires providers to buy more visibility for their offerings. When this model is used, listing on site is usually free, but the providers can pay in order to make their goods featured above the others, or on the site's homepage.
This model is quite close to pure advertising models – the ones where you show the ads (like Google AdSense) to your users. Classified ad sites commonly use feature listings and ads as a revenue stream. Therefore, if you create a marketplace mobile app then this model is going to be the largest stream to bring revenue.
Marketplaces can also implement multiple business models in order to earn revenue. There are marketplaces that use several revenue models at the same time, like Etsy. This marketplace uses both commission-based as well as charge fees to post new listings models.
Multiple business models can be tried out also to find what works best for business. Once the app grows, these models can be combined to create one distinct model that is specially designed to work with your marketplace app.
How to develop a Buy & Sell Marketplace app?
The following steps go into the development of a marketplace mobile app:
Conduct analysis of best-selling marketplace apps

Plan a business model

Select a tech stack to create the app

Add the Key Features

Create an appealing UX & UI for the app

Add a shopping cart

A Payment Gateway is integrated

Test the app

Consider fraud protection
Key Features to Integrate into a Buy & Sell Marketplace App
For Buyers

For Sellers

General Features

Shop listings by category
Search and browse listings
Product details with image sliders
Send offers to sellers
Track listings with your offers
Chat with seller
Multiple payment options

Post products with a listing form
Upload photos with a camera
Crop photos before upload
Manage posted listings
Select offers from multiple buyers
Chat with the selected buyer

Automated emails for user accounts

Account verification

User feedback and rating

Facebook and Google login

User account settings.

Infinite scroll and pagination.

Monetize your app with ads using AdMob.

Push Notifications.

Integrate image uploads with Amazon S3.

Show distance of listings. (GPS on browser or device should be enabled).

Filter listings by distance.

Sort listings by distance, price, or post date.
Advanced Features of App like Letgo:
Social Signup/Login: This functionality allows you to register and login into the app via social media accounts.
Personalization: This can be a useful feature for a buy & sell marketplace app. It will allow displaying personalized content to the app users each time they open the app.
Product & Price Compare: Users like to compare product features and prices before they buy a product. Hence, this side-by-side comparison helps the user to choose the best products within the perfect price range.
Manage Warehouse: This functionality can be integrated into the app so that the products, which are already sold out from the warehouse, are not displayed in the app. Hence, this functionality in a way syncs the app to the warehouse and automatically removes items on the marketplace that are not present in the warehouse from the 'display products' section. At the same time, it informs the admin about the same.
Auto-Tax calculation: This functionality will help in auto-calculating the tax on the entire cart, and display it to the buyers along with the entire payment to be made.
Multi-currency & Language Support: The users can choose the desired currency to make easy online payments as well as the preferred language to use the app conveniently.
Analytics & Reporting: This functionality is generally useful for the admin of the app, so the admin is fully aware of all the happening within the app.
Role-based Dashboards: These help in better planning for the business, as the feature, will display the app and business performance reports in a graphical and intuitive form.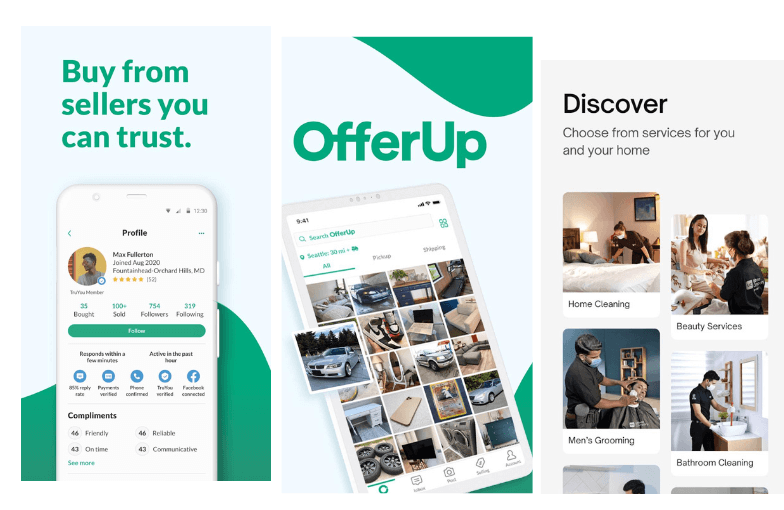 Loyalty Programs: It is vital for every business to hold on to loyal customers, hence gift vouchers and special offers can be sent to them from time to time. This is a wonderful way of showing that their loyalty is valued.
Shipment Tracking: In a buy & sell marketplace app, it can be great to have this feature, as that way it gets easier for all the parties to track the shipments.
CRM Integration: When the app is integrated with the Customer Relationship Management system it gets easier to manage the app customers and store their data efficiently for future decision-making.
SMS Gateway API: This functionality will be useful to send messages to app users about the updates regarding the order, or other handlings.
Cloud Environment: Integrate this functionality in the marketplace app or web platform to increase your app's visibility and create new opportunities with over 100 million active users.
Built-in Camera: This functionality allows you to take pictures from within the app and upload them. This way sellers can display their products easily in the app.
Built-in chat: This functionality allows the sellers and buyers, as well as the customers, to talk with one another regarding the products, services, or deals.
Required Technologies Stack
Mobile Platform – Android, iOS,
Web – .Net, PHP, JS etc.
Push Notifications – Twilio, Push.io
SMS, Voice, and Phone Verification -Nexmo, Twilio
Payments – Braintree & PayPal, Stripe, EWallets
Database – MongoDB, Hbase, Cassandra, Postgress
Cloud Environment – AWS, Google, Azure
Real-time Analytics – Hadoop, Spark Streaming, BigData, Apache Flink,  IBM Streams
Team Structure Required to Develop an app like Offerup
The app development team needs to consist of the following professionals:
Project Manager

iOS Developers

Android Developers

UX/UI Designers

Back-end Developers

Quality Analysis Experts

Delivery Person
How much does it cost to create a Buy & Sell Marketplace?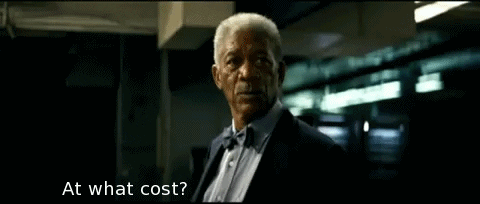 Usually, the essential factors that go into the creation of a marketplace app are:
The complexity of the App

Number of platforms (Android, iOS, or both)

The App development Region
The mobile app development cost per hour varies from country to country. Like, the app developers in the USA and Europe have higher app development rates per hour, as compared to the mobile app developers in India. Hence, the region is a deciding factor in the cost of the marketplace app.
Ultimately, if an app with basic features is created for a single platform (either Android or iOS) the cost can be around $20000-$25000, whereas to develop a high-functional app for both the platforms, the cost may go up to $30000-$35000.
Conclusion
Gone are the days when people used to go to their nearest marketplace to cater to their daily needs. People now prefer to use mobile apps to sell, purchase, or trade goods online. Through these online marketplace apps, users can connect to buyers and sellers, and sell or buy items at a competitive price.
Driven by the availability of high-speed internet and the growing number of smartphone users, the online marketplace solution segment has become a highly rewarding avenue for investment. If you are planning to develop an app like Letgo and OfferUP, then this is the best time for you to put your money and efforts,
However, to build such applications you need specific skill sets and adequate experience. You can also hire a seasoned technology partner, who can understand your requirements and develop a reliable solution with captivating UI and inventive functionality.
Arka Softwares is an established app development company. We have extensive domain experience in building scaled and customized marketplace apps. Our experts can work on your idea, strike a perfect balance between your expectations and budget, and transform your niche idea into a successful app.
Let's

build something great together!

Just take one step forward and we can build history.

Want to build something good for the business but still good for the customers?
You know the answer is, Yes!