Ever wondered
what is Shipt App?
How does Shipt work?
How does Shipt make money?
What is the Shipt business model?
How did it all start?
Why Shipt is so popular today?
How much would it cost to develop an app like Shipt?
Today in this article, we will discuss all this in detail in an interesting way.
Storytime! How Shipt App started?

In 2014, a college dropout, Bill Smith, thought of an idea, he thought since a lot of things are sold and purchased by online platforms like Amazon. Why can't groceries be bought, sold, and delivered via an online app?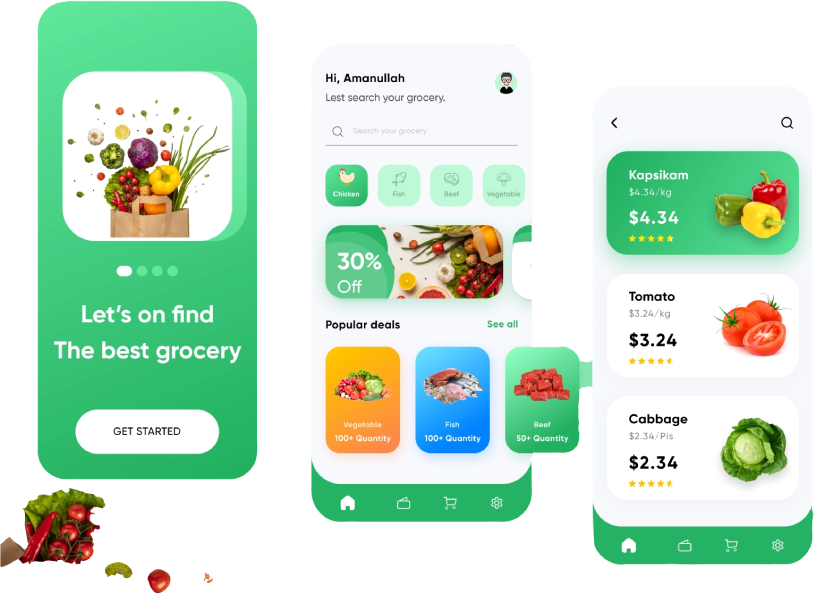 The idea was derivative, but the approach was indeed innovative. Because unlike electronics groceries can't be stored in huge warehouses for a long period of time. Bill Smith figured things out.
Instead of renting warehouses and managing logistics by himself, he connected with local grocery shop owners. He developed a grocery mobile app, available on Android and iOS, and used it as a marketplace for groceries. We know this app as Shipt.
| Founders | Founded on | Headquarter | Total Funding raised ($) | Valuation |
| --- | --- | --- | --- | --- |
| Bill Smith | 2014 | Alabama, USA | $40M | $200M |
This simple food & grocery delivery startup idea caught the attention of business giants in the United States. As a result, 3 years later, in 2017, Target Corporation acquired Shipt for a whopping $550 million. And a year later in 2018, its valuation got almost doubled to over $1 billion.
Today, while operating, it is competing against big players like Instacart, Walmart, and Amazon.
"Shipt is a prime example that not always do we need innovative ideas, sometimes somewhat derivative ideas couples with innovative approach can make billions."
If you want particular information from these topics then feel free to jump right to the section. But if you need the entire information then I would recommend you to sit tight, this article is packed with useful insights.
Let's begin.
What is Shipt App?

Shipt was launched in the summer of 2014 in the heart of Magic City, Birmingham, AL. Shipt is a subscription-based online grocery delivery service that is expanding rapidly. It was announced in June 2016 that Target Corporation was acquiring Shipt for $550 million and that it would operate as an independent subsidiary following the acquisition. In 2018 Grocery app Shipt hit a $1 billion market valuation. 
With an easy-to-use app and a local network of loyal customers. Shipt connects members to fresh food and daily essentials like groceries. Saving time, fuel, and headspace, the next hour, fast food delivery soon becomes a daily necessity for people who want more hours and choose food.
Now in more than 5,000 cities and counting, Shipt works with tested clients who are able to set their schedules and are always aiming to improve the members 'experience with the developed rating system. By working with retailers in each city, consumers are able to navigate better in stores. Shopkeepers( shipt shoppers) and co-workers were the product of the process!
The Shipt family is growing up, and that means features such as getting the right kits and meal planning options are done on a daily basis.
Online Grocery Delivery Market Size, Demographics, Business Opportunities
It wasn't an overnight success for Shipt. It was consistent work towards its way up. This is what defines a fine line between a fickle overnight success that hardly or a certain success that takes time. For the latter, the business matures with time, it gets to interact with its customers and provide them with what they need.
What starts from providing customers what they need turns into providing customers what they going to need. It all comes from consistency and persistence. And the market provides a nurturing environment for such ventures, as it did to Shipt.
In the US, the online grocery market was growing at a CAGR of 20% from the year 2015, as a result in 2019, its valuation reached $28.6 billion.
This data is from a year before the spread of the global pandemic caused by COVID-19. Now the rise in the market of online grocery needs no evidence. What started as a supplementary service has now become an essential service to the entire population. 
And the results?
The customer base of online grocery apps almost tripled in 2022.
But the thing is, Shipt is not alone in the ocean of such massive opportunities. There are some big sharks in grocery delivery like Instacart, Postmates, instashop, and many more.
At this point, it should bother you that while having apps like Instacart, Walmart, and Amazon, how Shipt is making its way into their customers' lives?
We will understand this by understanding how does it actually work?
How Does Shipt App Work?
Before the global pandemic, convenience and timesaving were the only reasons online grocery apps existed. Unfortunately, because of the pandemic, things have changed.
In the last six months, over 2.5 million orders have been served by Shipt via its mobile apps, and website. While Instacart and Walmart are still the biggest market movers in the US right now. The market presence of Shipt while being among such business giants is commendable.
It is possible because Shipt is understanding its customers and providing what they need along with providing them what they need but do not know.
For example, the delivery scheduling features are a groundbreaking step that makes the whole difference. Now we know that Shipt has some amazing features, but the main secret lies in its simplicity.
Let's take a deeper look at how Shipt works in detail. 
The working of Shipt app can be divided into the following steps:
1. Shipt App Installation
First things first, Shipt mobile app is available on both platforms, Android and iOS. The app can be downloaded from their respective app store. After signing up for the app the users can start shopping from the app.
2. Permission for Location Access
Before the shopping experience starts, the app requires location access from users to select nearby Shipt shoppers for a shorter amount of time for order delivery.
3. Shipt Membership
Shipt offers its customers two options to order groceries.
1. Free Delivery
To avail, of free delivery on all orders, the customer is given two membership options – monthly membership that costs $14, and an annual membership that costs $99. By buying any of these memberships customers can receive free deliveries for orders above $35.
2. Paid Delivery/span>
Those who are not frequent grocery buyers do not need to buy a Shipt membership. They can pay a fixed amount for each delivery of their order. For example, the delivery charges of Shipt are $10, $9, and $8, for one, three, and five orders.
3. Browsing Stores and Shopping
After being done with all the necessary steps of getting the app started the users can start browsing the online grocery store. All the grocery items are organized in their respective categories and these items can be searched by smart searching and sorting options.
These little extra features make the entire app experience extra beneficial.
4. Substitutes
Another great feature to make online grocery shopping extra amazing. Imagine there is a particular item you want to order but currently, it is not in stock. This feature allows customers to order a substitute item from the store.
This substitute feature comes with three options to choose from:
Choose for me

Contact for my substitution

Do not substitute
For example, if you want to order a specific flavor of chips from a specific brand, but it is out of stock. The substitute feature helps you to find similar chips from another brand. If you like the substitute brought up by the app then you can order it or move on with your next item.
5. Select Delivery Time or Schedule Delivery
After adding everything in their grocery list to their online shopping cart, customers are asked to select their preferred day of the week and the time of the delivery. Customers can also choose same-day delivery if they want their groceries on the same day.
6. Checkout
This feature does what it says. It helps customers to pay for their orders with a delivery charge (without membership). A wide range of online payment options is a great way to increase the convenience of customers to a whole new level.
7. Order Delivery
This is the final part of the entire experience. With the help of Shoppers, the order is delivered to the customers at their location at their preferred time and day.
Did you see it? The entire process of Shipt is simple, intuitive, yet quite effective. Therefore, before you start own grocery app development note that innovation does not always lie in the cool features, sometimes it lies in the ease of access as well.
How Does Shipt Make Money (Revenue Model)?
A beautiful mobile app and all the great features are not enough if there is not a robust revenue model to keep the cash flow running. Again, the team of Shipt incorporates a conventional revenue model instead of complicating things for unintuitive innovation.
Experts are right about the conventions. They say conventions are great because they work all the time. Therefore, the following conventional revenue model idea is used by Shipt for an efficient cash influx.
1. Shipt Membership
As mentioned above, Shipt offers two types of Shipt membership plans – monthly and annual. These membership plans make deliveries free if the order is above $35.
The membership not only covers the shipt delivery fees but also provides some profit on the shipt membership fees as well. This membership also encourages customers to buy more products from the Shipt marketplace only. This also ensures more sales which means more profit.
So, we can say that if a membership is purchased by a customer for a fixed period of time, in a way company is ensuring their loyalty for that amount of time. Hence, it's a win-win situation for both customer and the company.
2. Delivery Charges
If customers do not want to buy the membership from Shipt then they can opt for a pay-per-order model where they have to pay for the delivery of each order. This amount helps the company to pay for their delivery services plus extra profit.
3. Service Fees
This is an obligatory fee that is charged by the company from their customers at the point of checkout. This fee covers the operational and logistical expenses of the company while adding an extra chunk of profit to their bank account.
4. Commission
On each sale, Shipt charges a 5% base fee on the total amount of orders from the shoppers who are utilizing the platform. In addition, they also charge 7.5% of commission on the total amount of orders as well. Therefore, on the total amount of sales, Shipt charges a 12.5% commission from shoppers.
5. Convenience Fees
It is an invisible fee that is also charged by online grocery delivery apps. Sometimes user is asked to pay it. Other times, it is charged by increasing the prices of grocery items. Therefore, grocery items are expensive if bought online as compared to buying from a brick-mortar shop.
How to Develop a Grocery Delivery App Similar to Shipt
The market is good. Demand is better than ever before. Now let's cut to the chase and talk about the real deal here to develop an on-demand grocery delivery app development.
How can you develop grocery apps similar to shipt.
What do you need to start the business of online grocery delivery like the Shipt App?
The answer is:-
An online grocery delivery mobile app (available on both Android and iOS)

An online grocery delivery website

Delivery channel
Let's not make this article lengthy and talk about mobile app only.
Who will develop the grocery delivery app?

How many resources are required to build a grocery app?
The answer is to help you develop a functional and powerful mobile app you need a reliable and reputed grocery app development company that has a long track record of successful grocery app development.
Such a company offers you a team that collaborates with you to develop the app of your vision. This team usually contains:
A business analyst

A team leader

An Android app developer

An iOS app developer

A UI/UX designer

A Graphic designer

A QA professional

A delivery manager
Having a great team of grocery delivery app developers is as necessary as having capital for the new business idea. A great team offers you a great mobile app that performs in the market and shows the result.
Signs of a WOW online grocery delivery app:
An attractive design

Intuitive and simple user experience (UX)

Essential and advanced features

Stability

Faster performance

Reliability
All these points contribute to one experience, this experience determines the loyalty of a customer toward a company. Therefore, no compromise should be made regarding any of mentioned points.
Moving on to the next point.
Features of the Shipt Grocery App
Features are the second thing that customers interact with an app after its design. But it is the first thing that makes the most powerful impact on them. Hence, let's talk about all those features that make Shipt a great platform for buying groceries while sitting at home.
For customers:
For Admin:
For Shoppers:

User registration

Sign in

Customer profile

Product reviews and ratings

Advanced search options

Custom sorting options

Managing orders

Tracking orders

Multiple payment options

Schedule delivery

Substitute of an out-of-stock item

Dedicated dashboards

Order allocation

Finance management

Custom CMS

Versatile CRM

Shoppers Management

Inventory and Supply chain management

Logistics management

Inventory management

Marketplace ad management

Accept/Reject order request

Chat

Phone call

Delivery tracking
How Much Does it Cost to Develop Grocery App Like Shipt?
Now that we know almost everything we need to know about Shipt. Let's find out the cost to develop an app like Shipt. However, it is not easy to tell an exact number. Because mobile app development depends on various factors.
These factors are, the mobile app development company, geographical location of the company, number of features, number of mobile platforms for which the app is being developed, the technologies and APIs that are used to develop an app, and the development cycle also a huge cost mover.
However, the app development company, its geographical location, the number of features, and its mobile platforms are the biggest factors that determine the final cost of the development of an app.
But why?
A mobile app development company determines its cost of development according to the experience of its mobile app developers, their expertise, their brand image, and their quality of work. Therefore, the cost of development varies from company to company.
Now the geographical location of the company, the cost of software development is different in every country because of their different economical condition. However, they all use the same technological stack. No wonder, companies from not-so-rich countries do a better job at half the price.
Next is the number of features, to add new features in a mobile app like an online grocery delivery app, developers and designers need to work extra, sometimes they need to integrate third-party APIs that are sometimes paid. Therefore, the more feature, the more development cost.
Last but not the least, the number of mobile platforms for which the app is developed is also a huge cost effector. More mobile platforms mean more users, and more user means more profits. But more mobile platforms also mean more time and effort which translates into more cost.
Well, a vague ballpark is possible. But remember it is an idea, not the actual cost. While talking to app development companies you may encounter a whole different quotation. But that depends on your specific needs.
Imagine, you need to develop an online grocery delivery app. A reputed app development company from an Asian country like India can develop the mobile app MVP model within 2-4 months – for one mobile platform.
If you want a fully-fledged app then an online grocery delivery mobile app can cost, you around $20,000 to $60,000 and may take 4-6 months to develop.
Final Thoughts
What Shipt did in the USA is a remarkable and inspiring story. What Bill Smith did with Shipt is a lesson for all entrepreneurs that how the convention is coupled with innovation. The world is already full of ideas, all you have to do is pick one and innovate it a little bit to make a successful business.
I hope this article about the custom grocery delivery app development by Arka Softwares has helped you get some great things. If you have any questions about the grocery delivery app development, please feel free to contact our experts for FREE CONSULTATION.