During this lock-down, I cannot make time-related excuses to myself whenever I wanted to learn a new skill. As a result, I spent the next few minutes researching a good skill to learn during a lockdown.
To my surprise, 8 times out of 10 it was language learning in the top 3 skills to learn when you can't step out of your house. The universe was definitely giving me a sign here.
As I was committed to learning Spanish, it didn't take me long enough to find a perfect mobile app that could help me to learn a new language on the go.
It was none other than the Duolingo language learning app! Like always, this app grabbed my attention when I dug a little bit more about it, I found out that it is a perfect opportunity.
When the language learning market is silently taking a gargantuan shape, the online language market is going to foster like never before.
That simply translates into one conclusion, if you are an entrepreneur, you must look into developing a language learning app like Duolingo.
And in this article, I am going to help you learn almost every aspect of Duolingo's app development. market analysis, features, development cost, etc.
First of all, for those who are not familiar with the Duolingo language app, let's start with a brief introduction to this amazing language learning app that is a favorite of millions all around the globe.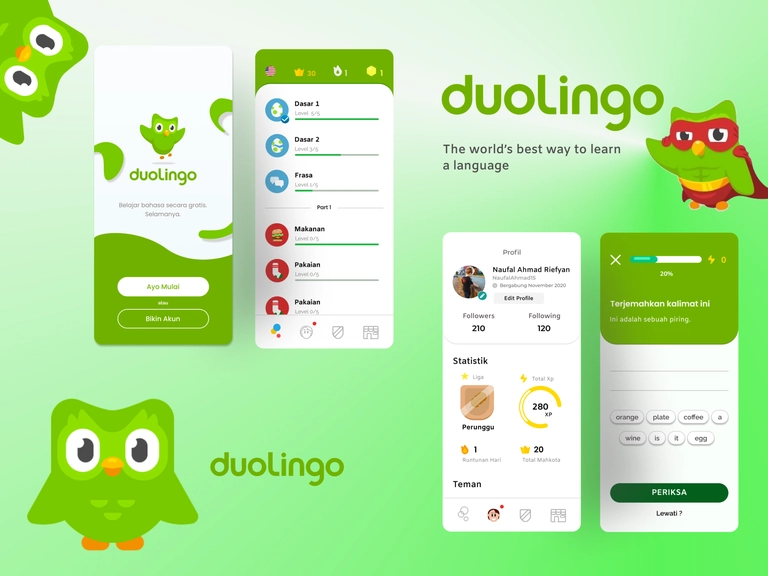 A Brief Introduction to Duolingo App
Imagine the idea of the coolest language app in the whole wide world. What traits would it possess? Like, fun ways to teach new languages and support dozens of languages, right?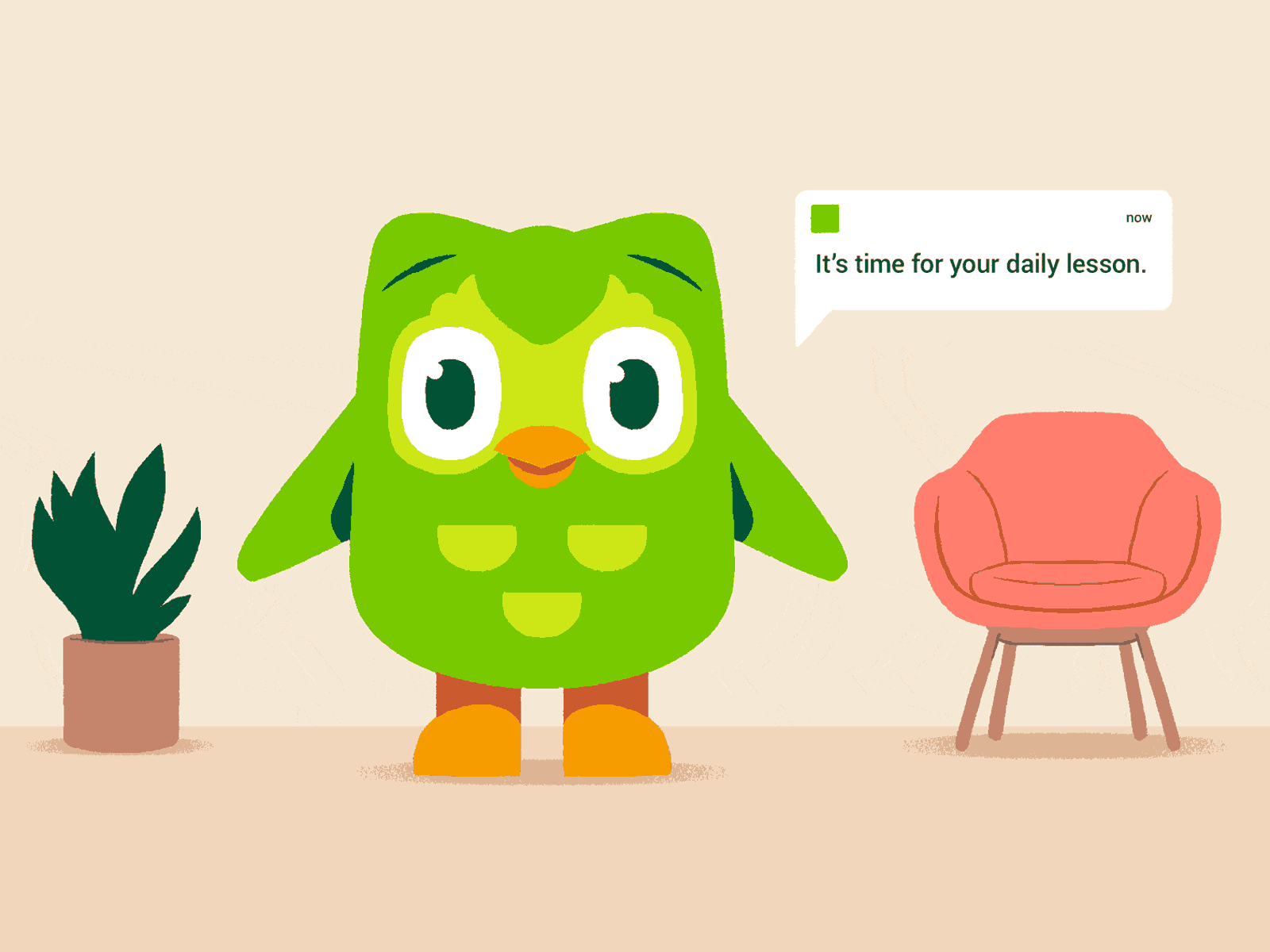 Well, Duolingo is way ahead in this game too. Duolingo was launched in 2011 with a simple thought to quench the thirst for language learning for millions of people on the go.
The mobile app has a well-known logo of a cute-looking plump green owl with a golden beak. Duolingo supports almost all the famous languages that people want to learn.
With gamification of the learning process, Duolingo helps learners to learn their favorite language in interactive sessions that are quick and engaging.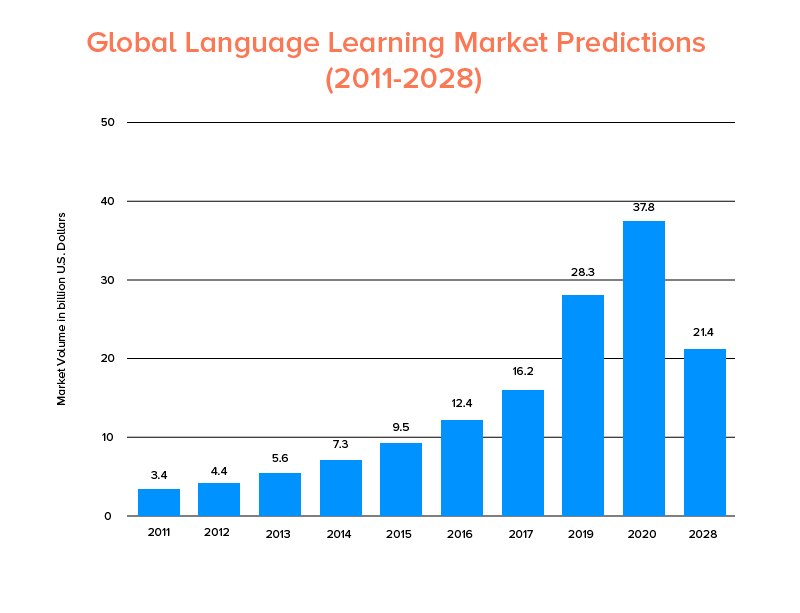 Besides learning, Duolingo has been leveraging essential features like push notifications to keep the learners on track and motivate them to learn regularly. And surprisingly, people do obey the notifications from Duolingo.
Personally, in my busy day of searching for new topics to write about, having an app that reminds me to catch up on the Spanish course is a blessing in disguise.
Market Demographics of Duolingo Mobile App
Let's find out how promising is the performance of Duolingo in the real world. It will clear the picture of whether you should develop a language learning app like Duolingo or not.
According to Forbes, Duolingo supports more languages than any of its competitors, i.e. approximately 34.
It comprises not only the highly speaking language like English, Spanish, French, and Chinese, but also a little speaking language like Hawaiian, Gaelic, and Navajo.
But that's not it, Duolingo also supports language from fictional worlds as well, like it supports High Valyrian from the blockbuster TV show on HBO, Game of Thrones. Currently, over 1.2 million users are learning this language.
As of now, Duolingo has over 300 million registered users with around 30 million monthly active users.
On Google Play Store, this language learning mobile app has been downloaded more than 100 million times. But that's not it, Duolingo also offers language learning services for school teachers, and currently helping over 100,000 teachers worldwide.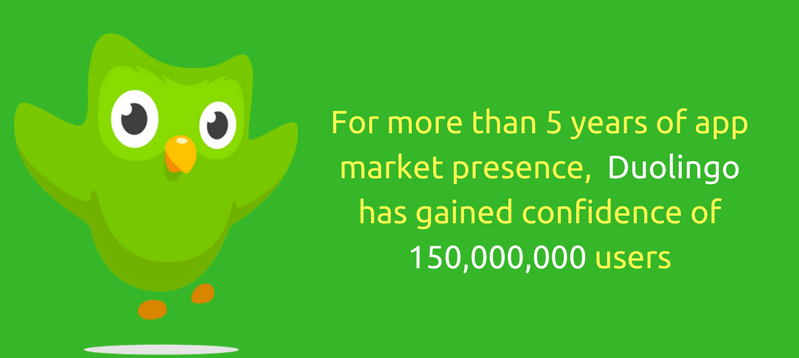 Duolingo is also performing phenomenally well in emerging markets like India while having 3.4 million registered users. And over 60% of the total user base in India is using Duolingo for learning English.
By December 2019, Duolingo had accumulated the sum of $138 million in its various rounds of funding taking its estimated valuation to a whopping $1.5 billion.
A strange stat about Duolingo is that it becomes a $700 Million company without charging users.
Global Language Learning Market Demographics
The current success already seems overwhelming for a top app like Duolingo which has touched the paramount of a growth that many start-ups can only think of. But still, there is plenty of room for growth in the world where people just cannot stop demolishing their language barriers.
According to Forbes, over 2 billion people are learning foreign languages worldwide and they are moving to online platforms at a rapid pace. With the global pandemic due to COVID-19, people are getting dependent on online platforms for their even major learning programs.
This will give a boost to online learning platforms like never before. As far as the revenue is concerned, digital language learning yields revenue of over $6 billion every year, and this number is projected to grow to around $8.7 billion by 2025.
Hence, we can safely say that the market still has plenty of room to offer a healthy competition for online language learning platforms, which gives you a green signal to start building your own language learning mobile app like Duolingo, hopefully even better than Duolingo.
Competitors of Duolingo Application
The market of digital foreign language learning is not dominated by apps. Over time the market has motivated many competitors to raise their heads above the horizon and those competitors are performing great as well despite having a little different business model from Duolingo.
Duolingo V/s The Competition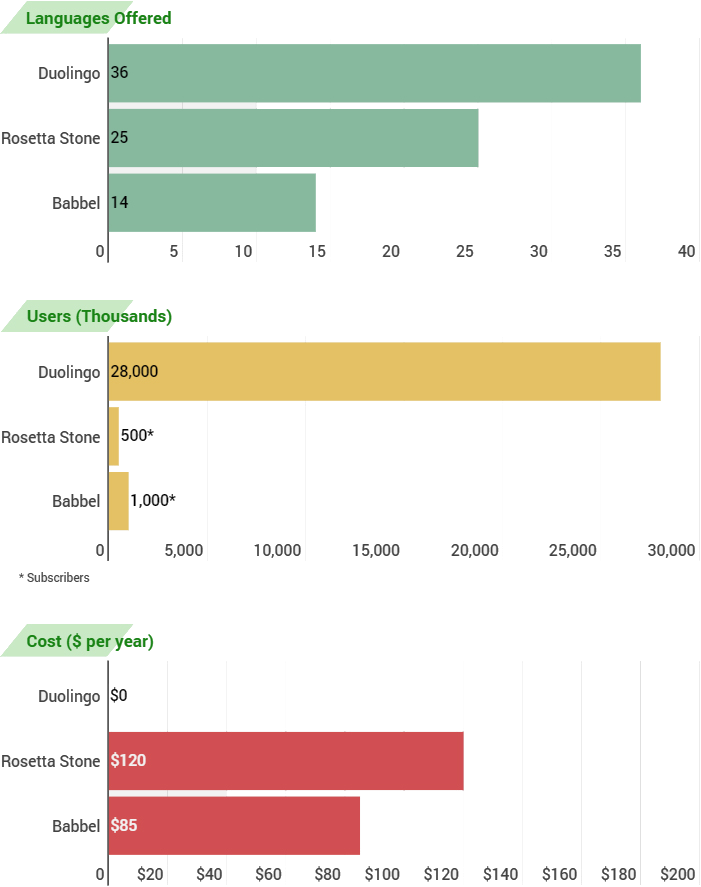 The top competitors of Duolingo are Rosetta Stone and Babbel. Both apps are based on a subscription model, which means their services are not free as in Duolingo, they charge an annual fee from their users in order to offer language learning courses.
Whereas the Ad-supported version is free to use for the users. Only 1.75% of Duolingo's users pay for its Ad-free version for an annual fee of $84. In contrast, the annual fee for Rosetta Stone is $120 and for Babble, it is $85.
Yet another difference can be seen in the number of languages offered by these mobile apps, for example, Rosetta Stone offers 25 languages to learn compared to 34 offered by Duolingo.
You can see from the numbers that these relatively new apps are inching closer to Duolingo in terms of their language support and user base as well as annual revenue.
That could simply mean that the market is ready for yet another blockbuster foreign language learning mobile app, and it could be yours.
Top Language Learning Apps in the Market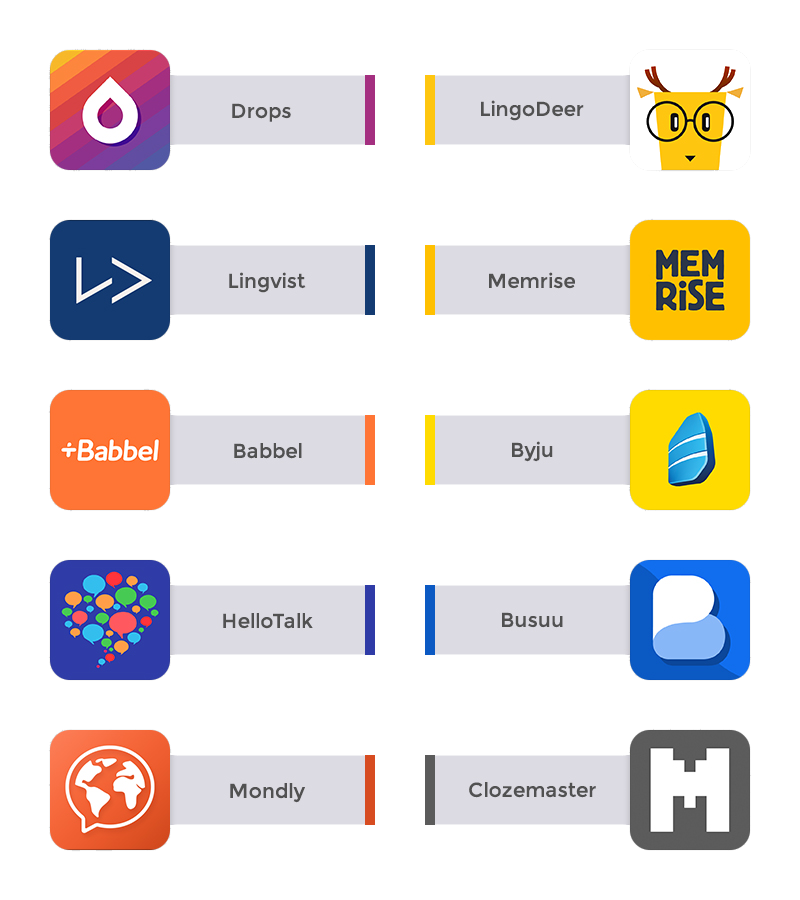 These language learning apps are the top language learning apps.. Have a look-
Babbel

Duolingo

Rosetta Stone

Memrise

Busuu

Pimsleur

Drops
Revenue Model of Duolingo App
Now let's find out how Duolingo earns profit with the mobile app. So far you might have got an idea of the possible revenue models of Duolingo.
If now, don't worry, we will talk dedicated to it now, as choosing the right pricing strategy is a must for your mobile app project.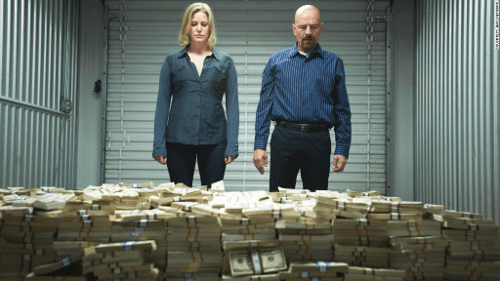 For an app like Duolingo that offers online educational services, there are two major revenue models-
#1.  Advertisements
The most famous version of Duolingo is the free version that offers its language learning services for free but shows some 3rd party ads within the app. From these ads, Duolingo company earns a significant amount of annual revenue.
The best part of this revenue model is that it attracts more users to the app. Because in exchange for a few intrusive ads the app offers its premium services for free.
Hence, it not only attracts free users but is also a great way to attract some potential paid users as well.
#2.  Subscription Model
In the year 2018, the annual revenue of Duolingo hit the $36 million mark. However, the founder Luis von Ahn had claimed that despite the low number of paid subscribers Duolingo is going to bag $160 million in revenue by the end of the year 2020 as more users will show interest in paying for the premium version of the app.
The best part about the subscription model of the ad-free model is that it unlocks some exclusive features of the app and turns off all those disturbing ads to elicit a great and uninterrupted language learning experience for the users. Also, it makes users feel special as well.
Hence, both revenue models have their own merits and both attract a different category of users while making money anyways. This is why Duolingo incorporates both types of revenue models.
Therefore, it becomes crucial for you to understand and study both revenue models for your own language learning mobile app like Duolingo.
Features of a Language Learning Mobile App Like Duolingo
Profile and Settings

Course and Levels

Language Practice and Revision

Push Notification

Gamification

Social Media Integration

Voice Recognition
Finding Right App Developers to Develop Duolingo like App
Now that you have made up your mind to develop the best language learning mobile app like Duolingo, it is time to find the right mobile app development partner for successful execution.
And the dilemma also lies in whether to choose freelance mobile app developers or a reputed mobile app development company.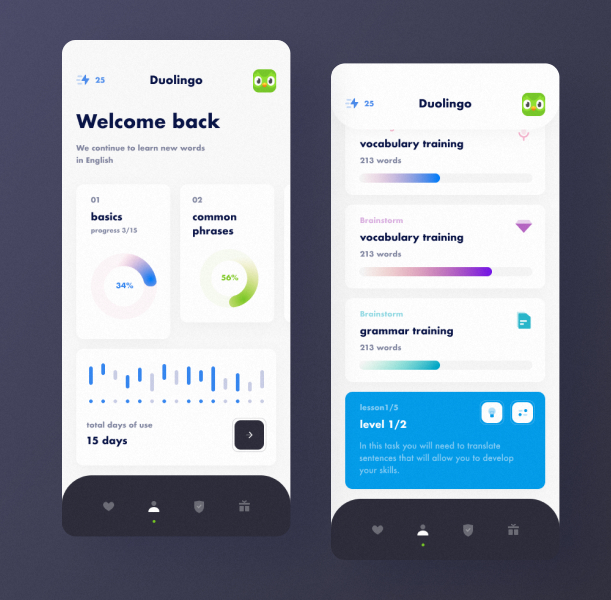 The choice becomes even tougher in the time of the global pandemic or the post-pandemic era. Because the world is not the same as it was before.
Anyways, let's shed some light on both options. 
#1. Freelance Mobile App Developers
This option is great for the risk-takers. However, this option could be a reckless choice if not paid attention wisely.
The freelance mobile app developers can develop your language learning mobile app for a relatively lower app development cost. or you could lose your time and money both on some untrustworthy freelance developer. Hence, you should always play your cards right.
If you can find some really trustworthy freelance developers then go for it. But it is highly unlikely because good freelance developers always seem to start their own companies.
There are some problems with freelance developers, you might have issues related to punctuality, discipline, and even professionalism.
However, not all freelancers are alike some are really professional and do their job honestly, but for that, you need to do your homework very hard.
#2. Mobile App Development Companies
Where freelancers work for money to pay bills, mobile app development companies work for building a sustainable reputation in the market, and of course money as well.
The only drawback with a good mobile app development company is that you have to pay a little bit more for your online language learning mobile app development.
Somehow, that extra money that you pay is also quite justified when you are getting trust, loyalty, great quality of work, and guaranteed professional support, all within the development price you pay with certainty as well.
If you want to find the best mobile app development companies you can always find them on trusted websites like Clutch and GoodFirms.
However, if you want to save your precious time then you can directly contact our professionals here.
Required Team Structure for Language Learning App Development
You and I both can agree on one thing a great mobile development depends on a great team.
In order to ensure a flawless development process, you need to make sure every element responsible for seamless mobile app development is present in your mobile app development team.
Because the right mobile app development will not only work on your idea, even they will incorporate their experience and technological prowess to polish the idea in order to make it ready for the market.
Choosing the right technology for the app development, and understanding the trajectory of your vision are some of the perks that you can only enjoy if you are partnered with the right team.
What are the essential elements of this team that can make the language learning mobile app development process so smooth that it is ready for the market competition? Let's find out in the list given below:
Business Analyst

Project Manager

Android Developers

iOS Developers

Graphic Designers

UX/UI Designers

QA Professionals

Delivery Manager
When at least this many team members are involved in your language learning app development process then you can rest assured.
Tech Stack Re
quired for Language Learning Mobile App Development
For creating a language app like Duolingo, you need the latest tech stack. Let us give you a brief on that.
For front-end development: CSS3 and Bootstrap
For back-end development: JavaScript, AngularJS, Python, Django, and Ruby
For Android app: Java
For iOS: Swift
Database: Postgres, Cassandra Database, HBase, MongoDB Database, MySQL, etc.
Cloud storage: Amazon data servers and Google cloud storage.
Choosing the Right Platform for Language Learning Mobile App Development
Usually, this section can be taken care of by the team you are working with for your language learning mobile app development. But I guess, giving you a head start about this process wouldn't hurt at all.
Whenever you start any development process of any type of mobile app, you always have two options to start with, either you choose native mobile app development or a hybrid mobile app development platform.
Now let's understand the difference in a little bit of contrast here:
Native Platform
In simple words, the Native platform means individually developing apps for mobile platforms like Android app development and iOS app development. This means a separate app development process for each mobile platform. This means two simultaneous processes and more development costs.
But it also means mobile OS-level of compatibility, more stability, and consistency. If you want to rise above just delivering services to your customer and want to deliver a true learning experience then you must go for this option.
Hybrid Platform
As you can guess, it is a much cheaper and time-saving option for you to develop your language learning mobile app for both platforms like Android and iOS. This method allows you to develop your language mobile app for both major mobile platforms at the same time.
Hence, the development cost would be lower so would the performance and native compatibility of the OS. The app will do its job perfectly fine but it would be as polished as the native mobile app.
So whatever suits your priority, just go with it. Now is the time for the most anticipated question.
How Much Does It Cost to Develop a Language Learning Mobile App like Duolingo?
Well, the answer is a little more complicated than the question. But we will get our answer soon once we understand what goes into determining the language learning app development cost. To find out that, let's talk about the factors that vary the cost of the development of a mobile app.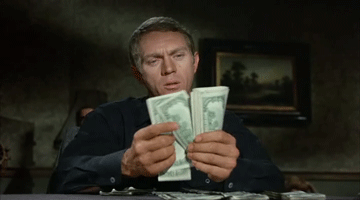 Ideation
Yes, most of the time it is the ideation process of the project that alters the project budget by a large margin. Because it is the time when the client and development team actually determines the scale of the project.
This is the process where the big decisions are made like the trajectory of the project, the development period, technologies involved, 3rd party APIs, etc.
Development Cycle
No one actually realizes it but many times the last-minute changes are done within the product development cycle of the app development. The thing is, mobile app development takes a significant amount of time.
There are months involved in the entire process. Therefore, it is natural that either clients or developers can come across some last-minute suggestions that can increase or reduce the cost of development. So, you must always make some extra room for this flexibility in this process.
Technologies Used in App Development
Technologies like the development platforms, APIs, themes, designs, licenses, and many other technologies are costly and required to be purchased for your mobile app development.
Since, just like any other product in the market, these technologies also come in various qualities and capacities. Hence, the overall cost of development is also determined by the choice of development as well.
Mobile App Development Platform
We have talked about it earlier in this blog, but let's talk about it one more time because it is relevant here. Whether you choose a hybrid or native app development or cross-app development, it affects the overall cost of mobile development.
Number of Features
Features are the most essential part of any mobile app. Hence, for your language learning mobile app development, you must incorporate all the best features in it. Sometimes each feature can require its own API which costs a certain amount of money.
Hence, choosing between a fully-fledged mobile app or MVP model can also determine the cost of your mobile app development.
Location of Development
Last but not the least, geographical location is one of the biggest factors that can affect the overall cost of your language learning app development.
Different countries in the world have their own different economical condition, that determines the hourly working cost of their developers.
Although, this has nothing to do with the overall quality of work.
Of such differences in economies, often clients from western countries prefer to get their apps developed in Asian countries like India.
In contrast, the hourly charge of a developer in the USA is somewhere around $180 – $220, whereas it is $140 – $180 in Europe, the same hourly charge in Australia is around $120 – $180.
However, the same hourly cost in India is somewhere around $40 – $120. It is a difference of a huge margin and it can change the mobile app development cost in 2022 by a huge factor.
Now coming to the final answer to our question. So, let's assume a scenario, where you are developing an MVP model of your app with normal features just to make do its job, and you are developing it only for one platform.
Then the estimated cost of language learning mobile apps like Duolingo would be around $65,000 to $85,000.
Please note that this cost can be changed according to the number of platforms you choose to get the app developed and the number of features you want to incorporate.
In the modern world, people are not only developing their apps for only Android and iOS, but they are also developing their apps for wearables and AR/VR devices as well to take interactivity to a whole new level.
So, this was everything you needed to know before you dip your toe into developing your own language learning mobile app like Duolingo.
If you still have some questions about development, technologies, features, and cost, please feel free to talk to our experts.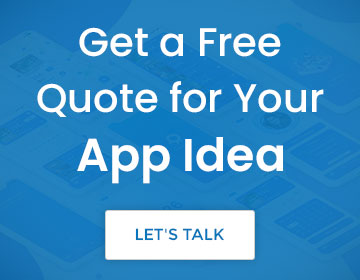 Conclusion
In this highly dynamic e-learning market, numerous apps are gaining popularity and acceptance among the masses, Duolingo is one such learning app that is gaining momentum.
Since the arrival COVID-19 pandemic, the demand for e-learning applications has been skyrocketing, which is enhancing the revenue of EdTech organizations like never before.
Duolingo is efficiently leveraging the abilities of AR/VR technologies to enhance the overall language immersion process. If you are planning to develop an app like Duolingo, then you must consider the aforementioned factors, monetization strategies, and features.
You can also get in touch with our consultants, who can help you incorporate these factors and develop a highly functional e-learning application that will make end-users happy while bringing in the intended sales and profits for your business.
Arka Softwares is an established e-learning app development company, which commands a decade-long experience in the app development area.
With our seasoned software developers and advanced technology at your disposal, we can assure you a seamless development of your e-learning application, that can hit the application marketplace and outclass your competitors in no time.
Let's

build something great together!

Just take one step forward and we can build history.

Want to build something good for the business but still good for the customers?
You know the answer is, Yes!