In this modern era that we are living in, everything is literally just a tap away. Need to order a cab? A few taps on the phone, and it's done. Need to buy a nice dress with a summer vibe? A few taps on the phone, and it's done.
Yes, it is really that simple, owing to this growing concept of on-demand mobile apps. Among the several categories of on-demand mobile apps, there is one for grocery shoppers as well.
In fact, it would be right to say that the emergence of grocery delivery app development was considered no less than a blessing for most people out there. They literally loved the idea of saying bye to the long queues they had to stand in while shopping for groceries. Not anymore!
The number of users of on-demand grocery delivery apps is increasing at a rapid rate. And as compared to the past, there has been a tremendous increase in the number of grocery mobile app users. These people love the idea of placing online requests for groceries they require and having them delivered to them on time.
All this happens without having to visit the physical grocery stores and wait in lines to make payments. This is basically the reason behind this drastic increase in the number of people who shop for groceries online.
Today, there are numerous grocery app developers and grocery app development company out there who develop grocery store apps for businesses and startups that need them. They create unique, fast, user-friendly apps integrated with exclusive grocery features, making them likable to users.
If you are looking to create grocery delivery software for your business in order to provide a great shopping experience for your users, then this article covers all the crucial aspects of grocery delivery software development.
Why should you Invest in Grocery Delivery Mobile App?
Groceries are an essential commodity for every household in this world. However, in this new age, customers find it slightly inconvenient to visit the nearest grocery store and wait for a very long time to purchase the essential items.
A similar situation exists with elderly people and others who are unable to step out of their comfort zone due to some type of ailment.
The grocery delivery mobile app provides an alternative mode to order groceries and have them delivered to their doorstep.
They can schedule the deliveries at their convenience and even make the payment with numerous methods. This comfort and convenience have inspired customers to opt for grocery delivery mobile applications.
The popularity of grocery apps has increased to a greater extent in recent times, and it has become a win-win proposition for both application owners and end users.
The following statistics show how grocery delivery mobile apps are capturing the imagination of everyone:
The global grocery retail market will grow by 24% by the year 2024. 
The market of grocery delivery services will be $630 billion by 2024

64% of American households are buying groceries via grocery delivery apps.

The revenue of grocery delivery applications is increasing at a CAGR of 7.5%.

The usage of grocery delivery apps has doubled during the pandemic.
The stats prove that it is a highly beneficial app idea to develop an on-demand grocery delivery app. If you are planning to carve a profitable business niche, then you must go ahead and invest in developing an Android app for the grocery delivery business.
A study that took place very recently reveals that 35% of the user community loves ordering groceries online, and these numbers are increasing at a rapid rate. The concept of grocery delivery mobile app development has gained remarkable momentum.
As per CNBC, it is expected that by the year 2025, online grocery sales will grab 20% of the market successfully.
Other statistics suggest that grocery mobile app usage is going to increase by 50% in the coming months.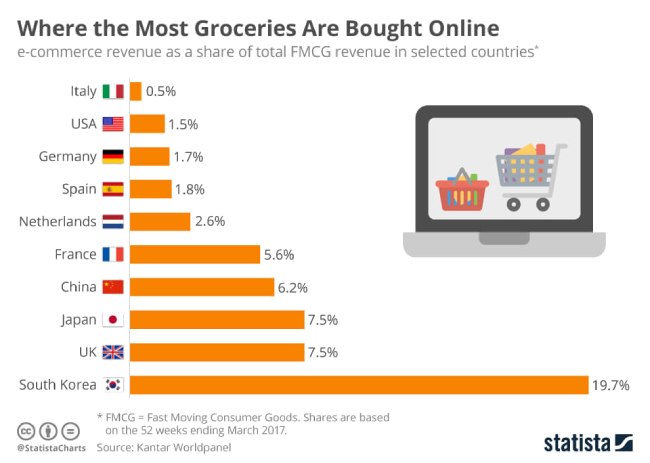 Hence, it is the best time to make some strategic changes in your grocery business tactics to reach out to more potential users, and presently, there can be no better way than a grocery mobile app.
These apps allow us to provide a best-in-class experience to users and are immensely helpful in scaling up revenues.
Types of Online Grocery Delivery Platforms
If you are looking to develop a mobile app for your grocery business, then keep in mind that there are a number of options available out there for you.
Below, we have discussed the most common types of grocery apps available in the market. They are:
1. Aggregators Apps:
The idea for this kind of grocery app is to simply list out the nearby grocery stores for the users. Here, the user can pick one among the grocery stores listed in the app.
Then, going to the menu list in the app, the user can add items they want to purchase in the desired quantity to the cart. Once the cart is ready, the user can check out and make the payment via the available payment mode in the app.
As soon as the payment is processed, the user will receive an order confirmation, and then the order can be easily tracked by the user in real-time.
Here, the work of the app is to connect the user to the grocery store, and then the delivery is managed by the store owner, as the job of the aggregator is simply to list the store and its menu on the app platform.
2. Marketplace Apps:
This kind of app is similar to the aggregator model, with the only difference being that here the marketplace has a team of delivery personnel who deliver the ordered groceries to the customers' addresses.
3. Single Store Apps:
In this app model, the grocery owner gets an app developed for its store and is responsible for managing everything from maintaining the app, keeping the menu list updated, delivering orders to customers, and collecting payments.
4. Grocery Chains Apps:
Most grocery chain apps work on the concept of Walmart, which offers its own on-demand app solution. Here, the functioning is similar to Single Stores at the micro-level operations.
5. Personalized Grocery Apps:
These kinds of apps are basically crafted for shoppers, enabling them to plan out their grocery shopping effectively. It helps the users create a grocery list, set reminders, and share grocery information with their contacts.
Ultimately, the purpose of developing a grocery shopping app is to make the overall process easier for users and offer a great user experience.
How Does an On-demand Grocery Ordering App Work?
The functioning of most of these grocery delivery apps is really simple.  This way, it allows all kinds of users to use the app. These apps offer virtually all grocery items and allow users to set filters in order to make the search process easier for them.

These grocery home delivery software basically work as a virtual supermarket, and the users here are enabled to search for items as per their requirements, place order requests instantly, and make hassle-free cashless transactions. This way, the online grocery shopping app, makes the whole process simple and convenient for the users. 

Top Online Grocery Delivery Mobile Apps
On-demand grocery delivery tends to be among the highest-grossing industries at the moment, with big businesses like Shipt, Instacart, Peapod, and Amazon Fresh having successfully made a mark in this domain.
1. Instacart:
Instacart grocery app is among the most popular grocery delivery apps in the USA. It offers a variety of pricing and delivers fresh groceries at same-day delivery. Instacart is available in hundreds of cities and it has gained popularity due to its cost-effective delivery mechanism.
It allows customers to pick up their groceries from selected retail locations, too, without any additional cost. All you need to do is place your order and schedule a time for pickup, and the store owner will prepare your order at the nearest store.
Pricing and Delivery Fee: The delivery fee depends on the size of the order. Customers can opt for the Instacart Express membership, which enables them to avail of free deliveries with a minimum order of $35. The delivery prices may be slightly higher during busy shopping times or festivals.
2- Peapod:
It is an online storefront that provides grocery delivery directly to your business or home. It is owned by Ahold Delhaize, which is known for its stronghold in managing grocery shop chains and massive Landover.
Peapod has established numerous warehouses from which it delivers groceries once the customer orders. It has started partnering with chains such as Stop & Shop to offer groceries at various locations. It also allows customers to pick up their groceries from these stores.
Pricing and Delivery Fee: Peopod charges $10 for items over $30. The delivery charges are reduced to $8 if orders are above $75, and for orders above $100, they are reduced further to $7. Customers can pick up their groceries free of charge from the Peapod stores.
3. Shipt:
Shipt grocery app is another top grocery delivery app that allows shoppers to place a grocery order with local shoppers to ensure delivery in less than an hour. It also enables users to collect their groceries from nearby stores.
Shipt has witnessed massive growth in recent times, so it has collaborated with a wide range of retailers to offer innovative delivery options to its customers. It lets customers connect with the shopper via SMS if they want to make any changes to the order.
Pricing and Delivery Fee: Customers can opt for an annual membership, which costs $100. One can pay $14 to avail of Shipt services for a month. Customers can enjoy free shipping on orders of $35 or more. However, the grocery items at Shipt are slightly more expensive than at the usual everyday stores.
4. FreshDirect
–
It is another grocery delivery app, which has amassed massive popularity by offering fresh produce, cheeses, and meats to its customers. Fresh Direct is your perfect grocery delivery companion if you are concerned about the quality and freshness of vegetables and meat. 
Fresh Direct also offers additional information about its canned goods, such as their quality ratings, their origin, and how the food has arrived at your doorstep. 
Pricing and Delivery Fee: Although the shipping charges depend on your location and the quality you have ordered, the average cost of delivering a $30 box is around $6. It also allows customers to upgrade to the FoodKick service, which assures expedited delivery at a nominal cost.
5. Postmates:
Postmates was founded in 2011, and it has been acquired by Uber in 2020. Postmates has listed renowned supermarkets such as Walgreens, where customers can order and get their groceries at their doorsteps. 
Postmates enjoys a massive delivery network, which helps customers track their deliveries in real time. Postmates operates in more than 3000 American cities. It primarily competes with DoorDash and Grubhub.
Pricing and Delivery Fee: Customers can opt for its unlimited membership to get free delivery on all orders above $12.

How Does On-demand Grocery Home Delivery App Work?
The functioning of most of these grocery delivery apps is really simple.  This way it allows all kinds of users to use the app. These apps offer virtually all grocery items and allow users to set filters in order to make the search process easier for users.

These apps basically work as a virtual supermarket, and the users here are enabled to search for items as per their requirements, place order requests instantly, and make hassle-free cashless transactions. This way, an on-demand grocery shopping app, makes the whole process simple and convenient for the users. 
Grocery Shopping App Business Model
Key Features of Grocery Delivery Mobile App
Grocery User Panel

Super Admin

User Profile

Browse Products
Search Products
Make With list
Schedule Delivery
Order Tracking
Order History
Multiple Payment Options
Feedback & Settings
Social Share
Invite Friend
In-App Calculator

Manage Customers
Manage Shoppers
Manage Stores
Category Management
Order Management
Featured Product
Marketing Tools
Make Refund
Sales Reporting
Support Enquiry
Real-Time Analytics
Role-Based Dashboards
Delivery Boy

Grocery Store Panel

Delivery Request Notification
Accept or Reject Delivery Request
Track Customer Location on Map
In-app Chat/In-app Calling
Get Delivery Confirmation

Order Notification
Inventory Management
Accept or Reject Orders
Manage Payments
View Feedbacks
Customer Support
In-app Chat/In-app Calling
Advanced Features of Grocery Delivery App
Once you have covered the key features of a Grocery shopping mobile app, you should next know about the additional parts and functionalities that can be integrated into the grocery mobile app. This will ensure that your app stays ahead of the competition.
1. Push Notifications:
This functionality works wonders in increasing user engagement with the app and thus is greatly helpful in user acquisition and retention.
It is vital for an app's success that the user constantly engages with it, but this must be ensured in a manner that the user doesn't feel disturbed or irritated.
Push notifications are great to be used to send alerts to users regarding new offers and discounts on grocery products. Besides, alerts can also be sent to users regarding their recent orders, this way they are kept updated on the proceedings.
2. GPS Tracking:
For a grocery delivery mobile app, GPS (Global Positioning System) functionality is quite crucial, as it is extremely helpful for drivers in locating routes.
At the same time, it helps in updating real-time information for the users, regarding the order proceedings and delivery.
3. Behavior Tracking:
This functionality is of huge help as this efficiently tracks user behavior with the app, and accordingly suggests them products as they visit the app next time.
This way, it is time-saving and makes the whole process of grocery shopping very efficient.
4. Real-time Analytics:
This feature is crucial to stay updated on all the happenings in the app, via graphs and statistics. Hence, it gets easier to plan for the future and craft strategies and offers accordingly to allure the users.
5. Loyalty Programs:
In order to keep the users attuned to the app, it is vital to run loyalty programs from time to time for your loyal app customers, like you can offer them festive discounts, or gifts, once they reach a certain shopping limit.
6. Marketing Tools:
The purpose of this functionality is to promote the mobile app to your target audience by introducing offers for new app users and running in-app advertisements.
7. Shopper Tracking:
For this feature, you would also need to integrate GPS functionality, which has been discussed above. The Shoppers Tracking feature is useful for tracking users whenever they are near your grocery store.
This way, you can send them promotional offers and discounts, prompting them to make a visit to your grocery store to avail of the offers.
8. In-App Calling:
This functionality is useful for making in-app calls to the store owner and delivery person, while also allowing the delivery person to call the customer and the store owners to call the user and the delivery person.
9. In-App Chatting:
The in-app chat functionality allows the users to send messages to the delivery person and the store owner in case the user requires to mention any specifications.

10. Rate & Review:
This functionality allows the app user to rate and review the app. The users can decide about the performance of the app and a grocery store with the help of the ratings and reviews given by other users.
The app also allows users to rate the driver.
11. Re-Ordering:
By integrating this feature into your app, you will allow your users to instantly re-order the grocery items they purchased in the past. This saves time and effort and makes the whole process a lot more efficient.
Architecture for Grocery Delivery App Development 
Required Team Structure to Build

Grocery Delivery Software

Having the right dedicated team on board is the most essential aspect of creating a Grocery Delivery App. By having a proficient set of app development experts on board, you can ensure the success of the app to a great extent.

This can only be ensured by picking the top grocery delivery app development services that have a good reputation in the domain of app development and is highly experienced.
While choosing the app development firm, ensure that their app development team consists of skilled and experienced personnel, such as:
1. Project Manager:
This person is responsible for keeping the teams at all levels of app development, on the same page. As s/he will be the connecting link between you and the app development team.
Hence it should be ensured that this person has impressive communication and managerial skills, to keep the whole team informed and together at all levels.
2. App Developers:
This consists of iOS App developers, Android App Developers, and Back-end App Developers. You can pick the developers as per the platform of your choice, if you want to create the app for the Android platform then go for proficient Android developers.
If you are keen on developing an app for the iOS platform, then look for skilled iOS developers, however, if you want to develop your app for both platforms, then go with both developers.
Front-end developers will be managing the development work of the front end of the app, while the back-end developers will be responsible for the back end.
3. Designers:
These are the people responsible for the look and feel of your mobile app.
4. Quality Analysis Experts:
No app can be a success if it is filled with bugs and errors. And QA experts ensure that your app works smoothly and is free of any bugs and errors.

How Much Does it Cost to Create a Grocery App Like Instacart?
There are several factors that affect the cost of any mobile app, some of them are given below
The complexity of the app

Number of app platforms

Development Team Size

App Development Region

3rd Party App Integration
The app complexity is affected by the features and design that you choose to integrate into your app, the more complex the design and features, the higher would be the cost.
Next, if you choose a single platform, iOS or Android, for your app, then the cost will be lesser compared to an app developed for both platforms. Then comes the development region.
The development cost per hour of an app differs in different regions. Like, in the USA, if you want to hire mobile app developers then the charge is $150-$250 per hour, then Eastern Europe-based developers charge $100-$150 per hour.
The app development cost per hour largely differs when you choose to get the app developed by Indian developers, i.e. $40-$80 per hour.
Going by this estimate, we can say the cost to create a basic mobile app with key features and for a single platform would be between $15000-$25000, if you choose to go with Indian developers or an on-demand grocery app development company. However, creating a feature-rich app for both platforms would cost around $45000.
Conclusion
The facts mentioned in the blog have established the fact that online grocery shopping platforms will continue to grow across the world.
The recent pandemic has acted as a trigger point, which had led millions of people to avail of grocery delivery applications to save their cost and time, and this trend is not going back.
We already have numerous grocery delivery applications in the market. However, it is still a viable and profitable business idea, as long as you select a trustworthy and seasoned mobile application development team.
If you are planning to develop a grocery delivery app, then feel free to discuss your idea with our expert consultants. Arka Softwares is a reliable mobile app development company. We understand our client's business ask and drive innovation to transform their unique idea into a successful grocery delivery mobile app in no time.
FAQs Related to Grocery Shopping App Development