In this digital era, no one wants to visit every company to provide their CV, because it is such a tedious task. Gone are the days when you could go from office to office dropping your job queries and applications. There are high chances that your query may not even pass the main gate of the office. Similar is the scenario with employers who don't have enough time to screen through the pile of CVs of applicants and cannot go for the physical search of candidates.
With the penetration of the internet, this problem is greatly resolved by online job boards or job portals. But, due to the increasing use of smartphones, people are shifting from web-based job boards to Job Search Mobile App, which enables a lot of convenience to both job seekers and employers. The Job Portal apps like Indeed helps users find the job they want.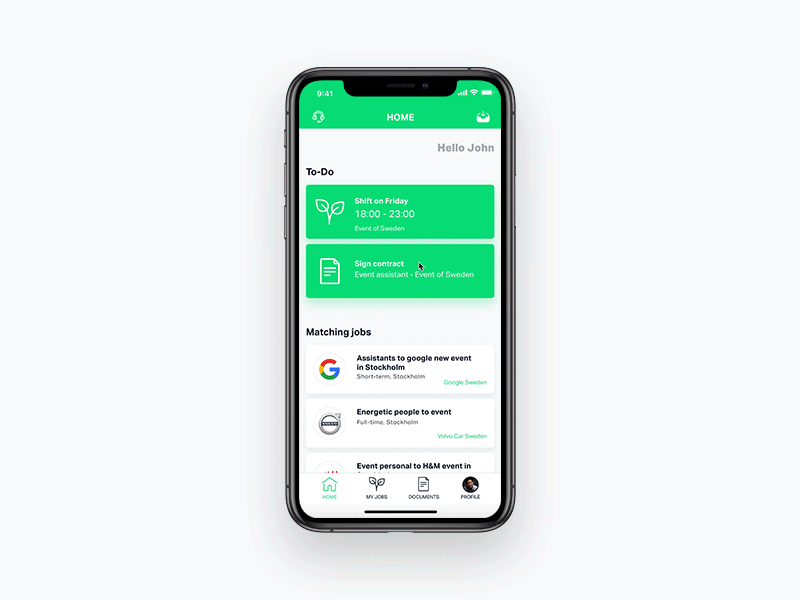 Industry Market Size, Trends, Industry Stats
The Online Recruitment Industry has experienced significant growth since the 2000s as the number of services conducted online has grown. The internet has become increasingly prominent in consumers' everyday lives, which has subsequently driven the use of online recruitment sites by both job candidates and employers. The industry has been further boosted over the five years to 2018 as the job market improved.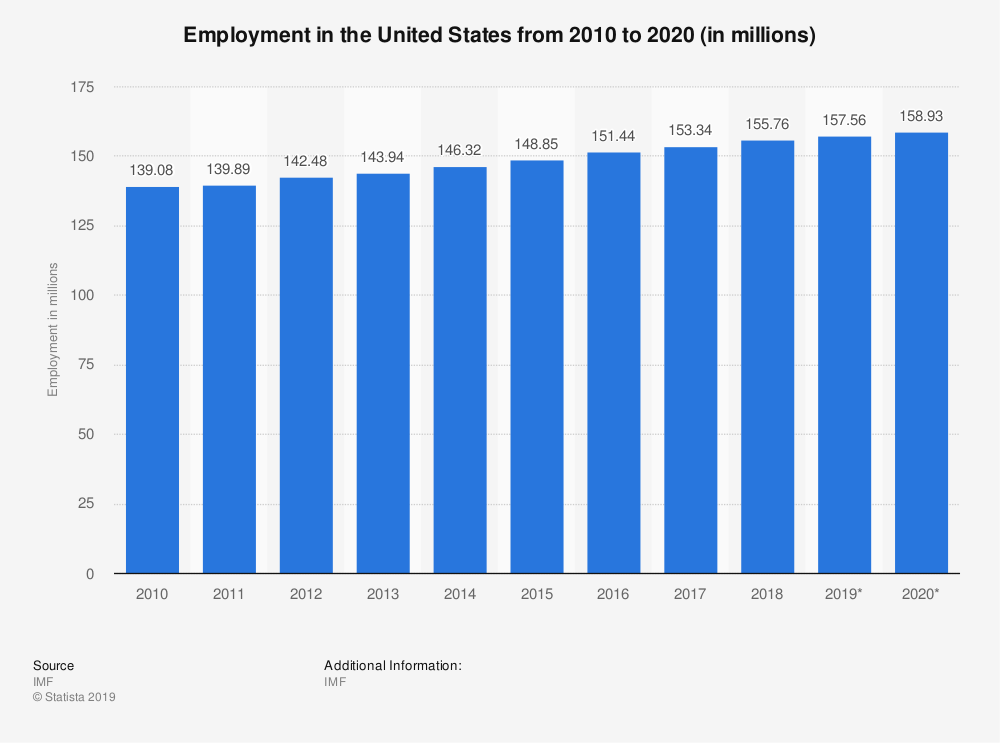 Industry revenue expanded 17.3% and 13.8% in 2016 and 2017, respectively, as the unemployment rate dropped and the number of mobile devices with internet connection grew rapidly. Consequently, industry revenue is projected to increase an annualized 17.8% to $7.7 billion over the five years to 2018, including the growth of 12.6% in 2018.
Finding a desirable job is definitely among the most stressful impediments in today's modern life. Job seekers are hunting for jobs all over the world 24X7, of which 65% use their smartphones. These mobile devices have made it all the more essential for recruitment companies to use apps to reach out to potential job seekers.
Job Search Mobile App Development has led to the emergence of popular job portal apps like Indeed, LinkedIn and Glassdoor, which are available for the users of Android and iOS devices.
Technology has boosted the recruitment industry by becoming highly efficient. Now, the focus has shifted on providing employers with a more useful platform.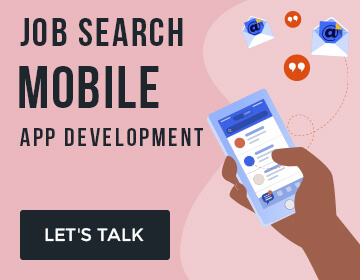 Introduction to Indeed
Indeed claims to be the top-rated job and recruitment portal across the globe. Talking in terms of numbers, it boasts of connecting with over 25 crore unique visitors every month who gain free access to over the largest job database increasing at the pace of 9.8 jobs per second. Indeed is an employment-related metasearch engine that offers free access to millions of jobs from thousands of company websites and job boards to help job seekers find the opportunity they need and recruiters find the right talent. Currently available in more than 50 countries and 28 languages.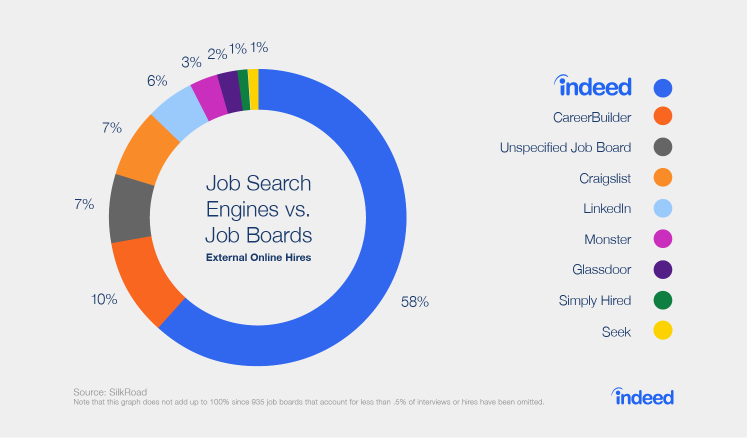 Indeed is also the choice of job seekers who choose to look for their jobs on mobile devices. The Indeed app has been downloaded over 46 million times globally, including over 20 million downloads in the US. Over 50% of Indeed's traffic now comes from mobile devices, and Indeed is the number one iOS and Android app in over 20 countries, including the U.S.
Benefits of Job Portals
For Job Seekers
Very Affordable: One of the major benefits of using online job portals is that they are very affordable and cost-effective. Resumes can be uploaded easily and jobs can be searched without having to pay any fee to the job portal.
Maintain Complete Confidentiality: The job search history and profile are kept completely confidential in the database of the job portals which means that the job can be searched in a highly discreet manner without letting anyone know about what you are up to. Furthermore, these job portals do not share your information anywhere and respect the user's privacy that makes them a safe bet.
Search for Endless Jobs: Online job portals provide you an opportunity to search for jobs from an array of categories which makes it easy for candidates, especially fresher, to filter out their options after browsing through them. Online job portals offer jobs from nearly all domains of the industry which is very beneficial.
Get Regular Job Notifications: Apart from providing a platform to find jobs, online job portals also send regular alerts to candidates in case companies start recruitment drives. It is nearly impossible for candidates to track employer moves while conducting recruitments. Online job portals provide a perfect opportunity for candidates to monitor employer recruitment programs.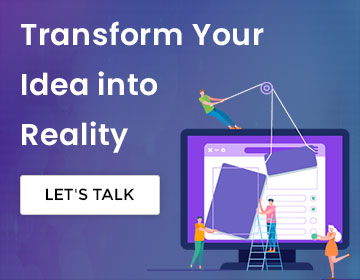 For Recruiters
It's Cost-Effective: By targeting the specific audience the expenses can be minimized. If the campaign is managed effectively it helps in saving money, also attracts applicants who are the perfect fit for the vacancy.
It's Immediate: Most job posts – and replies – appear in real-time. This can help in identifying whether to increase the efforts to attract more candidates or even stop candidates from applying if the right person for the job has been selected.
Reach a Bigger Audience: With the advent of the internet, more and more users are gaining access every day. While in most developed countries, internet usage is extremely high. Therefore, as a recruiter, exposure is available to a huge potential pool of applicants.
It's Easy: Almost anyone can post a job advertisement online because the majority of established job boards make the process clear, easy to understand and user-friendly.
Make Your Job Ad More Dynamic: Posting a job online or via social media platforms gives a chance to be more creative with the ad; for instance, you could create and attach a short video showing off the benefits of working for your company.
Expedites the Hiring Process: All of these advantages directly lead to the biggest one of all: a shortened hiring process. You can shortlist or even directly contact the best applicants as their applications come in.
General Features
User Panel

Recruiter Panel

Admin Panel

Sign Up/ Login
Upload Resume
Job Search (Expertise,
Location, Keyword Search etc.)
Resume Writing
Send Resume
Job Alert Service
Bookmark Jobs

Sign Up/ Login
Job Editing
Email Jobs
Resume Download
Job Posting
Job Invites
Resume search from database
Payment Plans & Options

Manage Job Ads
Candidate Profile
Package Management
Content Management System
Employer Profile Manager
Role Management
Job Seeker & Employee Statistic
Reports Manager
Features for Job Seekers
Sign Up/Login:
This is the first window of the app on which the user lands. They can sign-in with their social network or email account credentials.
Resume Writing:
With this feature, the job seekers can write a resume supporting various formats, and import it with the local source or online.
Upload Resume:
Users can upload their resume on the online job portal. They can even filter the required jobs by selecting the location, years of experience and area of expertise.
Send Resume:
Users can send a resume as well to the required companies that suit their business requirements and can look for more opportunities as well.
Job Search:
Users can easily search for a job. They can update location, category of job they are looking for, expected salary and much more in a convenient way.
Job Alert Service:
Under this, users can also set a custom job post alert based on their profile. It helps them updated whenever there is a job posted matching their experience and requirements and never miss the opportunity.
Apply for Job:
Candidate can apply for a job without registration on the site by giving the details and uploading a resume.
Profile View Alert:
This feature notifies users whenever a prospective employer visits their profile or downloads their resume.
Bookmark or Save Job:
By this feature, the applicants can save the job for applying later or searching for jobs in the future with similar keywords.
Share:
With this feature, a job post can be shared with a more suitable candidate who can encash the opportunity.
Features for Recruiters
Signup/login:
The recruiter can also log in either by creating a new account or via the social network credentials and email accounts.
Job Posting:
Under this section, the recruiters can post jobs easily by specifying the number of vacancies, requirements related to the profile, experience, qualification, package, etc.

Job Editing:
Allows recruiters to edit details related to job posts like the number of positions left, add or edit requirements, etc.
Job Invites:
Recruiters can send job invitations to the desired candidates. Accordingly, they can ask the users for scheduling the interview as well for preceding the process further.
Email Job Notifications:
Apart from displaying the post on the app, recruiters can even send emails to the desired candidates as well.
Shortlist Candidates:
Recruiters can shortlist the candidates who suit their requirements best and proceed with them for the next step.
Resume Search from The Database:
Well, this one is very important. Since the number of job seekers is huge, it is not practical to screen every resume to check the suitability of the applicant, this feature helps automatic filtering of candidates as per requirement and contact them.
Resume Download:
Recruits can download the resume of the candidates which match their requirements the best.
Payment Plans and Options:
Recruiters can change the payment plans and options as well. They can add services in the plans and can delete them as well when required.
Features for Admin
Job Ad Management:
All the jobs posted by recruiters on various platforms are linked and managed by admin.
Employer and Candidate Profile:
All the information related to employer, company and job seeker are saved, managed and verified by admin to keep fake profiles away.

Job Seeker and Employer Statistics:
Automatic publishing and notification of job posts, applications, and job searches are monitored and analyzed within the app.
Data Publish Based On Trends:
Regular analysis and publication of the basic trends like most searched jobs, companies, type of education, average salary, etc. to both employers and job seekers. This helps in the modification of search words and a refined recruitment process.
Package Management:
All the packages that are listed are managed by the admin. The number of packages availed by the user and the ones frequently purchased is monitored.
Business Model & Monetization Opportunities:
Business models can be divided into two parts:
B2B: The main objective here is to provide end to end recruitment services to various corporate companies starting from small to big giants. The services offered to the companies are like resume database access, vacancy listing, email marketing, SMS marketing, etc.
B2C: In this model various services like resume writing, profile enhancement, recruiter reach, and some premium jobs are offered to the job seekers.
Moreover, the monetization strategies that can be opted are as follows:
Membership Packages:
With this feature, the users of the Job Search Mobile App can avail of premium memberships. This feature will help you capture the attention of job seekers and also helps in reminding them about the services and top offers assuring the most convenient job opportunities.
Third-Party Advertising:
In-app advertising is an effective monetization strategy that is being used widely to enhance the looks and increase user engagement on the application. Also with this feature, a good amount of money can be obtained. In-application advertising is currently the fastest growing form of mobile advertising in the market. According to BI Intelligence, United States app-install ad revenue is estimated to grow to more than $7 billion by year-end 2020.
Featured Listings:
In order to opt for this, feature the recruiters may have to pay an extra payment process for featured listings in place. The fact is that you could make a lot more by offering multiple levels of a featured listing. For instance:
Highlighted for thirty days ($50)

Highlighted and at the top of the list for 5 days ($50)]

Highlighted and at the top of the list for 10 days ($100)
E-Learning Subscription:
Nowadays the job portal sites like LinkedIn and Glassdoors are offering the electronic learning platform for the professionals. Under this as per the skill set mentioned in the profile, the applicant can take next-level training and certifications. A certain amount is charged for the subscription. After the successful completion badges are added to the profile which directly enhances the visibility of the profile to the top recruiters.

Advanced Features
Robust Backend Solutions:
A job search mobile application requires an intensive and responsive database that helps in the smooth functioning of the application. Here the development is focused on databases, scripting, and the architecture of the app. A robust backend development ensures a flawless front-end operation.
Document Scanner:
This feature can add extra value to the application. By using an in-built document scanner, the applicants can scan their important stuff like mark sheets, ID proofs, Experience letters, Salary slips, Certificates, etc. to save it in their profile so as to use it as and when required.
In-App Chat:
With this feature, the applicants can get instant resolution for any queries from the recruiters.

CV Creation:
A CV is the most important element for applying for a new job. There can be multiple means by which the CV can be attached to the job application form. It can be uploaded directly, import from other sources or you can build it within the app itself.
Video Call Interview:
This feature is very useful when an applicant is applying for any job overseas or is inconvenient in reaching for the physical face to face round. By incorporating this feature in the application the recruiters can schedule the video call interviews easily.
CRM Integration:
This is the most important feature. Customer's choice and search preference need to be monitored in order to deliver the best job postings so as to sustain in the competition. Customer data collection and management, newsletter management, multichannel marketing & analytics, etc. can be managed with the help of a versatile customer relation management.
CMS Integration:
A versatile Content Management System (CMS) is vital for an online platform. It provides all the necessary tools and functionalities that play an essential role in the modification and manipulation of the entire available content on the platform regardless of its type.
ERP Integration:
ERP integration in the application is useful for smooth functionality by reducing the manual work. It facilitates in many ways such as:
Cost Saving:
ERP integration within the application amount spent on training the individuals can be minimized.
Improved Collaboration:
There's no need to merge information across various systems or sources. Because all of the data is compiled, stored, shared and accessed through a single system.
Better Analytics:
A central database of information also aids in improving the analytics and reporting. Since ERP records and stores all the data users input, it makes for an excellent business intelligence tool.

Cloud Environment:
Integrating cloud technology in your Job Search App Development is the most convenient way of managing data remotely and connectedly in a secured manner. All the data of users, companies, recruiters, resumes, etc. is stored in the cloud for better and seamless workflow management. A recruitment app integrated with a cloud management system makes the app scalable and robust. In addition to this, it also helps in monitoring and securing all the information and data that is stored on the server, thus making the business overall more safe.
Payment Integration:
Integrating the digital payment options such as net banking, eWallet, or credit/debit cards can contribute some extra benefits to the application. With the help of different payment options, users can select any of the services and can avail them at any time required. Thus, allowing them to register for the advanced features and the packages available for finding a job in a convenient way while sitting at home.
Role-Based Dashboards:
This is an exclusive feature for the admin where they can monitor and analyze real-time statistics. As per the different users, the statistics and reports are available which helps in deriving the business and marketing strategies.
eLearning Lessons (Video & Text Lessons):
To enhance the profile, the applicants can also opt for e-Learning lessons that are available as an add on to the various packages designed by the app owner. Here the user may appear for any course and after the successful completion, they get a certificate or a badge that can be highlighted on the profile. This not only enhances your expertise and profile but also increases the visibility to the top recruiters.
Document Management Module:
It is a software that allows the creation, storage, managing, indexing, protection, and retrieval of digital documents. A good document management system can help organize all the files and data in one place, keep track of all critical documents, speed up the workflow, improve accuracy and provide around the clock access to documents from any part of the world.
Required Development Team:
Eventually, finding the best mobile app development company is not the only goal to be achieved. There are several other individuals that are involved in developing the app from scratch. You need to find the right team for your app as well.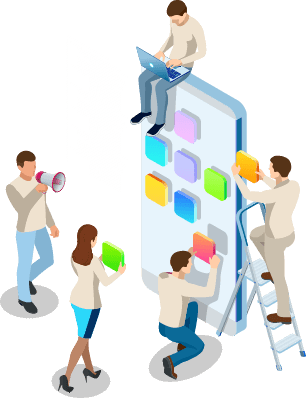 So, let's take a look at the team structure you will need for your app.
Business Analysis Team

Project Manager

Android and iOS Developers
Front-End Developers (UI/UX Developers, AngularJS Developers)
Backend Developers (PHP Developers, .Net Developers, NodeJs Developer)
QA Professionals

How much does it cost to develop a job search app?
The cost of developing the Job Search App depends on many factors. Factors that hold a significant place are the functionalities, features or attributes within the app.
Some of the other factors are listed below:
The platforms on which the application is being developed.

Front and back-end development.

UI/UX development.

Website connectivity.

Third-party APIs integration.

The region of the app development center.

App complexity & number of hours invested.
Along with these factors mentioned above, one important factor that majorly affects the cost of development is the physical location of the Mobile App Development Company and the app developers. The US/UK based developers charge around $70-$250 per hour, Eastern Europe based developers cost around $50 to $150 per hour, but the companies and developers in India provide the most reasonable rate which is $20-$70 per hour. Therefore, in India, it will cost around $15,000 to $35,000 for developing a Job Search Mobile Application.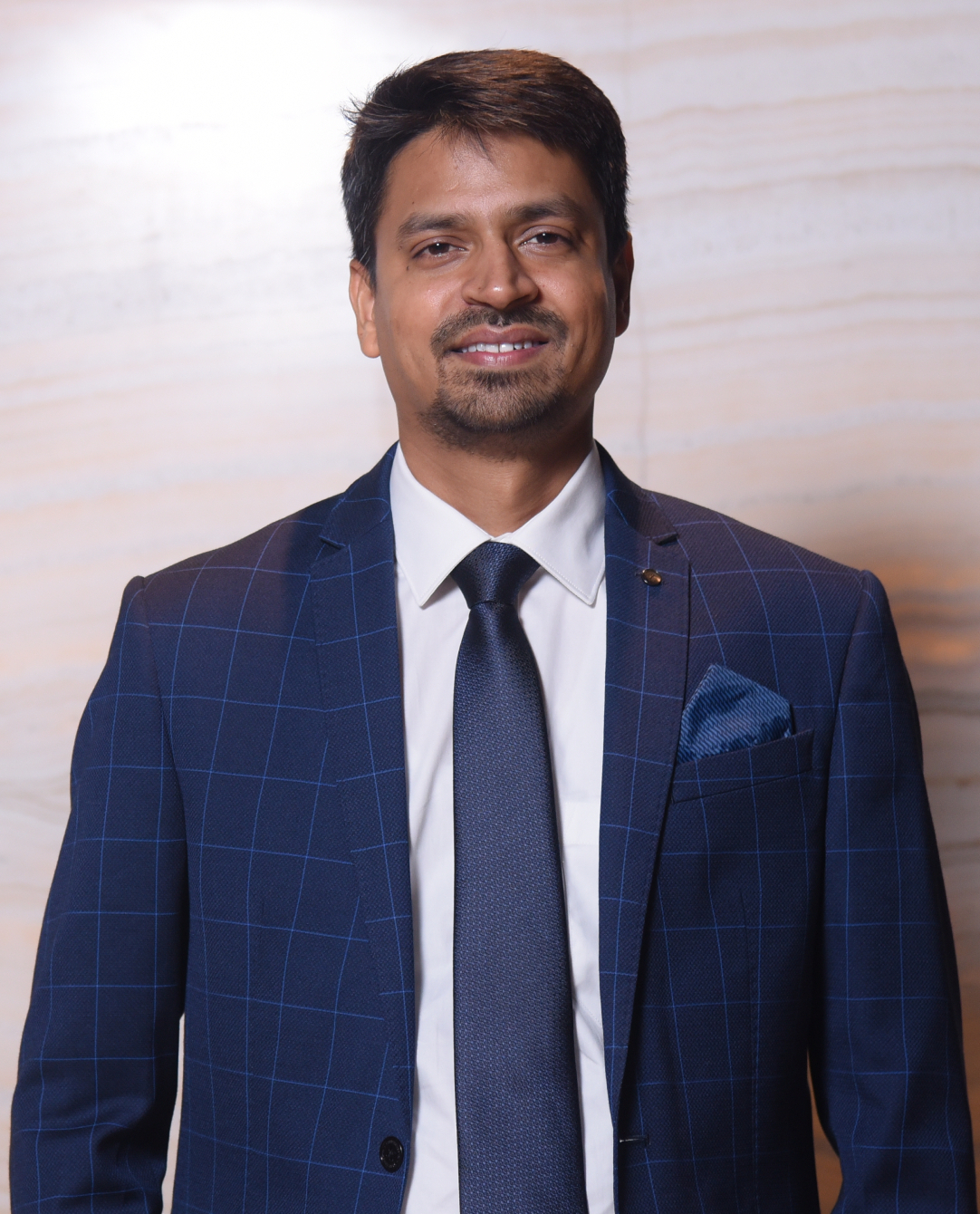 Rahul Mathur is the founder and managing director of ARKA Softwares, a company renowned for its outstanding mobile app development and web development solutions. Delivering high-end modern solutions all over the globe, Rahul takes pleasure in sharing his experiences and views on the latest technological trends.