Introduction:
Driving is fun, relaxing, and can be liberating. But, driving through the peak city traffic when you have too much on your mind can be extremely stressful and sometimes dangerous.
Driving to another city for work or attending a family function can ruin your day, as you may be too tired for the presentation or the festivities. Also, if you are running a business and have a cargo truck with an order that needs to be delivered ASAP, but your regular driver is sick and cannot make it.
Or you cannot afford to hire an everyday driver but need to make shipments every now and then within the city or to nearby towns. You have a vehicle and all the necessary clearances, but a trusted driver is hard to come by.
The solution to both problems is a way to find trusted and verified drivers who have appropriate licenses and permits to drive your personal, passenger, or commercial vehicles when you need them. It is becoming challenging with every passing day to find trained, licensed, and trustworthy drivers for on-demand assignments and short-term contracts.
Our on-demand driver booking and hiring app work on the same principle of on-demand businesses that was first made successful and famous by Uber. That is one of the reasons we call our on-demand driver app the "Uber for Drivers," and for good reasons, as you will see.
The on-demand driver app is simple to use for drivers, who are usually not very well-read, and for clients from all walks of life – a corporate executive, a family going on vacation, a small shop or business owner, or even the operator of a large fleet of trucks.
Once you have downloaded the appropriate version of the app, there are different versions for drivers and for clients, register and start hiring drivers for your use.
If you are a client, you can set up an online payment mode using a credit or debit card or an eWallet. Similarly, if you are a driver, you can set up a bank account to receive online payments. There is always the option of making direct payment through cash or direct eWallet-based transfers.
Driver apps are becoming increasingly popular as a way for businesses to manage their delivery operations. If you're thinking of developing a driver app for your business, there are a few things you need to consider.
In this blog post, we will explore the process of developing a driver app for your delivery business. We will also cover the basics you need to consider with the help of some examples of driver apps. 
What is an On-Demand Driver App?
An on-demand driver app like Uber for passengers and for clients is a convenient and simple app to use. If you have earlier used any of the on-demand apps for a cab or food delivery, then you can use the app without any hesitation or difficulty.
To use the app, once you have set up your account and set up payment details, you can start booking your on-demand driver by just putting a pin on your current location and the type of service you need. The data analytics-enabled backend systems will instantly provide you with the best match in the form of multiple drivers.

Once you have selected the driver you need and then simply tap the "Book Now" or "Schedule for Later" buttons to call the driver immediately or at a scheduled time. That's it. Is this not simple and convenient?

As per your wishes, a professional on-demand driver will reach your selected address at the booked date and time.

If you have booked the driver services for commuting children or the elderly in the family, then the app provides you to track their entire journey live on the app. This feature also helps business owners and fleet operators to track their commercial vehicles – buses, passenger vehicles, taxis, pickups, and trucks.

When the one-way or the round trip completes, you can make the payment for the services in any manner you want – online banking, cards, integrated eWallet, or even cash. The online payment methods are secure, fast, and easy to use, just like the rest of the app.
Once the trip and payment are out of the way, you can rate the services of the driver and submit a review.

The on-demand driver app from the experienced team of Arka Softwares can be your next big money-spinner for these simple reasons. It is a god-sent for people on the move who need to squeeze every minute out of their busy schedules or for businesses that are frequently looking for a driver to transport their goods.

Most seniors own a car but cannot drive their cars due to heavy traffic or neurological or physical conditions. But that does not mean that they need to be confined to their homes and do not visit friends, attend functions, see doctors, or go out shopping.

With the services of our affordable, efficient, and careful drivers, even the elderly can leave the confinements of their homes and go shopping, picnic, visit friends and attend functions.

The registered drivers are efficient, with thousands of hours of driving experience under their belt. The driver registration process is thorough, and their details like driver's license, background verification, and testimonials from their employers.

A professional team of Arka Softwares has experience in developing many successful on-demand apps, they have all the details and technical expertise to create the app of your dreams. As the business owner or the visionary, you are then free to take care of the business aspects like driver onboarding, client acquisition, financing, marketing, and acquiring appropriate licenses.
What is On-Demand
Driving
Businesses?
The opportunities in the global on-demand transportation services market are growing with the increase in business, more people opting for home delivery of goods, and increasing the cost of vehicle ownership. The traffic and parking conditions in many cities are also not very conducive for owning a personal vehicle or taking it out to the office or market. 

Commercial and passenger vehicles need trained and efficient drivers who are challenging to come by these days. If you own a car and need a driver for a short trip, then the drivers you know may not be readily available. Therefore, finding a proper and fit driver at a moment's notice is difficult.
Rapid strides in technology, especially in mobile apps and mobile Internet, have made it possible to develop business ideas that were not even conceivable a decade ago. The on-demand drier app is one such idea.

Once enough drivers come on board, the app acts as an AI-powered matchmaker for them with specific and short-term client needs. The affordability of smartphones and mobile Internet data plans has bridged the digital divide and brought people closer than ever.

The global demand for on-demand driver services is increasing for all kinds of passenger or goods transportation services.

The ATA or the American Trucking Association estimated that in 2018 more than 50,000 trucks cannot be on the roads for want of trained drivers. 

The ATA further predicts the eCommerce and home-delivery model will create additional demand for 125 thousand of drivers in the American trucking industry by 2026.

Trained drivers are not only needed for trucks or buses. They are also required for home delivery of goods, food, and groceries. These couriers must have a driver's license to register and earn money.

There are many reasons in the technology domain that have contributed to the rise of the on-demand business model in general and particularly the on-demand driver app.

To understand how this business will work and what kind of technical support you must expect from your service provider, look at these new-age technologies, including IoT, AI &  ML, high-speed mobile Internet the app ecosystem. 
Internet of Things (IoT)
The Internet of Things or popular IoT is the technological solution arrived at after combining embedded sensors, chips, and mobile Internet connectivity.
The on-demand driver app can help the driver during their trips to find the best route possible and can also track the vehicle with the help of IoT which is also beneficial for the Logistics Industry.
5G networks:
The 4G mobile networks now cover more than 80% of the total connected area of the world. In some advanced countries, like Singapore, Hong Kong, Europe, and the USA, the 4G mobile penetration is 100 percent. Many countries have started rolling down faster and more secure 5G networks.
E-wallets:
The use of eWallets to make the micropayments model was an uber success. It allowed the users to make a payment without the risk of losing cash or carrying their cards.
It is fast, safe, and straightforward. The e-wallets enable users to keep a digital trail of all the transactions they have made for tax and record purposes.
Artificial Intelligence:
Affordable Artificial Intelligence (AI) solutions enable small businesses to compete on a level playing field with their large counterparts.
They help on-demand driver app businesses to reduce the costs of operations and bring efficiency to their process. AI chatbots can help you reduce the number of human agents needed for answering customer calls and requests. 
Data Analytics and Machine Learning:
Data analytics and Machine Learning (ML) are used to find the best drivers for any needs of the client – within-city driving needs, inter-city trips, passenger vehicles, or goods carrier needs. The ML systems can make the matchmaking between the drivers and the clients with efficiency and accuracy.
Along with AI, ML systems and data analytics can help you improve workflows, driver hiring processes, driver onboarding processes, order processing, reduce cancellations, and automate notifications.
The Market Size of on-Demand Driver Apps:
Some of the largest startups across the world, after the resounding success of Uber, follow the on-demand business model. The on-demand driver apps are there to help fulfill a longstanding need among the customers of the app.
The on-demand driver apps have resulted in spectacular growth, an increase in market share, attracting more investments, generating revenues, and enhancing profitability. The moguls with excellent ideas and delivery models sigh with relief with the technological aspects of the business taken care of by the feeling.  Some interesting facts and statistics are:
As per a report from Atlas research, three-fourths of VC funding has gone into to top five on-demand startups. Among these top-five startups, the four apps relate to on-demand Travel and transportation.

A Grand View Research report finds that the global on-demand transportation services market size was USD 75.0 billion in 2017. It is expected to grow at a CAGR of 19.8% between 2018 and 2025.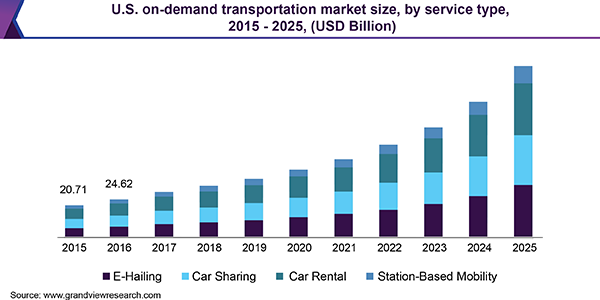 The global on-demand food & grocery delivery app segment revenues were USD 8 trillion in 2017 and will cross USD 11 trillion by 2024 at a CAGR of 6.8%. This is according to Global Data Analysis and Forecast report.

According to the same report, more than 10% of all global grocery sales will be made online via on-demand apps before 2023.
How do driver apps for delivery business work?
There are a few different ways that driver apps can work. The most popular and user-friendly option is to have the app integrated with the GPS on your phone. This allows the app to track your location and give you turn-by-turn directions to your destination.
Another way that driver apps can work is by using a geofencing system. This system uses GPS to create a virtual perimeter around a certain location. With this, the app will automatically start tracking the driver's progress and provide them with turn-by-turn directions to their destination.
Driver apps usually use a combination of GPS and geofencing to provide the best possible experience for users. This option gives drivers the ability to see their current location on a map, as well as get turn-by-turn directions to their destination.
Business Model of Driver Apps
As the service provider behind the on-demand apps, you can charge a nominal fee from the service provider or the clients. There can be advertisements to bring more revenue.
Service Fee:
The app provider can charge a fee at flat rates or as a percent of the total ride amount charged. This is a sustainable model and increases your revenues as the number of rides keeps on growing.
In-app Advertisements:
There can be video ads, banner ads, and e-mailers where you want to capture the interest of the driver or the clients to make purchases of the articles shown.
Location-Based Advertising:
Geolocation advertising is helpful in providing ads to clients or onboard drivers based on their current location. These location-based ads can help your clients explore the fast-moving city, but it will take the same time.
Types of On-Demand Driver Services:
Drivers provide different kinds of services – some have experience in driving sedans and limousines, while some can take full trucks across the country.
Depending on the type of services you need from drivers and the experience of the drivers, we can divide them into some categories.
Private Car Drivers:
These drivers are experts in driving any private car ranging from hatchbacks to SUVs, from a luxury sedan to a Limousine. These drivers are discrete, careful, and patient, and know how to deal with their passengers politely and with understanding.
You can hire the services of these drivers for short trips within the city to an office, mall, clinic, home of friends, or even a picnic spot.
Their services are available on a per-hour basis from a minimum of one hour to a whole day. You can book their services for many days in continuation. This is especially beneficial if you visit the city only for a few days.
Taxi Drivers:
These drivers have a commercial license to drive registered taxi cars. Cab companies and operators can hire the services of these drivers to cover extra shifts during festivals, sports tournaments, and large events in the city. These drivers are available to fill the spots of regular drivers in case someone is sick.
Passenger Traveler Drivers:
Small family trips or a picnic with friends can lose meaning if only one or two-person has the responsibility to be attentive and keep an eye on the road.
With the services of these drives, you can enjoy the party on the road with your friends in the back cabin, while a responsible driver will take you to your destination.
Bus Drivers:
Bus operators frequently need the services of an extra bus driver when someone in the on-roll driver takes a vacation or is on sick leave. These bus drivers have the requisite licenses, training, and permits to take a bus full of passengers for a long trip.
Pickup Drivers:
For short trips to deliver goods within the city limits, the service of drivers for pickup vehicles is also available. These drivers can take your interests and deliver them to the intended clients' location. These drivers can also be hired to deliver products to a client's doorstep.
Truck Drivers:
Trucks provide the most flexible and very affordable mode of transport for a long-distance commute. If you are a fleet operator, and one of the drivers is sick, you can always find a dependable driver for short, as well as extended trips of many days. 
Heavy Equipment Drivers:
Heavy equipment like cranes, excavators, and mining equipment needs special training and license to operate. Because of their bulk and heavy equipment attached to them, they require fine calibration with perfect hand-eye coordination.
Most Famous Drivers Apps Across World
Uber:
If you're looking for a driver app for your delivery business, Uber is a great option. With Uber, you can get access to a wide range of features that can make your work more efficient and effective.
Ola Cabs:
The Ola driver app is a great way for drivers to stay connected with their passengers and make sure they have a smooth ride.
The app provides drivers with all the necessary information, including directions, fares, and passenger contact information. It also allows drivers to track their earnings.
Rapido Bike Taxi:
Rapido is a bike taxi service that operates in many cities across India. Rapido offers several advantages over traditional taxi services.
First, bike taxis are often faster than cars, so they can get you to your destination more quickly. Second, they are less expensive than car taxis. And third, they are more environmentally friendly than car taxis.
Benefits of an On-demand Driver App
Convenient Booking Module for Customers:
The on-demand driver app provides a convenient and easy-to-use module or app for clients. Using this client app, you can book an on-demand driver for immediate services or schedule them for late night or early morning to pick up or drop you from the airport.
Scheduling the Ride:
Not all requirements are immediate, and sometimes clients would like to be assured of services at a future date and time, within a week.
Clients can schedule a pick from the airport before boarding the flight or can schedule a drop at the airport early in the morning. Once a driver accepts the order, their reliability ensures that they reach the location on time so that you do not have to wait.
Direct Calling:
To help the drivers take your family members, or goods, from point-A to point-B, to the destination, you can make a call to your hired driver. As you will get their live location, you can rest assured that your driver is within the speed limit and driving safely.
Live to Track:
In the case of a commercial fleet operation, live tracking of goods is necessary. The same goes for when you hand over the keys to your dream car to a new person. You do not want them to be lost or to be stuck in a traffic jam.
Order Management:
The transaction history, past orders, cancellations, payments, and complaints raised by you from time to time are always kept in your encrypted digital vault. Order management becomes a breeze for all customers.
Review and Ratings:
Customers want to rate the services of their drivers and leave reviews about them. A highly-rated driver will get more offers to drive the vehicles of the passengers and can also charge at a higher rate.
Push Notifications:
The on-demand driver app provides a push notifications service to keep the client and drivers alert of many essential features and systems states. These notifications tell you the ETA at the destination, order booking, cancellations, payment made online, etc.
Features of On-Demand Driver App
The on-demand driver app provides customized solutions at affordable charges to our clients.
Search and Filter
The AI and ML-powered system can optimize the search for the nearest driver who can take your assignment and deliver your passengers or goods across the city. 
Bidding
If your clients want, they can let the drivers place bids in a reverse auction and compete for assignments. This is most suitable in the case of long-distance and long-duration carrier trips. 
Estimated Fare
As soon as you key in the required details for your drivers, the system will generate an estimate for the minimum and maximum fares that will be applicable. With this, the client can decide if they wish to continue or not.
Integrated Payment Gateway
The on-demand driver app has an integrated payment gateway to allow multiple modes of making the payment. Safe and secure methods include credit cards, debit cards, internet banking, and eWallets.
Real-time Tracking
The app provides real-time tracking of the vehicle with the help of the mobile tower and GPS coordinates. This allows you to keep track of their speed limits and behavior.
Accept/Reject Booking Request
Drivers can accept or reject the request generated by the system, depending on their availability. The system is running 24×7 to help them.
Push Notifications
With an integrated push notification API, you can send real-time alerts and notifications to drivers and clients will help them track the movement of the vehicle.
In-app Messenger
With in-app messages enabled in the system, the drivers and your users can stay in touch with the various developments in their future and ongoing rides.
Navigation
With access to the latest Google Maps API, the integrated navigation system helps the driver avoid traffic jams and road closures.
Background Check
The automated system checks the driving license for each driver from the government database. In case any of the driver's licenses are not verified, they can be checked manually later.
Ratings and Feedback
Users can rate your on-demand driver app as well as their service provider driver. Positive feedback and high ratings can help a driver get more business.
Book Now or Schedule
Users may book the on-demand services of a driver for immediate needs, or they can schedule their booking for the future.
The on-demand app will be a set of three apps/solutions to be used by the system admin, the user, and the driver. Their features will be a little different as per their needs.
User Panel

Driver Panel

Admin Panel

Billing

Book driver for now/ Schedule

Booking Confirmation

Driver Details

Drop Live Location

Feedback

Make Payment

Set Pick-up Location

Search nearby drivers

Select ride type: Round trip, One way

Sign-up/ Login

View My bookings

Register/ Login

Accept/ Decline request

Dashboard

Go Online/Offline

Login after account authentication through Admin

Rider Details

Total Earnings

Withdraw payments to a bank account

Feedback

Driver Management

Driver authentication and management

Customer Management

Data Analysis

Help & Support

Manage Content

Manage Reviews and ratings

Promo Codes

Sign-up/Login

Support

Surge Pricing

User Management

Vehicle Management

View Reports and Earnings
Advanced Features
of On-demand Driver App
These are the features that will make your on-demand driver app stand out.
Offline Availability
As drivers will take the vehicle, there will be many blind spots on the route where there will be limited or no mobile network coverage. The on-demand app developed by <<ABC>> can be used offline in such situations for navigation, push notifications, and billing. 
Data Analytics
The on-demand driver app has support for basic data analytics in the free version, and a complete setup is covered in their failures.
Route Optimization
With Ai and ML, the journey time of the trip can be shortened with the help of route optimization.
Surge Pricing
If the demand for drivers is very high or many of them are not available, then the system will implement the surge formula to help attract more drivers to the system to stabilize it.
Document Upload
Drivers need to upload various documents such as address proof, ID proof, driver's license, and experience letters. These documents are thoroughly checked for background verification purposes.
Multilingual and Multi-Currency
Users and drivers may speak different languages. The in-app translator can help establish communication in multiple languages to make it popular overnight.
How to Create an On-Demand Driver App?
Assuming you have a delivery business and want to develop a driver app, here are a few steps to get you started:
Define your Business Needs:
The first step is to clearly define your business needs. What issue are you attempting to solve with this app? What features will it need to have? Knowing the answers to these questions will help guide the rest of the development process.
Create a Prototype:
Once you have an idea of what you want your app to look like and do, build a prototype so you can start testing it out.
Find Beta testers:
Ask friends, family, or others in your network if they would be willing to try out your app and give you feedback. This is an important step to ensure that your app is user-friendly and meets the needs of your target market.
Launch your app:
After making any necessary tweaks based on feedback from your beta testers, it's time to launch your app to the public! Promote it through social media, online ads, or word-of-mouth to get people to use it.
Why Choose Arka Softwares for developing such Apps?
Our on-demand driver app solution is designed to withstand the most challenging situations with a team of experienced professionals. We have deployed cutting-edge technology with great features within the app to benefit our customers.
One-touch Integration
The Arka Softwares one-touch integration allows the customer to set up and deploy the app as soon as possible. Our master panels are available through a web-based application where you can set up the preferences and settings.
Simple Solutions:
Our solutions are designed with the layperson in our focus. The layperson must know how to use a smartphone to download and install the app. The visually guided tour and intuitive design make it easy to adapt and use.
Technologies Used:
We have used various technologies & API Mentioned below: Laravel (PHP Framework) 5.7 NodeJS with HTML CSS JavaScript as frontend JAVA, SWIFT, XML, XCODE Android studio JWT for Authentication.
Package MySQL Database with MailGun for mail config, Google Map Places API, Google Static Map API, Payment Gateway, Facebook Account kit for OTP verification & Many more other tools & technologies, API.
Wrapping it up:
To start your enterprise, get an Uber for driver booking app in-app permissions may be given.  With over 10 years of expertise in mobile app development, Arka Softwares can create a robust and dependable solution for an on-demand driver app for system admin, drivers, taxi owner, and their customers.
Therefore, we have highly qualified Android and iOS app developers to provide top-notch, secure, and effective driver-booking mobile apps. Contact Arka Softwares today for on-demand driver service app development!
FAQs for Driver Mobile app