In today's world, healthcare services have gained greater significance. While there is an intrinsic demand for qualified medical staff, it is their availability that is critical nowadays.
Now, the major question is this: Are qualified experts accessible at the time of an emergency? While individuals are hesitant to seek medical help or treatment due to the lack of apt services and assistance, telemedicine app development businesses have stepped in to help.
With such a market that continues to grow in popularity on a regular basis, investing in telemedicine application development may be the best method to build the healthcare business.
What is Telemedicine App?
Telehealth apps connect healthcare practitioners and patients in a digital environment facilitating access to treatment. It enables patients to communicate with clinicians from any location and at any time.
Physicians are capable of assessing, diagnosing, and treating patients through a variety of appointments kinds, including follow-up procedures and conferences.
3 minutes is the typical wait time for a patient accessing a telemedicine app to interact with a doctor.
As a result, people no longer need to spend hours in waiting rooms to see a doctor.
Telemedicine apps come in a variety of options:
1. Interaction in Real-Time
With the use of video/audio chatting, healthcare practitioners and patients may communicate directly. Doctors and patients can see and speak to each other using the telemedicine app for real-time conversations.
2. Virtual Monitoring
On-demand teleconsultation apps could also be used to handle high-risk patients, allowing healthcare practitioners to monitor their activities and vital signs remotely using wearable devices and Internet of Things-enabled wearable sensors.
3. Store-and-forward
Telemedicine applications with store-and-forward functionality enable healthcare professionals to exchange a patient's medical records, including blood and urine tests, laboratory results, and photos with a surgeon, psychiatrist, or other specialists.
How Does a Telemedicine Application work?
Telemedicine applications are easy to interface with and operate. It is modeled around the typical medical consultation but takes place in the digital environment.
To schedule a doctor visit, patient registers on the app, discuss their concerns, and shares their medical records.

They select an appropriate specialist from a list of available physicians and arrange an appointment.

Based on their timetable, the clinician may accept or decline the consultation. The patient will be informed of this and given instructions on how to proceed.

Once an appointment is made, the session takes place through video or phone call on the specified day and time.

The doctor examines the person, analyzes them, and offers appropriate therapies or tests during the session.

The doctor provides medications virtually through e-prescriptions, instructs the patient on proper medication administration, and schedules the patient's next appointment if required.
Why is Telemedicine App Development Gathering Momentum?
1. Ease of Use
Arranging consultations in advance, traveling to the hospital, and standing in a large queue is hardly the most convenient way to obtain medical help. According to a Cisco survey, 85% of patients choose telehealth services over face-to-face contact with healthcare practitioners.
Patients no longer have to wait in lengthy rows to see several specialists when they use a telehealth or telemedicine application. Rather than that, patients can book a virtual doctor's appointment and connect as soon as possible. It enables essential therapy to begin swiftly and efficiently.
2. Maintaining Medical Records
Telemedicine apps enable doctors and patients to easily access one another's medical records. It resolves the interoperability issue by enabling several clinicians to easily access a patient's past information.
As a consequence, doctors may treat patients considerably more effectively when they consult their prior medical data.
Also, patients have the option of sharing their medical history with relatives, friends, and physicians. They are no longer required to store paper medical records or papers in their closets or cabinets.
3. Easy Time Management
Healthcare practitioners can more efficiently schedule their activities with the help of a telemedicine application. Due to the fact that doctors may treat patients and give consultations from the convenience of their living room, doctors will be able to advise a larger number of patients simultaneously.
These solutions are designed to help physicians have a healthier work-life balance.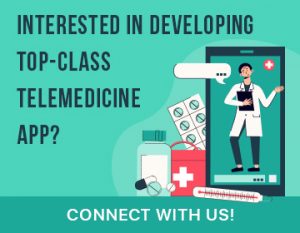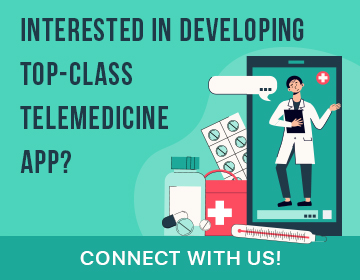 How are Telehealth and Telemedicine Apps Different?
The words "telehealth" and "telemedicine" are considered synonymous in most healthcare sectors. Indeed, the ATA regards the words as identical.
This is owing to the fact that the telehealth and telemedicine descriptions cover many of the same services, including medical training, e-health patient monitoring, virtual patient consulting, mobile health apps, and the distribution of e-medical documents.
To be more precise, telemedicine is a subcategory of telehealth. While telehealth is a comprehensive term that alludes to any health treatments delivered via internet technologies, telemedicine is more specialized.
Telehealth may refer to more general services, such as global health, but telemedicine is a subset of telehealth in which a clinician provides medical treatments.
Why Build a Telemedicine App?
1. Cost-Effective for Healthcare
Virtual healthcare services eliminate the need for enterprises to hire office space. As a result, more independent and skilled physicians may provide their expertise.
They previously worked for a corporation, but the feature of telemedicine apps enables them to become self-employed and deliver services according to their own comfort.
Clinics benefit from increased consumer flow as a result of the elimination of queues, and the whole consultation procedure becomes quicker.
As a result, hospitals may generate more income in a shorter period of time. Furthermore, research revealed that the average cost of healthcare equipment maintenance decreased by 90% when telehealth or telemedicine apps were used.
2. Healthcare Solution That is Time-Efficient
In a traditional hospital, some physicians work whereas others take the day off. A comprehensive health screening may take many weeks and several hours of commuting time.
However, this is not the case with telehealth apps. The time required for a person to obtain health treatments using telemedicine applications was decreased by 60%.
Telemedicine applications enable users to schedule a doctor's appointment at a time suitable for them without leaving their homes.
3. Access to Healthcare Made Simple
Telemedicine app development can be quite beneficial for those who reside in remote, rural locations.
When there are no local healthcare services, having an application and access to the internet is sufficient. Moreover, residents of nations with a low standard of healthcare can interact with international doctors.
4. Effective Time Management for Doctors
Approximately 25% of doctors, according to studies, struggle from exhaustion and despair. Both self-employed physicians and hospital and clinic workers may manage their time properly with telemedicine apps.
Doctors will never miss an appointment again with the assistance of in-app notification alerts.
Businesses may integrate CRMs with the application during the development lifecycle. This functionality enhances administrative staff and physician efficiency.
Administrators can monitor physicians' workloads to ensure they maintain a healthy work-life balance, while physicians may request sick leaves and schedule changes via the application.
5. Easy Access to Health Documents 
Telemedicine apps securely retain patient health records, making them available to clinicians on demand. A centralized repository for a patient's healthcare records saves the physician time.
Patients can also stay informed about changes made to their medical files.
Top Telemedicine Apps Of 2023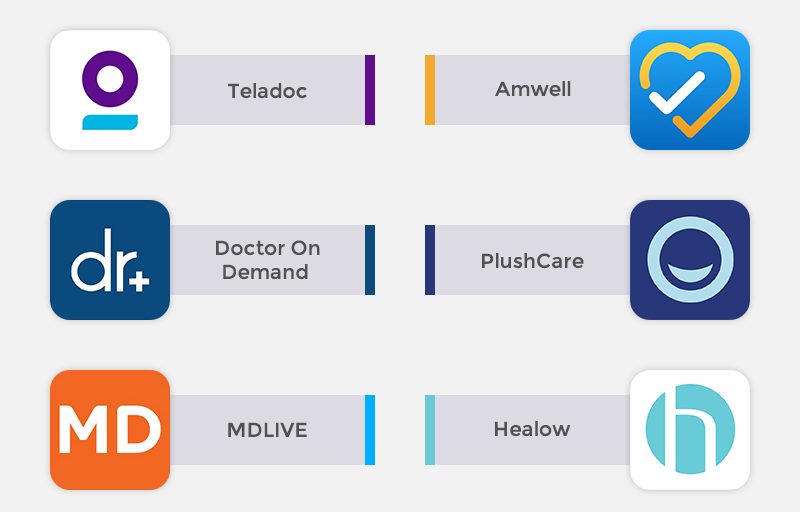 1. Teladoc 
Teladoc had been a market leader even before COVID-19 shocked the globe. Since 2006, the app has held more than 20 million virtual consultations, ranking it among the sector's largest number of telehealth appointments.
The fees vary depending on the specific specialist's demand. It often takes up to 24 hours to schedule and connect you with doctors.
2. AmWell 
It has been a critical player in providing comprehensive HIPAA-compliant and secure telemedicine services. At a modest fee, this application offers 24/7 healthcare help for emergency treatment, psychotherapy, and other problems.
Patients can make appropriate physician selections depending on their availability. Well, can record all interactions between patients and healthcare professionals and make them easily available to both parties.
3. Doctor On Demand 
This startup is always working to improve medical services in the United States. Doctor On Demand app is riding high on organization-level and consumer-centric solutions following a recent $80 million investment.
Due to the epidemic, the firm has witnessed increased traffic, and its appointment volume surpassed 4 million in the first quarter of 2020.
4. PlushCare 
PlushCare physicians treat a broad variety of ailments, from routine care to chronic medical concerns. Moreover, with same-day consultations accessible on a consistent basis, it is feasible to receive a diagnosis in as quick as 10 minutes.
It provides digital appointments from doctors who have graduated from the finest medical institutions.
5. MDLive 
MDLive connects patients with psychiatrists, dermatologists, and counselors via an online platform. Cost-effectively, this application has continued to provide doctors with seamless and secure consultations.
Although MDLIVE has consistently increased its yearly visitation by over 56 percent since 2016, COVID-19 has been a catalyst for a substantial increase in revenue.
Pros and Cons of Telehealth App
1. Telemedicine Benefits For Patients:
Accessibility
Telemedicine eliminates the need for patients to commute and see a doctor in person. This saves considerable time and money, and patients have early access to superior healthcare regardless of their location.
Security and Confidentiality
Numerous telehealth or telemedicine applications adhere to HIPAA regulations and place a premium on patient privacy via encrypted channels, one-on-one communication, and dependable medical software services.
There is No Risk of Epidemic
When used on a wide scale or in scenarios such as a global pandemic, the use of teleconsultation apps help patients decrease the danger of transmission of any virus, therefore minimizing the transmission of contagious diseases.
More Accessible and Affordable Healthcare
This strategy eliminates geographical obstacles and ensures that everyone has access to quick, cost-effective, and superior medical care.
Telemedicine is extremely useful for individuals who have transport difficulties or who have chronic conditions that require frequent monitoring, as they may receive medical services without leaving their homes.
2. Telemedicine Benefits for Physicians:
Improved Outcomes and Superior Healthcare
It enables clinicians and doctors to offer better healthcare by allowing people to communicate more regularly with their advisors and address any issue.
They can quickly track patients' progress, resulting in a more efficient, effective, and accessible healthcare system.
Enhanced Physician-Patient Engagement
Today's patients expect better treatment faster as a result of technological advancements and an interconnected world, which telemedicine delivers.
Healthcare practitioners and patients may communicate more frequently, and ask and answer numerous questions, leading to an improved relationship.
Providers with Job Satisfaction
With the use of telehealth, providers may maintain a healthy work-life balance and invest extra time in providing the finest services.
Cons of Telemedicine App
Technical Difficulties
Due to its reliance on technology, it might generate complications and cause therapy to be interrupted in conditions such as adverse weather, a lack of power, or technical constraints.
Not All Treatments are Appropriate
Telemedicine app is excellent for routine checks and main consultations, but in some instances, such as a physical examination, an injury or throat illness, or anything else that requires primary real observation, telemedicine is insufficient. In such instances, you should consult a physician.
Technical and Equipment Education
All doctors, medical personnel, healthcare workers, and professionals must undergo training on new techniques, technology, and telecommunications needs.
The cost of recruiting IT workers and acquiring equipment will grow.
Monetization Strategies for Telemedicine App Development 
1. Freemium Business Model
This telehealth app development category includes both free and premium versions of the app. The free version often only includes basic functions, but the premium edition includes extra features such as advanced capabilities.
The primary goal of this strategy is to get consumers to download the app for free in order to evaluate its usefulness. Once the app successfully engages consumers and meets their demands, the free consumers will almost certainly convert to premium customers in order to access additional features.
2. Paid
This strategy incorporates billing users for app downloads and is appropriate for specialist applications with a small target audience. Users may download the application for free from the app marketplace, but in order to use it, users must activate a plan from the app.
3. Subscriptions
Apart from freemium and paid strategies. There is another approach that provides a telemedicine application owner with additional revenue streams.
The subscription model is mostly utilized by health and fitness facilities, where consumers are notified when their membership is about to expire and they need to renew it to keep access to additional features.
How to Develop a Telemedicine App- Step-By-Step?
Step – 1. Choosing a Development Platform
Selecting a platform for your application is the initial step in developing a telemedicine application. The decision must be influenced by your requirements, as well as your financial and time constraints.
Conducting thorough research will assist you in determining which development platforms are most suited for your product.
Thus, if your audience prefers Android, you may create an MVP first and then go on to the iOS platform. It is usually prudent to launch your application on both platforms. Even though it will cost twice as much as the plan for a specific platform, you will be able to reach a far larger audience.
Step – 2. User Experience/User Interface Design
UI and UX are critical components of building a telemedicine app and should be planned out before you begin development. To create an amazing experience, the designer should take the following into account:
Quick boarding 
Effective enrollment of users not only reduces abandonment rates but also contributes to long-term success indicators such as customer lifetime value and engagement.
Given that not all clients of the telemedicine app are technologically competent, developing a registration process that guides users through the app's features and functionality enhances the user experience.
Usability 
Usability refers to the arrangement of layout, content, visuals, and other components inside an app that enables users to accomplish their objectives.
Assist your users by highlighting if icons are tappable, selectable, or swipeable. Always maintain consistency with gestures throughout the application to improve usability.
Reducing Search Effort 
Facilitate your customers in quickly locating what they need, in order to attract more customers and meet their demands.
There are several search methods that you may incorporate into your application, including search queries and barcode scanners.
Restricting User Input 
This refers to the information that users are needed to submit during enrollment or checkout, like their credit card and payment information.
On portable devices, user input must always be limited and must be auto-filled, as consumers may become annoyed by the limited screen size.
Personalization 
Personalization enables the user to have a more distinctive and related experience. Customize the user experience wherever feasible by utilizing user data to provide valuable content and information within the application.
The more closely an application's experience matches a user's wants and interests, the more inclined they will be to use it.
Step 3. Choosing an API
The following are some common third-party APIs that you can integrate into your application:
Vidyo 
With this telemedicine API, professionals may communicate with patients in real time. It does not need a text chat API because it includes one. Furthermore, users may share the screen and conduct group video conversations. 
VSee SDK 
It enables you to incorporate end-to-end encrypted video conversations into your iOS or Android healthcare application. Because the service conforms with HIPAA rules and comes with its own backend, no additional service is required to set it up.
Twilio 
It is a configurable video API that is compatible with all major desktop and mobile platforms. It includes APIs for text messages, voice communications, mail, and faxing that you can integrate into your telehealth application.
Step – 4. Development
The app development step entails creating the application in accordance with the accepted specifications. Telemedicine app development can be challenging due to the increased regulatory requirements.
A skilled development company that specializes in the healthcare sector and has extensive experience developing telemedicine apps can assist you with the complexities involved.
It guarantees that the product is developed with consideration and subjected to thorough testing to verify that it complies with all applicable legal and regulatory standards.
Step – 5. Quality Assurance
Analysis and Quality Assurance are critical aspects of the SDLC. Prior to final deployment, the telemedicine application must undergo stringent testing throughout each sprint, user acceptability testing, and bug fixing.
Moreover, it should be subjected to stress testing to guarantee that it is capable of handling a massive flood of users enrolling and functioning efficiently.
Step – 6. Deployment and Support
After completing the preceding steps, the telemedicine app is deployed to the servers and made available for download and testing via the app store.
Consumer Feedback must be gathered following the app's deployment and must be implemented into the administration stage to make sure that the user experience is seamless.
Features of Telemedicine App
1. Basic Features of Telemedicine App
Doctor's App
Telemedicine Doctor's App enables doctors to,
List and Profile Doctors,
Authenticate Services,
Schedule Appointments, Share Prescriptions,
Record Video Sessions,
Instant Payment Collection and more.
Patient's App
Telemedicine Patient's App enables and aids your patients to/with,
Easy Registration
Filter Medical Issues,
Browse Doctors' Catalog,
Schedule Appointment,
Get Video/Audio/Text Consultation,
Cloud Storage for storing reports, recording communications, and more.
Admin's Panel
Through the admin panel, the healthcare professional can perform the following activities:
Manage Users,
Access Analytics Dashboard,
Overview of Patients' Medical Records,
Review User Management,
Get Detailed User-Based Insights, and more.

2. Must-Have Features For Telehealth Application Development
For Patients:
Registration
Anyone interested in using a telehealth application must first enroll and set up an account. Don't ask for many details from the user in the registration process.
Keep it simple to a phone number, email, and password.  Additionally, since the user accounts will include sensitive data, it is advised to integrate two-factor authentication to ensure maximum security.
Search
The application should have a search tool that enables patients to easily locate required specialists.
Users may want assistance in locating physicians depending on their expertise, geography, gender, or ranking. A search function will assist them in locating a physician who matches their specific needs.
Communication
This is a critical component of the telehealth app, which connects physicians and patients through the web. Based on their preferences and comfort level, they can communicate through audio or video.
If it is important to demonstrate injuries or effects, a video is required. Developers must exercise caution in order to provide consistent and high-quality video service.
Chat
There may be occasions when audio/video communication is not necessary. In these instances, chats can be employed. Chats are handy for resolving quick issues or sending images/reports.
It does not necessitate additional consultations or divert doctors' attention from their duties. Chats must allow attachments and it is even better if it is powered by an AI support system.
Appointment Scheduling
Users should be able to schedule consultations with their preferred doctors. They must be allowed to view available time slots for specialists and schedule a consultation at a time suitable for them.
Calendar
To keep track of and schedule their doctor visits, a calendar is essential. Patients should be able to view a record of their sessions and, if necessary, amend or cancel them.
Payments
Users must be able to make secure online payments for their appointments. They should have a variety of payment choices and should be able to view their account activity and perform transactions smoothly and quickly.
Notifications
It alerts patients of future appointments, session rescheduling, and prescription renewals, among other things.
For Doctors: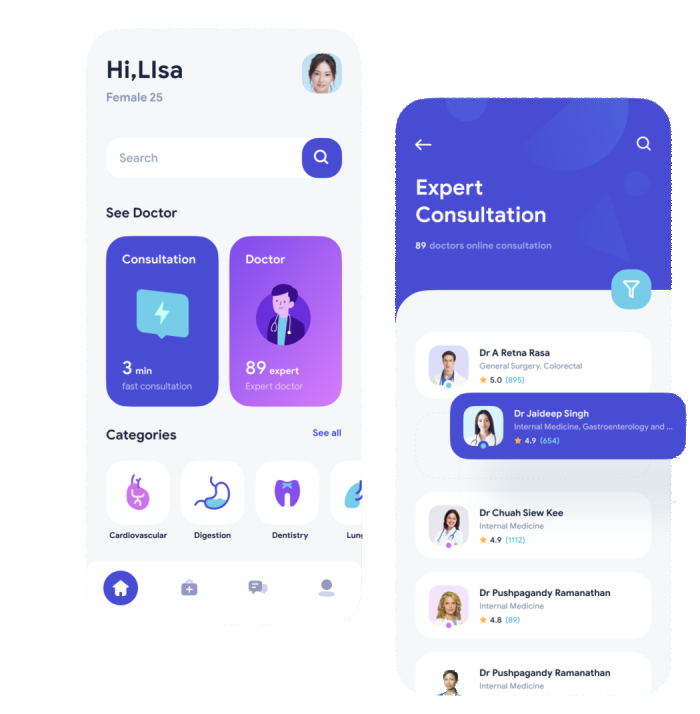 Doctor Profile
Similar to patients, clinicians must create a profile that contains details about them. Doctors' profiles should include information on their specialty, education, experiences, and accomplishments.
This will assist patients in selecting a specialist.
Schedule Planning
The doctor's application should have a function that enables practitioners to manage their appointments.
This involves scheduling their available dates and times, organizing their consultations, and scheduling their daily routine. Moreover, doctors should be allowed to accept or decline consultation requests.
EHR Review
After one patient's consultation has been confirmed, clinicians should have access to their medical information.  Doctors can review patients' medical histories and early responses.
This provides them with an overview of patients' problems and enables them to make more accurate and timely diagnoses.
E-Prescriptions
Doctors can create e-prescriptions and deliver them digitally to customers or other divisions so patients can order medicines from online pharmacy apps. This is a very remarkable characteristic of telemedicine apps.
Real-time Monitoring
Telemedicine or telehealth applications should provide a virtual waiting room in which physicians may keep track of their appointments. They must be able to view information such as the number of successful consultations, the number of outstanding consultations, and the specifics of forthcoming consultations.
Notifications
Just like with patient applications, notifications alerting the doctors about scheduled consultations are a critical feature.
For Admins:
User Management
The admin should have total control over the app's users.  They should have the ability to add and delete users, accept or reject profiles, verify consultation, and update user data.
Medical Records Administration
The administrator should be responsible for managing all medical records pertaining to patients, including treatment histories, test results, prescription data, insurance papers, and the medical claim process.
Finance Management
The administrator is in charge of all money transactions made via the telemedicine application. He must be able to keep track of costs and earnings, generate invoices, and collect payments.
Tech Stack of Telemedicine App:
Front-end development – React Native, ReactJS, VueJS, and NextJS (top frameworks)
Deployment – Netlify, Vercel, and AWS S3
Design and prototyping – Ant Design and Bootstrap
Back-end development – NodeJS, Ruby on Rails, NestJS or ExpressJS
Third-Party Technologies and Tools –
Flexible search function – Elastic search and Algolia
Geolocation & GPS tracking – Google Maps
Cloud-based messaging – Firebase Cloud and Twilio
The Cost of Building a Telemedicine Application? 
The response to this question is not that straight and simple. Numerous factors influence the cost of developing a telemedicine application. However, these are some of the major factors:
The app's functionality and complexity.

Development timeframe.

Required APIs and other system interfaces.

Development team's abilities and expertise.
1. Development of Simple vs Complicated Telemedicine App
A simple telemedicine application development company takes around three to six months to build and launch an app.
Based on the scale and skill of the development team, the cost of building a basic telehealth application that facilitates real-time consultations can range from $50,000 to $75,000.
A feature-rich telehealth application that requires many API interfaces has more complicated functionality and connects with other services like an EHR, scheduling appointments, or payment processing can take between eight and eighteen months to create.
The cost of building a complicated telemedicine application might range from $200,000 to $450,000, based on the number of features required and the complexity of the application.
2. Development of an MVP vs Fully Loaded Telemedicine App
The expense of telehealth application development is also dependent on whether you want to build an MVP or a fully-featured solution.
Using an MVP-first strategy enables sustainable development to occur while minimizing project risk, therefore reducing development costs.
Healthcare companies may also include end-user input into the development of an MVP, resulting in a telemedicine application that better satisfies the user's need.
Developing a full-featured telemedicine application app like-vet on demand is a far more expensive endeavor since the work plan expands significantly.
3. Development of Native vs. Cross-Platform Telemedicine App
Native application development entails the creation of two unique apps for the iOS and Android platforms. The production team's efforts are multiplied by two, thereby tripling the costs.
When developing cross-platform applications, a common code base is used that is concurrently deployed on both the iOS and Android frameworks.
While native applications provide a high-quality user experience, cross-platform application development helps to keep production costs down.
Furthermore, the cost of building an Android is somewhat greater than the cost of developing an iOS since it involves testing on a larger number of devices to guarantee that the app works flawlessly and delivers an exceptional user experience.
Required Development Team for Telemedicine App
The team size you employ will have a direct impact on the expenses associated with developing a telemedicine application.
The cost is not only determined by the size of the squad, the team's experience and skills are critical. By collaborating with a project team with extensive expertise in the healthcare sector, the effectiveness of the telemedicine application will be enhanced and regulatory standards will be satisfied.
However, excellence comes at a cost, and collaborating with professional tech workers involves its own cost.
Likewise, if you want to incorporate cutting-edge technology into your application, such as data analytics, machine intelligence, or IoT the accompanying expenses will grow automatically.
How to Choose the Perfect Telemedicine App Development Company?
Telehealth or telemedicine has evolved from a distant possibility to a present reality. Investment in telehealth application development is a wise move at the moment, given how it has the potential of becoming the foundation of healthcare in the years ahead.
However, this raises the dilemma of how to pick the correct healthcare firm. Hiring developers for telemedicine applications requires much study and preparation.
You may either build apps in-house or outsource them. Both have their own set of advantages and disadvantages. However, the service should be dependable and trustworthy.
We are a reputable app development company with a track record of building hundreds of efficient telemedicine apps for the healthcare sector.
We have an in-depth understanding of the healthcare industry and its dynamics. Also, our years of experience in developing smartphone apps qualify us as specialists in this field.
FAQs for Creating a Telehealth App