The emergence of innovative technology has transformed the way businesses used to interact with their customers, offer them highly customized services, manage their lead generation function, and provide top-notch customer services to the consumers.
The customer's data is the key for any business here, as the capability to analyze and process the data and make informed decisions gives your business the much-needed edge.
However, with time it has become daunting for businesses to process the humongous amount of data in a unified manner.
To overcome these challenges, Salesforce development came up with its unique tool, which is Analytics Cloud. It has attained immense popularity due to its unprecedented capability of making the process of reporting and analyzing data a lot easier for customers.
Salesforce Analytics Cloud: Introduction
It is a highly robust and secured cloud-based analytical solution, that has been developed to assist medium and large-size organizations to fetch and analyze loads of data efficiently and rapidly. Analytics Cloud is powered by Einstein Analytics and Tableau tools.
It empowers the users to identify relevant trends, elevate their productivity, and help them comprehend the logic behind data fetched and analyzed. Analytics Cloud fortifies Customer Relationship Management (CRM) by providing self-service analytics applications that can offer deep insights into the collected data and trends.
Why does your Business need Salesforce Cloud Analytics?
As we said earlier 'Data is the Key' for any business, and anyone business that analyzes the data to gather better insights and decision has a better chance to outclass its competitors.  
According to research conducted by McKinsey & Company, organizations that analyze and use it for decision-making have 23 times higher customer acquisition prospects, 6 times better customer retention, and 19 times healthier profitability than the organizations that don't utilize data at all.
Although we had legacy Business Intelligence tools, those were not designed to address the emerging data and other technology-associated challenges. The conventional tools used to take months or even years to set up due to their non-agile nature.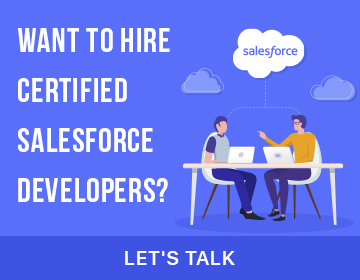 They were not flexible and used to carry out a very limited set of functions. Whereas the accessibility was another issue with those systems as they required domain specialists to operate.
The Salesforce Analytics Cloud is developed entirely on the cloud infrastructure with functions designed to cater to the modern requirements of any business.
Read Also: Reasons Why You Should Choose Salesforce for Your Business
Salesforce Analytics Cloud – Benefits for your Business
Salesforce Analytics Cloud can offer the following benefits to your business :
Enhanced Performance
Administrators and Managers can simply analyze the pipeline and its overall performance and compare the pre-defined parameters with the actual output.
You can thoroughly analyze the performance of an individual employee and take corrective actions wherever it is required.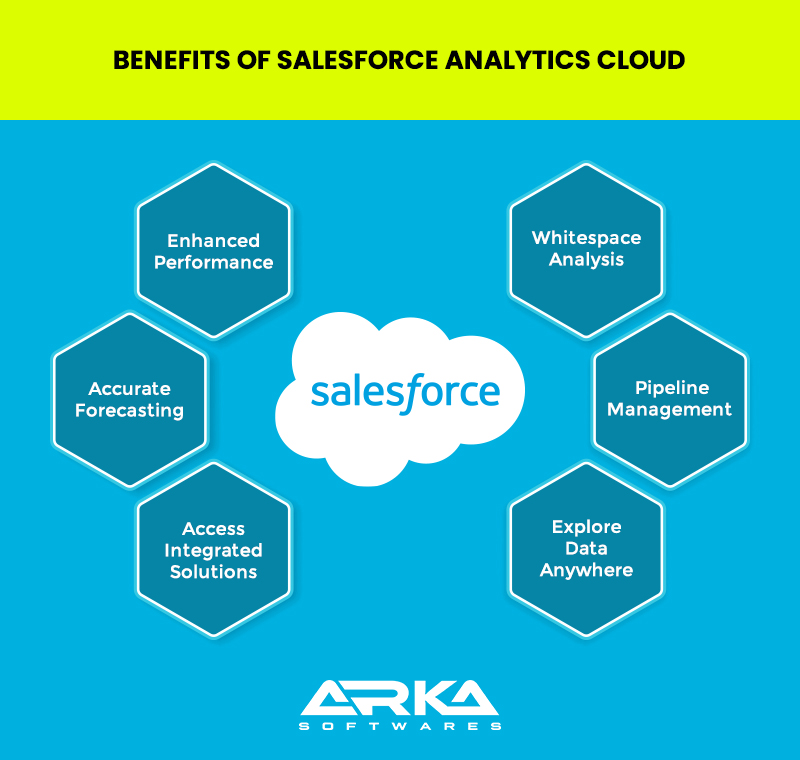 Whitespace Analysis
A perfect whitespace analysis helps the business to remain focused on the correct set of deals and customers. It helps you to determine which product could be sold better, and what set of customers could be tapped with targeted offerings. You can make an informed decision to realize the prospect deals easily.
Accurate Forecasting 
This is important for any business, as it helps management to predict future sales and revenue accurately. The in-built forecasting dashboard could be utilized to develop a precise sales plan for the current and upcoming quarter and take the required steps to close the deals successfully.
Pipeline Management
Using pipeline management tool can help businesses to comprehend the flow of their opportunities and sales pipeline in real-time. Businesses and managers can effectively analyze new deals, compare them with existing deals and take required corrective steps to complete the sales cycle successfully.
Access Integrated Solutions
If your organization already has an integration of Salesforce Analytics Cloud with Service and Sales Cloud then it will be a cakewalk for you.
It will help you spot the ongoing and forthcoming trends and analyze the KPI (key performance indicators). It also offers Einstein Analytics and Tableau suite to meet the requirements of any function or industry.
Explore Data Anywhere
Analytics Cloud helps your business to leverage the visualization capabilities of Tableau to access data from various internal and external sources.
It also enables you to explore and visualize the data using the built-in applications and dashboard. The mobile-friendly design helps you manage the data from mobile devices such as smartphones, iPads, and tablets.
Salesforce Analytics Cloud – Prominent Features
It is a comprehensive tool that helps organizations to analyze the trends and assess the performance and productivity of their business. It uses Artificial Intelligence that helps businesses to identify emerging opportunities and predict critical decisions.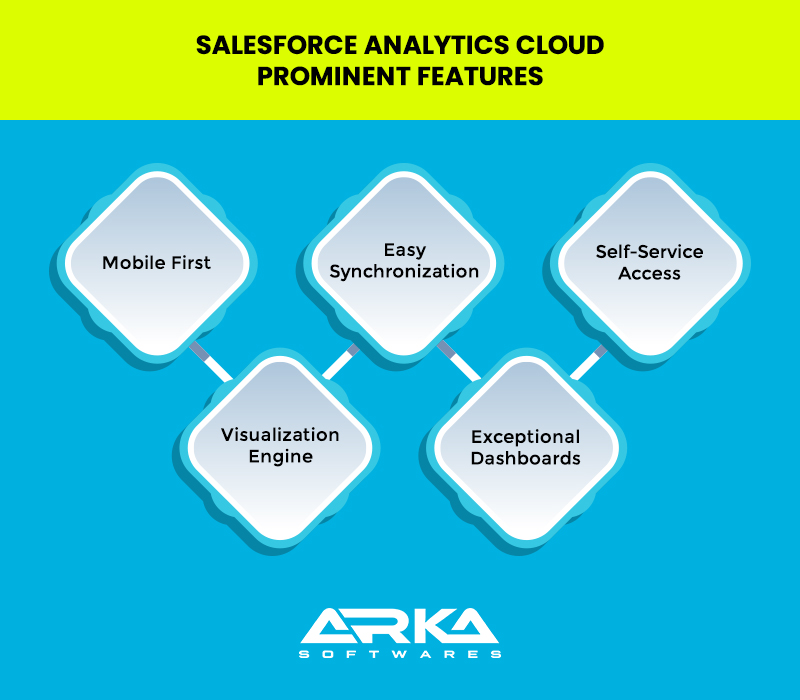 It has turned out to be a big boon for the marketing and sales team and higher management due to the given prominent features :
Mobile First
It is a mobile-friendly platform that allows end-users to view, measure, filter, group, and share data using mobile devices. It gives users the freedom to deploy data from anywhere and anytime. This feature helps the field workers, and customer service executives to fulfill their intended role with much ease.
Easy Synchronization
Cloud Analytics is built on the Salesforce-1 platform, which ensures seamless data synchronization and data sharing between different systems and applications.
It enables businesses to customize and automate the data using the existing workflow rules, data fields, and other tools. It also ensures the safety of the data while performing the upgrades and updates, as data will be safely stored in the Salesforce servers until it is completely exported.
Self-Service Access
Here a user with minimal or no analytics background can handle the tool easily. The self-service allows users to search for the intended solutions without submitting a service request to the internal IT department.
As there is a minuscule requirement of data analytics knowledge, the users are not supposed to wait longer for required solutions. In sort of delay may turn the data obsolete by the time it reaches the user or the team.
Visualization Engine
The Dynamic Visualization Engine empowers business users and data builders to perform their tasks without any challenges. The visualization, interactive visual streamline, and deep insights help the users to make better decisions.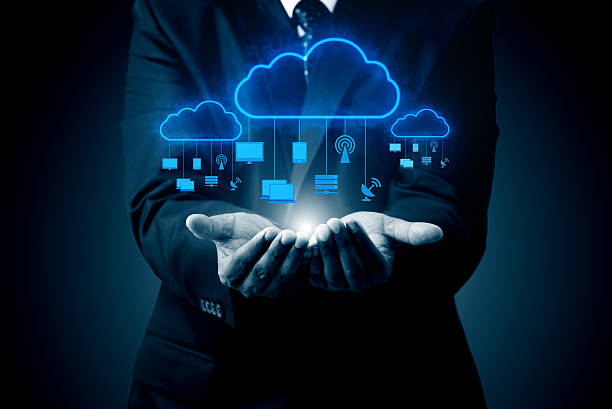 The visualization engine not only presents the data in color bar and charts, but it also offers a better visual perspective to make it easily understandable for the user.
Exceptional Dashboards
The dashboards can handle a massive chunk of data streams from multiple sources at a unified interface. Cloud Analytics enables users to create multiple dashboards, that consolidate multiple data visualizations into a single view.
Salesforce Analytics Cloud – Other Features
| Function | Features |
| --- | --- |
| Big Data | Data Blends, Data Cleansing, Data Mining, Data Visualization, Data Warehousing, and High-Volume Processing |
| Business Intelligence | Benchmarking, Budgeting & Forecasting, Key Performance Indicators, Performance Metrics, Strategic Planning, and Trend and Problem Indicators. |
| Dashboard | Annotations, Data Source Integrations, KPIs, OLAP, Private and Public Dashboards, and Widgets |
| Data Visualization | Analytics, Dashboard Creation, and Visual Discovery |
| Decision Support | Budgeting & Forecasting, Data Analysis, Performance Metrics |
| Reporting | Customizable Dashboard, Drill Down, Forecasting, Marketing & Sales Reports, and Data Source Connectors. |
| Statistical Analysis | Association Discovery, Regression Analysis, Statistical Simulation, Compliance Tracking, File Storage, and Multivariate Analysis. |
Salesforce Analytics Cloud Implementation – Pre-Requisites
Before you initiate the Analytics cloud implementation, we would recommend you perform these steps to prevent any issues in the future:
Understand Advanced Analytics, Artificial Intelligence, and Einstein
Your team must be well versed with advanced analytics techniques such as propensity analyses, predictive modeling, machine learning, artificial intelligence, and Einstein tool.
Set your expectations for Artificial Intelligence
You must be aware of the role of Artificial Intelligence in improving your customer interactions, business workflows, automation, and business growth. It will help you set the right expectations from AI and the value you are expecting to achieve.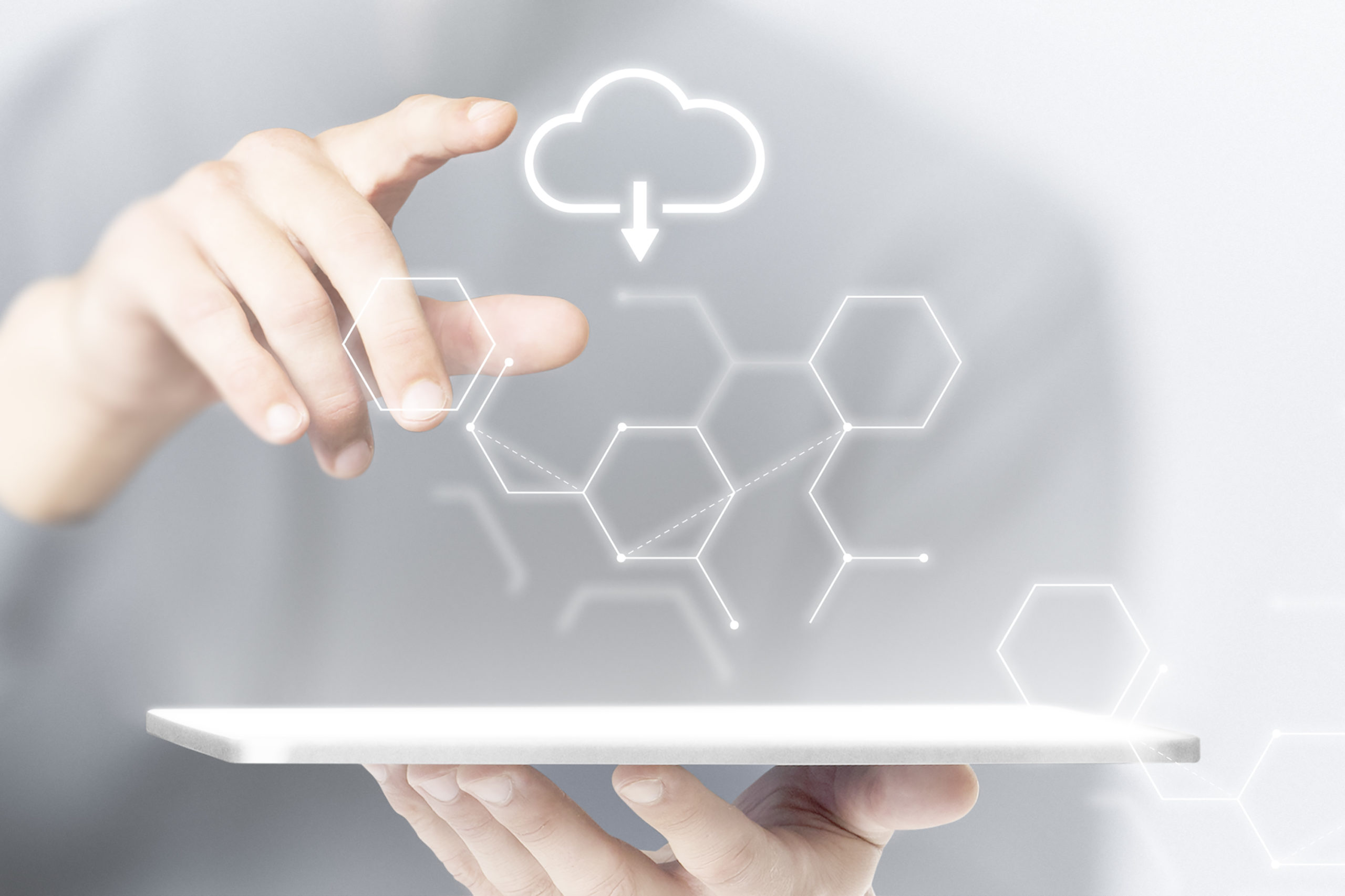 Clearly define your Business Goals 
You must clearly define your business goals from a sales, marketing, revenue, and customer service perspective, as these will help you streamline the implementation process to a great extent.
Develop an efficient Salesforce Environment
Your existing Salesforce environment (edition, cloud service model, and instance) plays a huge role while extracting the value from Analytics Cloud.
Perform a readiness assessment
Before going any further, you must thoroughly assess the readiness of your organization to adopt the Analytics Cloud. You may have to put some industry-standard practices in place.
Salesforce Analytics Cloud – 9 Step for Implementation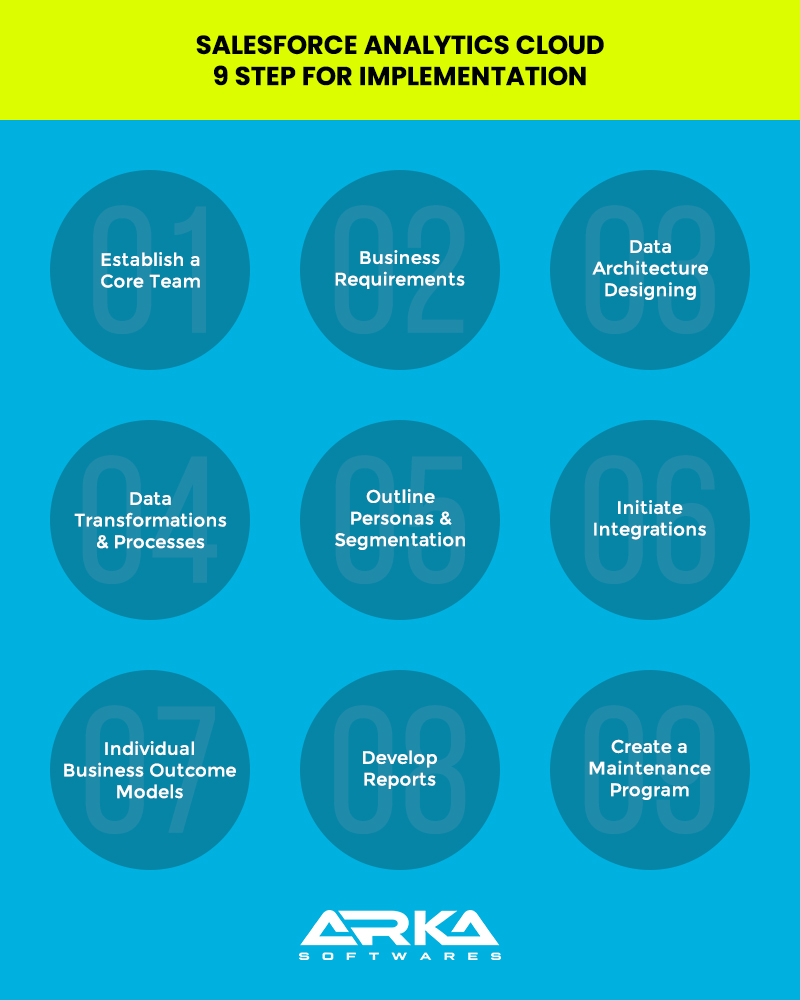 Establish a core team
Set up a team of professionals, experts, and leaders who will be handling the Analytics Cloud implementation.
Capture technical and business requirements
You must work with the business owners and capture their requirements based on deliverables and existing workflows.
Data Architecture Designing
You must design the data architecture, which acts as a framework that supports predictions, reporting, and AI recommendations via Einstein.
Determine Data Transformations and Processes
You must determine transformations that can modify the source data to add value for analytics. Whereas the processes allow you to support and scale numerous use cases.
Outline Personas and Segmentation
You must clearly define the Personas and Segments, that enables analytics to develop and deliver the intended value for your business.
Initiate Integrations
You must integrate your data warehouse with Salesforce Analytics Cloud, Einstein, and other Salesforce clouds (i.e., Service Cloud, Salesforce Marketing Cloud).
Develop, Train and Deploy individual business outcome models
Using Einstein Discovery, you can build models for multiple scenarios, and then map the user output for each model. It will help you improve customer interactions.
Develop Reports
You must define Exploratory reports and Action-oriented reports, that will help Analytics Cloud to serve the users and customers effectively.
Create an effective maintenance program
You must establish an effective maintenance program for each step such as requirements, architecture, design, analysis, reporting, and feedback.
Salesforce Analytics Cloud – Technical Details
| | |
| --- | --- |
| Supported Devices | Android, iOS, Windows, macOS, and web-based browsers |
| Language Support | English, French, Spanish, Swedish, Dutch, Italian, and Portuguese |
| Pricing Model | Quote based, monthly plans, and annual subscription |
| Deployment | On-premises and Cloud hosted |
| Customer Types | Medium and Large enterprises |

Conclusion
Salesforce Analytics Cloud is among the modern breed of analytics tools, and it is designed to handle modern challenges. It is much faster, accessible, and way more powerful than any conventional Business Intelligence tool.
It enables businesses to fetch deep insights and comprehend consumer behavior effectively so that they can offer personalized services to the end-users.
Salesforce Analytics Cloud is indeed an exceptional solution that can help you meet your unique business requirements.
If you still have any doubts, then feel free to get in touch with our Salesforce consultants, who can leverage their extensive domain knowledge to develop cost-effective and reliable analytics solutions for your organization.
Salesforces Cloud Analytics – FAQs