Technology has grown leaps and bounds in the years past and in we stand in an era that is majorly dominated by web and mobile applications. It is of utmost importance for all businesses and organizations to have their own web development or web software for their organization.
People have become outwardly dependent on web-based applications which have also become reliable for their accuracy and speed. One can perform an end number of functions on these web-based apps and can stand out of the crowd by using them.
 Well, did you know several web development trends have prevailed in the industry for a long and one has to adapt to these changes every now and then With the implementation of the latest technologies such as Artificial Intelligence, IoT (Internet of Things), etc
people have to catch up with them to stay ahead of the others. It is very important for any organization to understand the future prospects of their companies and introduce new web development companies accordingly.
Did you know that only a certain amount of a specific web application will show their loyalty towards your product if the layout is not attractive? Also, you should know how to beat the monotony by introducing regular updates and changes to cope with the competition.
The design of any website is of great importance in getting more users, therefore, it is necessary to design one that can attract more users and is more user-friendly in nature. Similarly, one should ensure to integrate attractive features that provide the users more than they expect from it. This is how you can keep up with the latest technology and gear up for the future.
Now, answer for yourself! Would a user prefer using a website with the latest technology and features, or stick around with the one they have been using for years, which doesn't have anything new to offer to them anymore?
Well, with technology being updated at every step, it has become important for web developers to imbibe these changes in their work so that they can offer something new to the companies. Trends have changed over the years and we have seen some of the greatest reforms that have evolved our expectations in it.
Web developers are to be applauded here, as they are always on the lookout for something new that can enhance the user experience in some way or the other. Like the year 2020 brought in certain evolution in the field, there is much more that we expect from technology in the coming year.
So, have you ever wondered what sort of web development technology would be the best in 2023? Before you step out to do the recce, we must tell you that we have already done it on your behalf for which you can thank us later. Here are some major trends that are most likely to seep into web development in 2023.
Artificial Intelligence
With this technology, the servers can pick information based on the statistics of each user and show them only the content on their screens that is of relevance to them.
This helps in targeting the audience when it comes to selling a certain offering of a specific product development service. With the help of the previous purchase history, the AI can target the audience with their ads and generate more revenue on the same. It has reportedly been said that the market size of artificial intelligence is supposed to grow rapidly at a rate of 42.2 percent from 2020 to 2027.
The market was valued at $ 3.9 billion in 2019. It is with the help of the tech giants that have been rapidly bringing in new and improved changes in the technology that this technology has been improving and offering nothing but the best to their clients.
From healthcare to technology, automotive, manufacturing, and finance, everyone has been embracing this technology with open arms and there is still a scope for much more than that is expected.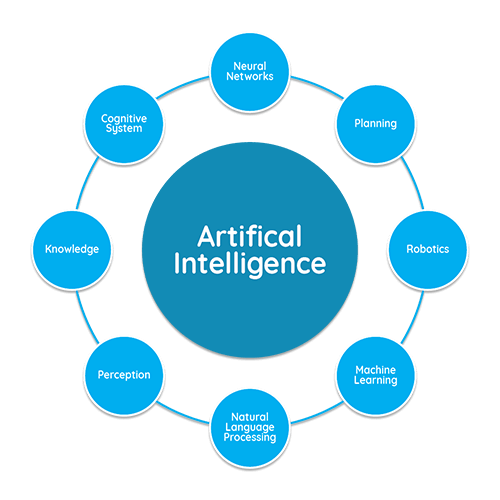 This is a digital era, where you can only target the audience and not spam them with everything. The audience is smart enough to uninstall an app or lose connection with a website if they see things that they are not interested in. This can hamper the image of the web developers resulting in loss of customers and retiring profits.
A new web development dimension is created in websites and applications with the help of AI.
Owing to the success of the website design, the users tend to stay on for longer periods and develop a close association with the website or the web application, however, one manual error can show a trickling result on the clicks and downloads.
Therefore, AI comes to the rescue in such cases. With the help of this technology, the interests of the users can be predicted to that they are shown ads that are of interest to them. Here is all that AI helps you with:
You can know of the people who are interested in the kind of products sold by you.

The sellers can come to know about the next purchase of the users.

Customers have a set time frame in which they buy a product, which can only be known with the help of AI.

 The kind of products that draws the attention of the customers the most.

The products that get appreciation from the customers.
Single Page apps
Everything compressed onto one page that lets the users scroll through everything at the same time is much better than applications and websites that take you through a number of links and open up several pages during the course.
Switching between pages and links can be quite a task and can make one lose interest in a website, therefore, it is always a good idea to make mobile-based apps that are in the SPA format. The users have liked this technology, and we guarantee that it is here to stay for a long. Therefore, you must try your hand at this one since you are sure to succeed.
SPA is a very recent trend that has been gaining the attention of users and is being liked by them. Along with providing quality protection of the data collected from the users, this technology also improves the performance of the web application.
Did you know big names like Google Maps, Facebook, and Gmail among others are Single Page Applications, therefore, people like to use these apps to their maximum. This technology eliminates the extra time spent on waiting for the pages to load each time you navigate to a new page.
Since everything is on a single page, it does not wait for the features to load. Most web developers around the world have been recommending this format of applications because of its ease of use and the fact that it enhances the user experience.
Take a look at the benefits one can draw from this technology:
The complete focus in the same of SPA is on the APIs

Chrome tools are helpful in this technology for debugging and setting up.

The UX/UI is greatly effective in a native browser environment.

It helps web owners and developers in saving bandwidth.
Progressive Web Apps
What would you prefer? A regular web app that performs all the functions but follows the normal speed and might take for things to load, or an app that performs at a very high speed and is more reliable? We bet you'd go with the latter as it is more user-friendly and will give you the results that you have been seeking.
Ever since Progressive Web App made an entry into the global technology market, it has been quite popular and investors and web developers strongly predict a bright future of the same.
These apps leave the users satisfied and there is a higher scope for the users to use it across any device irrespective of its date of manufacture, storage space, etc. With a single codebase, the PWAs can be downloaded and used in any mobile or other device.
Apart from offering a fast-paced speed like no other application, PWAs can also perform even when a user's device is offline.
It is an important factor that we can consider when choosing Progressive Web App over a Mobile App. Some of the big names that have used this technology in building their web applications include the likes of The Washington Post, Pinterest, Forbes, and Starbucks.
Take a look at some advantages of PWAs:
 There is a minimal bounce rate of the Progressive Web Apps.

 Since the loading speed of PWAs is very high, it is right to call it user-friendly.

 Does not have to be necessarily connected to the internet to perform its functions. It can function independently as well.

 Helps the app be more reliable.
Internet of Things (IoT)
With the coming-of-age technology, we have witnessed how everything is being connected to the internet. Earlier it was only mobile phones, tablets, and computers that could be accessed with the help of the internet, however, there are more and newer devices that have got accessibility to the internet now and can do wonders in telling a user his weight, heart rate, total steps taken and breath count.
In the year 2018, the IoT devices worldwide were around 10 billion, and these are estimated to increase to 64 billion by the year 2025. So, you can well imagine how much this technology is required in 2023 to keep the flow going and contribute to overall success.
The IoT uses cloud computing in getting access to a large amount of data at one single time. It uses sensors to collect information, hence, the accuracy of the result processed via this technology cannot be questioned. Apart from all this, one can rely on the technology as it is safely encrypted which makes these devices safe to use in all cases.
Some factors that IoT uses in web development include the following:
 Wearable devices such as smartwatches

 Personal assistants

Chatbots in websites and web-based applications 

Computing devices
While we have foreseen several benefits of this technology in the coming years, we can totally say that the Internet of Things is just going to enhance the experience of the users and offer them something new and out of the box in the coming years.
Benefits of using the Internet of Things:
Can be integrated into a number of IoT devices.

This technology helps in giving accurate results that are not only reliable but also worth turning to in times of crisis.

It uses sensors for collecting information, therefore, the accuracy is not questionable.

It helps in delivering instant results.
Web Assembly
User is the main person that all web applications are targeted towards. What if you develop an application that has been made with the help of a JavaScript framework and is slow when it comes to performance? This will lead to the users losing interest in the application and this will somehow hamper the quality of the web app. The calculations will slow down and it will take time for the app to open a link a user clicks on.
This delay in opening applications and links has given rise to WebAssembly, which allows the programming language of any application to be converted into a Bytecode, that can further run in any browser on your device.
This is one of the latest technologies that has grown and has been accepted by web developers as a solution to slow applications and developing processes. WebAssembly outlines a transferrable binary code format for programs that can be executed, and for those that can correspond to textual assembly language.
Here are some advantages of using this technology:
It can work on any device, irrespective of the hardware it is being used on.

It offers a higher level of security to web apps.

It is easy to execute the codes faster while developing the apps with the help of WebAssembly.

One does not need a programming language or a specific platform in the case of WebAssembly.
Voice Search and Navigation
Has technology not made life simpler for us? Has it not made humans more dependent on it, wherein, they are not giving voice commands to their gadgets and devices to perform all the functions? "Hey Alexa", "Hi Siri" and "Okay Google" are some words that we frequently use and hear these days.
These have brought into being some of the most hot-selling gadgets and devices. Manual work has come trickling down in these times of technology and the internet. Devices that are used by giving voice commands have started dominating the market these days.
Voice search and navigation are going to be a trend that will dominate technology in the coming year. We have already witnessed a lot of new devices coming up that have embraced this technology and their room for much more. What can be better than giving a command and getting all the information in one go?
According to a report by Google, voice search on mobile phones is being used by 27 percent of the global population using smartphones.
Here are some benefits that you can draw by using this technology:
It makes the devices to be easily used.

You don't have to hold your device to use it, while everything can be used simply by giving in a voice command.

It enhances the user experience by offering them the unthinkable.

The devices that are compatible with voice commands have added to the convenience of smartphone users.

It also helps you perform any task easily.
Read Also:- Website Maintenance: The Most Comprehensive Guide for 2023
Chatbots
You must be familiar with this word as all web and mobile apps need to have integrated chatbots that make it easy for the users, as it helps them assist at every stage. It has been since the recent past that we have witnessed an increase in chatbots on almost all websites, and there is a wide horizon for the same in the coming years.
The dependency on these chatbots has increased as it removes the need for personnel that assists the users, while the automated chatbots can effectively interact with the users and answer all their queries.
Some of the common queries of the users can easily be answered by the chatbots as they use the algorithm by understanding the question and replying to it aptly. This not only increases the speed of responding to the questions but is also a cost-cutting technique, as the websites do not have to appoint a large development team of customer service professionals.
Take a look at some of the biggest advantages offered by this technology:
Saves time and cost that one has to spend on appointing a customer service team.

Is quick when it comes to responding to the queries of the users.

Brings about transparency in communications.
Motion Design UI
One of the most forward looked trends of 2022 is Motion Design UI, which will not only enhance the look and feel of the website but will make it look appealing as ever. This technology is going to only grow in the coming future as people have shown their interest and fondness for it. Web developers do not have to necessarily assert with JavaScript or jQuery to develop animation for the web application.
 You don't want to lag behind the trend, do you? Then you must make sure to include the Motion Design UI technology in your web development company. It is likely to make a website more attractive and help you implement things such as charts, pop-up messages, and pull-down menus among others.
Here are some advantages the Motion Design UI offers to websites and web apps:
It helps in building the attraction element in the websites and apps.

The overall ranking of your page will improve.

This technology can be integrated into the website without losing out on the download speed. Hence, you are in a win-win situation.
3D technology
If you want the users to stay on your website or web application for a long and keep returning, you should include 3D visuals in your website. It will not only increase the attraction quotient of your website but will also offer them an enriching experience.
The digital space should be explored to an extent that has not been done earlier. Including 3D visuals has always proved to be beneficial for websites, and the case will remain the same in the coming years as well. However, one will have to explore the technology well and break all barriers in developing something that has not been explored before.
Integrating 3D technology in websites comes with a hefty price tag attached to it earlier, however, we have gone beyond limits over the years and have brought about several changes in how things are done. One can get the 3D visuals done at a low cost now.
Here are some advantages of using 3D visuals in web development:
Increases the attraction quotient of the website or the web application.

Helps in enhancing the overall experience of the users.

The users tend to stay on the website for longer if they get to see attractive visuals.
Conclusion
Trends keep changing in almost all fields, and technology is one thing that has to keep up to the mark. Users tend to lose interest in a website or a web application in no time, therefore, it is essential to keep up with the trends and integrate all those things in your website that you think would attract the users the most.
The technology stack and the features should be well aligned with the demand of the users and the design should be such, that could draw attention.
To know all the latest trends and to keep up with what's latest in the technology world, one should consult a website and mobile app development company that has been working on website and app development. They have in-depth knowledge of the technical stack that is required for building an attractive website, which can help your web development in a massive way.