We are living in a highly competitive digital world, where any organization must have a robust system in place which can manage its sales, marketing, and customer service functions.
Salesforce is a technology torchbearer which offers state-of-the-art CRM solutions, that help businesses to enhance their productivity and grow their customer base and popularity.
Salesforce Sales Cloud is a leading product developed for the management and analysis of sales processes.
Sales Cloud assists the sales managers to streamline the challenges such as lack of process alignment with marketing and disjointed sales processes.
It provides a platform where both the sales executives and managers can leverage its functionality to fulfill the tasks with better efficiency.
A perfect Sales Cloud implementation can help you develop a robust sales strategy and handle it through a unified platform. It allows sales managers to assess the performance of their sales representatives and identify their strengths and limitations to transform the sales function.
Subsequently, you need a certified Salesforce Sales Cloud consultant who can cater to the business needs with Sales Cloud's CRM functionality.
In this blog, we will provide you with a comprehensive guide on the Salesforce Sales Cloud certification. It will help you attain an in-depth understanding of how the Salesforce developers and administrators can become Sales Cloud professionals.
However, first, we need to know what Salesforce Sales Cloud Consultants do and what are their responsibilities.
Who is Salesforce Certified Sales Consultant?
A Salesforce Certified Sales Consultant is a professional who designs and implements the solution to fulfill the customer requirements and business processes using the Salesforce applications.
The Salesforce Sales Cloud consultant must have extensive experience in developing optimized solutions and implementing them within an enterprise.
A Salesforce Sales Cloud consultant commands both expertise in using Salesforce apps and domain knowledge needed to implement multiple solutions in numerous customer scenarios.
Ideally, a seasoned Salesforce Certified Sales Consultant must have extensive experience in developing a sales-specific business solution using the Salesforce platform.
Certified Salesforce Sales Cloud consultant – Common Traits
In-depth understanding of every consulting process.

Extensive experience in complete Sales Cloud implementation life cycle.

In-depth understanding of sales cloud functions and features.

Strong analytical and problem-solving skills.

In-depth knowledge of creating project scopes.

End-to-end insight of the discovery process involving the capturing and documenting process requirements.

Robust understanding of database and data management concepts.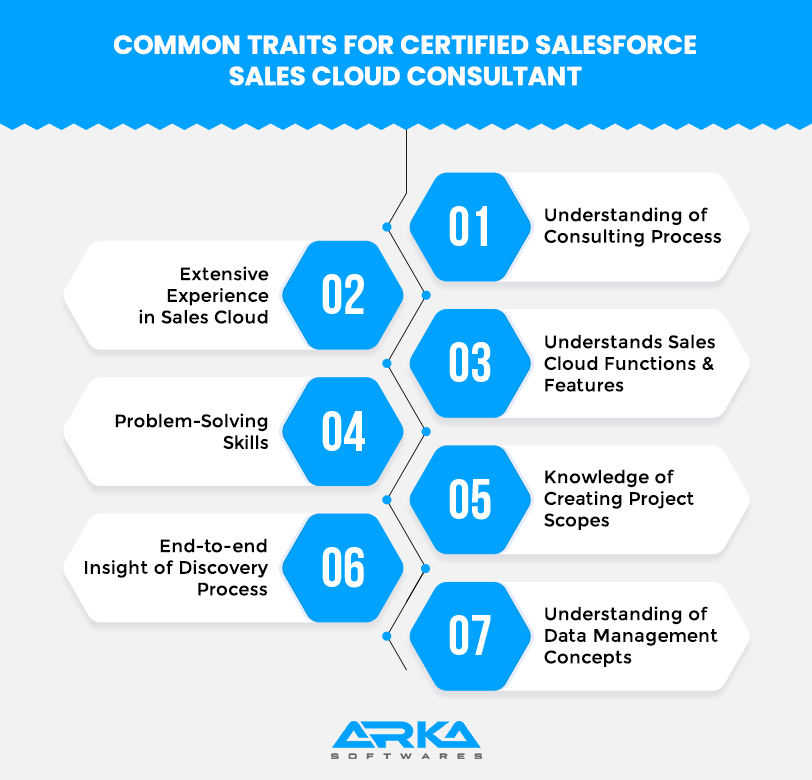 What is Salesforce Sales Cloud Consultant Certification?
The Sales Cloud Consultant Certification is a competency built for Salesforce experts, who command enough experience in building Sales Cloud solutions. It offers an opportunity to validate their expertise in architect a Salesforce-based solution for a specific customer scenario.
The exam is devised for customer-facing sales consultants who possess adequate experience in building and implementing the Salesforce Sales Cloud solutions from the scratch. This certification is very much pertinent for Salesforce Admins who want to establish their credentials in the complex Salesforce Sales Cloud platform.
Salesforce Sales Cloud Consultant Certification – Key Facts
The exam is consisting of 60 MCQs (multiple choice questions) and 5 non-scored questions.

The Salesforce Administrator certification is a prerequisite.

It takes 105 minutes to complete the test.

The minimum passing score is 68%.

The certification cost is USD 200.

In event of failure, the certification retake fee is USD 100.
Benefits of 
Salesforce Sales Cloud Certification
Becoming a certified Sales Cloud consultant can assure you a plethora of benefits :
A certified Sales Cloud consultant can interpret and serve the customers' needs in a better way.

Certified consultants can effectively deliver services for specific businesses and industries.

A certified consultant can bring higher value to the customers, provides timely guidance on process evolution, and assures effective CRM usage.

Becoming a certified sales cloud consultant helps you and your organization to gain a better Partnership Value Score (PVS) and help you associate with one of the partner tiers.

If an organization has two certified consultant-level employees, then it can get registered for the Salesforce Partner tier. It enables them to avail free training from Salesforce, a certification voucher, and a handsome discount on instructor-led training.

As an individual, the Sales Cloud certification can accelerate your career growth and improve your pay rise potential.
Must have things for a Successful Sales Cloud Consultant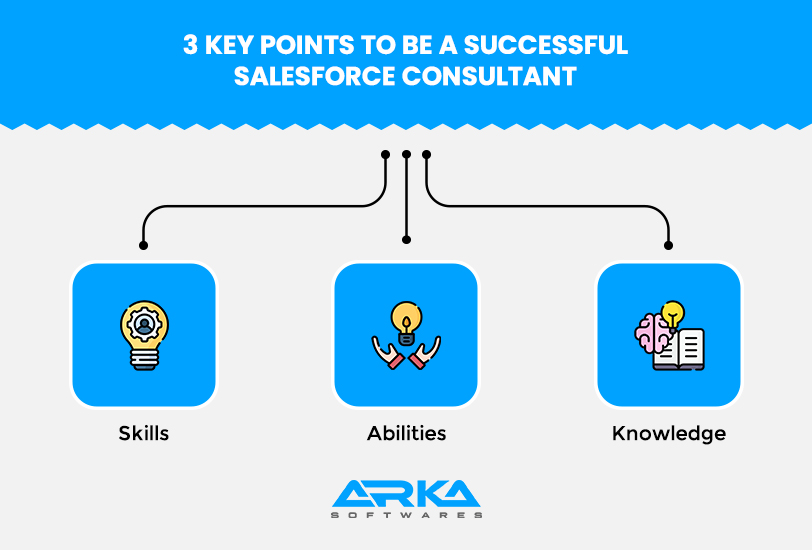 To become a successful Salesforce Sales Cloud consultant, you must have the following Skills, Abilities, and Knowledge :
Skills
An individual must be adequately skilled in project management methodologies, lifecycle, and principles, as it will ease out the development of project scope and SOW (statements of work).
The consultant must be capable enough to interpret business requirements effectively and design the solution to improve business productivity and efficiency.
Abilities
The primary responsibility of a certified sales cloud consultant is to execute a consulting project right from the beginning to the end.
A consultant should be capable of defining the KPIs (key performance indicators), managing the solution development, and delivering enhanced business processes to ensure the client's requirements are fulfilled.
As a consultant, it is your responsibility to identify and remediate any risks, technical issues, or unexpected system behavior at an early stage of solution development.
Knowledge
A Sales Cloud consultant must have robust knowledge and experience of all sales processes and job roles. An individual must be familiar with the solution development and deployment lifecycle, to say the least.
The applicant should be well versed in sales cloud functions and features such as leads, opportunities, campaigns, activities, forecasting, telephony, territory management, reporting, email integration, Einstein activity capture, salesforce meetings, sales console, and many more.
Salesforce Sales Cloud Consultant Certification – Key Topics
This certification exam assesses an individual's expertise and knowledge in the following areas. It is also critical to know the weightage distribution of every topic as it will assist you to prioritize your preparation plan and remaining focused on the key topics.
| Key Topics | Weightage |
| --- | --- |
| Sales Practice | 11% |
| Implementation Strategies | 13% |
| Application of Product Knowledge | 18% |
| Lead Management | 7% |
| Account and Contact Management | 11% |
| Opportunity Management | 10% |
| Consulting Practices | 7% |
| Sales Productivity and Integration | 8% |
Sales Practice 
Weightage 11% – It is one of the most important sections of this certification exam, as it evaluates the candidate's knowledge relating to Sales Cloud and pertaining products (such as Salesforce Inbox or Einstein products).
It offers scenario-based questions, that cover sales, and marketing process implementation considerations, KPI measurement, and business problem-solving techniques.
Implementation Strategies
Weightage 13% – It is an end-to-end scenario-based section, that evaluates your knowledge about the Sales Cloud platform, and the degree of your understanding to transform business needs into a full-fledged solution.
It assesses the consulting experience of a candidate, as to capture the business requirements, you must be familiar with the concepts and their implementations in a real-world scenario.
Application of Product Knowledge
Weightage 18% – It is the largest section of this certification exam, that covers over 10 questions. It judges a candidate's capability to implement the product knowledge using the Salesforce ecosystem.
The questions cover topics from the Lead stage of the process to the Quoting, Opportunity management, and fulfilling the order.
It covers the out-of-the-box Salesforce features and functions such as Advanced Currency Management, Enterprise Territory Management, and AppExchange managed packages.
Lead Management
Weightage 7% – This area covers the questions based on important aspects of the sales process such as Lead Management and Campaign capabilities.
It comprises scenario-based questions, that evaluate the capability of a candidate to use adequate methods for lead qualification and lead scoring.
It also judges your knowledge of implementing best business practices to control lead management data quality within the Salesforce ecosystem.
Account and Contact Management
Weightage 11% – Although the Account and Contact Management is a slightly easier concept, it is relatively easier to score in this area.
However, the Sales cloud comes with a plethora of features that can enhance the functionality of solutions for specific business needs. These include personal accounts, account hierarchies, events, and related contacts to name a few.
This section evaluates your knowledge and capability to determine how account and contacts ownership can drive the visibility of records such as cases, activities, and opportunities.
Opportunity Management
Weightage 10% – Typically, opportunity management is the workflow, process, and guidelines one must establish for organizing and managing the data in Salesforce.
This area covers the knowledge of a candidate on a wide range of topics, such as Sales Stages, Forecasts, pipelines, and Sales Processes.
Consulting Practices
Weightage 7% – An aspiring Sales Cloud consultant must be aware of numerous methodologies and project lifecycle phases. It is important to know when to consider the analysis, requirement elicitation, or solution design phase.
This section covers the questions related to the project lifecycle and evaluates the knowledge based on real-life business scenarios that require prior expertise in Sales Cloud implementation.
Sales Productivity and Integration
Weightage 8% – This area talks about the considerations and use cases for integrating email productivity tools (Outlook/Gmail/Salesforce Inbox integration). It evaluates a candidate's capability of using various 3rd party tools to enhance the overall sales productivity.
An individual must be aware of usage and best practices for utilizing collaboration tools, such as chatter, Quip, Slack, and various other mobile solutions.
Sales, Metrics, Reports, and Dashboard 
Weightage 7% – This is an important area as it assesses your knowledge about using Reports, dashboards, and reporting snapshots.
It enables you to monitor sales metrics, that ultimately help you determine if your organization is achieving its business and sales objectives or not.
You must be well versed with the standard report, dashboard, and custom report creation to cater to your business needs.
Data Management
Weightage 8% – For a successful Sales Cloud consultant, it is crucial to understand numerous integration patterns and options for integrating 3rd party tools and services with Salesforce.
As far as Data management is concerned, it deals with the Import/Export of data to/from a Salesforce organization using various 3rd party tools and services.
This module comprises scenario-based questions that cover your data management best practices and strategies, apart from knowledge of data integration patterns and options
How to prepare for the Certification Exam?
Now we have enough information about the Salesforce Sales Cloud certification, let us cover some important exam preparation tips, that will keep you motivated and clinch the success.
These tips will help you self-evaluate your willingness to attempt the certification exam while equipping you with adequate hands-on experience to complete the certification successfully.
Download the Exam outline to build your review schedule. You must keep reviewing the exam goals so that you remain focused on the key areas.

Always use Trailhead as your comprehensive resource destination for your certification preparation. You must review trailhead documentation, and check user guides, and tip sheets to gain quick insight into subjects while covering different topics.

Start training modules and gain adequate real-time experience. It is highly recommended to enroll in different training courses, as they give you a different perspective to view problems from different angles.

Always connect with the trailblazer community, that will act as a one-stop destination for all your concerns and questions. You can clear your doubts, exchange ideas, and connect to various featured groups to gain knowledge from seasoned industry experts.

Always subscribe for practice tests to assess your readiness. It is highly recommended to practice as many tests as possible to give your best shot in the exam.
Salesforce Sales Cloud Certification – Validity
As we know, the Salesforce release cycle usually gets refreshed three times a year, the Sales Cloud consultant certification remains valid till the next release.
A certificate owner is required to pass the Trailhead maintenance modules to keep his certification valid.
According to Salesforce, the Administrator Certification Maintenance module covers all the aspects of the job role of a Sales Cloud consultant.
The certification can get obsolete if the owner is failed to complete maintenance modules by the given dates. The certification owners usually get a couple of months after the release date to complete their maintenance modules.
If a certification owner is unable to pass the maintenance modules due to any reason, they are bound to get away from their Sales Cloud consultant credentials, and they must re-attempt all the necessary exams.

Conclusion
The Salesforce Sales Cloud Consultant certification is a perfect choice for any professional who is looking for an advanced qualification that can be implemented in a real-world scenario.
Sales Cloud is undoubtedly the most popular Salesforce product, it enjoys robust support from the wider community, which ensures the availability of adequate resources and references.
This is the reason why most organizations always keep on looking for certified professionals who can help them utilize the potential of Sales Cloud to the fullest.
If you are planning to switch roles and want to join Salesforce consultancy from your existing domain, then this certification will certainly inspire a lot of confidence and add value to your profile.
Employers will be aware of your advanced knowledge of the Salesforce ecosystem, and capability to translate their business needs into scalable technical solutions.
Salesforce Cloud Consultant Certification – FAQs