Salesforce has taken the CRM world by storm with its wide range of offerings and out-of-the-box solutions. It has established itself as a de-facto solution for organizations aiming to improve their business processes and enhance their customer's experience.
Salesforce has been so popular because of its customized and integration-ready solutions, which can easily incorporate your business-specific requirements that are not possible with other platforms in the market. 
One such solution from Salesforce's stable is AppExchange. As per the TriFin Labs, approx. 71% of Salesforce users utilize Salesforce AppExchange Apps frequently.
Salesforce AppExchange accelerates the process of signing documents, simplifies the maintenance of permissions, improves security, and ultimately helps close deals quickly. Applications available on Salesforce AppExchange can certainly fulfill all your business requirements.
In this blog, we will explore the history, relevance, and benefits of Salesforce AppExchange, and cover various other aspects that can help your enterprise to avail yourself of some unprecedented benefits.
What is Salesforce AppExchange?
Salesforce AppExchange is a state-of-the-art enterprise marketplace, that offers cloud-computing applications, consulting services, and solutions. It is the go-to place for customers to explore applications and other industry-specific solutions for their Salesforce implementation and extension requirements. 
Be it identifying the suitable consultant for CRM functions or installing the pre-configured applications for their bespoke processes, AppExchange does all for you.
AppExchange offers business solutions in the form of installable applications. It provides solutions that range from single-use cases to full-fledged automation applications.
Salesforce AppExchange – Market Stats
Salesforce AppExchange is the world's largest enterprise marketplace with more than 5,000 listings, over a million customer-led installs, and 90,000 reviews that help customers to make the right decision.
The fact of the matter is, that more than 95% of the Fortune 100 and 88% of Salesforce customers have installed at least one application from AppExchange.
It launches new products almost every week. It offers both free and paid applications, which gives flexibility to the customers to choose appropriate ones for their business.
The IDC research finds that the Salesforce ecosystem of partners may generate a revenue of $1.2 trillion and create 4.2 million new jobs worldwide between 2019 and 2024.
Salesforce AppExchange – History
Salesforce AppExchange is a capable platform that offers a wide variety of built-in solutions. It is a marketplace that uses the capability of various inventive applications to resolve many real-life business problems and bottlenecks.
The AppExchange application's functionality stretches across several industries such as finance, sales, operations, business, human resources, and many more.
The concept of AppExchange was coined by the Salesforce CEO, Marc Benioff, and Steve Jobs, who was envisioning to develop a closely knot cloud-based application environment.
It was Mark, who executed the concept of building a platform where global developers can publish their customized applications on the Salesforce AppExchange platform so that users can download them and utilize them for their business functions.
In 2006, AppStore.com was launched as an integral part of the Salesforce App store. It was the first time that Salesforce initiated an application repository within its platform, and it was labeled as AppExchange. Later Steve Jobs implemented this idea for the Apple ecosystem in 2008, which is known as Apple App Store.
Salesforce AppExchange – Ready-to-install solutions
Salesforce AppExchange provides over 5,000 pre-configured applications that can be integrated with your existing Salesforce configurations. Here are the kind of solutions AppExchange offers to the customers.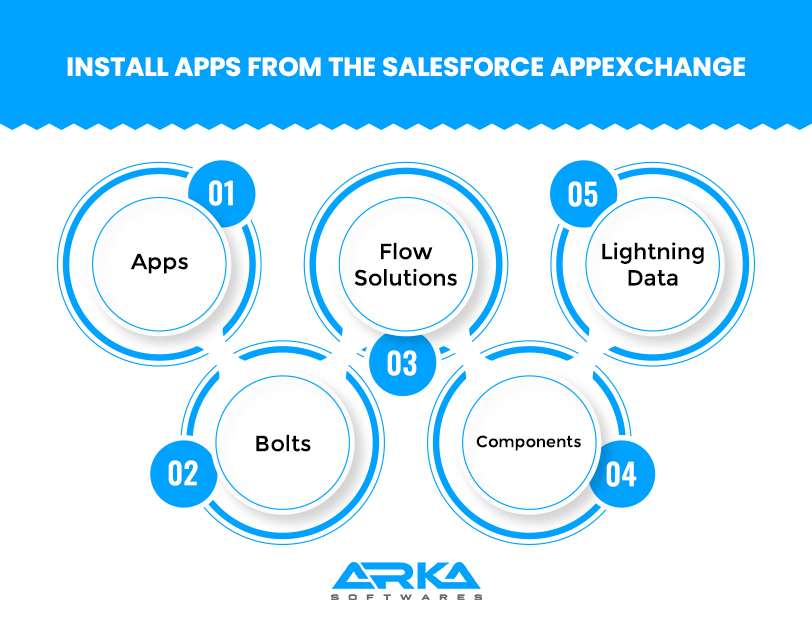 Apps

:
These are pre-built and thoroughly tested solutions available on AppExchange, that can be installed by the users on their Salesforce org implementation. It offers both free and paid applications which are available in various categories based on business process, industry, and use case.
Bolts

:
Salesforce offers Bolts, which are industry-specific templates developed by an ecosystem of business partners and community, that help enterprises to get to the market faster.
Lightning Bolts encompass industry-specific apps, process flows, communities, and lightning components. These components can be well integrated with your existing Salesforce CRM. Bolts are always included as part of the services agreement with the consulting partner.
Flow Solutions

:
Salesforce AppExchange offers configurable and pre-built business process automation flows that can be integrated with your existing workflow automation logic without putting any complex code.
Users can simply download and install these pre-built and configurable business processes along with flow templates to enhance their capabilities.
Components

:
Salesforce customers can avail of numerous advantages from Lightning-based UI/UX and development.  The AppExchange offers hundreds of predefined lightning components, that can be added to your pages or applications by simple drag and drop, thereby minimizing the overall efforts and time for your development team.
Lightning Data

:
AppExchange also provides lightning data, that offers scalable, pre-integrated, and approved data solutions to automate data functions such as scoring, filtering, deduplication, and many more. It enables end-users to keep their focus on core competencies and improve their business prospects.

How To Get into AppExchange – A Step-by-Step Guide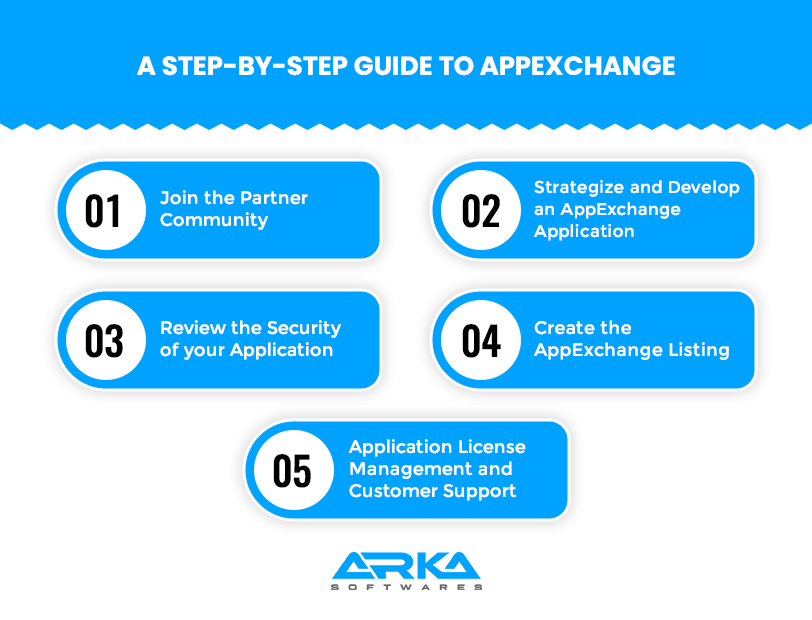 To get your application listed on Salesforce AppExchange, you must adhere to the below process. 
Step 1: Join the Partner Community
–
The first step is to join the Salesforce Partner Community, which is a platform where you can join and collaborate with the Salesforce professionals and explore the industry-wide best practices. The partner community enables you to access the resources of free partner organizations.
Once you join the partner community, you can get access to various applications such as channel order app, license management app, environment hub, and many more. 
Step 2: Strategize and develop an AppExchange Application
–
You must have a unique business idea and based on that you can build an application with a specific set of tools and technologies. You must design a strategy to solve a business problem, and then start building an application. 
This process is composed of various steps such as coding, adding business logic, developing lighting components, adjusting any custom setting, and building apex classes by using a specific development methodology.
Once it is ready, then you can simply migrate your app components to a packaging org using the Force.com IDE. Past that you can build a managed package with the available components to finalize your application.
Step 3: Review the security of your application
–
Security plays a vital role in the success of any application. Everyone wants an application that can keep the business and confidential data protected from all security threats.
Before publishing your application on AppExchange, you must follow the given steps to ensure adequate security for your app.
Prepare

: Review the security requirements and ensure your application meets all the security standards and compliance parameters of AppExchange.

Test

: Evaluate the security characteristics of your all and ensure it passes the required security review requirements.

Free trial

: You may offer a free trial version of your app before launching it

Launch

: Once your application meets all the necessary parameters, you can list and publish it on AppExchange.
Step 4: Create the AppExchange Listing
–
To enhance the app visibility and engage the prospective client, you must create an easy but attractive AppExchange listing:
Ensure your listing access is enabled (switch on the "Manage Listings" feature in your AppExchange Partner Community profile).

Link your managed package to the listing.

Carefully fill in and submit your listing information.

Add demo videos, carousel screenshots, and a final call-to-action slide.

Add the pricing of your app.

Specify the SEO keywords, primary use case, and your target audience.
Step 5: Application License Management and Customer Support
–
Now your application is ready, now it is time to sell it. You can offer the below-mentioned licensing options to your customers.
Per-User License

: It offers a license to a limited number of users of an organization.

Site License

: This license allows all the users of an organization to access the application.

Free Trial

: This enables your customers to avail of a free trial of your app with a certain level of app access limitations.

Free Solution

: You can offer a free app along with your solution. Such apps are usually supplied with a site license.
Now you have sold your application, but this is just the first step. You must offer your customers professional and technical support to retain them. You must follow the below-mentioned customer support lifecycle to enhance the customer experience.
Customer Success Planning

: You must conduct a thorough analysis to identify the challenges your customers may experience and determine the solutions that can overcome them.

Troubleshooting

: Once the customer reports any issue, you must communicate with them and fix it as quickly as possible. Although no application is error-free, quick resolution of issues does improve your credibility among the users. 

Release Management

: Devise a robust plan for releasing regular application updates and upgrades to make your app secure and functional. A well-defined communication strategy must be in place to make your customers aware of all changes.
Most Popular Applications on AppExchange
AppExchange offers a wide range of applications, which not only meet your business needs but also help you improve your abilities and customer experience. Here we have listed the most popular application categories on AppExchange.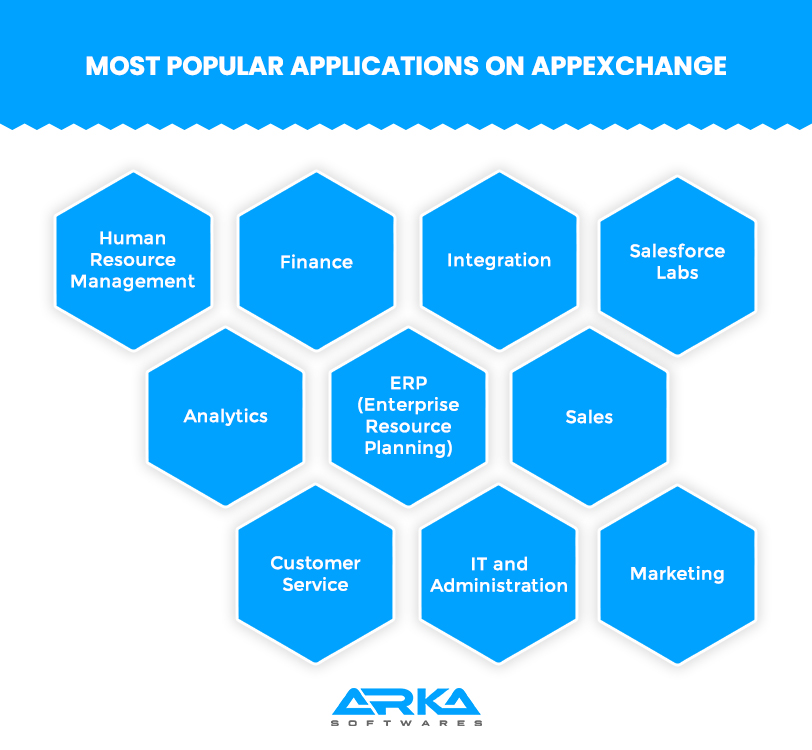 Human Resource Management

– You will find Recruiting App, which helps you fetch the information about your candidates and track the open positions as well.

Finance

– You can use the Blackthorn Payment app to process mobile-aided payments. Stripe and PayPal are also available, which help you furnish ACH and PCI-compliant credit card payments and subscriptions.

Integration – An application like dataloader.io is a perfect salesforce cloud solution, that helps you while importing, exporting, and updating the Salesforce data.
Salesforce Labs

– Here you will find in-app guidance tools that are quite useful for the adaptation of various features in Lightning Experience.

Analytics

– Rollup Helper application can be used for rolling up any data (max, min, sum, percent, etc.) without using much coding.

ERP (Enterprise Resource Planning)

– Application like Zenkraft multi-carrier enables users to ship and track packages with a wide range of shipping vendors inside Salesforce CRM.

Sales

– Trail Tracker is a freely available application. It helps users to learn the complex Salesforce dashboard concepts on Trailhead in the form of an adventure game.

Customer Service

– Here the DocuSign eSignature scores big. It is a full-fledged eSignature solution for signing, sending, saving, and tracking important documents.

IT and Administration

– Element Catalyst is a popular app that helps users manage the entire Salesforce implementation lifecycle. It enables users to capture user requirements and stories, map business functions, document, and drive implementation of your enterprise.

Marketing

– Mailchimp app is highly popular among users. It allows you in sending, automating, creating, and report your CRM's communication campaigns.
Conclusion
Salesforce AppExchange is a revolutionary platform that offers thousands of applications that can revolutionize your business processes and workflows. These applications can enhance and transform your business environment by incorporating various innovative functionalities. 
AppExchange enjoys the unprecedented support of developer communities and various software vendors, who are continuously contributing to improving its application ecosystem.
With over 5000 applications and still counting, you can expect a heavy influx of more application vendors and their respective offerings. 
However, with the availability of a wide range of solutions on AppExchange, sometimes it is an arduous task to select the right application and vendor for your CRM environment.
This is where Arka Softwares comes to your rescue, we are a trusted Salesforce solution partner, which can help you select a suitable AppExchange design and implementation solution for your enterprise, that can suit your business requirement and budget.
Salesforce AppExchange 101 – FAQs