Unparalleled
Vue.js App

Development Solutions
We know the technology and you know your business. We ensure your idea and vision come to life with our intellectual Vue.js development for ensured business growth.
Being relatively a new JavaScript framework, Vue.js, an open-source JavaScript framework, has both traditional and modern capabilities of developing the cross-platform and real-time mobile and web development applications. For increased performance and faster speed, it has Virtual DOM support. It is famous among enterprises for its component reusability and the ability to build modern user interfaces.
At Arka, we build a most-advanced single page web application to fulfill your simple and complex business requirements. Vue.js is based on MVVM architecture and its library is focused on the view layer. Hence, we have clutched good indepth knowledge on VueJS and have hands on experience based on whuch we can offer you the best of what Vue.js has to offer.
Developing Result-oriented
Vue.js App

for Enterprises and Start-ups
Developing Result-oriented
Vue.js App

for Enterprises and Start-ups
Custom Vue.js App Development
At Arka, our professional developers understand your business requirements and deliver you high-end, feature-rich and responsive custom Vue.js applications.
Single Page App (SPA) Development
Because of its high-speed performance and real-time development abilities, we choose Vue.js to make your single page app development most efficient.
Real-Time Vue.js App Development
Our prominent Vue.js developers provide you real-time single page application with a flawless user interface that your users appreciate.
Portal Development Services
By using every feature of Vue.js, we proudly deliver you versatile and adaptive online portals for B2B and B2C.
Data Analysis Tools
For your all structured and unstructured data we provide you super-fast, efficient and reliable data analysis tools for amazing data management.
Upgrade and Maintenance
Not only Vue.js development but also we offer comprehensive upgrade and maintenance service to your Vue.js applications for performance enhancements.
Why Prefer
Vue.js

for Mobile and Web App Development?
The size of Vue.js framework is minimal.
Easy to understand and develop web and mobile applications.
Its flexibility allows writing template in HTML, JavaScript file.
Due to its MVVM architecture, it can facilitate two-way communication.
The variables in Vue.js are reactive.
It has small-sized and reusable components.
Automatic tracking of component dependencies during rendering.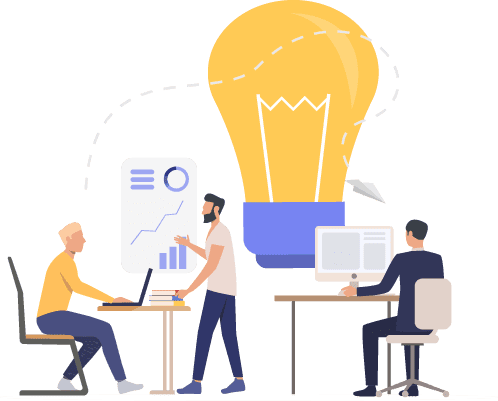 Our
Vue.JS Development

Services Offerings
App Design & Development
Web Application Development
Real-Time Chat Apps
Web Portal Development
E-Commerce development
UI/UX Development
Angular.js Consulting
Cross-Platform Development
Educational Platforms
Music and Video streaming Apps
Social media apps
Interactive dashboards
Enterprise app development